A tip up is the ice fishing equivalent of a bobber. Ice fishing tip ups signal to the fisherman that they have a strike, without the fisherman having to hold a fishing pole.
They do not even have to be in close proximity to that particular hole. That is the benefit of the ice fishing tip up. These devices are also great for kids. They are the perfect way to keep kids involved throughout the fishing trip.
When those flags pop up, the little ones dive on that fishing rod, or line, and start fighting the fish to the surface.
The following are the very best ice fishing tip ups on the market today. You are going to see makes and models that are more traditional and some of the more cutting-edge designs.
---
Our Top Picks
Overall Best:
Beaver Dam Ice Fishing Rail Tip-Up
Runner Up:
Frabill Pro Thermal Tip Up
Best Classic:
HT Enterprise Ice Fishing Rigger
---
Overall Best
Beaver Dam Ice Fishing Rail Tip-Up
We are starting our list with a legendary ice fishing tip up. The Beaver Dam is the original rail tip up that was created in Wisconsin more than 50 years ago. This is a handmade premium ice fishing tip up.
This design has been tested in the harshest conditions to ensure it works when the game fish strikes. The Beaver Dam uses smooth spool technology and freeze-proof grease to deal with cold conditions.
Many of the original Beaver Dam tip-ups, made all those years ago, are still in operation today. I can think of no better example of quality and reliability than that. When that 17.5-inch high visibility flag is triggered, it flies on the end of a seamless steel tube and lets you know there is a fish on the end of the line.
Pros
17.5 Inch Flag
50-Year-Old Design
Wooden Base
---
Runner Up
Frabill Pro Thermal Tip Up
I really love the design of this ice fishing tip up made by Frabill. The Pro Thermal has some features that I do not see anywhere else.
One of my favorite features, by far, is just how bright this thing is. I like the idea that it would be very easy to spot all over the ice. If I were to place a number of these in several spots across the ice they would be easy to see from far away. Even when they were not triggered.
The large circular base keeps your ice holes covered. They prevent snow and ice from blowing back into the hole. This shape also allows for easy transport as the Frabill can be stacked inside a 5 or 6-gallon bucket.
There is another benefit to this design. It also blocks the light of your ice fishing hole, which makes the fish more comfortable when approaching your bait.
The mechanics of the tip up are all coated with a sub-zero lubricant capable of dealing with brutal temperatures and still working.
Pros
High Vis Orange Color
Circular Design
Stackable Inside a 5 Gallon Bucket
Cons
Takes Considerable Effort to Move Saft Back and Forth
---
Best Classic
HT Enterprise Ice Fishing Rigger
This is a classic board-style ice fishing tip up. Sometimes the classics just get the job done so well. This one, in particular, is built on a treated hardwood frame that is so durable it might outlast you.
This model features an easy locking line guide and a wind-resistant trip wire, which will protect you from false strikes. If your flag goes up and there is no fish on the line, you are tasked with resetting the trap. Don't waste time out on the ice.
The HT Enterprise is a straightforward, hard-working ice fishing tip up that will get the job done time and time again.
Pros
Classic Tip Up Style
Hardwood Base
Wind Resistant Trip Wire
Cons
Flag Can Come Loose Upon Delivery
---
Ifish Pro Ice Fishing Tip-Up
This uniquely designed tip up hybrid is a very interesting piece of ice fishing gear. The IFishPro will both alert you to a strike and allow you to fight that fish with your rod and reel rather than using the old hand-over-hand method.
The 12-inch base will cover the auger hole and protect it from freezing over and blowing snow and ice. The extension arm is adjustable and allows you to put any sized ice fishing rod wherever you want it.
You can set this ice fishing tip up for light, medium, or hard strikes, and then when the flag goes up, you simply remove the base from the hole, set the hook, and fight the fish on the other end of the line.
Pros
Hybrid Design
12 Inch Base to Cover Ice Holes
14 Inch Double Flag
---
Bass Pro Shops Ice Classic Tip Up
Bass Pro Shops is one of the most well-known names in fishing today. They make some quality ice fishing gear. Their ice fishing tip up is built on a durable molded base.
The high-capacity spool on the Bass Pro Shops Ice Classic Tip Up will hold 200′ of line. That is enough ice fishing line to catch all the fish in the lake. After landing those fish, you can use the 16″ integrated measurer to see the size of your catch.
Pros
Molded Base
High Capacity Spool
---
Bullnose Original Blue Ice Fishing Tip Up
This product is what is known as a tip down tip up. It operates differently than the standard tip up. Rather than sending a flag up when the strike happens, the Bullnose is designed to hold your rod, so the tip is angled up over the ice.
When a strike happens, our ice fishing rod, which is held in place by the frame of this tip up, is going tip over towards the ice. That lets you know there is a fish on. Then you merely pick your rod up and start fighting the fish.
This simple and ingenious design makes it so easy to set up. The stainless steel frame has teeth at the bottom, which bite into the ice when you step on it.
There is a small plastic attachment that fits around your rod and that allows you to sit the rod on the tip up.
The folding body is stainless steel. It also folds back on itself when not in use for easy storage. This is an expensive but effective ice fishing tip up.
Pros
Durable Heavy Duty Steel
Flat Folding Frame for Storage
High Sensitivity
---
The Different Types of Tip Ups
the first designed tip ups were built on a hardwood base and sent a small flag flying into the air when a fish triggered it.
We have come a long way, and though the traditional tip up is still incredibly effective, we have seen a wide variety of ice fishing tip ups hit the market. Let's look at the different types of tip ups and how they work.
Auto-Set Rail Tip Up
Rail tip ups use a base built of two parallel pieces that look like a railway, and that is where the name comes from.
The trigger and spool lie between the rails, and into the water, the line goes to wait for a fish to bite. When a fish strikes and the trigger is pulled, the flag is flown, showing there is a fish on.
Thermal/Polar Ice Fishing Tip Up
These thermal ice fishing tip ups are some of my favorite designs. They not only tell you when you have a strike but are designed to cover your ice fishing hole, so you don't have it filling up with ice and snow all the time.
This design works much the same way, but the difference is that they have the added bonus of protecting your ice fishing holes, so you don't have to reach for the auger so fast.
DIY Cross Stick
Another option is to create a DIY cross-stick tip up. These tip ups can actually be made by the average person if you have the right tools and materials to pull it off. Of course, this is going to take some skill.
Ice fishing tip ups are not really an expensive item, even the most expensive models are not much of an investment. So, it might be better for you to buy one than to sit down and learn to make one.
The DIY cross-stick build is pretty fun to try if you like working with your hands and learning new skills.
---
What to Expect From the Best Ice Fishing Tip Ups
There are parts and pieces of a quality ice fishing tip up, and it really helps to know what to pay attention to when you are shopping. We have listed the 4 most important parts of any one of these devices. Get to know them.
Base Material
Your base materials are vital to the long-term success of your ice fishing tip up. The base material must be something that can stand up to the punishing cold of ice fishing.
Hardwood and steel do this better than most materials. As we mentioned, there are Beaver Dam tip ups that are 50 years old and are still in operation today! That is what you are looking for in base material.
Trigger
The ideal tip up trigger is one that can be adjusted for a variety of strikes. it is also a trigger that holds up against the wind. Some triggers will pop when a good wind hits the device. You do not want to be resetting tip ups over and over on a windy day.
Flag Color and Size
If you choose an ice fishing tip up with a flag indicator, then that flag should be big and bright. The flag should also be made of a durable material that can put up with extreme cold and wind.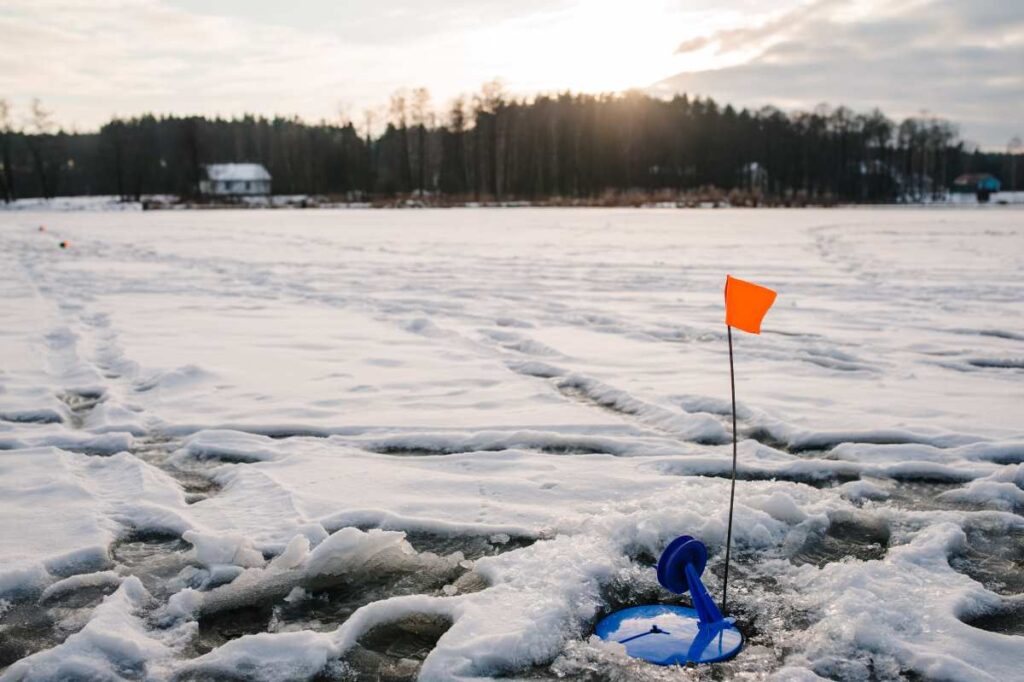 I also like to know how the flag is attached so that I can replace the flag, should it get torn off over time. This can extend the life of your tip up.
Hole Covers
Not all ice fishing tip ups feature hole covers. I think these ice fishing hole covers are a very cool feature. They basically protect your hole from the wind while keeping ice and snow from falling back into your ice hole. This means you can spend more time fishing and less time redrilling holes.
---
Wrapping up the Best Ice Fishing Tip Ups
An ice fishing tip up gives you the ability to drill multiple holes in the ice and drop more than one line into the water. This is a great technique when fishing a new location or large school of fish that shows up on your radar.
If you want to get new people to the ice, particularly kids, then you should get your hands on one of these. They are easy to use and add an entirely different level of excitement to fishing.
If you want to fish multiple holes successfully, these devices are perfect for that. Watching flags is much easier than watching rod tips.
Ice fishing tip ups are old technology that still gets the job done. Whether you buy a traditional wooden model or a thermal tip up that is made from plastic, you are going to get a piece of ice fishing gear that will make the experience much more exciting. The only other piece of gear you will need is a filet knife for all fish you haul in!