The best way to combat the cold and discomfort of a bitter Minnesota winter is to embrace it. And what better way to embrace winter than by partaking in one of the coldest pastimes known to man? That's right: ice fishing.
Ice fishing is wildly popular in Minnesota, thanks to the thousands of lakes that cover the state. In any given year, you can expect to get between three and six good months of ice fishing, depending on where you live in the state. If you're new to ice fishing and want to get started, this article is for you.
Keep reading to learn all about ice fishing!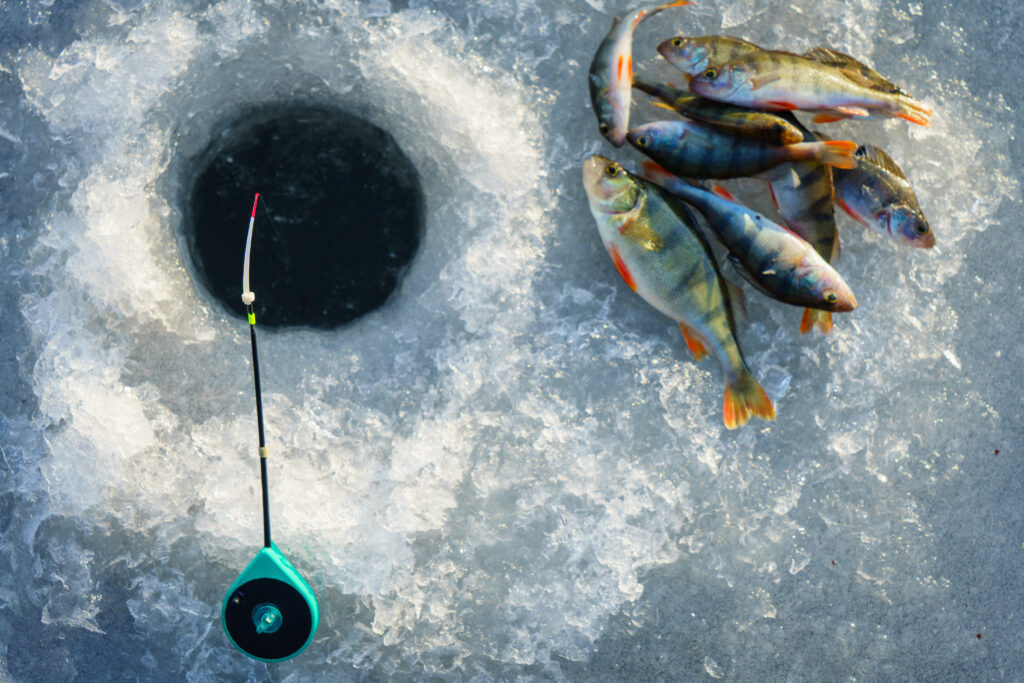 What is Ice Fishing?
If you're looking for information about how to get started with ice fishing, there's a good chance you already know what it is. But if you've only heard the term in passing and want to know more, here's the simple answer for you: ice fishing is when you cut a section of ice out of a frozen lake or river and catch fish through it.
While the concept sounds simple, a lot goes into being a successful ice fisherman.
1. Decide on an Ice Fishing Shelter
The first thing you'll need to decide for ice fishing is whether or not you want a shelter. Having a shelter is a good idea if you plan on fishing in the same spot for most of the year and for hours on end. They're also a good idea for a weekend or overnight ice-fishing excursions, and there are different shelters to accommodate either need:
Short Term Shelters
A short-term shelter will do the trick for a long day, overnight, or weekend trip. Short-term shelters are often collapsible, similar to a tent or popup structure. They can be easily carried from place to place and set up or disassembled with ease. A good short-term shelter should be able to contain heat, but not as well as a more permanent shelter.
Long Term Shelters
If you plan to fish in the same area for an entire season, erecting a long-term shelter is a good idea. Long-term shelters, sometimes known as ice shanties, ice houses, or ice huts, are solid structures you can either build or drag onto the ice.
In most cases, fishermen use waterproof hard-sided shelters and drag them into place on the ice with a four-wheeler or ATV vehicle. The other option is to build a permanent shelter out of wood or metal. If you do this, you should put wheels on your structure to move it where it needs to go, similar to an RV or a trailer.
Once your structure is in place, you can equip it with the necessary commodities to stay comfortable. Equipment could include:
TV set
Heater
Generator
Stove
Bathroom
Bed
Chair
Bucket or ice chest to hold fish
Remember that you'll likely need a permit or license for any type of ice fishing shelter.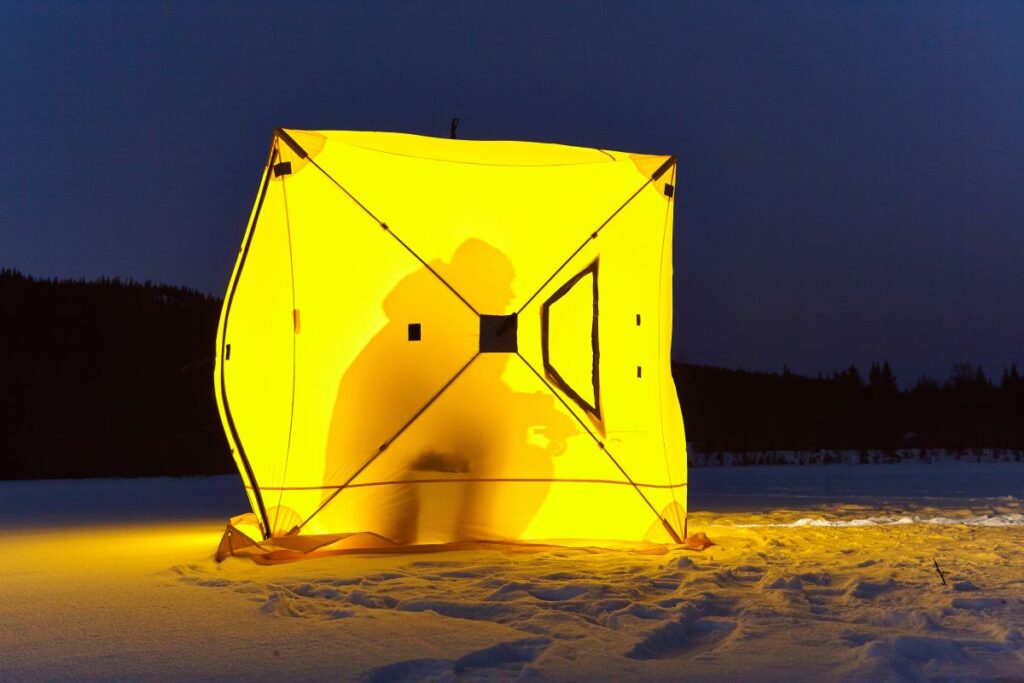 2. Gather Ice Fishing Equipment
In addition to a safe and sturdy shelter, you'll need plenty of other things to get started, including:
An auger to drill holes into the ice
Ice saw to cut a circular or triangular hole in the ice
Ice chisel to chip away at sections of ice
Ice shovel
Ice picker
Fish scooper
Small fishing or jigging rod
Weights
Bobbers
Tip-up rig
Fluoro fishing line
Hooks
Lures
Jigs
You should tailor your bait and equipment to the kind of fish you're trying to catch. You can catch almost every type of fish while ice fishing during warmer times of the year, including perch, walleye, northern pike, smallmouth bass, largemouth bass, crappie, and bluegill.
3. Consider Your Safety
While having the right equipment is essential, staying safe is the most important aspect of ice fishing. After all, you're literally standing on a frozen body of water after cutting holes into it. Any number of things can jeopardize your life while you're on the ice, and it's important to have the proper equipment to make sure that happens.
Here are a few measurements you should rely on for the MINIMUM ice thickness. To accurately measure, use a drill or auger to make a hole in the ice and measure it with a tape measure.
4 inches thick for people of all shapes and sizes
6 inches thick for sleds, snowmobiles, four-wheelers, and ATVs
7 inches to one foot thick for smaller vehicles
14 inches to 17 inches thick for larger trucks and SUVs
Always make sure to inform yourself further on the safety of ice thickness.
Safety Equipment
Several layers of warm clothing
Spikes or ice cleats for traction
A safety whistle to signal for help
Life vest
Your biggest danger on the lake is falling through the ice, getting trapped in the water, or suffering from hypothermia. You can mitigate these risks if you take the proper safety precautions and have the right equipment.
4. Choosing an Ice Fishing Location
Getting good at ice fishing has as much to do with picking the right spot as it does picking the right equipment and being a skilled fisherman. No matter how experienced or good at fishing you are, it won't do any good if you pick the wrong spot.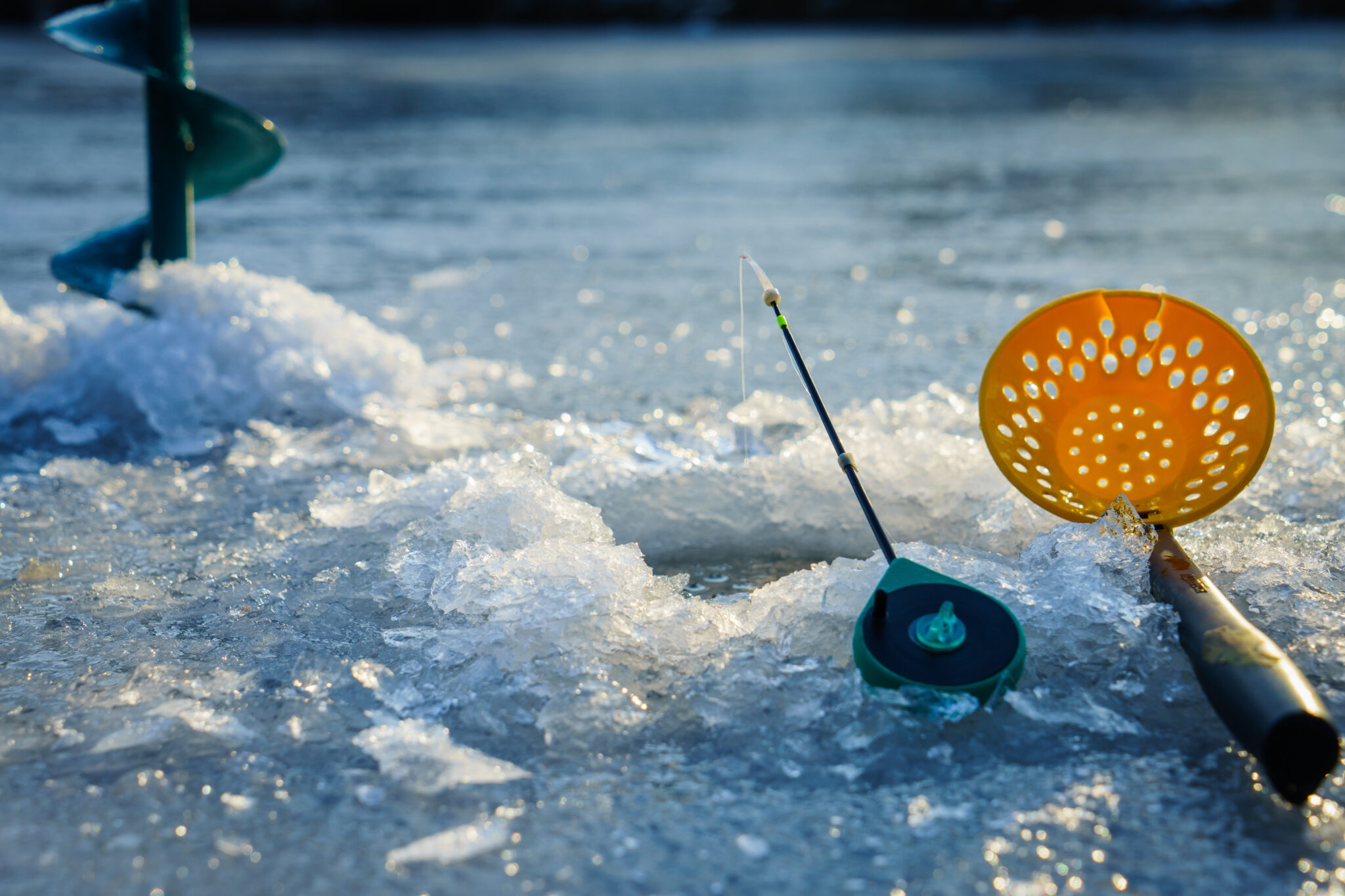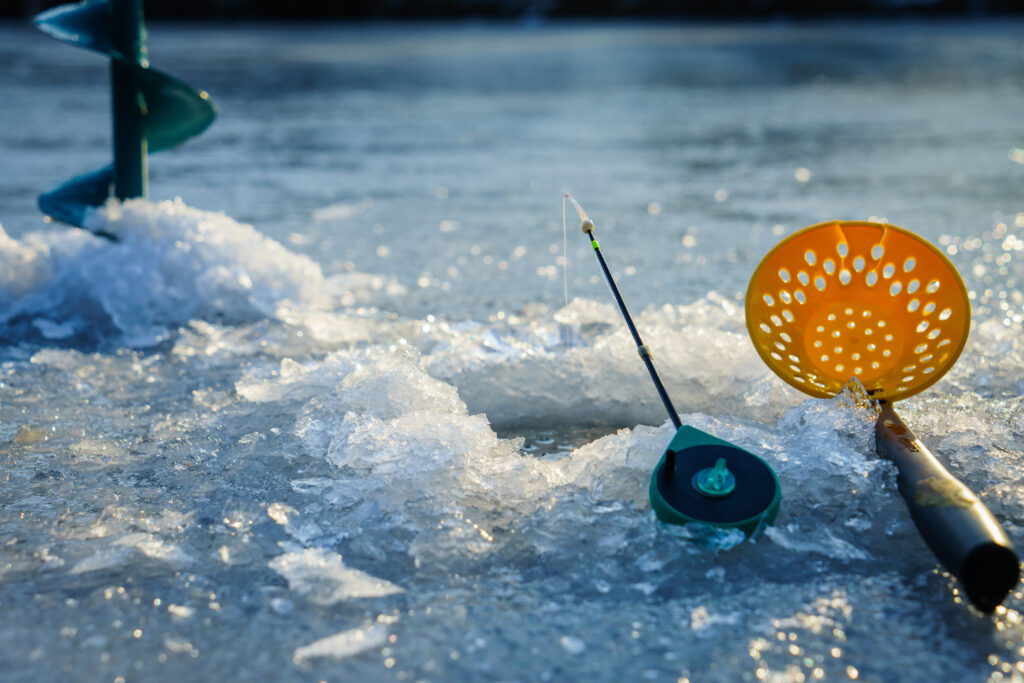 Early Season Ice Fishing
The best place to ice fish early in the year is exactly where you were fishing before the ice froze. Fish don't move immediately away when the ice freezes and will often stay in the same place for the first month after the ice freezes when the ice on the lake is less than six inches thick.
Mid-Season
As the middle of the season approaches, from late January to early March, fish will start moving to deeper waters to find warmth. For maximum success, you should fish around the deepest parts of the middle of the lake and at steep shorelines around the edges of the lake. Avoid areas where the water deepens gradually because it will be too cold for fish.
Late Season
As the end of the season approaches, the water will start warming up again, and the fish will move away from deep areas. At this point, you should move back to where you were fishing at the start of the season or where you know fish like to be soon after the ice melts.
5. Go Ice Fishing!
In general, there are four different ice fishing techniques. You should choose your technique according to what you feel most comfortable with and what works best with the type of fish you're trying to catch.
Jigging
Jigging is the most common and easiest form of ice fishing. You can use a standard fishing rod, a stick, or anything else you can tie a fishing line to. Jigging is similar to standard fishing in that you drop your line through a hole in the ice and wait for a fish to bite. You should tailor your bait to your target and wait patiently for the fish to bite.
Tip-Ups
Tip-ups are a good method for ice fishing if you want to fish multiple spots and at deeper depths. Using tip-ups, you can cut multiple holes in the ice, set your rod and line to whatever depth you desire, and leave the rod unattended. When a fish takes the bait on a line, it will trigger a flag to rise, signaling you that there's a fish on your line.
Spearfishing
Spearfishing is one of the most fun and challenging ways to ice fish. Because you have to be able to see the fish in order to spear it, they'll have to be very close to the surface for you to see. As such, you'll be using chum and floating bait to draw fish to the surface, at which point you'll spear them.
Clubbing
If you want to ice fish like the barbarians of old, clubbing is the way to do it. Because of how difficult and uncomfortable it is, you rarely see this method used nowadays. Here's how it works.
1. You stand in shallow water just before the surface of the lake has frozen.
2. Wait patiently with your club in hand for fish to come near you.
3. Strike the fish with your club when it gets close enough.
As we said before, this method of ice fishing will require a ton of patience and willpower to stand in freezing cold water for a long time.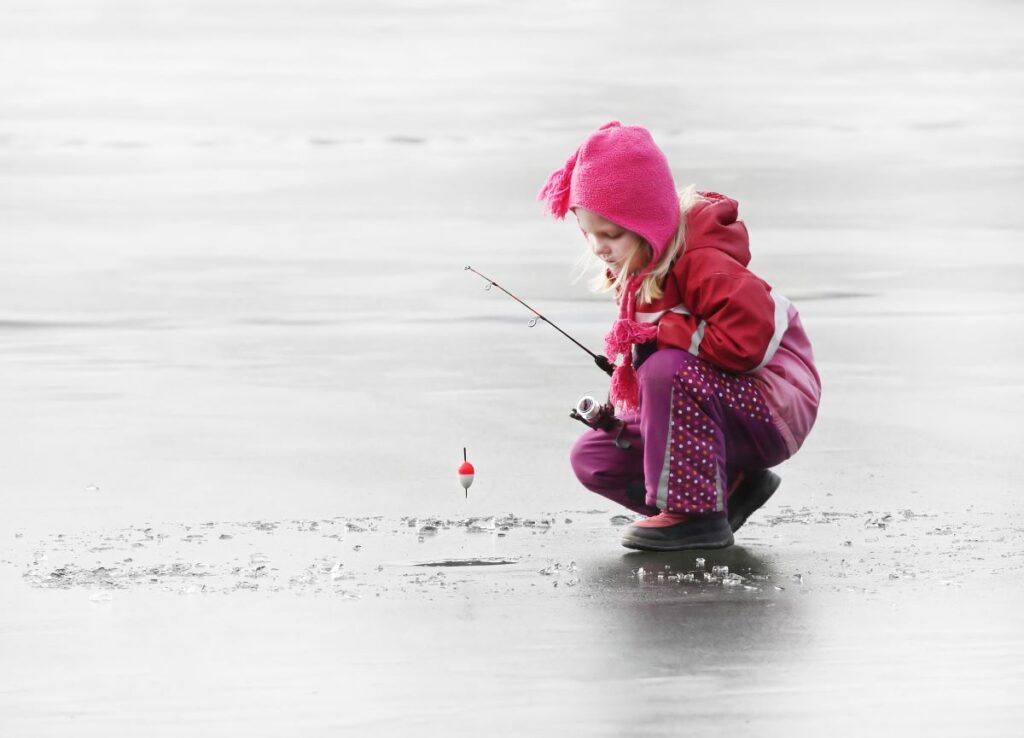 Clothing to Wear
The clothing you choose will greatly impact how patient and successful you'll be while ice fishing. Here are some of the essentials you'll need:
Waterproof boots
Waders
Cleats or spikes for traction
Multiple layers of shirts and jackets
Warm underwear
Waterproof coat or jacket as your top layer
Waterproof pants
At least two pairs of warm socks
Tips and Tricks for Ice Fishing Success
Choose lakes that are proven winners for ice fishing, such as Lake Minnetonka, Mille Lacs Lake, Leech Lake, Upper Red Lake, and Lake of the Woods. You can also check with local bait shops and fishing gurus for tips on where the best spots are.
Staying warm and comfortable is critical
Safety should always come first
Don't set up a permanent shelter until you know it's a good spot
Don't be afraid to move around and try different spots
Rather than using different fishing techniques, hone your skills with one of them
Use baits and lures specific to the fish you're targeting
Go with an experienced ice angler until you're comfortable on your own
Use a fish finder and join an ice fishing Facebook group
Now Go Ice Fishing!
When you do it right, ice fishing is one of the most fun and rewarding hobbies you can have. It's a great way to get out and enjoy all that winter has to offer and catch a few fish in the process. You will surely enjoy ice fishing success if you stay warm and safe and learn which fishing technique works best for you. Next, keep reading about fun outdoor activities in Minnesota!
Can't get enough of Minnesota lakes? Then keep living the Minnesota lake life with the help of my info posts and guides!
Want to learn more about fishing, discover more fishing spots, and or read up on the best fishing gear? Then continue your fishing adventure with our comprehensive guides, info posts, and more!
Love spending time outside? Then discover the Minnesota Outdoors to continue learning new ways to reconnect with nature!