If you know a millennial, have spent any time in a college classroom lately, or have strolled through a mall amongst teenagers and twentysomethings, chances are you've seen someone wearing a Love Your Melon beanie. The knit hats with their distinctive leather patch logo have exploded in popularity over the last few years, and with good reason: when you buy one, the company gives fifty percent of the profit to pediatric cancer research.
So what exactly is Love Your Melon? How was it born? Unlike some businesses that are the brainchild of a Silicon Valley executive, Love Your Melon (LYM) was created by two Minnesota natives, then-college students Brian Keller and Zachary Quinn.
More interesting than the youth of the company's founders, though, is the happenstance that the business was born out of. According to Quinn, it all began in a St. Thomas University classroom, for an entrepreneurship class.
"Brian Keller and I started Love Your Melon as part of a class project in 2012 while we attended the University of St. Thomas. The project was based on a lemonade stand concept and we had to create and execute a business plan that was scaleable and sustainable," said Quinn. "We found out that pediatric cancer patients are often overlooked due to the small subset of the cancer population and we wanted to make sure we created a company that would benefit that community specifically."
Both young men, like most of society, have some connections to friends or family affected by cancer. But they chose to focus on pediatric cancer not only because of personal ties, but because they saw a true need they could fulfill.
"Brian and I knew a few children who were undergoing cancer treatment and after doing some research, we realized they were an underserved population among those with cancer," explained Quinn. "The idea of hats came from kids needing something comforting and warm. Hospitals tend to be cold and sterile so we wanted to make sure we provided something that made them feel comfortable."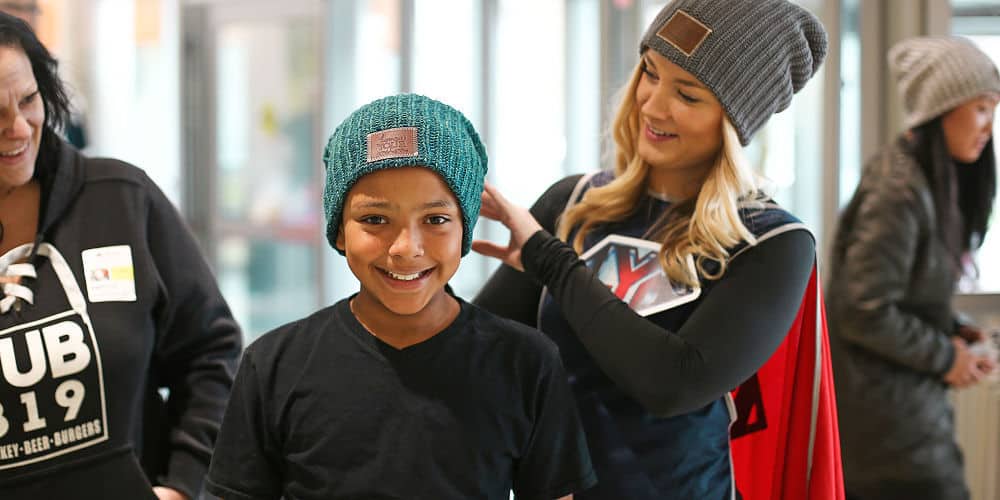 So with no experience in textiles, manufacturing or marketing, Keller and Quinn sat down and brainstormed a way to create fashionable and functional hats that would appeal to the public and serve a purpose for the sick. The classic beanie they started with continues to be their best-selling product to date.
And though their products aren't exclusively manufactured in Minnesota, they are all made in the USA, so consumers can feel good about buying American-made goods.
Love Your Melon's business model has changed a bit in five years; instead of donating hats one-for-one, the company now donates half of its profit instead. At the end of 2016, their donations (since the company's inception) to pediatric cancer organizations like Alex's Lemonade Stand Foundation and St. Jude's Children's Research Hospital totaled over $1.5 million.
Back when they were giving hats, Quinn and Keller started out with a goal of selling 200 and donating 200 more.
"We started with 400 hats and used a "buy-one, give-one" model. For every hat sold, we would donate one to a child in the hospital undergoing cancer treatment. Within two days, we had sold out of our 200 hats and began our mission of donating hats to kids in local hospitals around the Twin Cities."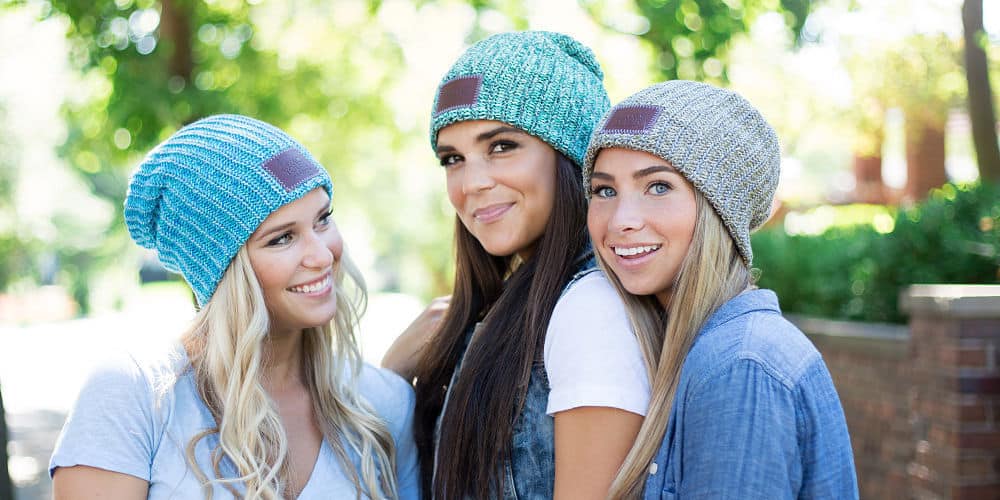 And from there, the rest is history. As the story goes, the professor whose assignment started it all wasn't exactly a believer in the longevity of Quinn and Keller's business model. "In the beginning, our professors and peers thought we were crazy," explained Quinn, "that there was NO way we'd be able to keep it up while maintaining our philanthropic mission."
But as it turns out, consumers love to purchase goods that specifically benefit worthwhile causes. With companies like TOMS shoes and Yoobi school supplies as clear evidence that this concept could work, it's no wonder Love Your Melon's hats became a hot commodity, especially among the founders' college peers.
As they gained popularity, Quinn and Keller needed a way to meet the demands of traveling to deliver hats, and a number of their friends and classmates stepped up to help. To add to the fun of the experience for the children receiving the hats, the idea was born to dress up like superheroes to make their deliveries. Kids responded well to the heroes and villains who playfully entered their hospital rooms, and soon their unique philanthropic mission had reached celebrities and media outlets across the nation.
Quinn says that's all thanks to the enthusiasm of the volunteers, deemed "the crew." Students are organized into crews according to the college they attend, and when consumers make a purchase, they have the option to support a crew. These crews raise awareness, attend events, and personally engage with the children whom Love Your Melon aids.
There are currently over 840 campus crews across the United States, and according to Quinn, they are the cornerstone of the company.
"Our crew members are extremely passionate about getting the word of Love Your Melon out to the masses and they've been able to reach more celebrities than we could have imagined, explained Quinn. "It's incredible to watch them succeed and enjoy what they're doing in support of our mission.
The dedication of supporters across America is what Quinn thinks has led to the popularity of the company. He drew inspiration and support from his family's entrepreneurial background (his parents own Café Latte in St. Paul), but credits the strong community LYM is built on for its success. "The community aspect is a huge factor of the success of Love Your Melon. We couldn't do what we do every day without the thousands of people who support us by purchasing products and volunteering their time."
Quinn estimates there are currently over 12,000 college students donating their time and energy to Love Your Melon's cause. In fact, one of Quinn's favorite memories since creating LYM was traveling the States and realizing just how many people across the country believed in their mission.
"In 2014, a group of friends and I (Brian, too) took a cross country bus tour, stopping at colleges where we had friends to sell hats. Then we'd visit the local hospitals in those markets to donate as many hats as we had sold," recalled Quinn. "It was amazing to see the response outside of Minnesota just a year and a half after we began."
In a society where millennials like Quinn and Keller are so often criticized for being lazy, dependent, and even greedy, it's certainly refreshing to see an uprising of selflessness and humanitarianism.
"A lot of people say that Millennials are selfish and don't want to do something unless they personally benefit from it, but that's not the case with Love Your Melon," explains Quinn. "It does go to show that people respond to a greater cause and to something that is bigger than all of us."
In the five years since Love Your Melon was created for that fateful college assignment, Keller and Quinn have watched their success grow and their reach continue to expand.
Quinn made the decision to leave St. Thomas to oversee LYM full-time (Keller chose to stay), and the two headquartered their start-up in Minneapolis. They have different manufacturing partners across the nation, and they continue to expand their product line, which now includes multiple hat styles, apparel and accessories. But no matter how they diversify and grow, Quinn reiterates the foundation they continue to build on: quality products, strong community, and a great cause.

"As we continue to grow, we want to ensure we keep the community aspect of the company as strong as possible," emphasizes Quinn. "We're only as strong as the community who supports us, and we're all doing it to find a cure for cancer… It's extremely important for us to innovate our line of offerings without losing the authenticity we've built to date."
Perhaps that genuine authenticity is the reason Love Your Melon has seen incredible success. Two Minnesota men saw a need, created a way to meet it, and have continued to make good on their promise. Their generation is criticized for being exceedingly self-centered, but Quinn and Keller are steadily disproving that stereotype with their mission.
So what do they think of all the success they've seen before they've even hit 30? Quinn says it's fulfilling, and an honor, to be a part of something so big. He also thinks it speaks to the inherent benevolency of Love Your Melon's supporters.
It's humbling to be so successful so quickly and at a young age," acknowledges Quinn. "It does go to show that people respond to a greater cause and to something that is bigger than all of us."
As for that professor and those classmates who weren't sure Quinn and Keller would succeed? Quinn is sure the answer is clear now. "I would say we've definitely proved them otherwise."