I love all "old fashion" stuff. Even when I was a kid instead of playing house I played "Olden Days". I would spend hours under the big old oak tree in front of our house pretending I lived in the 1800's. I think it has something to do with living a simple life that intrigues me. Not that it is simple to go hunt for food because it is way simpler to go to the store and pick up a steak. However, I find myself longing for a way of live without the rush and stresses of today.
As a Mother I have been teaching my children to stop and take time to enjoy the beauty of this world. Look at the clouds passing us by. Watch the Robins in our Crab tree singing to each other. Stick your tongue out to catch the snowflakes. When it rains drink a cup of tea.
The thought of taking my girls to a REAL tea party has been at the back of my mind for about a year now. I wanted to share with them a wonderful old treasure of tea time. In the past women would get together for "low" time tea which is from 3-5pm and for "high" time tea which is served after work hours. In our case we went out for "low" time tea.
I found a gem of a treasure just a hop, skip and jump away from Minneapolis. A place called The Mad Hatter Tea Room. It is located in Anoka on 300 Main Street in Anoka's Historic Post Office Building. The building was constructed in 1916 and was used as a US Post Office until 1977. The Mad Hatter Tea Room shares this space with a few other businesses.
The only downfall to our day was the fact that Ruthie couldn't come with us. The Mad Hatter Tea Room has a rule only 4 year olds and up can partake in tea time. I get it because it is small and some kids you just never know how they will do. My plan is to have a special day set aside to host "low" time tea at our house with some of Ruthie's little friends.
I just love the name
The Mad Hatter Tea Room
. Growing up I really enjoyed the movie
Alice in Wonderland
and the Mad Hatter Tea Party was my abouslate favorite part of the whole movie. The silly riddles and sleepy Dormouse were fabulous. Although, not as fabulous as the newer movie
Alice's Adventures in Wonderland
. Johnny Depp is the perfect Mad Hatter!
The girl's were excited to spend some one on one time together. We had a great time looking at the tea pots that were for sale at The Mad Hatter Tea Room. My favorite one just happened to be the Alice in Wonderland Tea for one pot.
I also liked this Alice tea pot as well. The rabbit is cute on the top.
I wanted to make our own Mad Hatter hats for this event, but my 6 month old baby Isaiah got very sick with a fever this past week and I didn't have enough time to make the hats. I still plan on making them and a post will follow very soon. Lucky us, The Mad Hatter Tea Room supplied hats for their guests.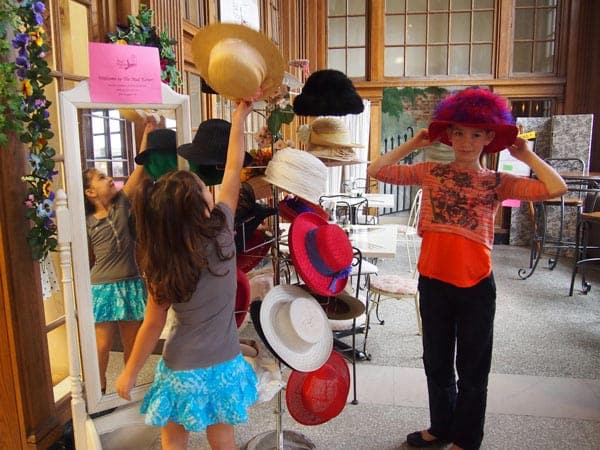 "Hello, do you like my hat?"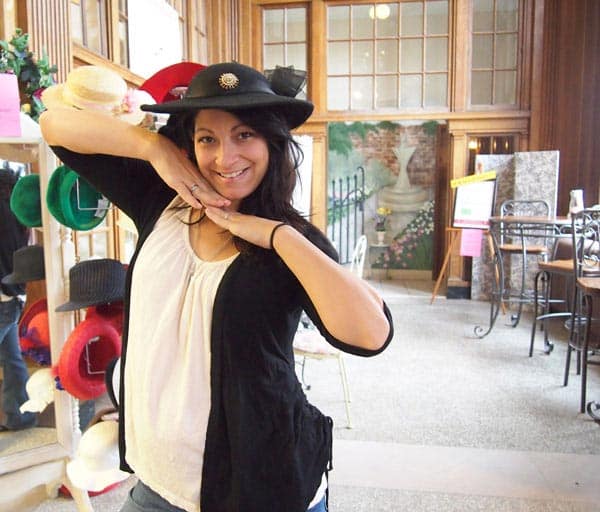 Mikaela isn't really into being super girly so, she picked a hat that looked like Indiana Jones' hat.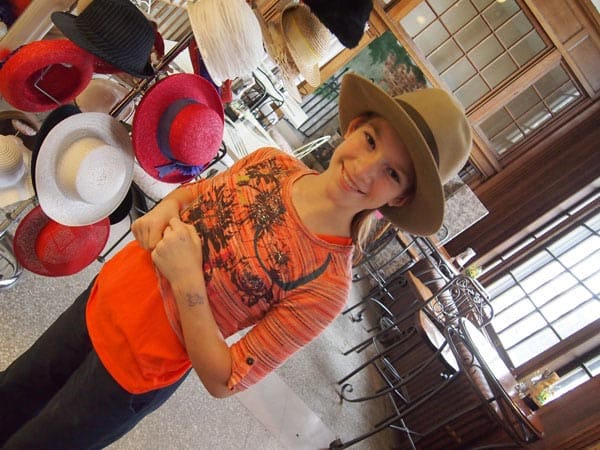 Shhh, don't tell her I think she looks really cute.
"Hello, do you like my hat?"
Jadis found a winner with the large fall flowers on the front. I also found one I really liked.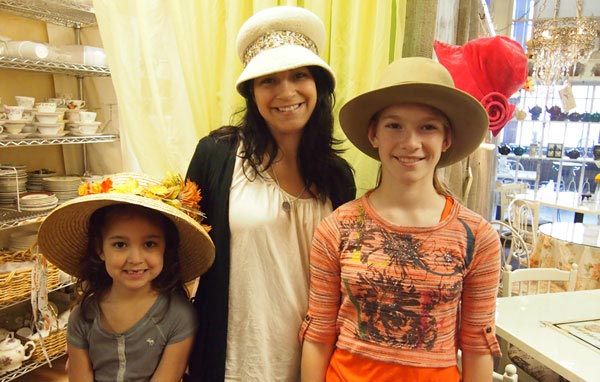 We enjoyed looking around the store area of The Mad Hatter Tea Room. They have a very large range of teas to purchase.
The Mad Hatter Tea Room also has many tea pots and tea cups to choose from if you are looking for something special to remember your tea party.
I also thought these tea pot night lights were sweet. My girls are always asking us to keep the hall light on for them. I was thinking it would be a great Christmas gift for them this year. Don't worry; they don't read my Blog.
Jadis also found a fancy party mask. I think they are pretty, but where in the world would we wear them?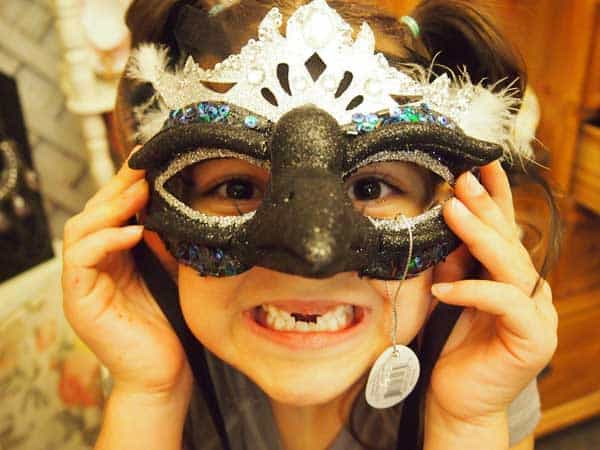 If your little one likes to play tea party they have a tea party basket for sale. Which would be a great gift for Christmas time.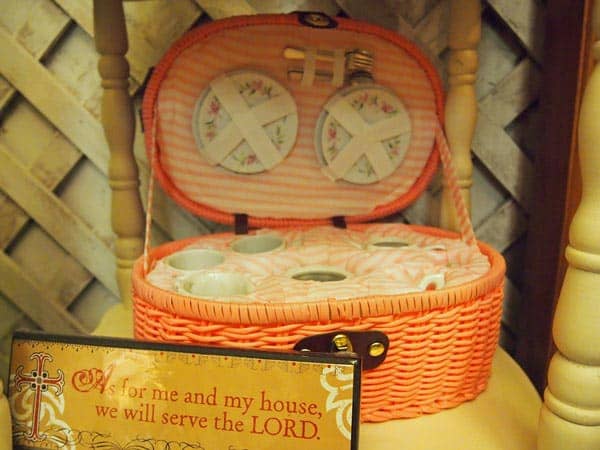 It was time to take our seats and start our very own tea party. We were seated in their fancy backroom.
The Mad Hatter Tea Room has many areas for you sit in, like the fancy backroom where we were. This area would be wonderful for hosting a private party.
Maybe you are looking for a table for two…
or perhaps you are needing one for five. Either way, at The Mad Hatter Tea Room they have space for you and your guests.
We started our tea time with a nice tea pot filled with Raspberry Lemonade for Jadis.
Mikaela choose a Apple Dumpling Tea for her pot. Which by the way was our favorite.
I picked a tea called English Breakfast.
Jadis loved pouring everyone their tea into the cute tea cups.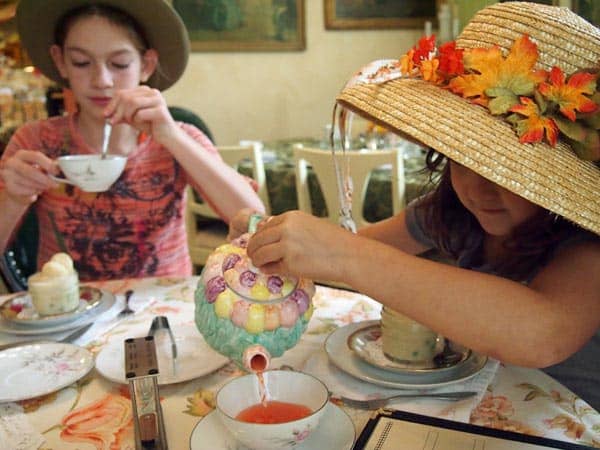 If you are looking for a cute place to have a Birthday party for your little lady; this would be perfect. Jade is five and she had such an amazing time. She would get up and dance around and act "fancy" for us. She is a cutie.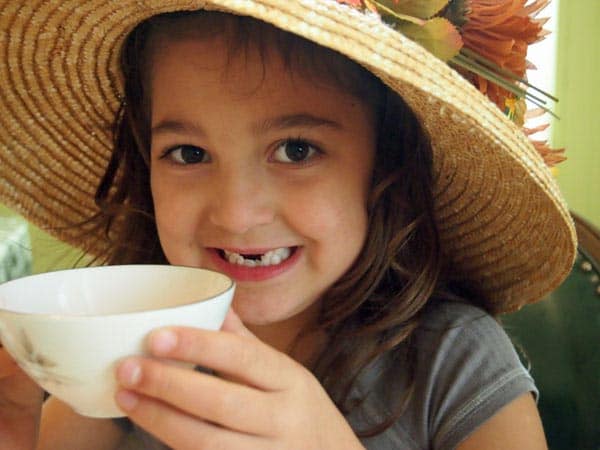 We really enjoyed the Chicken Pot Pie Soup they served us. Oh, my goodness it was delicious!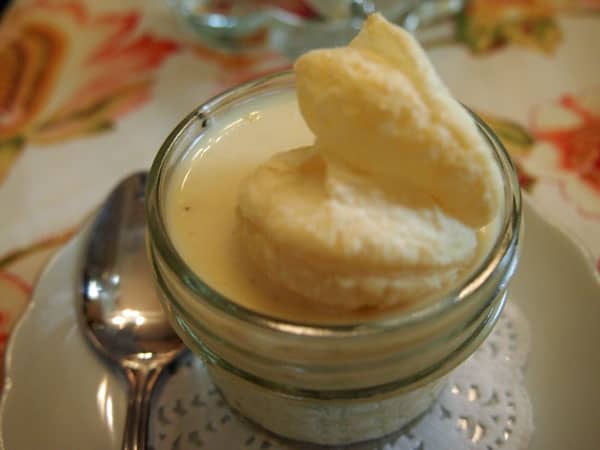 Mikaela reminded us all to use our Tea Time Manners. Pinkies out during tea time.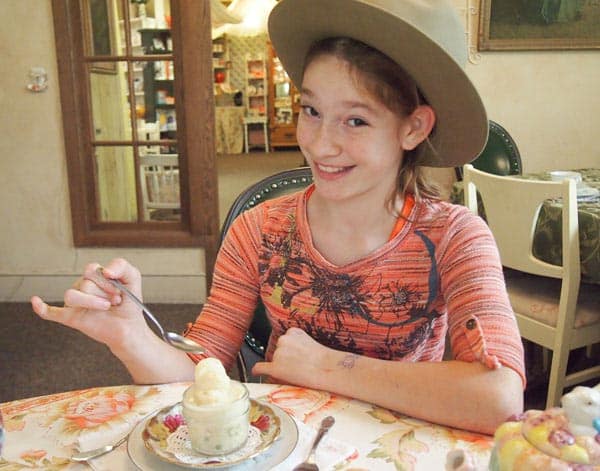 We were able to get a couple of darling photos of me with each one of my daughters. This day I will teasure because not everyday is as sweet as this one was.
Jadis took the photo of Mikaela and me. I think she did well. Yes, it is off centered – but I like that.
Then, the tea party food was served on a three tiered serving dish. The food choices looked so good it was hard to decide where to start.
Our finger sandwiches were Herbed Cucumber on Cottage Bread, Frenchy French, Chicken Salad on Pumpkin and Curried Egg Salad on Croissant.
The middle dish had Blueberry & Cranberry Orange Scones with toppings.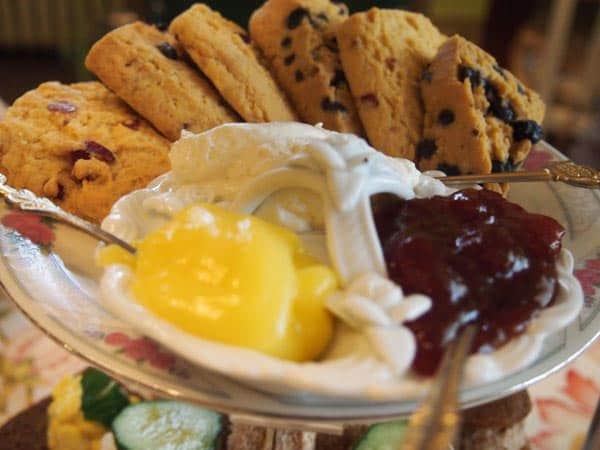 On the very top dish was my favorite type of food – desserts. We had Pumpkin Whoopie Pie, Raspberry Lemon Tart, Chocolate Cream Puff and Cream Cheese Chocolate Brownies.
Jadis was so happy to be spending time with us that she became a little goofy. Or it was all the sugar cubes.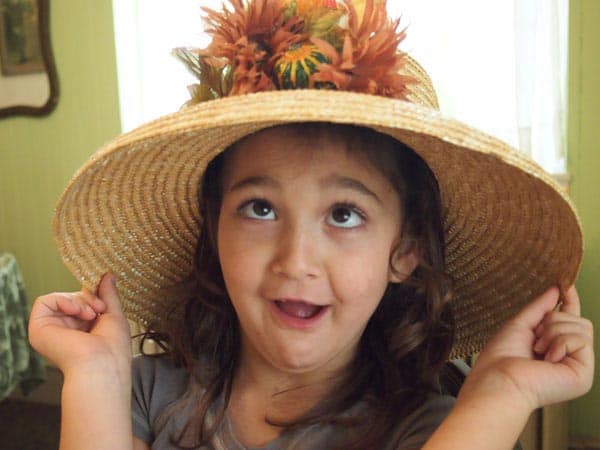 Although we all loved Jadis' Fall Tea Party hat, it was time to make a change…
What do you think?
Happy little ladies.
Our servers were so delightful. I would highly encourage you to visit The Mad Hatter Tea Room in Anoka, MN.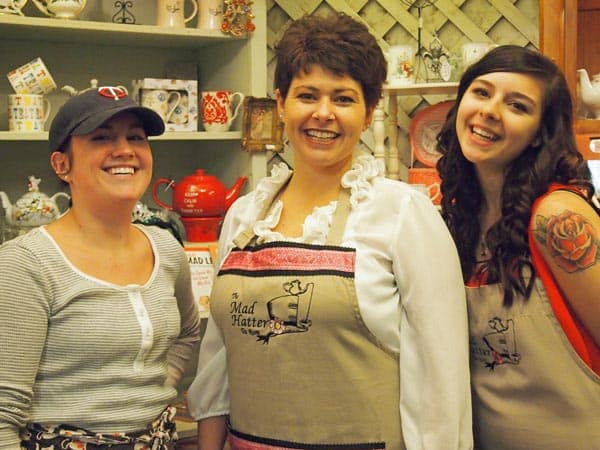 Before leaving I purchased a couple of fairy wands for little Ruthie who stayed home and a bag of Apple Dumpling tea.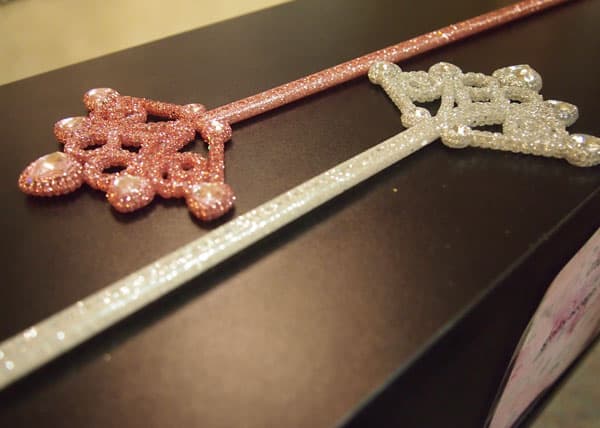 Jadis gives our tea party time a thumbs up!
I agree, next time you are looking for someplace special to spend your afternoon visit The Mad Hatter Tea Room.
Thank you so much to Liz (the owner) for letting us make an unforgettable memory.
Kelly
Looking for more autumnal activities? Then visit our Minnesota Fall page to find inspiration for sweater weather fun!