Minnesota has a ton of great options for Mexican food and Minneapolis is no exception. Whether you're looking for an upscale restaurant to take a date, a casual restaurant to take the family, or a quick spot to grab lunch, Minneapolis has a Mexican restaurant you're sure to enjoy. Keep reading to discover where you can get the best Mexican food in Minneapolis, whatever style of restaurant you're looking for.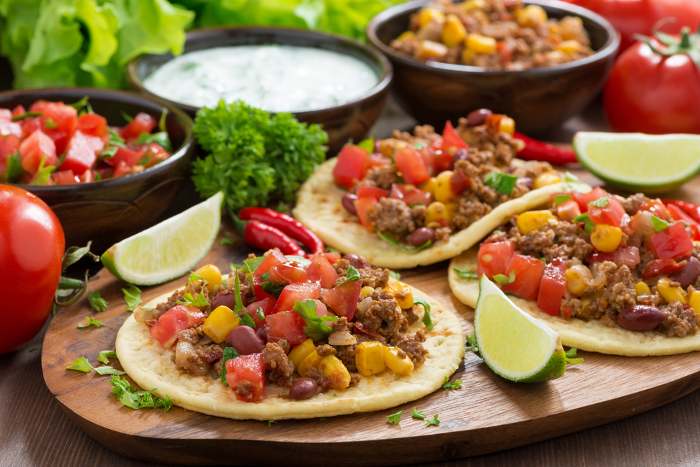 Best Quick Service Mexican Food in Minneapolis
1. El Taco Riendo
First up on our list of best Mexican food in Minneapolis is El Taco Riendo. A casual restaurant with exceptional food, El Taco Riendo is an excellent spot for takeout with quick and friendly service. The restaurant is small and not very fancy but the real highlight is the food. You'll find generous portions of authentic Mexican dishes such as burritos, tacos, enchiladas, and fajitas. Get your food to go or find a seat at one of the small tables. Free parking is convenient and easy to find out front.
2. Centro
Centro is located in the heart of the Northeast Arts District in Minneapolis. The restaurant is bright and welcoming with fast and friendly service. The tacos are fantastic and you can stop by the bar to get a cocktail, beer, or wine to enjoy with your meal. They offer a number of family meals that you can pick up and take home to enjoy so it's great for takeout as well.
Brunch is available on Sundays from 10 am – 2 pm where you can get classic dishes such as huevos rancheros or biscuit sandwiches plus a number of more unique dishes such as the Guava Glitter Roll (a cinnamon roll with guava paste) and Sunny Side Up Avocado Toast.
3. Catrina's Cerveza & Grill
Catrina's Cerveza & Grill has several locations in the twin cities area. All of the food they serve is made fresh, in-house at each of their restaurants every single day. You can taste the quality and freshness in their authentic, Mexican flavors.
The restaurant has a great atmosphere and makes a fun spot to grab lunch or bring the family for a quick dinner. They offer tacos, burritos, bowls, and taco salad, plus a number of other choices like quesadillas and tortas. You build your own meal at the counter with many choices for toppings including proteins, rice, veggies, and salsas.
4. Órale Mexican Eats
At Órale Mexican Eats, they combine traditional Mexican flavors with modern-day street food. Order at the counter and take your food to go, or grab a seat at one of the bright red or white tables. If corn is in season, try the Elote. It's so fresh and absolutely delicious.
If you have time to stay for a while, grab a drink at the bar to enjoy a conversation with the friendly bartender. They have a number of unique house cocktails such as the Hibiscus Passion Fruit Mojito and Agua Azul Martini. You can also find more traditional offerings such as a classic Margarita.
5. Maya Cuisine and Bar
Maya has a beautiful interior that makes you feel like you've been transported to an authentic Mexican village. Grab your food at the counter then find a seat to enjoy the ambiance while you eat.
The food is prepared fresh from scratch every day and there are many great choices including burritos, tacos, empanadas, quesadillas, and fresh guacamole. If you can't decide what to get, order a platter to try several things at once.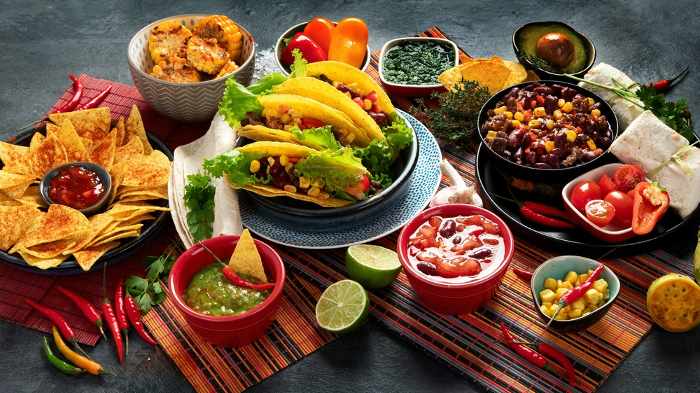 Best Upscale Mexican Food in Minneapolis
6. El Jefe Cocina Bar
El Jefe Cocina Bar is a family-owned restaurant serving authentic Mexican food that is made from scratch every day. Their food is a fusion between traditional Mexican and Latin Cuisine with a modern twist. The restaurant has a modern, casual feel with dark colors and twinkle lights. The food is refined and beautifully plated. An outdoor patio is available when the weather is nice. Reservations can be made online.
7. Sonora Grill
Next on our list of places for the best Mexican food in Minneapolis is Sonora Grill. Located in the Longfellow neighborhood of South Minneapolis, Sonora Grill serves excellent Mexican food with a menu full of unique and varied options.
They offer several vegetarian and vegan dishes that go beyond basic beans and tofu. Their extensive list of taco options includes choices such as beer battered fish with mango cucumber salsa, pork guajillo with chipotle salsa, roasted mushroom, and many more. The outdoor patio is a nice place to sit on a sunny day. Reservations can be made online.
8. Colita
Colita is a fully gluten-free kitchen. Their handmade tortillas are made fresh every day with corn grown in Oaxaca, Mexico. The food is delicious and served beautifully. The Cacio e Pepe Stacked Tostadas made with three types of cheese are a unique and delicious starter for your meal.
The interior of the restaurant is simple and classy with a stunning greenery wall behind the bar. This is a popular place so reservations can be hard to come by. Book early to get your preferred date and time. You can make a reservation online with Resy, or call the restaurant directly at (612) 886-1606.
9. Pajarito
At Pajarito traditional Mexican food is reimagined with modern touches. Open only for the dinner, this contemporary restaurant has a classy and cool interior that is perfect for taking a date. The mouthwatering tacos make up a good portion of the menu with choices like beef tongue, pork carnitas, and chicken tinga.
If you enjoy having a cocktail, beer, or glass of wine with your dinner, the bar offers a number of unique house cocktails like the Spicy Habanero Cilantro Margarita and Agave Negroni plus an extensive beer list and several wines. A number of non-alcoholic options are available as well including Agua Fresca, Mexican sodas, and Guava Spritzer.
Best Mexican Food in Minneapolis on a Budget
10. Grande Sunrise Seafood and Mexican Restaurant
Located in the Nokomis East neighborhood of Southern Minneapolis, Grande Sunrise Seafood and Mexican Restaurant is family owned and operated since September of 2017. They offer daily deals and happy hour discounts every day, as well as a menu full of budget-friendly options.
The decorations are bright and cheerful making the restaurant a welcoming place and great for families. Service is very friendly and accommodating and the food comes out hot with generous portions. They have an extensive menu of hot and cold seafood options as well as the typical Mexican fare you would expect like tacos, burritos, guacamole, and quesadillas.
11. Habanero Tacos Grill
If you're looking for the highest-rated Mexican restaurants online, don't miss Habanero Tacos Grill. They have 4.7 stars on Google and 4.9 on Facebook. The budget-friendly prices, friendly atmosphere, and delicious food that is served hot and fresh all contribute to the restaurant's excellent ratings.
Their veggie burrito is very popular, even with meat-eaters. You can also order kids' meals and party packs are available if you're feeding a large group. They offer online ordering for both delivery and carryout.
12. El Norteño
El Norteño specializes in authentic cuisine from Northern Mexico. Family-owned and run by women, their food is inspired by the traditional flavors of Chihuahua, Mexico. The outdoor patio is gorgeous with well-tended plants and arbors all around. It feels like you're eating in a garden.
The crunchy tacos are fantastic and you'll have plenty of warm tortilla chips and salsa. The prices are budget-friendly at $10-$13 per plate. A number of kids' choices are available as well for only $5. For reservations, call (612) 722-6888
13. Manny's Tortas
Manny's Tortas is a sandwich shop located in Midtown Global Market. Mexican and American cuisines come together making for delicious sandwiches, appetizers, and desserts. The service is hospitable and kind. You can often find Manny himself working at the counter. Each sandwich comes with a bag of chips on the side and they offer a number of Mexican sodas to drink.
Free 1 hour parking is available in the Ramp on 10th street at the corner of Lake Avenue, just show your parking ticket when you order and they'll give you the free 1-hour parking ticket. If you want to stay longer than an hour without paying for parking, you can sometimes find free street parking nearby.
14. Dominguez Family Mexican Restaurant and Grill
Elias Dominguez opened the Dominguez Family Restaurant and Grill near Lake Nokomis with his family in 2006. The Dominguez restaurant is very welcoming to families, providing excellent food with a casual dining experience and bright and cheery decorations. An outdoor patio is available with plenty of seating when the weather is nice.
Portions are generous and the food is fresh and tasty. The molé is made with an old family recipe and is quite delicious. You can call them at (612) 724-8493 for reservations or takeout.
Dive Into the Best Mexican Food in Minneapolis
There are so many great choices for delicious Mexican food in Minneapolis, the hardest part will be deciding where to go first!
Still hungry? Then continue exploring Minnesota food and drinks for a complete culinary adventure!
Still looking for more fun adventures? Then checkout all the great things to do in the Twin Cities!
About the Author
Latest Posts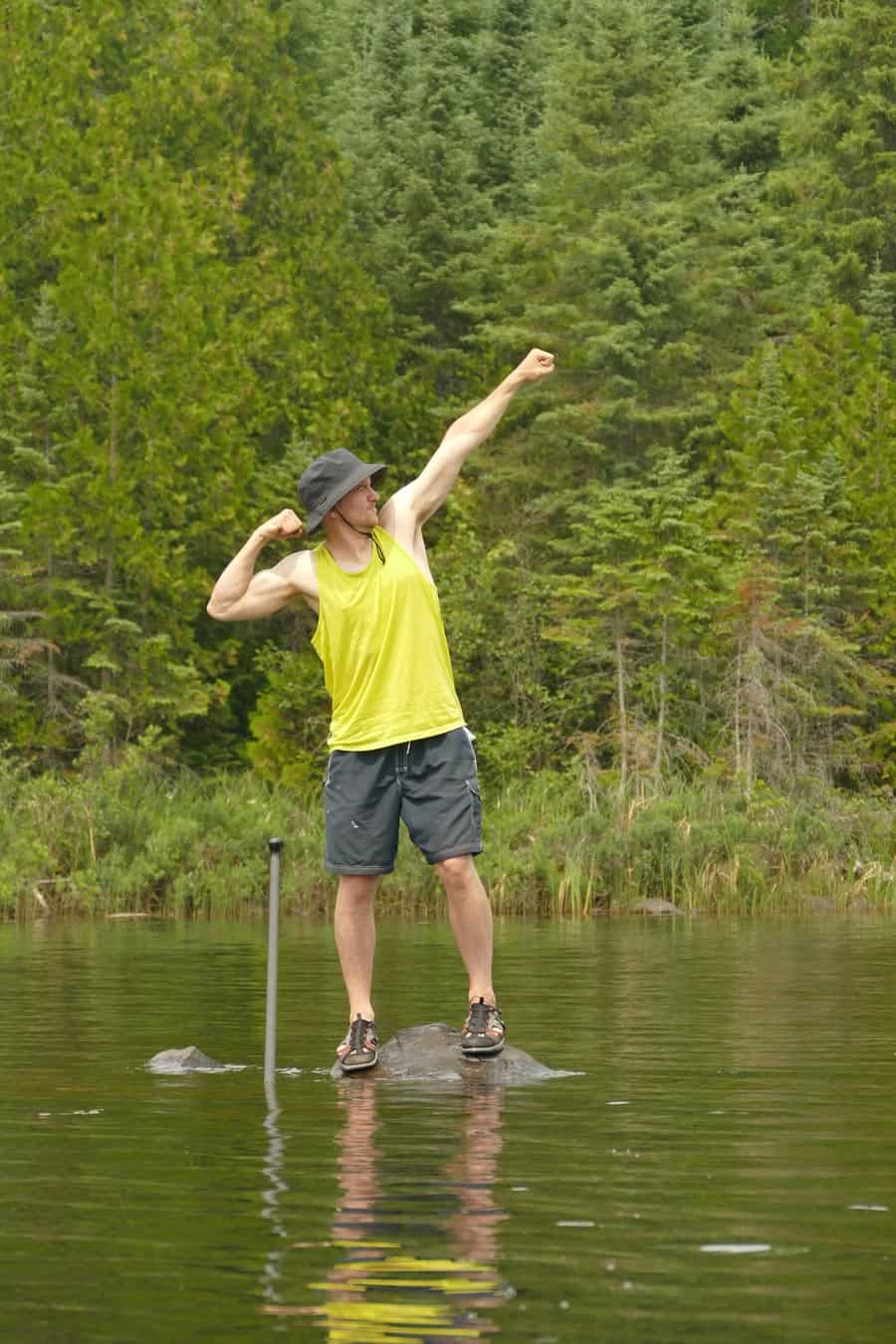 Born in Madelia, MN, to a now 5-generation Minnesota family, Ryan's MN roots go deep.
A painter by day, Ryan founded Life in Minnesota in 2013 with his wife Kelly to chronicle their musings on everything Minnesota. Ryan and Kelly are raising their 7 kiddos in Maple Grove, MN.
When he's not shuttling his kids around to hockey practice, you might find him in the shop working on his leatherwork. Undoubtedly, there will be a family trip to the Boundary Waters Canoe Area every summer, and of course weekends at Grandpa's cabin up north in the summer.