The Minnesota State Fair, also referred to as the Great Minnesota Get-Together, is an annual state fair that's been held nearly every year since 1859.
The fair is a melting pot of spectacular attractions, thrilling rides, talented music artists, and most importantly, delicious food – all over the course of 12 days. This yearly mega event is also known for adding exciting new attractions every year – so you can expect to be thoroughly amazed and entertained, even if you attended it last year.
If you're planning to visit one of Minnesota's biggest annual events, we have the ultimate 2023 Minnesota State Fair guide for you. This article will help you enjoy the festivities to the fullest, so read on!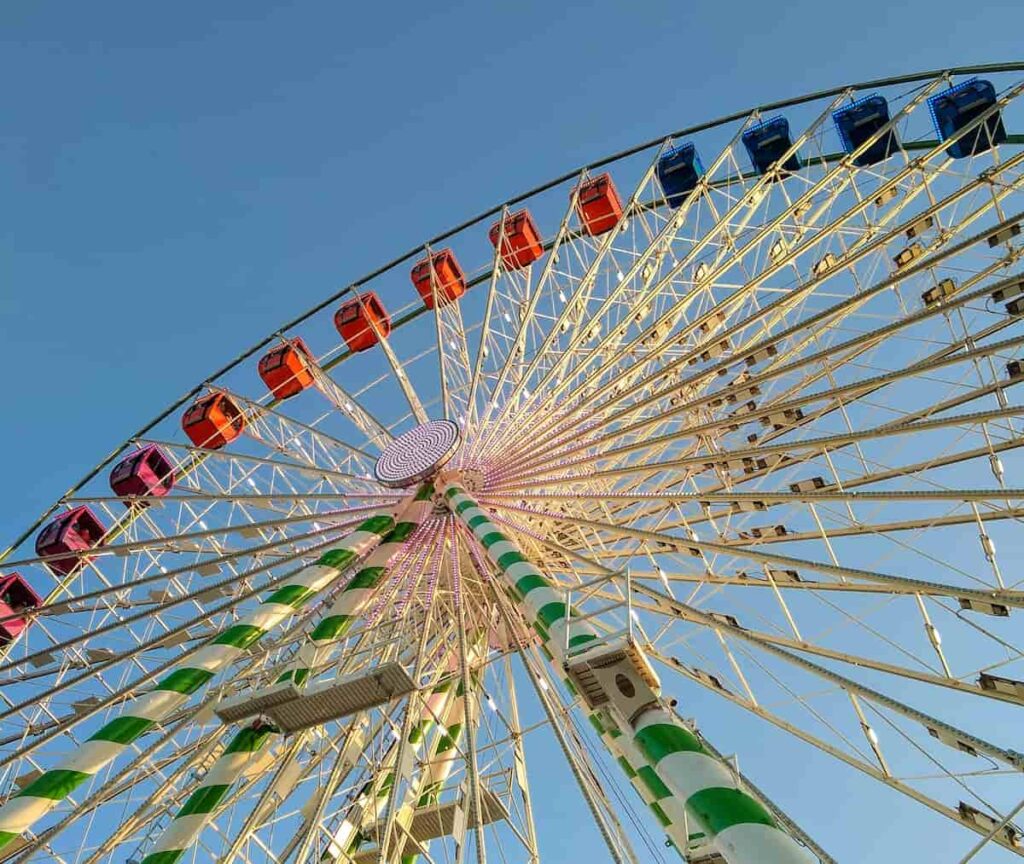 ---
---
When & Where
The Minnesota State Fair is a 12 day end-of-summer tradition that starts in late August and runs through Labor Day. This year, the fair will take place starting on August 25th and end on Labor Day, September 4th.
In its early years, the Minnesota State Fair was held in different parts of the state to make it more inclusive. This made it more convenient for regions that had trouble with logistics and the long-distance transportation of livestock and other materials. Today, the fair is held in the city of Saint Paul at the Minnesota State Fairgrounds located at 1265 Snelling Ave. N., St. Paul, MN 55108
The event is the largest state fair in the country in terms of daily attendance and the second-largest by total attendance, trailing the Texas State Fair, which generally runs for twice as long. On average, around 2 million people visit the Minnesota State Fair every year.
---
Tickets
There are three types of tickets available for purchase for the Minnesota State Fair:
General Admission Tickets
Grandstand Tickets
Ride & Attraction Tickets
General Admission Tickets
There are multiple options for purchasing general admission tickets. Fairgoers can buy tickets:
Over the phone through Etix at 800-514-3849
At the State Fairgrounds Ticket office located at the Loop Gate (#9) on Como Avenue, Tuesday, August 1 through Wednesday, August 23.
At participating Cub stores while supplies last.
Ticket Prices
Early discount admission tickets are on sale now at the pre-fair price of $15. These tickets are available for mobile delivery, free print-at-home, or mailed to your home for an additional fee. There is a limit of 12 tickets per order.
The regular fair-time admission prices are as follows: Adults (13-64): $18; Seniors (65+): $16; Kids (5-12): $16; and Children (4 and under): Always Free!
Grandstand Tickets
Each event at the Grandstand requires its own ticket, which will need to be purchased online or by phone. You can visit the 2023 Grandstand Concert Series lineup to see which events you would like to attend.
It is important to note that tickets to the Grandstand events do not include general admission to the fair. Those must be purchased separately.
Ride and Attraction Tickets
If you or anyone in your party is planning to ride any of the attractions or play games in the Mighty Midway or Kidway, you'll need to purchase tickets for that. The Minnesota State Fair does not have a wristband program, so fairgoers will need to be prepared to purchase individual tickets for the attractions.
This year, in 2023, all tickets will be digital and loaded onto a Fun Card that can be swiped at any Midway/Kidway game or rider.
The pricing for these tickets is as follows:
$1 for an individual ticket
$30 for 33 tickets
$60 for 70 tickets
---
Fairgrounds Map
To navigate the fair, you'll definitely want a map to ensure you don't miss a single attraction! Maps of the fairgrounds and the barn areas are available to fairgoers, as well as driving directions and information on avoiding traffic and construction.
To download your own copy of the map, go here.
---
Parking & Transportation
On-Site Parking
There are no parking reservations at State Fair lots, and slots fill up quickly, so it pays to come early. The parking area opens at 6 am and closes at 11 pm (except on Labor Day when it closes at 9 pm).
The parking fee is $20 (cash or credit/debit) and is paid immediately upon entering the park. Overnight parking is prohibited, and there are no provisions for RV parking.
Accessible Parking
There are designated parking slots for people with disability parking certificates, but these too, are available on a first-come basis. The parking fee is the same.
Parking Updates
For updates on the parking lot capacity and availability, fairgoers are encouraged to view the MN State Fair Twitter account (@mnstatefair). The hashtag #MSFParking will be used to notify fairgoers of parking availability. (A Twitter account is not required to view these updates.)
Public Transportation
For those looking to park outside the fairgrounds, there are a variety of options. The State Fair Express Bus service offers fairgoers free parking and a ride directly to the fairgrounds for a small fee. If you are coming from the suburbs around the Twin Cities area, this might be a good option for you.
---
Lodging
Traveling from afar to attend the multi-day state fair? There are plenty of locations for different budgets nearby where you can book your accommodations.
You can find a variety of overnight accommodation options on our Places To Stay page.
---
Accessibility
To create an inclusive space for visitors with accessibility needs, the Minnesota State Fair is offering the following services:
For more accessibility information, check out the Accessibility Guide for the Minnesota State Fair.
---
What To Bring
Allowed Items and Prohibited Items
Before visiting the state fair, know which items are okay to bring in and which are prohibited.
Allowed Items
Food and non-alcoholic beverages
Backpacks, bags, and coolers (except the Grandstand area); all are subject to searches
Cameras are allowed but are subject to the fair's photography and video footage guidelines
Personal electric mobility scooters, strollers, wagons, or wheelchairs
Prohibited Items
Any kind of weapon or items that look like they could be weapons
Flammable and explosive objects like fireworks
Alcoholic beverages
Illegal substances or drugs
Drone cameras and/or other remote-controlled devices
Bikes, skateboards, skates, hoverboards
Pets
Minnesota State Fair Packing List
It's easier to have a great time if you bring along a few basic necessities you'll likely need during these types of outdoor events. Here are eight necessary and handy items to carry when visiting the Minnesota State Fair.
1. Cash
The world is going digital, but it's always better to have cash with you at all times. Cash is necessary since not all vendors are equipped to handle credit card and digital payments. There will surely be ATMs inside, but do you really want to spend the fair standing in line at an ATM? Besides, it's also good to have some money in case of an emergency.
2. Bag
This list includes things that you won't be able to fit in your pocket. Even if you could, it won't be comfortable. It's better to carry a bag, like a backpack or a fanny pack, to hold necessary items which you can conveniently carry with you while at the fair.
3. Water Bottle
There will be bottled water at the fair, but it's better to bring a refillable water bottle. After all, why spend on something you can have for free? The Minnesota State Fair allows you to bring outside food and drinks (except alcohol) inside as well.
4. Sunscreen
August is one of the hottest months of the year in Minnesota, so pack a bottle of sunblock with you to protect your skin and avoid sunburn.
5. Hat
Hats are another good accessory to have on warm days when the sun is high.
6. Hand Sanitizer
You'll literally be getting your hands dirty when you visit any kind of fair. Most of the time, you won't be near a washbasin. It's better to keep a hand sanitizer on you at all times.
7. Wet Wipes
Expect to work up a sweat as you walk around. To reduce the sticky feeling and make yourself feel more comfortable, carry wet wipes so you can freshen up whenever necessary.
8. Walking/Sports Shoes
Your choice of footwear will influence how much you can walk around and enjoy the fair. Choose uncomfortable footwear, and your feet will soon feel it, forcing you to sit down more often than you'd like or limiting your time at the fair. Opt for a comfortable pair like walking shoes and tennis shoes with good arch support and cushioning. Leave the heels, platforms, and tight-fitting shoes at home.
---
Entertainment
Special Events
What would a fair be without its special events? Since the Minnesota State Fair is one of the country's largest state fairs, you can expect it to have a good number of fair events. Some of its events include free live music and shows, the All-Star Stunt Dogs Splash, Timberworks Lumberjack Show, and the 50th annual MSF Ametur Talent Show!
A full list of the Minnesota State Fair's daily events is released on the official Minnesota State Fair Schedule.
There are also a number of booths and learning showcase opportunities for fairgoers. If you're interested in learning more about agriculture, animals, and more, stop by one of the many educational exhibits!
For more information about these exhibits, check out the Booths and Showcases page.
Grandstand Concert Series
The Grandstand Concert Series is a highlight of the Minnesota State Fair. See your favorite big-name artists and bands perform live! This year's lineup includes:
To attend one of these concerts, you will need to purchase tickets in advance. These events are not included with your general admission ticket into the fairgrounds.
Rides & Attractions
Here's a list of popular attractions you might want to visit at the fair this year:
---
Food & Beverages
As one of the biggest state fairs in North America, you know you can expect the fair food to surpass your expectations! The fair attracts some of the best food booths in the country that will entice you to try a good number of them.
While there are new booths every year, there are a few traditional food items that you must try if it's your first time visiting. Here are the must-tries at the event:
The Gizmo
Sweet Martha's Cookie Jar
Funnel Cake
Tom Thumb's famous donuts
Funnel Cloud at the Bad Weather Brewing Company
Sausage by Cynthia
Speedy's About a Foot Long Hot Dogs
Fresh French Fries
Beer at the Fair State Brewing Cooperative
Mouth Trap Cheese Curds
Food with a view at Lulu's Public House
The Minnesota State Fair also offers different vegan and vegetarian options.
To learn about the new food stalls that the state fair will be featuring this year, check out the New Foods page. If you're interested in searching for a specific food vendor, you can do so using the Food Finder.
In addition to yummy food, you can also find a variety of different specialty brews and beverages to quench your thrist during your visit. In total, the fair typically features over 300 different beverages, some of which premeir and are only availbale at the fair.
To see what special drinks and brews will be making an appearance this year, check out the list of 2023 Specialty Brews & Beverages.
---
Best Day To Visit
For Families
Planning to enjoy the fair with your family? Go on days when the crowds are thin to avoid losing your kids in the swarm of people.
Generally, the first two days (August 24-25) draw the least amount of people. Weekdays (Monday-Thursday) are less crowded as well.
In addition to fewer people, there are discounts on regular fair admission tickets to look forward to on particular days:
Opening Day (Thursday, August 24th)
Military Appreciation Day (Tuesday, August 29th)
Kids Day (Wednesday, August 30th)
Seniors Day (Thursday, August 31st)
Get more information on the fair's deals and discounts page.
For Singles
If you're going to the Minnesota State Fair on your own or with your friends, the best days to go and socialize are the weekends. Most people come on Saturdays, particularly the last Saturday. In 2018, the last Saturday had an attendance of 270,426 people — the highest daily attendance ever recorded in the Minnesota State Fair's history!
For a Party
With so much going on, the Minnesota State Fair is like a big party that goes on for 12 days. The fair features a Grandstand Stage where famous artists perform on different days of the festival.
Apart from the Grandstand, the state fair also features hundreds of free music shows to enjoy.
For information on purchasing tickets, the Grandstand Stage shows and the free live music, check out the fair's Free Live Music and Shows page.
---
Special Spots
Photo Ops
While you're often the best judge for photo ops, there are a few spots that you may want to check out for picture-taking:
The veranda west of the Grandstand
The Minnesota mural on the east side of the Food Building
The DNR Fire Tower
The state fair also features certain selfie spots throughout the fairgrounds that are great for taking selfies! You can find the location of these selfie spots on the Selfie Spot Map.
Spots To Charge Mobile Phones
Having a dead battery in a large event like the Minnesota State Fair can have you scrambling for a place to charge your phone. Luckily, even if you forget your power bank, the fair has mobile phone charging locations that you can visit if your phone dies.
You'll find them at:
Renewal by Andersen, on the west side of Cosgrove Street between Wright and Dan Patch avenue
KSTP TV, East side of Chambers St. between West Dan Patch & Carnes avenue
Baby-Changing & Breastfeeding Stations
If you have little ones in diapers, most all of the restrooms on the fairgrounds have baby-changing stations.
For nursing mothers, there are breast-feeding stations available at:
Minnesota State Fair's Care & Assistance, located on West Dan Patch Avenue south of West End Market and north of Mighty Midway. Private and semi-private rooms are available on a first-come basis. Care & Assistance is open 8 a.m. to 10 p.m. (8 p.m. Labor Day) daily.
myTalk 107.1, located on the west side of Underwood Street between Randall and Wright avenues
TPT | Twin Cities PBS, located on the west side of Underwood Street at the intersection of Lee Avenue, 9 a.m. to 9 p.m. daily
Designated Smoking Areas
Smoking is permitted on fairgrounds, but only in the designated smoking areas. These areas are denoted on the state fair map.
Hydration Stations
Guests are permitted to bring their own refillable water bottles from home. Stations for re-filling those bottles can be found:
Restroom south of Kidway on the west side of Cooper Street
Restroom on the north end of the fairgrounds on the south side of Murphy Avenue.
Water fountains are also located throughout the fairgrounds.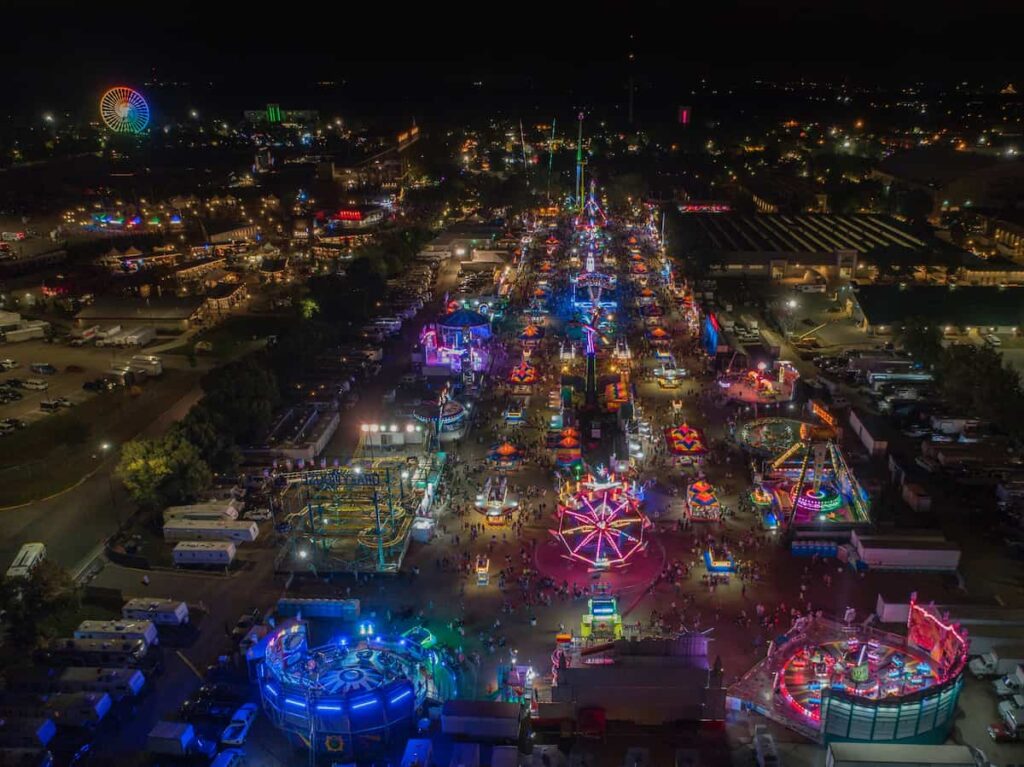 ---
Frequently Asked Questions
When is the 2023 Minnesota State Fair
August 24th-September 4th
Where is the Minnesota State Fair held?
The Minnesota State Fairgrounds located at 1265 Snelling Ave. N., St. Paul, MN 55108
What time does the fair open and close?
7 a.m. to 11 p.m.
7 a.m. to 9 p.m. on Labor Day
What are the ticket prices for the Minnesota State Fair and where can I purchase them?
For general admission, the prices are as follows:
Adults (13-64): $18
Seniors (65+): $16
Kids (5-12): $16
Children (4 and under): Free
If I buy a Grandstand Event Ticket, do I also need an admission ticket?
Yes. All the Grandstand concert events require their own tickets, but purchasing one does not include admission to the fairgrounds. You will need both an admission tickets AND a ticket to the event.
Where can I park at the Minnesota State Fair?
There is parking on-site, but spaces are limited and are on a first come, first serve basis.
How can I find the Park and Ride locations for the Minnesota State Fair?
Go HERE for the list of available Park and Ride locations.
What is the bag policy at the MN State fair?
You are allowed to bring bags into the fairgrounds, but all bags (purses, backpacks, coolers, etc.) are subject to search.
There are no lockers available and no bag check. Also, please note that coolers are not allowed at the Grandstand.
Can you recommend hotels near the Minnesota State Fairgrounds?
There are a variety of different hotel options in and around the St. Paul area. We recommend these places to stay.
Is there a map available of the fairgrounds?
Yes, you can download a copy of the map, here.
Are pets allowed at the MN State Fair?
No. Animals are not allowed on the fairgrounds. The exception to this is service animals and those animals inluded in an approved fair exhibit.
How can I find the schedule for the Minnesota State Fair?
You can find the daily schedule HERE.
Are there any special concerts at the Minnesota State Fair?
Are there any discount tickets available for the Minnesota State Fair?
Pre-fair, discounted tickets are available through August 23rd. You can purchase them here.
How many tickets will I need for the attractions?
When planning how many tickets to buy, keep in mind:
Kidway rides generally require four to six tickets; Mighty Midway rides generally require four to seven tickets; and Games of skill generally require three to six tickets to play.
Can I bring my own food and drinks?
Yes, you can! However, outside alcoholic beverages are not permitted.
Can I leave the fair and come back the same day?
Yes! If you leave but wish to return, you can have your hand stamped at the gate. This stamp allows you re-entry. Please note that if you leave the parking lot, you will need to pay to re-park your car.
Can I use my credit card at the fair? Or will I need to bring cash?

Yes! Credit cards are accepted at the admission gates, the on-site parking lots, and the tickets booths. Select merchandise and food vendors also accept credit cards.
Visa, MasterCard, American Express and Discover are accepted.
What happens if there is inclement weather?
The Minnesota State Fair will go on rain or shine. This include Grandstand concert events. Guests are encouraged to bring rain jackets or ponchos in the event of rain. Umbrellas are not permitted.
In the event of severe weather, shelters are available and noted on the State Fair map.
---
Wrapping Up the Minnesota State Fair Guide for 2023
The Minnesota State Fair is a 12-day gala rife with adventurous rides, exciting live concerts, music shows, scrumptious food, and so much more that you can only experience when you are at the fair.
If you're planning to visit the annual event this year, it's good to plan which rides, booths, shows, and food you want to try out. We hope this Minnesota State Fair guide will help you, your friends, and your family have a great time at the fair!
For more amazing adventures, check out these 17 Best Things to Do in Minnesota!
Looking for some warm weather recommendations? Discover spring and summer in Minnesota for best destinations, travel recommendations, small (and big!) town events, and more!