Are you getting travel anxiety just thinking about going to MSP Airport? Traveling can generally be a stressful experience regardless of the airport you're going to.
There are a lot of precautions to get through, crowds of people, and sometimes flight delays making your visit longer. But that doesn't mean your airport visit will be miserable! You can still make the most of it.
While the airport might seem like a daunting experience, knowing everything about MSP Airport beforehand might relieve some stress. You can plan out your time and prevent any rushing around.
Keep reading to find out what to expect at this airport so your visit can be as smooth as possible!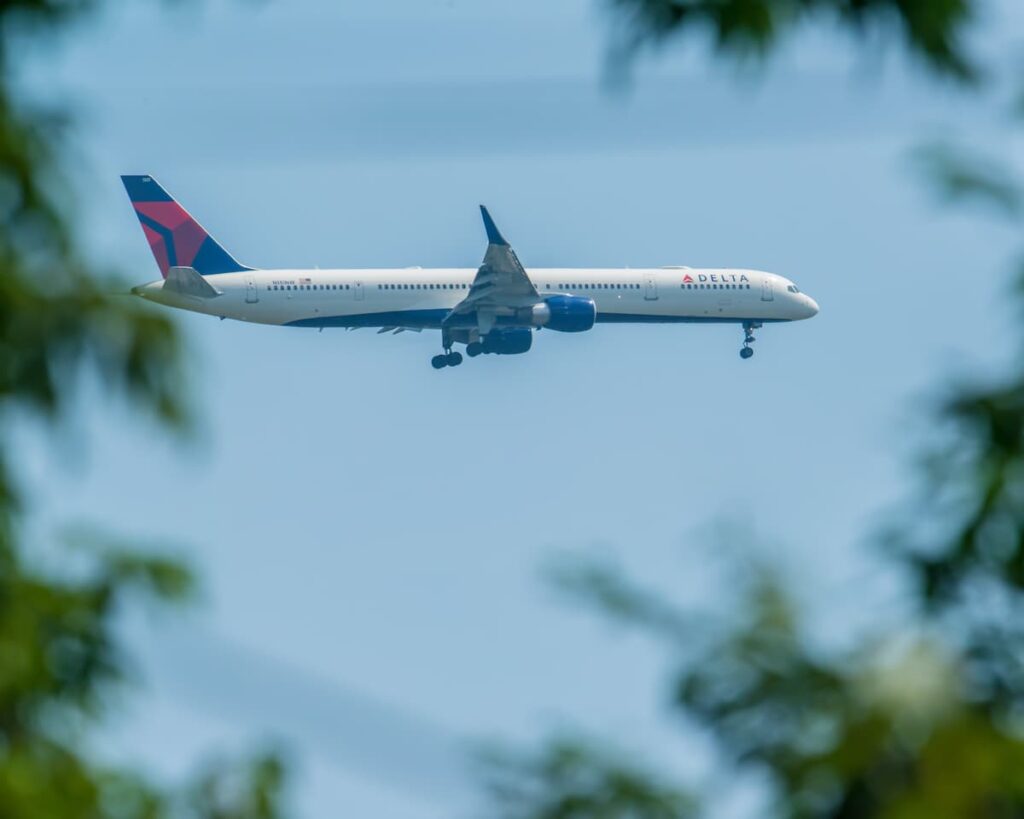 ---
What's Near MSP Airport?
MSP Airport is smack in the middle of the southern ends of Minneapolis and St. Paul. So, it's essentially near Minneapolis and St. Paul attractions and activities. If you're staying a while, the museums and parks are worth your time, especially Minnehaha Regional Park. The 53-foot-tall waterfall is gorgeous!
Most of the land around the airport consists of residential areas, along with a variety of hotels. But the biggest and most popular landmark near this airport is the Mall of America. You'll find it just south of the airport.
There are some stores and restaurants scattered around the area. And the beautiful and historic Fort Snelling State Park borders the eastern side of the airport. So if you're staying overnight near MSP Airport, there is plenty to do!
---
What Airlines Does MSP Airport Have?
This airport is an international airport, so it has quite a few airlines available. There are 18 airlines, and they split up into two terminals.
Terminal 1
This terminal carries ten airlines, including the following:
Air Canada
Air France
Alaska Airlines
American Airlines
Delta Airlines
Denver Air
KLM Royal Dutch Airlines
Spirit Airlines
United Airlines
WestJet
You'll find gates A-G in this terminal. It's also the biggest of the two terminals, so most of the amenities are in this area.
Terminal 2
This terminal carries eight airlines, including the following:
Allegiant Air
Condor
Frontier Airlines
Icelandair
JetBlue
Red Way
Southwest Airlines
Sun Country Airlines
You'll find all H gates in this terminal.
---
Parking
Due to the size of MSP Airport, there are multiple parking options available to you. Whichever parking option you choose, it might be wise to pre-book your parking. By doing this, you can save a few bucks each day your car is in the lot. You will also have a guaranteed parking spot, ultimately alleviating some stress and saving you time.
If you choose not to pre-book, there is a capacity tracker that tells you how full each lot is.
Daily Parking
You can find daily parking located at Terminal 1. It is one of the best options if you stay more than a few hours. To get daily parking, follow the signs to the red, green, gold, blue, pink, silver, and brown ramps. Parking rates will vary depending on how long you stay.
Valet Parking
If you want to avoid parking altogether, MSP Airport offers valet parking at varying rates. This type of parking is only available at Terminal 1, so be sure to follow the signs to this terminal. When arriving, someone will give you a valet ticket, they'll park your car, and you can be on your way! Just make sure you don't lose your valet receipt/ticket.
Value Parking
Value parking is the best way to save money. It's only available at Terminal 2, but the airport offers a free rail service to bring you to Terminal 1. Parking rates will vary.
ePark Elite
This type of parking is like an airport parking club for MSP. It's the best choice for frequent flyers and people who regularly travel for business. You'll need to fill out an application, get it approved, and then receive your membership. With this membership, you'll pay a monthly parking fee where you can park however many times you want.
Terminal 1 and Terminal 2: Hourly Parking
Hourly parking in Terminal 1 and Terminal 2 is for short stays, such as pick-ups and drop-offs. Your stay should be up to four hours at a maximum. Rates will vary.
Quick Ride Ramp
The Quick Ride Ramp is one of the best value options for parking at both terminals. You'll simply park your vehicle in the designated lots, and a shuttle will take you to the airport. The shuttle runs 24/7 and will pick you up at your vehicle. It will also take you back to your vehicle when you return.
---
Travel Options Between the Terminals
The MSP Airport is rather large and can be a little overwhelming. Luckily, there are two travel options to help you get around.
Rail transit: You can travel for free between the two terminals with light rail transit. Trains run 24/7 and arrive about every 15 minutes.
Biking: There are biking lanes for you to use between terminals. And there are bike racks available to store your bike.
---
Accessibility
MSP Airport has a variety of assistance options, including:
Accessible parking spots
Shuttles
Wheelchairs
Blind and low-vision assistance
Service animal and pet relief areas
Text format screens for the deaf or hard of hearing
If you need special arrangements, be sure to call ahead of your flight day. You can talk to customer service if you need something (like a wheelchair) as well. Both terminals have customer service offices.
---
Bag Check and Security Screenings
Both terminals have baggage check services in their ticketing lobbies. Terminal 1's ticketing lobby is on the second level, while Terminal 2's is on the first level. If you only have carry-on bags, you can go directly to the security screening areas.
Terminal 1 has multiple TSA checkpoints for you to choose from, including the following:
Ticketing lobby level
Skyway bridge
Concourse G (only for international travelers)
Terminal 2 has checkpoints in the ticketing lobby area and nearby the purple and orange ramp skyways.
---
Food Options
Traveling in an airport can make you hungry, especially if you'll be there for a while. Whether you're looking for a snack, a savory meal, or something sweet, there's something for everyone at MSP Airport! There are plenty of coffee places for caffeine pick-me-ups and a few bars to unwind and enjoy refreshing drinks. Here are your options when visiting.
Snacks and Quick Service
Sometimes you need to grab something quickly to avoid missing your flight.
At Terminal 1, you can grab buttery pretzel bites from Auntie Anne's or a crunchy salad from Crisp and Green. And if you're looking for a quick bag of chips, Cibo Express Gourmet Market has a nice selection of snacks!
In Terminal 2, you'll find Farmer's Fridge, which consists of deliciously healthy salads and grain bowls. Or you can pick up a savory Subway sandwich to satiate your hunger!
Other snacks and quick service options include:
Terminal 1: Chick-fil-a, Custom Burgers, Firehouse Subs, and more.
Terminal 2: MSP MKT.
Restaurants
If you're craving a sit-down meal at MSP Airport, that's okay too! Grab a seat at Blue Door Pub in Terminal 1 to enjoy burgers and wings. Or visit Hissho Sushi for some Sashimi and miso soup! Terminal 2 has some great food too with carnitas tacos and enchiladas from Cocina Del Barrio. There's a restaurant for every cuisine you're craving!
Other restaurant options include:
Terminal 1: Buffalo Wild Wings, Chili's, The Cook and the Ox, Hi-Lo Diner, and more.
Terminal 2: Minnesota Wild Bar and Restaurant.
Bars
If you're feeling a little stressed and want to relax with a cocktail, Terminal 1 has Escape Lounge and FlyBar. And Terminal 2 has Surdyk's Flights, which has a food and wine market, full bar, and cafe.
Coffee and Sweets
Coffee is a must-have for many people when traveling. And you're in luck, as there are plenty of places to get your caffeine fix! Terminal 1 offers Caribou Coffee, Dunkin Donuts, and places for sweet treats like Angel Food Bakery and Cinnabon. And if you're craving a cup of joe in Terminal 2, there's a choice of Caribou Coffee or Starbucks.
---
Shopping Options
Do you need some shopping therapy? MSP Airport's Terminal 1 offers 32 stores to wander around in! Whether you want a good book for the flight, a souvenir, or a new wardrobe, Terminal 1 has it. There are a variety of book, clothing, jewelry, and electronics stores. You can even get delicious fudge and candy at the Rocky Mountain Chocolate Factory!
Terminal 2 has less of a selection. But you can still grab a good book and souvenirs from places like Mpls. St.Paul News and Gifts.
Terminal 2 has less of a selection. But you can still grab a good book and souvenirs from places like Mpls. St.Paul News and Gifts.
Here are some of your other shopping options:
Terminal 1: iStore, Open Book, Sunglass Hut, Tumi, and more.
Terminal 2: Hudson News, L'etoile Market, and MSP Shopping by Dufry.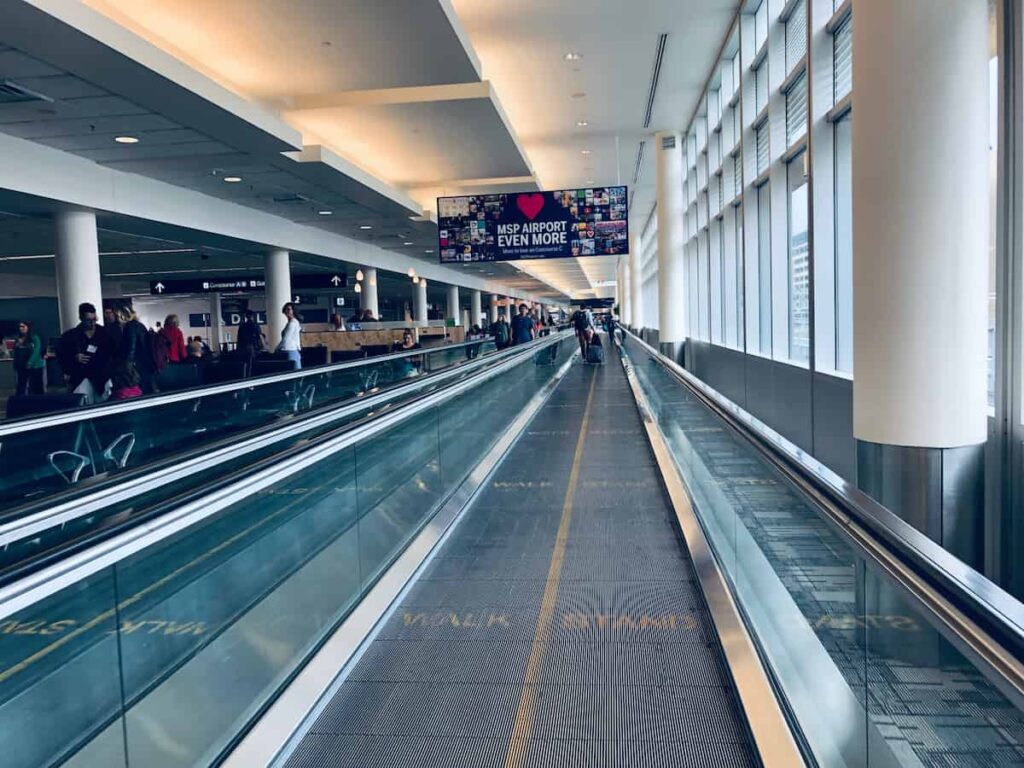 ---
Where to Relax
If the anxiety and airport chaos is getting to you, it might be time to take a break and relax. Luckily, there are a few places where you can get some peace. But remember that all these options are only available in Terminal 1.
Chiropractors
Yes, there's a chiropractor inside MSP Airport! It makes sense, as sitting on a plane for long flights can cause back pain. There are two chiropractor centers called the Chiroport. Their services include massages, spinal joint adjustments, and stretching.
Clubs
Some airlines, like United and Delta, offer membership clubs where you can relax and enjoy complimentary beverages and food. There is also a conference center and a center for people in the Armed Forces and their families.
Spa
Do your nails need a fresh coat of nail polish? You can head over to XpressSpa for a fresh manicure, massages, and other treatments. Everyone deserves some pampering, especially in a stressful environment!
---
Extra Amenities
Restaurants, shopping, and relaxing areas are more than enough for most people at the airport. But, that's not all that's available! Here are some other things that are worth checking out at MSP Airport.
Walking Path
If you need to stretch your legs, you can walk around Terminal 1's 1.4-mile walking loop! It'll take you through the C and G concourses and the shopping area. So, you can window shop and get a little workout in at the same time!
Peaceful Seating Areas
Sometimes all the airport noise can be overwhelming or make it hard to concentrate. If you need a little quiet, there are multiple seating areas located throughout MSP Airport. They are perfect for reading, catching up on work, or resting.
Post Office Services
Do you need to ship something before getting on your flight? There are drop boxes in both terminals for USPS and a FedEx drop box in Terminal 1. You can also buy stamps to send letters at Terminal 1's Travelers Assistance Office.
On-Site Hotel
Did your flight get canceled? No problem at all! The InterContinental-MSP directly connects to the airport for your convenience. And you can access it from Terminal 1 near gate C25.
The hotel is pet-friendly and offers a variety of queen and king rooms and suites. It also has two delicious restaurants and a coffee shop for fresh caffeine!
---
Frequently Asked Questions
Is MSP a large airport?
MSP Airport is a very big airport, with a lot of the acreage focusing on Terminal 1. The entire airport is 3,400 acres and, on average, has over 30 million passengers yearly. With this comes 86,900 jobs, so there are a lot of employees.
Can you walk between the two terminals at MSP Airport?
The terminals don't connect. There are no pedestrian paths or access points between the two terminals for passengers. This is why they offer a free rail service between them. So, be sure to check your terminal before entering the airport.
How early should you get to MSP Airport?
Your timing generally depends on how busy the airport is. You should get to the airport two hours before a domestic and three hours before an international flight. This will give you time to get through all the security, check your bags, and unwind.
---
Start Getting Ready for Your Trip!
MSP Airport is a massive airport with plenty of fun and relaxation to offer while you wait for your flight. It has everything you could need and much more!
With all of these things to do and see, you might feel nervous entering this huge building. But, by using this guide, you'll be entering the airport prepared and equipped with knowledge. So, make the most of your time at MSP Airport and enjoy your flight!
Do you need information on the Twin Cities for your visit? Check out Minneapolis & St. Paul: Everything the Twin Cities Has to Offer for restaurant details and things to do!