July is upon us here in the North Star State… and it's bringing the heat! Minnesota is known for its temperature extremes– cold, snowy winters and hot, humid summers. In the winter, we've devised what Minnesota is famous for: a plethora of ways to stay warm. This includes donning our flannel and stuffing ourselves full of Crock-Pot roasts and potatoes.
Somehow, those warm comfort foods just aren't as appealing in the summer. But we all know what is: ice cream! Ice cream (and gelato, and custard) is a toasty Minnesotan's best friend… cold, creamy and sure to beat the summertime heat. In fact, using the heat as an excuse to eat ice cream every day may very well be one of the best things about Minnesota!
Luckily for all of us, Minnesota is home to some of the best ice cream shops in the nation! From the well-known, trendy hot spots like Milkjam and Pumphouse to the mom-and-pop institutions located outside the Cities, Minnesota has plenty of options to fulfill your frozen dairy dreams. So many, in fact, that it would be easy (not to mention, delicious) to make a summer hobby out of visiting them all!
Take a peek at our exhaustive (in the best way possible) list of the best scoop shops in the state, and prepare for a sweet, satisfying brain freeze!
Sebastian Joe's, Minneapolis
This family-run ice cream parlor has been serving up cool treats since 1984, including ice cream pies, sandwiches, and pints or quarts to go. With a nod to their grandfather, Sebastiano, who emigrated from Italy in 1920, Sebastian Joe's independent scoop shop is run by three brothers who value their customers, their employees, and their city.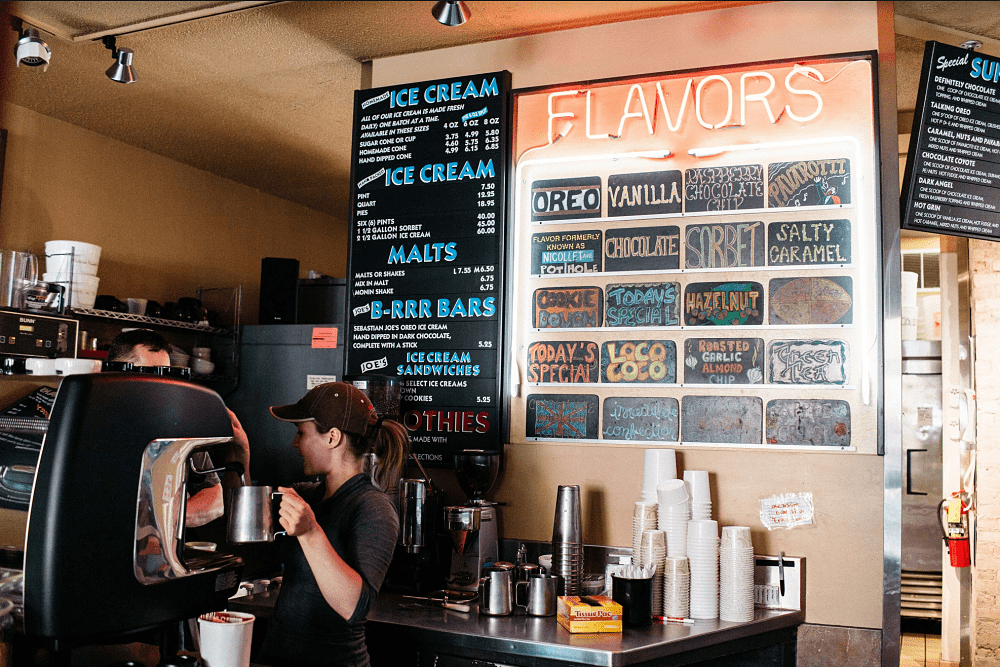 With coffee, baked goods, and one-of-a-kind flavors like Marion Berry D.C. Nut and Nicollet Avenue Pothole, this Minneapolis institution is sure to please any sweet tooth big or small!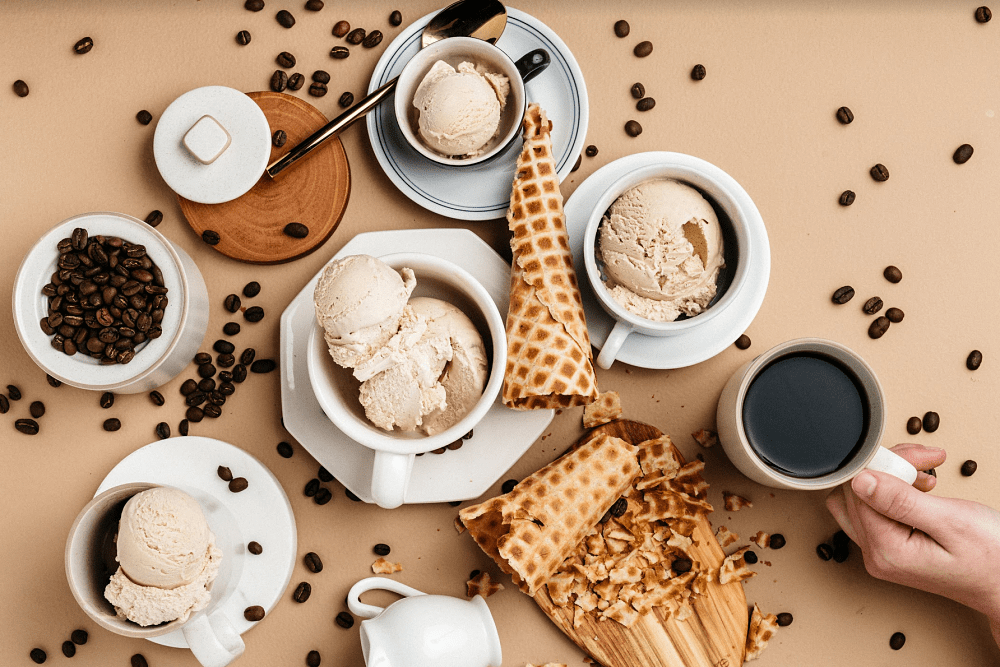 Sebastian Joe's has extended summer hours, and two convenient locations in Linden Hills and Lowry Hill.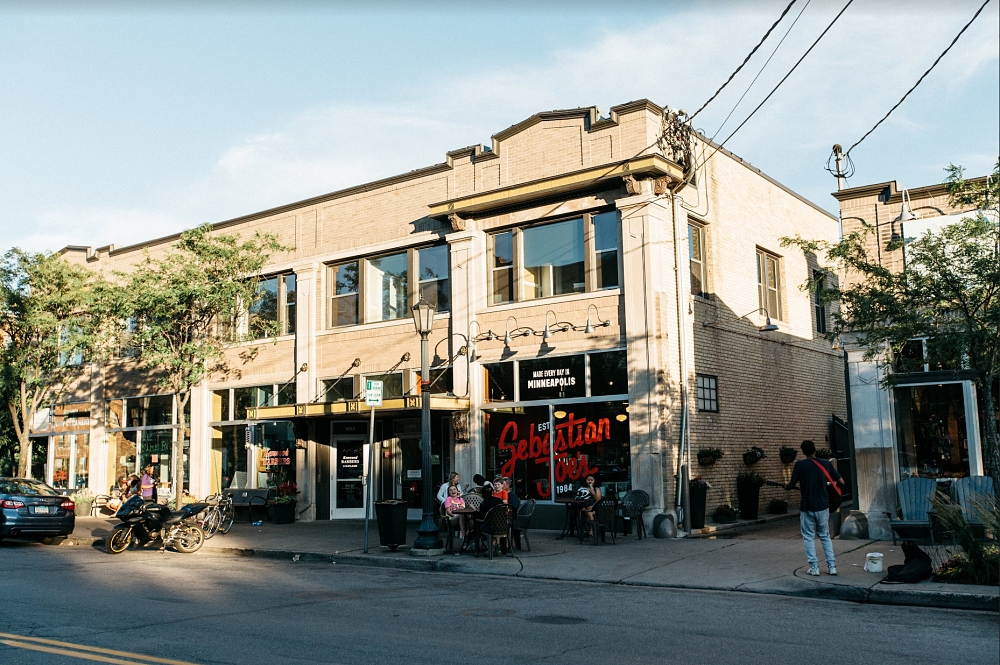 Flapdoodles, Rochester
If you're looking for a whimsical, topsy-turvy ice cream experience, Flapdoodles Homemade Ice Cream is the place to go! Owner Matt Tierney opened the original shop in 2011 (adding a second location in 2016) and created his menu around a sailing theme.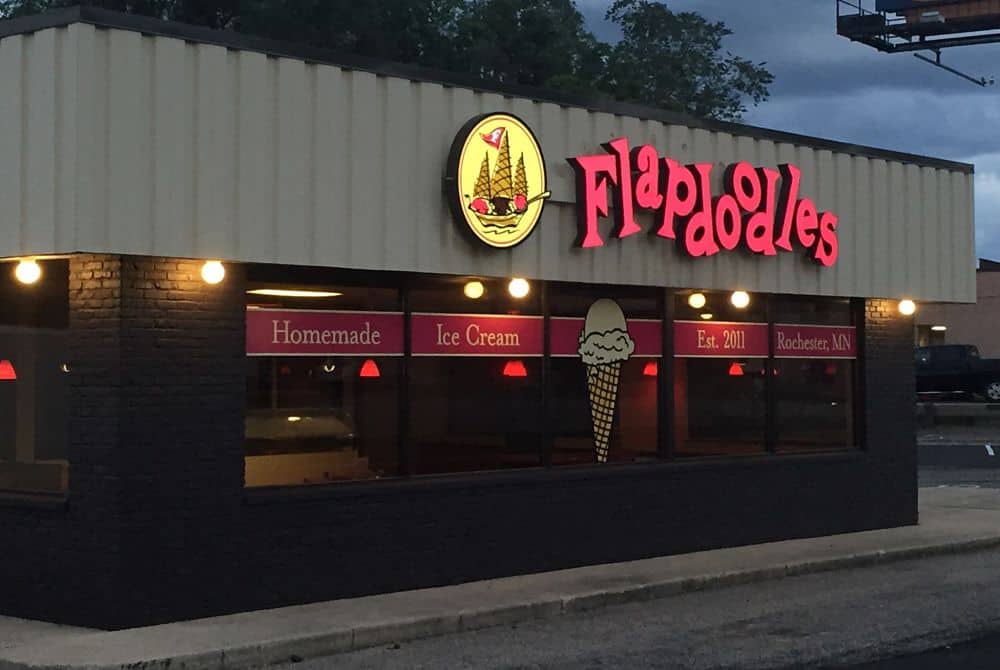 With nearly 60 flavors in their rotation and 24 available at any given time, Flapdoodles has something for everyone! In addition to the ice cream they churn in-house, the shop also offers ice cream pies, and ice cream cakes loaded with confections sourced from a local bakery. They're open until at least 10 pm every night of the week, and with a drive-thru at the North location, ice cream just doesn't get much more convenient!

Grand Ole Creamery, St. Paul
Laying claim to its title of first retail ice cream parlor in St. Paul, Grand Ole Creamery on Grand Avenue is perhaps the frontrunner in all things ice cream. Since 1984, Grand Ole Creamery has been offering its loyal customers a myriad of flavor choices (over 200!) served up in their homemade waffle cones. They've won numerous awards, including more than one national title!
A second location was recently opened up near Lake Nokomis in Minneapolis so beachgoers could cool off with a sweet treat, and if you need something to fill you up in addition to ice cream, the St. Paul location now serves pizza and salads. Frequent customers claim it's some of the best pizza in Minnesota– as if great ice cream wasn't enough!
Grandpa's Ice Cream, Fridley
Since 2005, Grandpa's in Fridley has been cranking out premium small-batch ice cream in 32 flavors! If you're looking for a treat shop that values quality over quantity, this is it. Grandpa's works exclusively with vendors who are committed to providing high-quality products like the freshest fruit available, and they also source their cream from a local dairy.
In addition to ice cream, Grandpa's makes their own sorbet, and also offers coffee, tea, and smoothies if you're not in the mood for a cone. And in case you need your ice cream to travel, Grandpa's packs pints or quarts right at their shop, and also offers catering for large events!
Adele's Frozen Custard, Excelsior
Okay, so technically Adele's isn't an ice cream parlor… but after 20 years just a skip and a hop away from Lake Minnetonka, serving over 90 flavors of custard, this treat stop had to make the list! In addition to their heavenly custard (served up just about any way you could imagine), Adele's also offers a variety of sandwiches, hot dogs, and brats!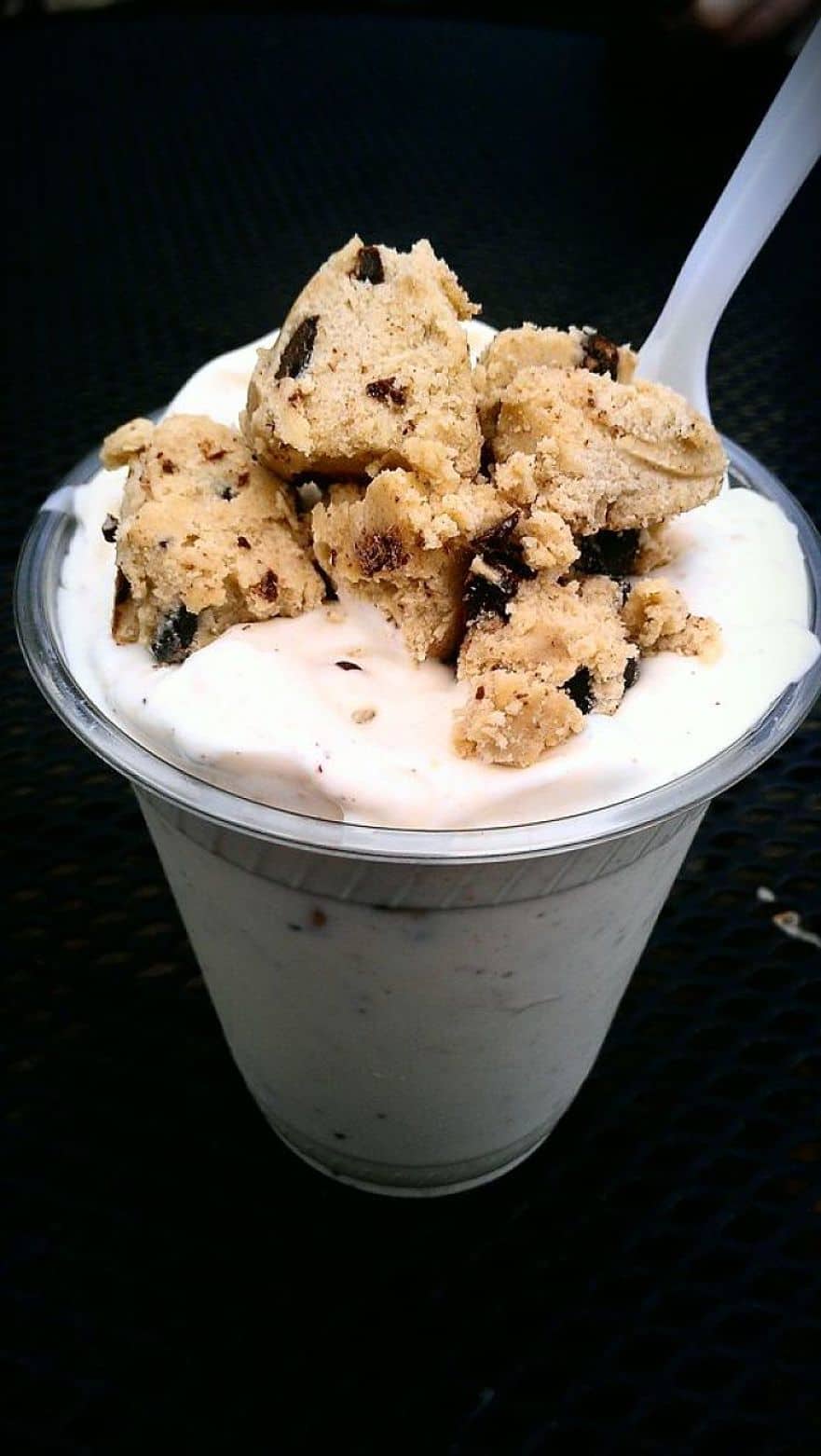 This shop is the perfect stop for a cool treat, but take note: to keep their quality consistent, they focus on just two flavors per day. That being said, you can always place a special order to purchase your favorite flavor by the gallon! And if you just can't get enough Adele's while you're in their neighborhood– they offer catering and will bring the custard to you!
Big River Scoop, Bemidji
A relative newcomer to the ice cream shop scene, Big River Scoop opened its doors in the historic northern town of Bemidji in 2014. With imaginative and comical flavor names like Yippee Skippee and Kitty Kitty Bang Bang, this storefront appeals to locals and tourists alike through its cafe feel and handcrafted dessert options.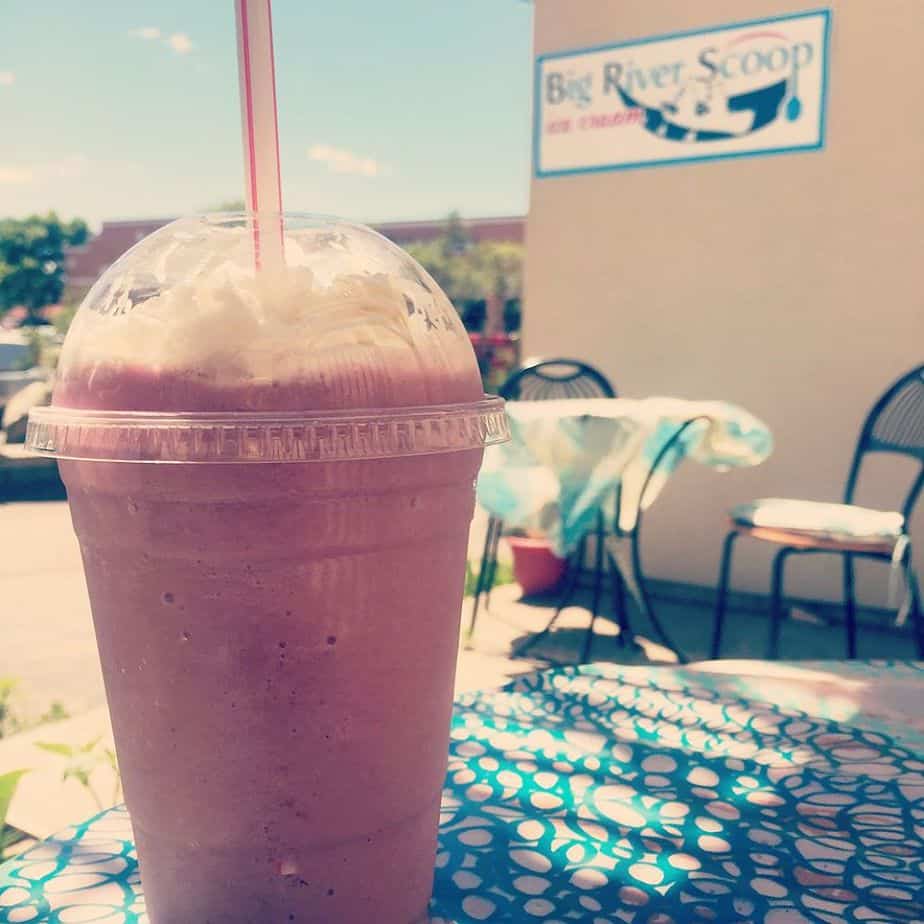 Though the ice cream is sourced from a small business in Wisconsin, Big River Scoop believes in supporting the surrounding community, and showcases local art and literature! They also serve up snack foods like nachos and popcorn. They're open seven days a week, and if you're worried about finding them– they're right across the street from the famous statues of Paul Bunyan and Babe the Blue Ox!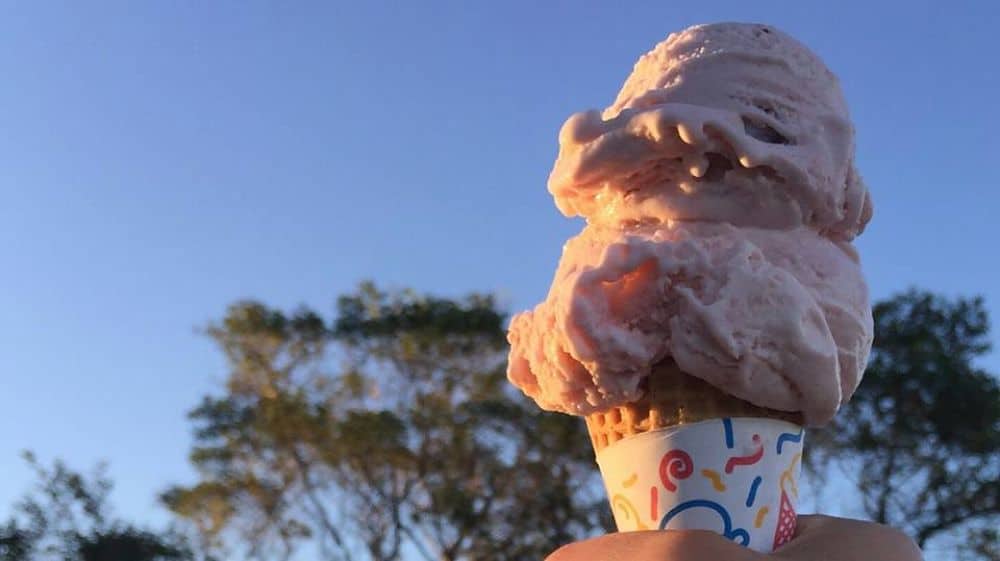 Cone Brothers Ice Cream and Candy, Richfield
Sometimes you just can't judge an ice cream parlor by its storefront. Located in a nondescript strip mall in Richfield, it would be easy to pass by Cone Brothers for a flashier joint elsewhere. But you'd never know what you were missing on the inside! With a true vintage 1950s feel (checkered floors included!), Cone Brothers is like a step back in time to sweeter days.
Their ice cream, available in 20 flavors, is sourced from two Midwest family creameries, so you can feel good about supporting America's farmers. They also carry hard-to-find vintage sodas and serve Chicago-style hot dogs and gourmet smoothies.
Sonny's Ice Cream, Minneapolis
If you're looking for an escape to Little Italy, Sonny's Ice Cream on Lyndale Avenue in Minneapolis is the treat retreat for you. Since 1945, Sonny's (formerly known as Crema Cafe) has been scooping homemade ice cream, gelato, and sorbet. In fact, the owners still get up at 3 am every day to mix up their 3-5 gallon batches by hand! Sonny's claims to create a new flavor nearly every day, so there's no lack of choices here.
And once you've got your cone or dish in hand, head outside to their charming piazza, complete with wrought-iron tables, lush greenery, and Spanish tile. You might just forget you're in the heart of the Twin Cities!
Sonny's also serves up a menu of brunch foods, burgers, and some alcoholic drinks… so you could stay all day if you wanted! Take note, though, to head their way during the summer months if you can; they're open seven days a week June-September, but only on weekends during the off-season.
King of Creams, Duluth
If you find yourself on the North Shore this summer, the locals all seem to agree that King of Creams is the place to stop for a cold goody or two. In addition to their 18 hand-scooped flavors, they also offer their signature Philly cheese steak, onion rings, burgers, and more! They even offer beer and cider in their newly renovated location in Duluth's Hillside neighborhood.
And if you find you're too busy seeing the sights to make a stop in? Don't worry– they have food trucks that travel the local streets most days of the week, and a "cruisin' kitchen" that vends their goods at many community events and festivals!
Izzy's, St. Paul
For the cone connoisseur who needs choices, a visit to Izzy's is the perfect dessert stop on a hot summer day. During their 17 years in business, Izzy's has built a cult-like following and become a Twin Cities ice cream icon. With over 150 flavors to choose from, the options are nearly endless! Since the Minnesota-born, husband/wife owners opened Izzy's in 2000, they've been inventing creative flavors with quality ingredients that will impress any ice cream fan.
For the adventurous, there are options like Basil, Cream Cheese, or Summit Oatmeal Stout. For kids, there's Dinosaur Egg or Spongebob. And for the lactose intolerant among us, there's even sorbet and some dairy-free flavors! And don't worry if you can't pick just one to try– this scoop shop is known for serving up an "Izzy" with your order: a mini scoop of any flavor plopped on top of your scoops. Izzy's has storefronts in both Minneapolis and St. Paul, and you can even find them at Target Field! Homerun!
Edina Creamery, Edina
They say location is everything, and that couldn't be more true for Edina Creamery, located in the heart of the boutique shopping district 50th & France in Edina. Once deemed "the best ice cream in America" by a prestigious food magazine, Edina Creamery boasts all-homemade ice cream that has steadily gained quite the diehard fan base. Frequent visitors swear you have to try the waffle cones baked fresh in-house!
With an old-school feel and classic flavor profiles, Edina Creamery is a mom-and-pop shop that consistently delivers delicious ice cream and quality service to every customer who graces their red vinyl booths.
Nelson's Ice Cream, Stillwater
If there was ever a standard to measure ice cream by, Nelson's in Stillwater is it. Accolade after accolade, numerous "Best of" awards, and word-of-mouth have kept this powerhouse scoop shop business booming since it opened as a family grocery 1923.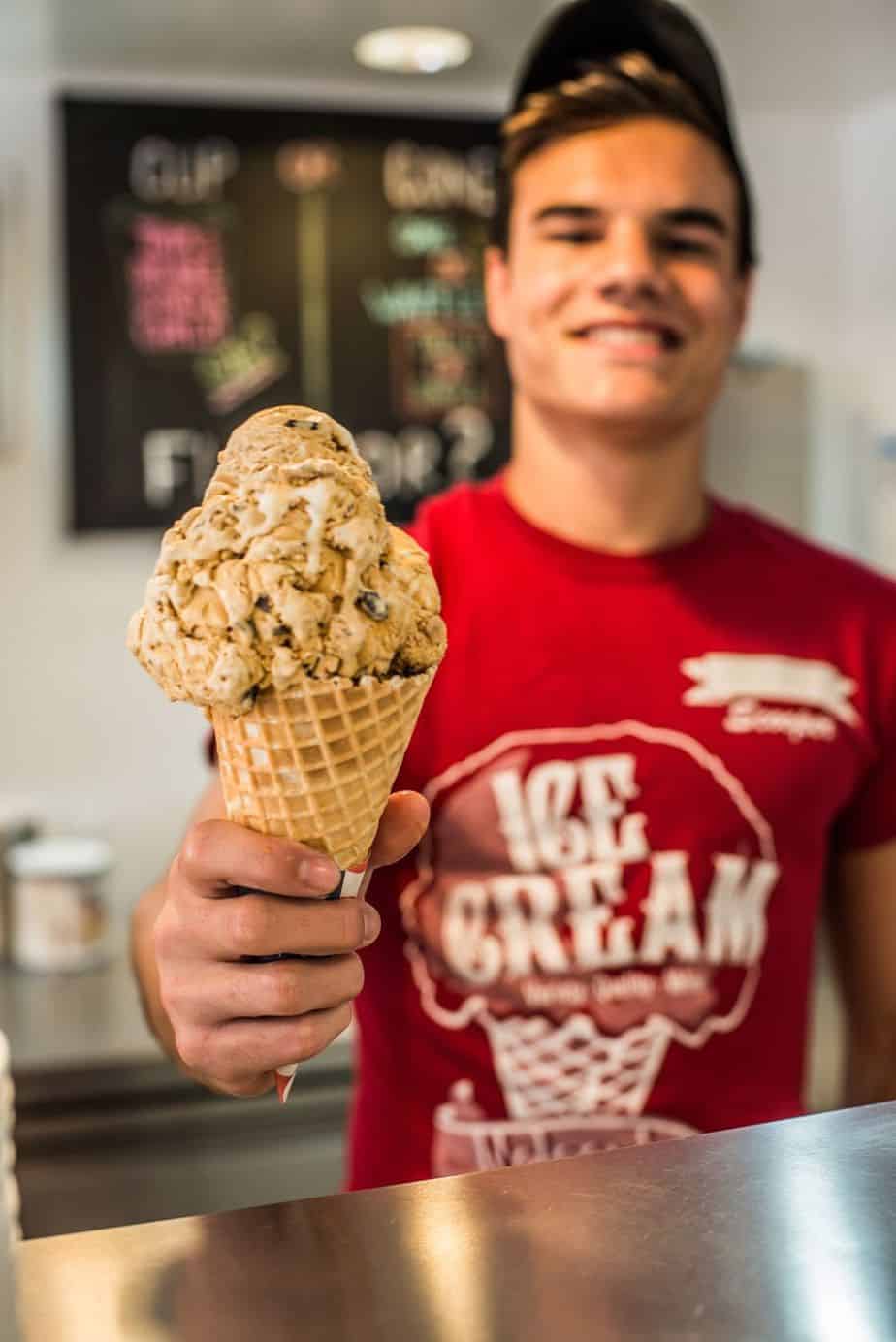 And while their old-fashioned storefront and friendly service are all part of Nelson's charm, it's the portion sizes that have made them one of the standout ice cream parlors in the state. When you order one (or more!) of their 40-plus flavors, expect to be handed a mammoth-sized serving of dairy goodness! Their generous scoop sizes and reasonable prices keep loyal customers coming back time and again. But if one giant helping just won't do it for you? The brain-freezing brave can attempt to finish The Lumberjack: five softball-sized scoops of any flavor you choose served with any combination of toppings. If you pack it away on your own, you'll get your photo on their Wall of Fame!
Nelson's opened a second location in St. Paul in 2014, so if you can't make it out to Stillwater, stop into their location in the Cities for a larger-than-life treat! The sugar buzz you'll have afterward is free of charge.
Up north or down south, when the Land of 10,000 Lakes cranks up the temps, Minnesotans need a sweet treat to cool down. Whether you're a fan of creamy custard or refreshing sorbet, there's clearly a host of Minnesota ice cream parlors who take their job of serving you decadent desserts very seriously!
No matter if you're an adventurer who's up for any new flavor combination, or a consumer of the more classic varieties, these scoop shops will gladly cool you down and satisfy your sweet tooth! After all, eating ice cream every day may just be one of the best things to do in Minnesota in the summer… challenge accepted!
What is your favorite spot to get ice cream in Minnesota? Leave your answer in the comments below.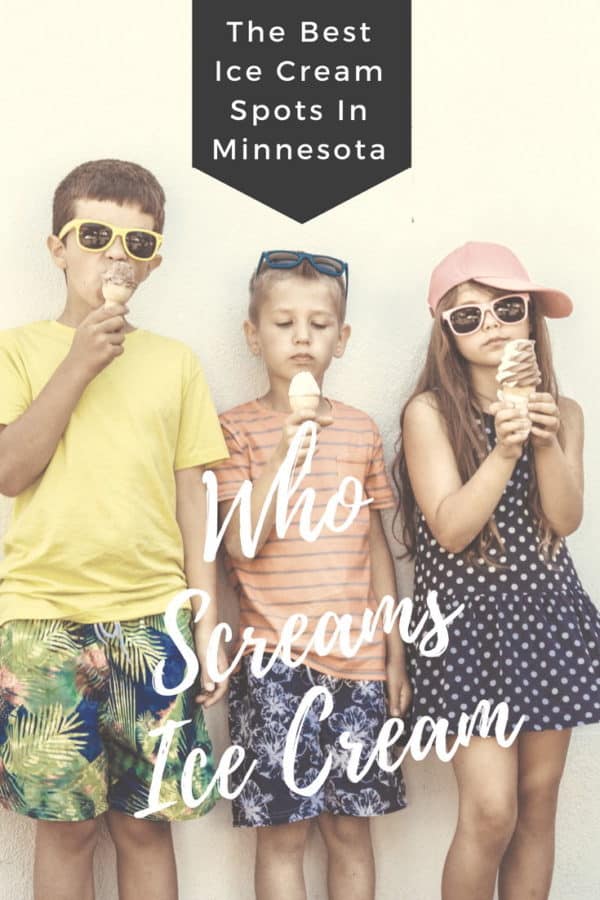 About the Author
Latest Posts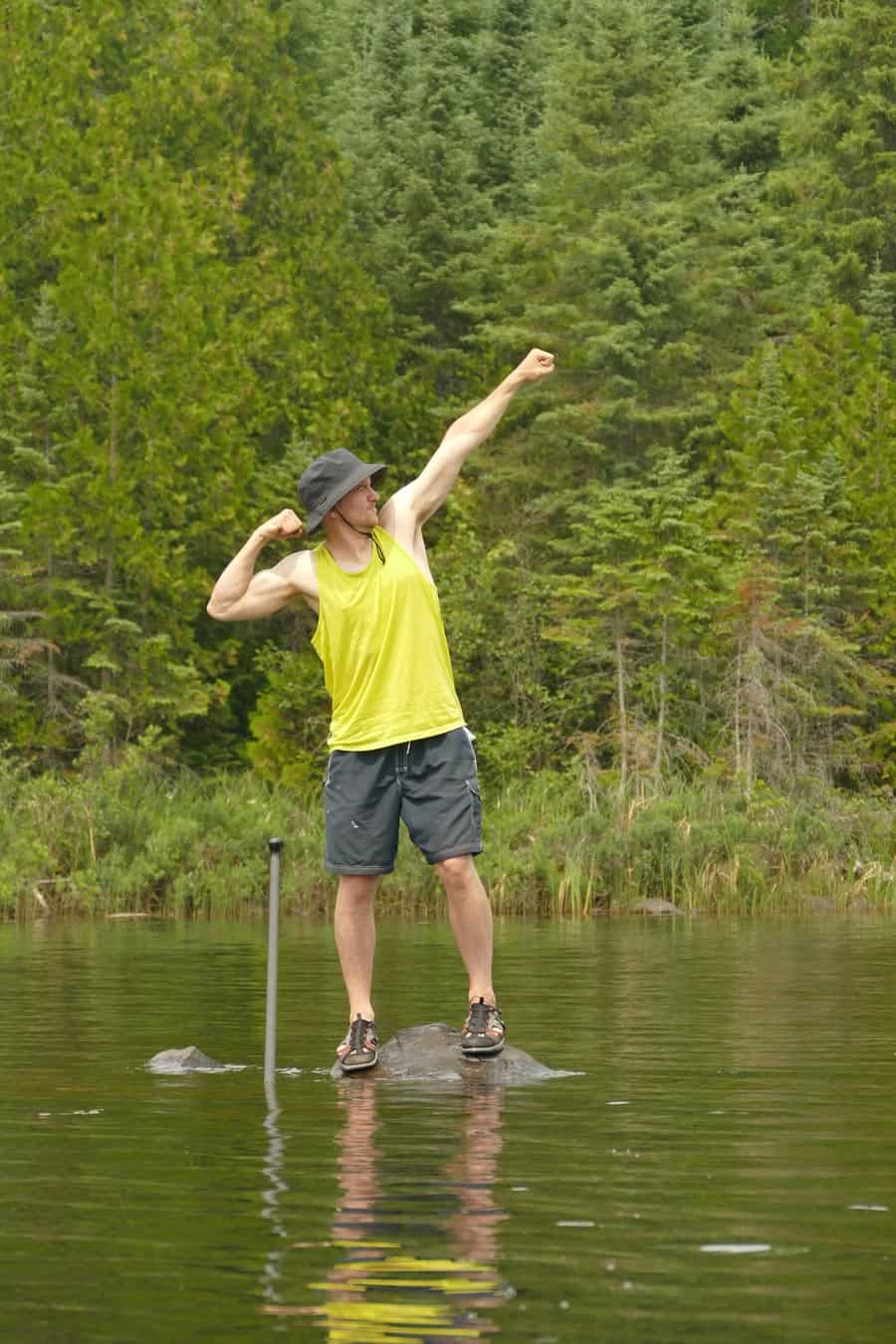 Born in Madelia, MN, to a now 5-generation Minnesota family, Ryan's MN roots go deep.
A painter by day, Ryan founded Life in Minnesota in 2013 with his wife Kelly to chronicle their musings on everything Minnesota. Ryan and Kelly are raising their 7 kiddos in Maple Grove, MN.
When he's not shuttling his kids around to hockey practice, you might find him in the shop working on his leatherwork. Undoubtedly, there will be a family trip to the Boundary Waters Canoe Area every summer, and of course weekends at Grandpa's cabin up north in the summer.