Minnesota may be most famous for its many nature parks and incredibly cold winters, but that's not the whole story. So much beauty exists in this midwest state, and what better way to enjoy it than to freeze the best moments to keep with you forever?
Photographers will find an abundance of opportunities for rich scenic shots as well as close-ups full of depth and intrigue among waterfalls, birding trails, historical sites, art centers, and wildlife preserves. Whether you're a seasoned pro photographer or a hobbyist looking for some fun, check out our list of the best places to take pictures in Minnesota.
Best Places to Take Pictures in Minnesota in Winter
1. Minnesota Ice Castles
Ice Castles is an incredible winter attraction located in five different states across North America. This award-winning attraction was built using hundreds of thousands of icicles. Ice artists hand-place each and every one for a truly breathtaking piece of art.
Photography opportunities include an enormous frozen throne, ice fountains, ice slides, and ice tunnels. LED lights run throughout the displays and within many ice sculptures. Some lights change colors throughout the day slowly or quickly, making for many fascinating photo ops, unlike anything your photography friends have in their portfolio.
2. North Shore Drive
Spanning 154 miles from Duluth, MN, to the Canadian border, Highway 61 is also known as the scenic North Shore Drive which provides wonderful places to take pictures in Minnesota. Several waterfalls are drive-by visible or easily accessible with a short hike from the road, and they all look incredibly beautiful in any weather, but especially in winter. The tallest of these waterfalls is the 120-foot High Falls located on the Canadian border in Grand Portage State Park. Photographs of this frozen giant are incredible.
There are also a number of artists along the road, including woodworkers, carvers, pottery makers, and weavers for interesting close-ups or photos of snow-covered items outside the shops. We'll cover more beautiful historic sites below, but several can be found along the North Shore Drive as well, including the Split Rock Lighthouse, the North Shore Commercial Fishing Museum, and the Grand Portage National Monument. The lighthouse in particular is beautiful with a layer of snow sprinkled around it.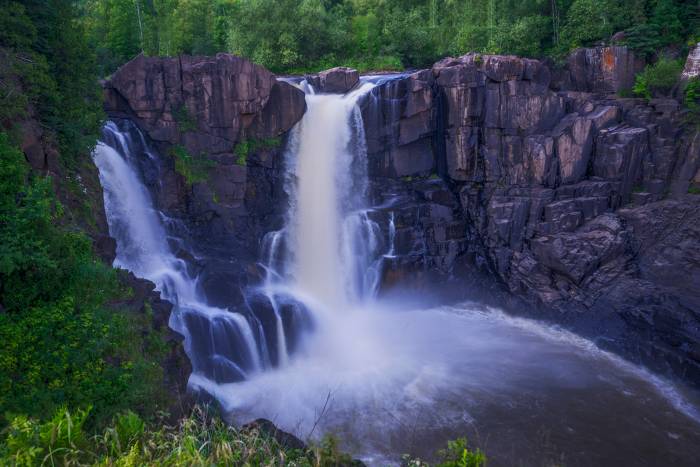 3. Holidazzle
Held in Loring Park, Minneapolis every December, Hollidazzle is a winter event rather than a place itself. Small businesses abound during this event, serving piping hot coffee and hot chocolate, warm pastries, and holiday gifts.
The extravagant Christmas lights on every tree, telephone pole, and building work along with a firework show provide a fun challenge for night photography with bright lights. There are also ice skaters, carousels, and even art displays. There's no end of interesting things to photograph at the Holidazzle event.
Best Places to Take Pictures of Wildlife and Nature in Minnesota
4. International Wolf Center & North American Bear Center
If you're looking for the chance to photograph truly incredible creatures in their natural habit while keeping your safety in mind, check out the International Wolf Center in Ely Minnesota, or the North American Bear Center in the same town. The Wolf Center has one wolf pack in a display enclosure. There are currently three wolves in this pack: arctic gray wolves Axel and Greyson, and Reika, a northwestern gray wolf.
The Bear Center is more focused on education and has an extensive indoor learning facility, but also a 2.5-acre enclosure that is home to four black bears. Photographers can view the bears up close through the viewing panes, or from the viewing balcony outside with no plastic in between. Imagine the wildlife photo opportunities in these two places!
5. Pine to Prarie Birding Trail
The Pine to Prarie Birding Trail may be more your style if you're on the hunt for great places to take pictures in Minnesota without fences. You're unlikely to come across any large and dangerous animals on this trail, but there is an abundance of smaller wildlife to be seen here. Animals such as foxes, skunks, squirrels, and chipmunks, among others, make their home here.
And if you're looking for birds, this is really the place for you. There are more than 50 sites for viewing birds over the 200-mile trail. Bird species that frequent the area include Chestnut-collared Longspur, Northern Goshawk, Ruffed Grouse, Greater Prairie-Chicken, Yellow Rail, American Woodcock, Snowy Owl, Northern Hawk Owl, Great Gray Owl, Three-toed and Black-backed Woodpeckers, Boreal Chickadee; Bay-breasted, Connecticut, Mourning, and Golden-winged Warblers; Red and White-winged Crossbills, and Pine and Evening Grosbeaks.
6. Minnesota's Black Beach
Next on our list of best places to take pictures in Minnesota is the Black Beach. This little piece of nature looks like something out of a science fiction novel. The black sand and ruddy mountains could be the topography of another planet. But there the Black Beach sits, in Silver Bay, MN, for your photography pleasure.
There are lots of great angles for shots of the mountains against the sky, the horizon line on the lake, and the contrast between the onyx sand and the blue sky and reddish cliffs. An assortment of evergreen trees grow all around the area as well.
Best Places to Take Pictures of City Life in Minnesota
7. Minneapolis City Lights Up Close
City lights, anyone? The view from the Foshay Tower of Minneapolis at night is a sight to be seen. Since the Foshay Tower is older than the surrounding buildings, it's also shorter than some of the others nearby. This provides a unique city lights view where it feels like you're surrounded by lights all around and you're looking from within the lights rather than from far away above them.
8. Minneapolis Skyline/City Lights from a Distance
The Witch's Hat Water Tower is a mere ten-minute uphill drive from the city of Minneapolis. The water tower stands 110 feet tall on the highest area of land inside of Minneapolis and thus provides a grand view of the skyline during sunrise and sunset, and of the city lights at night. Access to the tower is only occasionally available, but if you get the chance to photograph Minneapolis from this spot, your photos will be worth the challenge.
9. Red Wing, Minnesota
The next stop on our list of best places to take pictures in Minnesota is the city of Red Wing. If you have a more old-fashioned ideal for "city life," or if you enjoy the contrast of today's people with yesterday's settings, consider the historic town of Red Wing, Minnesota, where nearly every building was built in the 1800s. There's an abundance of wineries, breweries, museums, and historic buildings with attractions for both children and adults and lots of photography opportunities.
Best Places to Take Pictures of Historical Sites in Minnesota
10. Oliver Kelly Farmstead
For the chance to photograph olden days country living, check out the Oliver Kelly Farmstead. Historic buildings to photograph include the original farmhouse, barn, corn crib, root cellar, chicken house (complete with live chickens), a water pump, machine shed, and a barn and animal pens with live pigs, horses, and other livestock living in them.
11. Pillsbury A-Mill
Once the largest flour processing factory in the world, the Pillsbury A-Mill spent 40 years producing 5,000-17,500 barrels of flour per day. The building was converted into several eco-friendly artist lofts in 2013, but much of its history is still there. Its original timber frame still supports strong walls that lean inward slightly at the top due to many years of machinery vibrations. Old machinery pieces can be found around the outside of the building in the back lot and would provide excellent close-up subject material.
12. Minnesota's Oldest Building – The Sibley House
Built from stone in 1835, the Sibley House still stands tall today nearly 200 years later. It was the home of a successful fur trader named Henrey Hastings Sibley, who later became the state's first governor. The house was used as a catholic school for a time before falling into ruin, then was restored into a historical sight. You can see it from the road for quick driveby shots, or arrange for a tour of the restored house and property with the Minnesota Historical Society.
Best Places to Take Pictures of Food in Minnesota
13. Spoon and Stable
With high-contrast white walls and floors and black accents and furnishings, Spoon and Stable's aesthetic alone is worth snapping a few photos. But that's nothing compared to the sumptuous food they serve on a variety of unusual plates.
Their black-and-white color scheme continues into their menu with gorgeous dishes such as filet mignon and mashed potatoes, and Porkchop with pale cabbage slaw, each served on either a black, white, or silver textured plate. Many of their dinner and dessert items come with delightful garnishes like edible gold flakes.
14. French Meadow Cafe and Bluestem Bar
For a less pricy and more health-conscious meal, check out French Meadow Cafe and Bluestem Bar. The chefs here have a rare talent for plating any and all vegan cuisines with creative flair and visual value.
Sample their cajun hashbrowns, Kushi bowl, or organic hummus with crudites. You'll be pleased to see their ability to brighten up even the plainest vegan dishes with a sprinkle of color, a dash of spice, or a show-stopping garnish. And don't leave without snapping some shots of (and snacking on) their award-winning bakery items.
15. Fairgrounds Craft Coffee and Tea
Last but not least on our list of best places to take pictures in Minnesota is Fairgrounds Craft Coffee and Tea. There's no better place for a foodie photographer to find inspiration than at a vibing coffee shop. Fairgrounds Craft Coffee and Tea is just such a place. Their rustic interior is worth more than a long look on its own.
Add to that the drinks like moonlight jasmine green tea, collectivo expresso, and the "blk and bold," and you'll have a lot of images for your Instagram feed.
Wrapping Up the Best Places to Take Pictures in Minnesota
Now that you've taken a look at the best places to take pictures in Minnesota, where do you want to start? Whether you're after close-ups of wolves and bears or a scenic local for engagement pictures, you'll find it in Minnesota!
For more Minnesota locations with excellent photography opportunities, check out our article on the 15 Best Views in Minnesota.
Ready for more Minnesota advice, info, and guides? Whether you're a local or a passerby, discover the best of Minnesota that our great state has to offer!
Looking for Minnesota winter inspiration? Check out our Minnesota winter guide for activity ideas, winter apparel suggestion, and endless ways to enjoy the snow!
Looking for some warm weather recommendations? Discover spring and summer in Minnesota for best destinations, travel recommendations, small (and big!) town events, and more!
Looking for more autumnal activities? Then visit our Minnesota Fall page to find inspiration for sweater weather fun!
About the Author
Latest Posts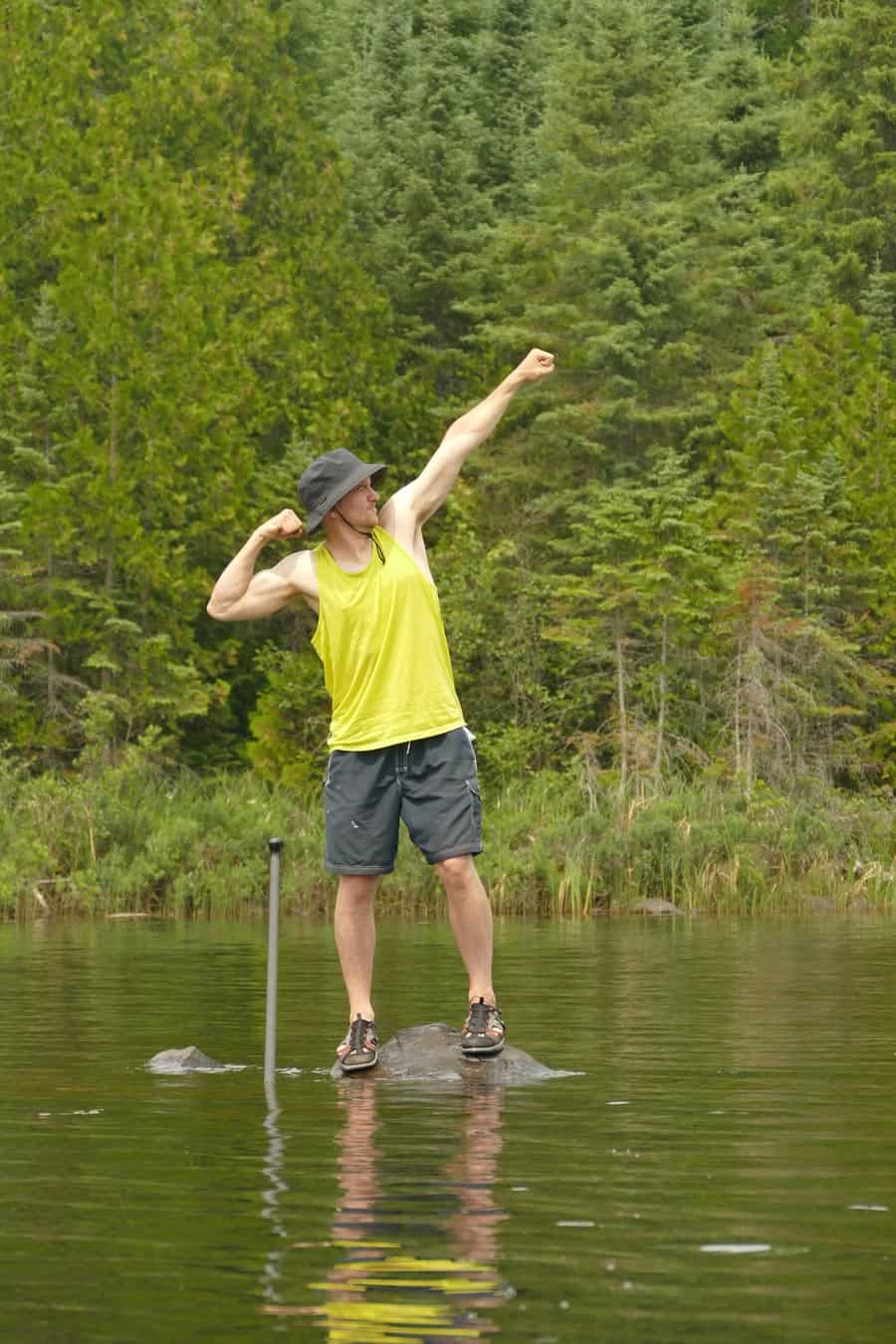 Born in Madelia, MN, to a now 5-generation Minnesota family, Ryan's MN roots go deep.
A painter by day, Ryan founded Life in Minnesota in 2013 with his wife Kelly to chronicle their musings on everything Minnesota. Ryan and Kelly are raising their 7 kiddos in Maple Grove, MN.
When he's not shuttling his kids around to hockey practice, you might find him in the shop working on his leatherwork. Undoubtedly, there will be a family trip to the Boundary Waters Canoe Area every summer, and of course weekends at Grandpa's cabin up north in the summer.