---
What You Should Look for in Trout Fishing Gear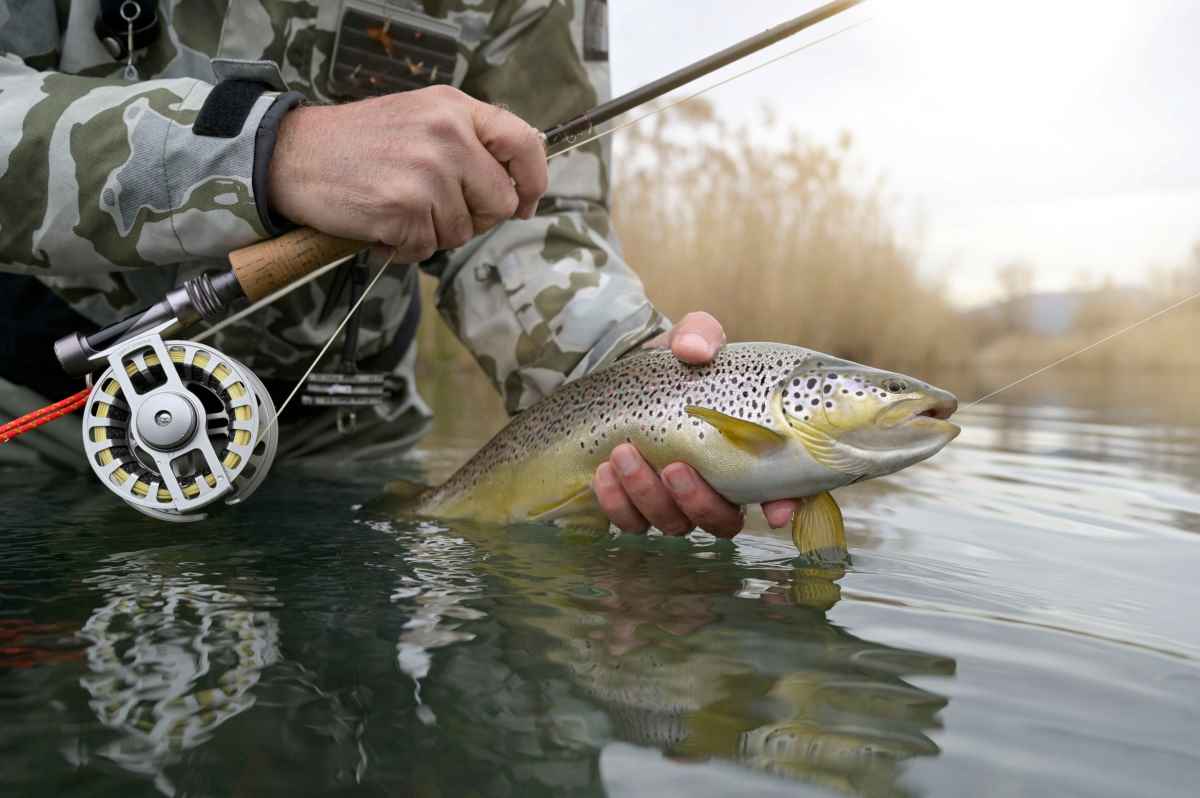 Durability
When looking to buy trout fishing gear, durability is a key feature you should always be paying attention to. The main habitat for trout is rivers and streams, requiring you to trek across many different types of terrain as you fish.
There is a good chance your gear will be dropped, dragged, and submerged in water throughout its life. That means having tear-proof fabrics, crack-proof plastics, and waterproof compartments.
It can be tempting to go for the cheaper option when putting your trout fishing gear list together. Those often cheaper alternatives skimp on valuable enhancements that can protect your investment in the long run.
For rods, look for line guides that are fastened well to the blank. When banging a rod around, it's common for a guide to pop off, making your rod unusable.
Compatibility
There are many different manufacturers of trout fishing gear. Getting products that are compatible with one another will make you more efficient on the water. You will also be able to carry more gear within a compact space.
The most important example would be your tackle bag and trays. Check the specifications on the tackle bag to see how many and what size trays are made to fit in it. Common tackle tray sizes range from 3500 to 3700.
Another simple example would be to get a pair of pliers that fits in the plier holder if your tackle bag comes with one. There are many accessory options that come on tackle bags, and building your gear set to match seamlessly is a must.
Compatibility between rod/reel and line is also important when choosing your trout fishing gear. Having one of those items off can throw your ability to make accurate casts out the window. Pair smaller rods with smaller size reels, and vice versa.
Pairing a line size with the right reel is pretty straightforward. Most reels come with the recommended line size and capacity lengths. You can use the recommended line size as a guideline and adjust up or down based on the conditions you are fishing.
Weight
When it comes to trout fishing gear, lighter is better. Fishing for trout requires a lot of traveling on your feet as you work up or downstream. There will be a lot of carrying and fishing at the same time.
Items that feel light initially will feel like they are growing in weight as fatigue sets in for prolonged carrying times. Ounces make a difference!
Trout fishing gear like rods/reels, waders, and even your pack all have a small impact on maneuverability during a day of fishing. Prepared anglers are more efficient, which leads to more fish catches. Not thinking about bringing unnecessary or heavier items could cost you.
---
Finishing Up Your Trout Fishing Gear Essentials
Trout fishing is a great way to spend time in nature. Luckily, it can be accessible to many people through this short trout fishing gear list.
Whether you become a lifelong trout angler or venture into new species, Minnesota has an abundance of fishing opportunities. For trip ideas and species gear lists, check out our comprehensive archive of fishing articles to prepare for your next adventure.