Nothing says fall like a Saturday afternoon spent at the Twin Cities Harvest Festival and Corn Maze
Last year we were blessed to be invited to the family owned corn maze. We loved it so much and we were overjoyed to be invited back this year!
The Corn Maze is our favorite Family Fall Event
Bert Bouwman and his loving family have been running the Twin Cities Harvest Festival and Corn Maze for the past four years. They also have a few fields on the side that Bert continues to farm. However, you can see it on their faces has they walk around shaking hands with the guests, the maze is their heart and soul. I think it must be because when you are there you are surrounded by a sense of peacefulness and as simple as it may seem, happiness itself.
Smiles from Ear to Ear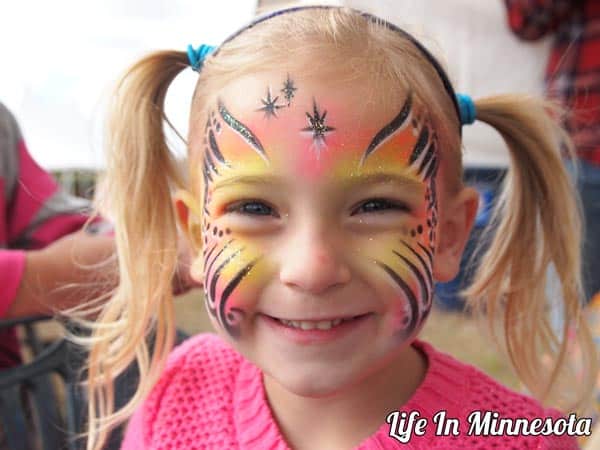 The event isn't just about enjoying the maze, food and all the other fall activities… nope. There is so much more underneath what you see in front of you. For starters, the planning for next season begins as soon as the current event ends. From a simple idea all the way to grids designed as a map where each kernel of corn is placed in Spring. Lining up the vendors to enjoy is no small task either! What strikes me is how this family gives back every single year they are in operation. This year they are donating funds to Children's Hospitals and Clinics of Minnesota.
Bert's favorite part is the Corn Pit
(Isaiah loved it, too!)
This year the hay bales had a couple of tunnels were Isaiah continued to crawl in and out of for at least 20 minutes. We played tag and raced through the mini maze until Mom (me) said it was time to move along.
Toddler sized Maze perfect for Tag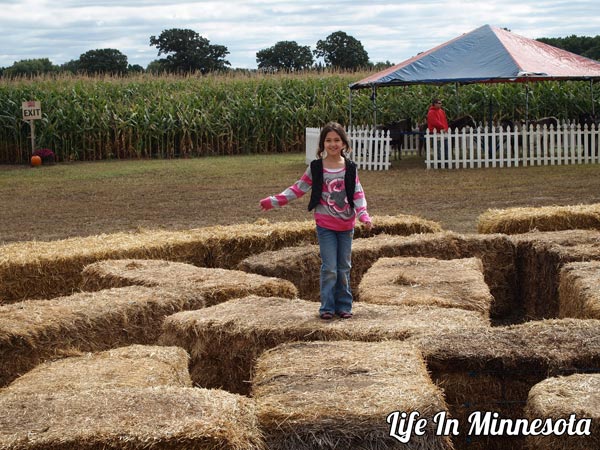 My absolute favorite piece to the Twin Cities Harvest Festival and Corn Maze outside of the maze itself is the petting zoo. Every time I step through the cute little white picket fence I fall head over heels for the two Milking Cows!! I so badly want to bring one home and name her Martha!!!
Someday I will own a Milking Cow (I hope)
The baby Goats are beyond Cute
Who doesn't love chickens? I know I am a chicken freak and the hens at the corn maze are one thing you don't want to miss.
Is that a Chicken under There?
Ruthie could spend her whole day over on the rides and face painting! This time around she with her baby brother were crazy jumping beans on the inflatable moon walks. There is also the big yellow slide, pumpkin slinger and so much more to keep everyone of all ages very active the whole afternoon.
Games & Rides make for a Great Fall Family Day
While you and your crew are playing the day away you can listen to the tunes of a local band in the background. This weekend we were thrilled to hear the couple that goes by the name Cherry Dirt. Love that name by the way! Ryan took a small break to listen to the yodeling song… it was extremely awesome!
Cherry Dirt can Yodel like a Pro

While Ryan was off in the distance the girls got their face painting done. They talk about how they are going to have butterfly faces at the corn maze all year long. I am so glad we have the Twin Cities Harvest Festival and Corn Maze so close to home and I think this is a great new family tradition that they can remember for many years to come.
Butterfly faces in the Making

Now, off to the Corn Maze

Our daughter Mikaela decided to try to beat us to the exit. I stayed with Ryan thinking he would get us out before she could find her way to the end.
Which way should we Go?!

The boys in the Corn

After awhile we felt a little lost…
Jadis put us at ease with her Map
We spent a great amount of time in the corn maze, but I had the feeling that Ryan knew where we were the entire time we were "lost".
Ruth was starting to Give Up
I encouraged her to push through and I kept yelling out for Mikaela. Mikaela didn't answer back which lead me to believe we were behind her or she was somewhere thick into the corn. I was hoping we would met up at the exit, yet I had the thought that we would have to send out the search crew for either her or us!
Turned out Mikaela Beat us to the End!
I hope you are able to make it out to the Twin Cities Harvest Festival and Corn Maze this year because it is so much fun!
Don't forget to grab your Pumpkins!
Thank you to everyone at the Twin Cities Harvest Festival and Corn Maze for hosting my family this year and for all the hard work that goes into such an amazing family fall event.
xoxo Kelly
Still looking for more fun adventures? Then checkout all the great things to do in the Twin Cities!
Looking for some warm weather recommendations? Discover spring and summer in Minnesota for best destinations, travel recommendations, small (and big!) town events, and more!
Looking for more autumnal activities? Then visit our Minnesota Fall page to find inspiration for sweater weather fun!
About the Author
Latest Posts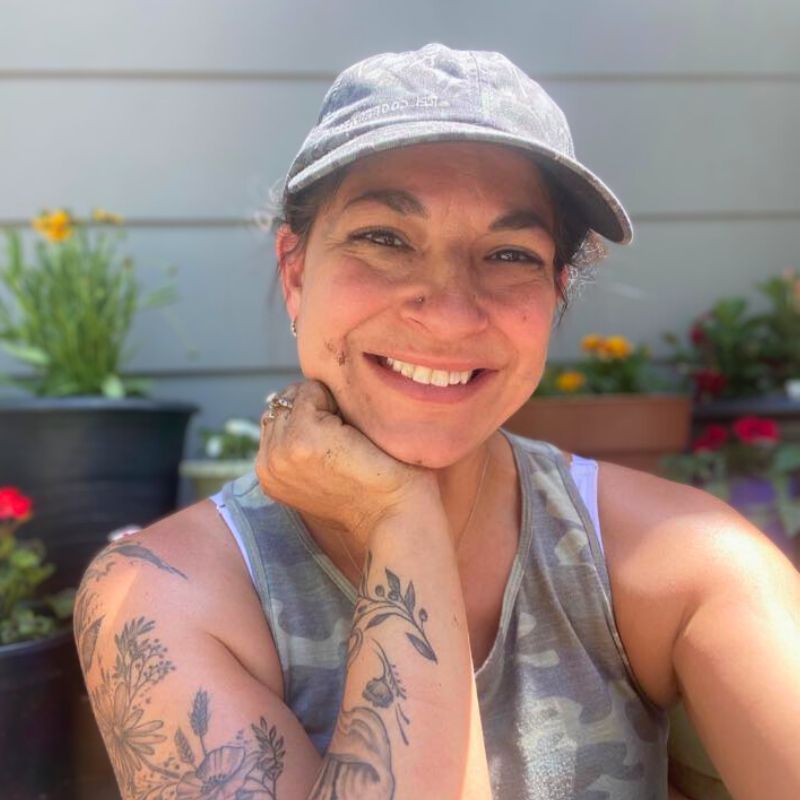 Hi! My name is Kelly and I run Life In Minnesota with my husband, Ryan.
My vision for LIM is that it shares engaging stories of unique Minnesotans and that it's considered a wonderful resource that helps make every life in MN more awesome!
I can be reached at kelly@lifeinminnesota.com
#LoveWhereYouLive #LifeInMN