---
Best Kids Winter Coats Buyer's Guide
Boys' vs Girls' Coats
If you have a son and a daughter (or opposite-gendered relatives), you've probably noticed boys' and girls' clothes fit differently. In general, winter coats labeled for boys are larger than outfits labeled for girls.
In fact, your child may wear a whole size up in the girls' section than they would in the boys' section. No one knows why this is the case, but parents must consider this when buying a winter coat for their child.
If you have children of each gender, you're probably looking for unisex winter wear so the coats can easily be handed down.
These winter coats may be labeled as unisex–or you may prefer to buy your daughter a winter coat from the boys' section (especially if she's on the taller side of the growth chart). Some boys prefer girls' jackets for their sparkles or designs–and that's okay, too! Just remember to size up.
Types of Winter Coats
Snow Jackets
These coats were designed for skiing, and they have at least one of these features: goggle pockets, pass holders, or snow skirts. They are waterproof and breathable, and they are typically insulated with synthetic insulation.
Snow jackets make the best winter coats for kids because they are guaranteed to keep them warm during winter activities.
3-in-1 Jackets
These are coats with a waterproof outer shell and an insulated liner. The liners are usually made from fleece or synthetic or down insulation. This is the most versatile winter coat because kids get more than one jacket with a single purchase.
The problem with 3-in-1 jackets is that they add an extra zipper to the mix, which is a huge design flaw and can become complicated for kids trying to get their zipper fully closed. This allows cold air to seep through their jacket, defeating the whole purpose of the extra coat.
Rain Jackets
Most winter coats also provide some rain protection, but you may want to buy your child a separate rain jacket. Rain jackets are fully waterproof, unlike many snow or 3-in-1 jackets, which simply offer water resistance.
Rain jackets are more popular in fall or spring since they don't offer enough protection on really cold days, meaning we don't find them the best choice for winter days.
Casual Jackets
This term is used for coats that don't fit in any of the other categories. They tend to be more sophisticated than other winter coats. Your child may wear a casual jacket to a wedding or other event that requires them to dress up, but you're probably not going to want them to play outside in it.
Insulation Materials
Down Jackets
These winter coats are lightweight and easy to pack because they're made from duck or goose feathers. However, down is not very water-resistant, which will make your kid's winter coat cold when wet. Down allergies are also more common than synthetic.
Synthetic Insulated Jackets
These winter coats are allergy friendly and more affordable than down, plus they add more water resistance. You don't have to worry about your kid's winter coat getting wet with synthetic insulation because they'll still be warm.
Fleece and Soft-Shelled Jackets
These types of jackets are soft, warm, and not overly expensive. These jackets don't protect against rain or windchill, so your child will need a separate raincoat for when it's pouring out.
Hood
Most kids' winter coats have hoods with similar features to adults. Some are adjustable, some can be removed, and some are helmet-compatible.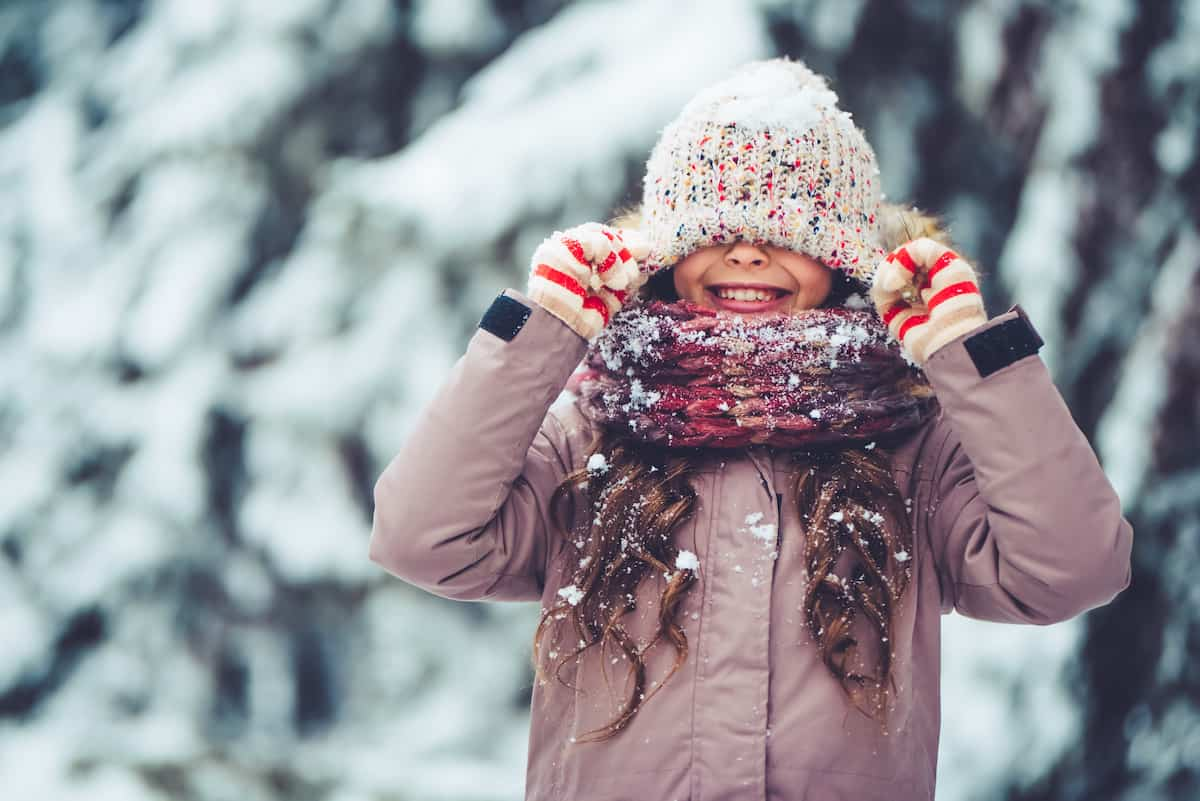 Additional Features
Reversible
We think reversible kids' winter coats are pretty cool because they're a great value, and unlike 3-in-1 jackets, you don't have to deal with an extra zipper. Your child can simply turn their winter coat inside out and enjoy the other layer.
Reflective Detailing
A kids' winter coat with reflective detailing allows you to see your child easier in the darkness. Since it gets dark earlier in the winter, having a coat with reflective detail can be useful when the sun sets suddenly.
Zippers and Closures
Zippers and closures must be easy for kids to manipulate. You will find a variety of ways to close kids' winter coats, including zippers, buttons, touch fasteners, and snaps. A sturdy zipper with a snap for keeping body heat in is the best closure for a kid's winter coat.
Cuffs
Adjustable cuffs are handy for trapping warmth, and thumbhole cuffs are useful for ensuring skin is not exposed between the jacket's sleeves and your child's gloves.
---
Frequently Asked Questions About Kids Winter Coats
When should a child wear a winter coat?
A winter coat, along with a hat and mittens, is recommended for temperatures under 40 degrees Fahrenheit. Many kids' winter coats come with suggested temperature ranges, so pay close attention to these recommendations when buying a kids' winter coat.
What is a puffer coat?
A puffer coat is a padded winter coat that is well-insulated, usually with synthetic insulation (but sometimes down). These winter coats have been gaining popularity in recent years. These warm coats appear as if they are puffed up or full of air due to their quilted design.
These coats make excellent kids' winter coats, though some puffer coats can restrict movement if they're too puffy.
Should you size up in kids' winter coats?
You may be tempted to size up in your kids' winter coat to save money on next year's coat. However, your child won't be as warm as they should be in a larger coat. Kids' winter coats with extra open space allow cold air to seep into the coat quicker.
Extendable sizing is a feature on some kids' winter coats, which provides a better way to save money over buying a size up. These winter coats allow you to adjust the child's sleeves by one to two inches.
How should a kid's winter coat fit?
There are three tests recommended for deciding if your kid's winter coat fits properly:
The Hug Test: When giving themselves a tight hug with their coat zipped up, your child's arms should reach above the top of the opposite shoulder blades on both sides. If they're struggling to raise their arms, it's too tight.
Stretch Your Arms Test: With their coat zipped, your child should stretch their arms straight out. If you can see your child's wrists, the sleeves are too short.
Reach for the Sky Test: Your child's tummy should not show when they reach straight up with their coat zipped.
How do I know if my child's winter coat can be worn in a car seat?
Current car seat recommendations advise against wearing winter gear. This is because extra padding creates extra space between your child and the seat belt, meaning they aren't as secure.
To know if your child's coat is too bulky for the car seat, place your little one in their car seat and tighten the harness until you can no longer pinch.
Without loosening the harness, remove your child from the car seat and take off their coat. Place them back in the car seat and buckle them up like you normally would.
Perform the pinch test: If you're able to pinch the strap between your thumb and forefinger now, it means the restraint straps are too loose, and your child's coat should not be worn while they're in the car seat.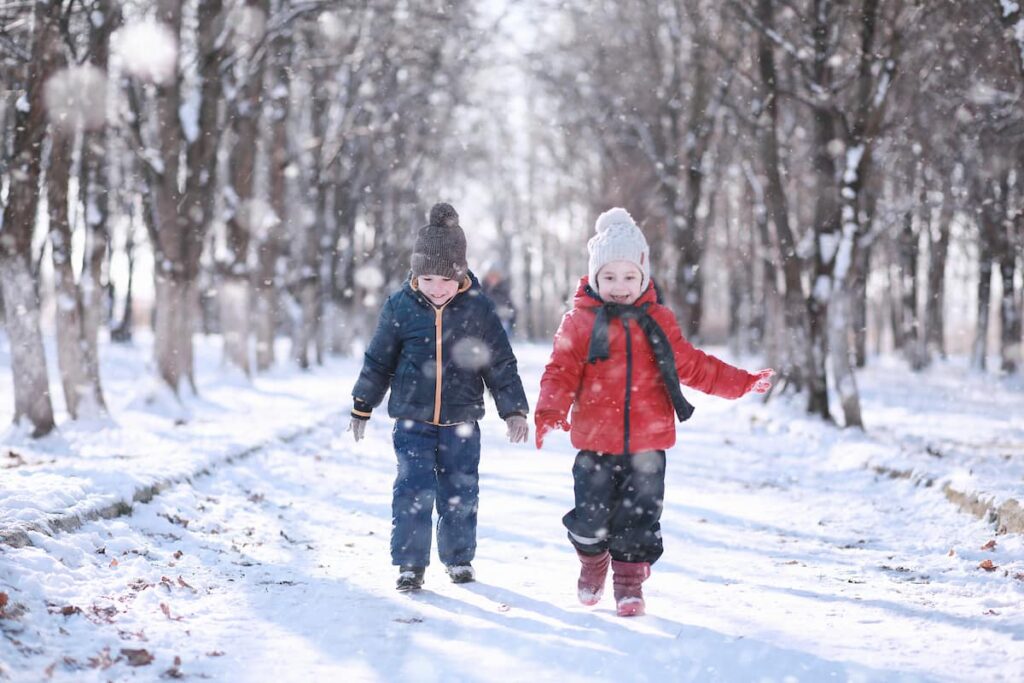 ---
Wrapping up the Best Kids Winter Coats
You're all set to buy your kids' winter coats! While you're preparing your winter gear this season, be sure to check out our Minnesota Winter collection.