---
Best Walleye Fishing Lures Buyer's Guide
Walleye Fishing Lure Types
Jigs
One of the most popular walleye fishing lure choices for walleye fishing. They come in so many different shapes and sizes, which can quickly become overwhelming for anglers looking for the best walleye fishing lures!
Minnows
Anglers use various types of minnow lures to catch walleye, but the most popular types of fish to use are fatheads, emerald shiners, and golden shiners. Many walleye anglers like to tip their jigs with minnows, especially early in the season.
Crankbaits
Crankbaits imitate smaller fish with a wobbling motion walleye love. They are one of the best methods to catch large Walleye.
Hard Plastics
These lures are made from hard plastic and are more durable than soft plastics. They can survive being hauled in the water, which means they're reusable.
Soft Plastics
These lures are designed from soft plastics to mimic the movement of live bait fish. They come in various shapes and sizes, so you can select the best option for the type of fish you're trying to catch. One benefit of soft plastics is that they're versatile and allow you to rig them differently.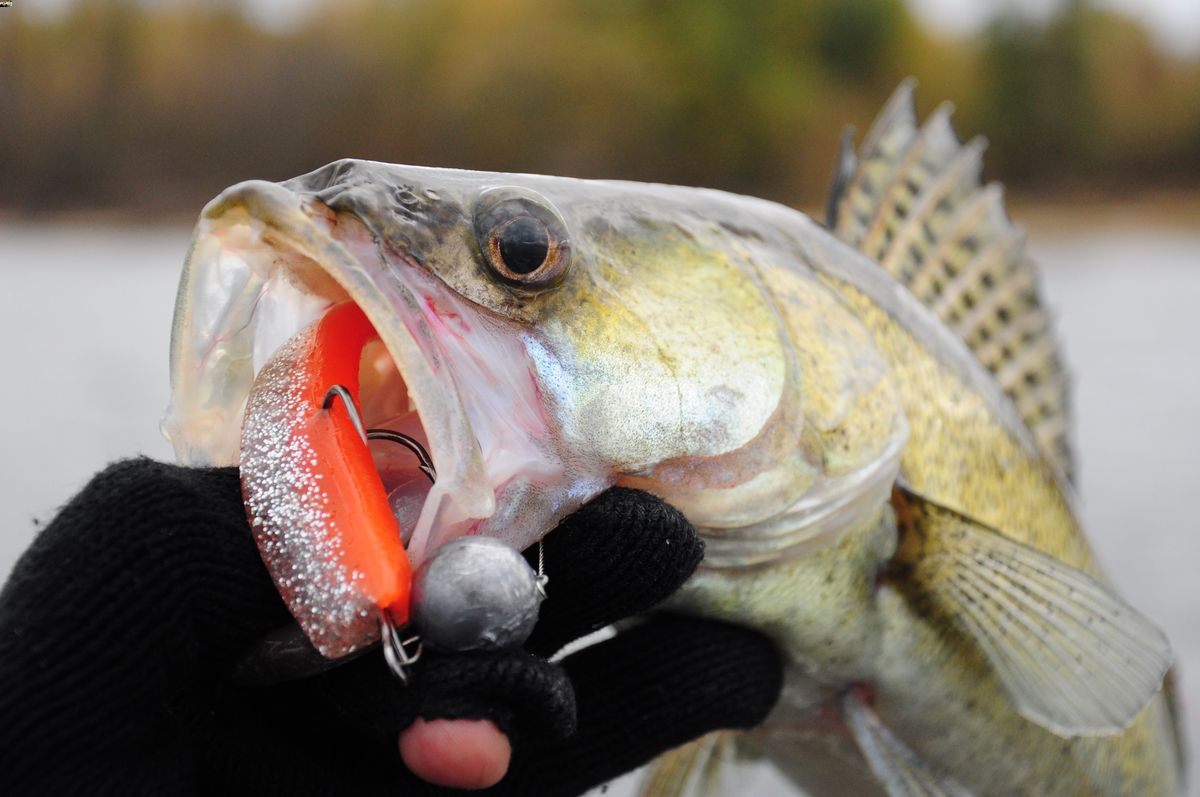 Time of Day
While anglers will argue over the best walleye fishing lures all day long, professional walleye anglers have come to the consensus that walleyes are nocturnal, so it's worth staying up late to catch them.
Crankbaits are the best choice for nighttime walleye fishing because they quickly cover a wide amount of water. Using a jig tipped with a minnow is another effective nighttime walleye fishing hack.
You may be surprised to learn that dark colors are the best lures to use at night because walleyes see dark colors best in low light.
Water Type
Water fluctuations can make a big difference in the best walleye fishing lure while you're out fishing, so it's best to buy a variety of lures.
Use lures that produce noise and vibration, like crankbaits in muddy or cloudy water. As for color, anglers are split on this. Many say bright-colored lures work best, with yellow and gold being commonly recommended colors for these water conditions.
Algae grow in summer and can quickly get out of control, but these are ideal walleye-fishing conditions. Researchers have found that walleyes prefer black-colored lures in these water conditions, probably because of the low light caused by the algae conditions.
Catching walleye in clear water can be a real challenge, and angler professionals recommend nighttime fishing when the water is clear. Spinners and crankbaits are a favorite for this type of fishing.
Professionals advise using baitfish colors like silvers and gold in clear waters. Some studies also suggest walleyes show no preference between white, gold, silver, and black in clear water conditions.
Best Walleye Fishing Lures Brands
More lure brands are available today than ever, so it can be difficult to identify which brands are trustworthy. Some popular, well-known brands known for producing the best walleye fishing lures include:
Salmo
Berkley (founded in Spirit Lake, Iowa)
Cotton Cordell
Bucktail-Lures
Mister Twister (headquartered in Wisconsin)
JB Lures (a Minnesota native)
Northland Fishing Tackle (also a Minnesota native)
Rapala
Heddon Lures (the oldest lure company, established in the 1890s)
Hook Size
It was believed for many years that short hooks were better than longer hooks for walleye fishing lures.
Present-day anglers are turning to larger hook sizes for walleye fishing lures because it allows them to use harder plastics. Lures that come in sizes No. 5 to No. 7 are popular with walleye anglers.
Weight
The most common weight for the best walleye fishing lures is ⅝ to ¾ of an ounce. If fishing deeper than 20 feet, then you will need a stock of closer to one-ounce lures.
Water Depth
A popular place to catch walleyes is in shallow water along the tip of the shoreline, especially early in the season. You want to be careful not to spook them, and those catching the most walleye say throwing a jig tipped with a minnow is the best way to catch these fish.
Walleye tend to go deeper later in the summer, so you will need a heavier lure. Jig-and-minnow is still a popular method for catching deep fish and hard plastic lures.
The best depth to catch walleye is between 10 and 20 feet.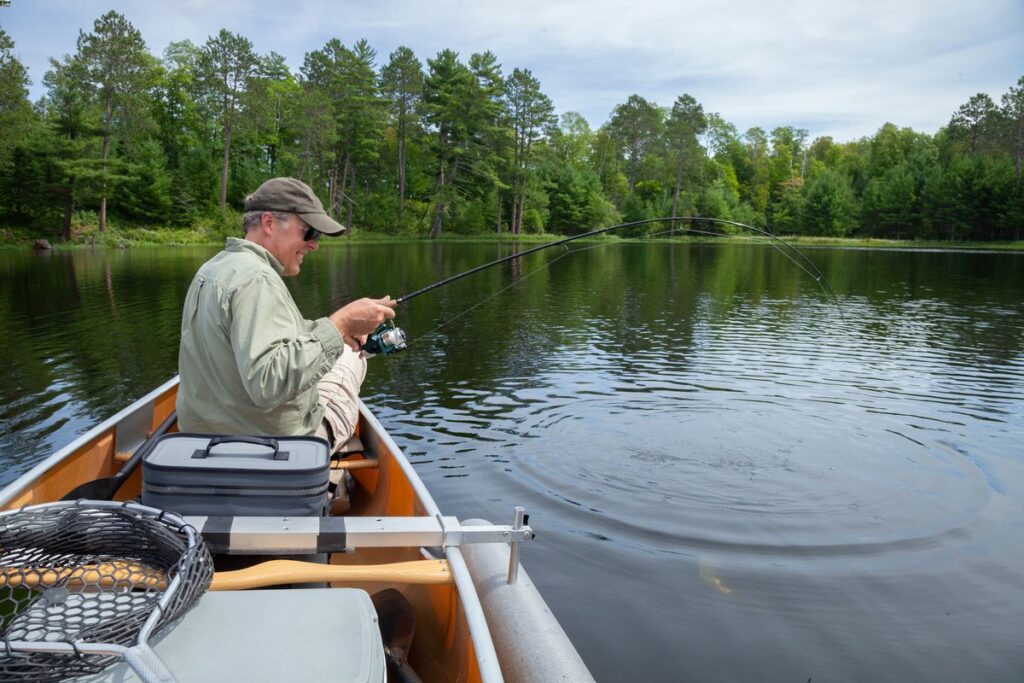 ---
Frequently Asked Questions
What colors make the best walleye fishing lures?
You will read differing opinions on which colors attract walleyes the best based on an angler's personal experience. If you walk into a room full of professional anglers, you will probably hear fifteen different answers to this question.
The consensus is always that black colors are the best walleye fishing lures at night and in algae.
Other popular colors used among walleye anglers are hot pink, red, orange, and lime green. It's best to buy several colors and experiment for yourself!
Where are walleye found?
The walleye is native to most of Minnesota. Walleye are freshwater fish that live in rivers, lakes, and reservoirs.
What is the secret to catching walleye?
The truth is there is no one way to catch a walleye. There are many ways. Professional anglers will tell you catching walleyes is all trial and error, so get out there and experiment with the best walleye fishing lures mentioned above!
---
Wrapping up the Best Walleye Fishing Lures
Now that you know the best walleye fishing lures, get out there and experiment. Make sure to check out the Salmo Rattlin Hornet Floating Crankbait and see why anglers are raving about it
.Are you looking for the best walleye fishing spots in Minnesota? Check out this article that walks you through Minnesota's best walleye fishing spots.