Lake Okoboji gained popularity as a resort town in the late 19th century for its exceptional lake water quality and beautiful blue colors. Today, Lake Okoboji offers an escape for Midwesterners looking for a vacation without packing on the miles on their cars.
The lake offers hours of water fun, a plethora of restaurants, and a historic amusement park. There's truly something for everyone.
If you're looking for a place with rich history and beautiful lake views, then Lake Okoboji Resorts are where you want to be. Let's take a look at five of the best Lake Okoboji Resorts!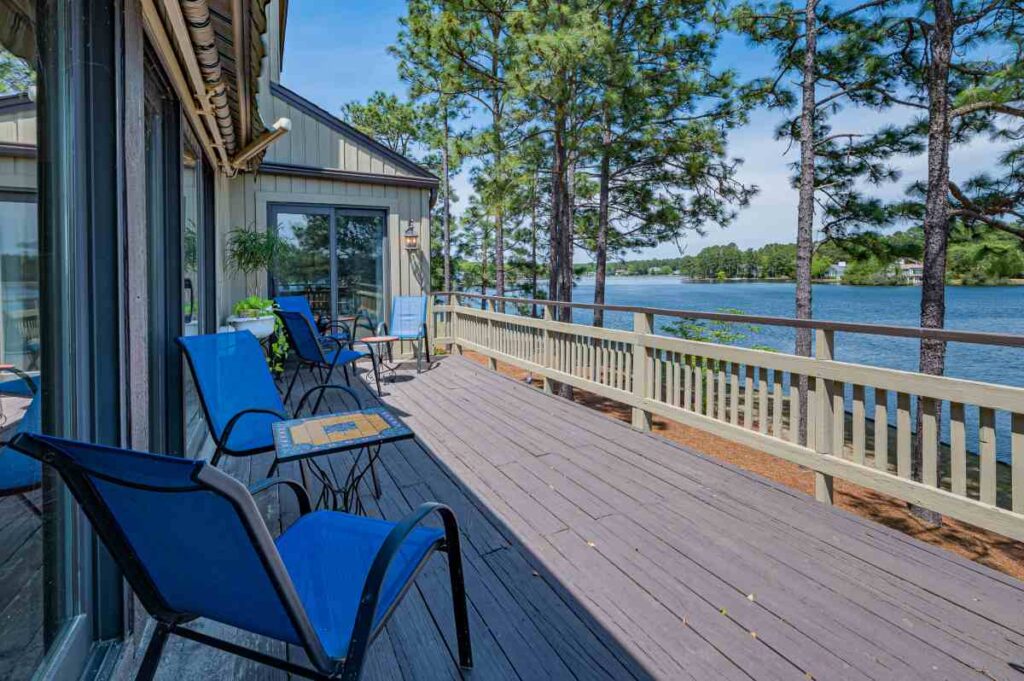 ---
Arrowwood Resort and Conference Center
Arrowwood Resort and Conference Center, located next to the 27-hole championship Brooks Golf Course, is a budget-friendly Lake Okoboji resort for the whole family. It's also within walking distance of the lake. With so much to do at the resort, you might just want to spend your trip on-site.
Event space is available for corporate, group, or wedding rentals. The resort features over 100 rooms with an overflow option at their sister property for large groups.
A luxurious 1800-square-foot hospitality space is available to rent for nightlife entertainment, which includes an outdoor patio and grill, a wet bar, a dining room table, and lounge seating.
Guests have access to a full-service restaurant, Minervas Bar and Restaurant, and a complete catering menu for events. Save money with Arrowwood's free breakfast.
This Lake Okoboji resort has an indoor and outdoor pool, and the indoor pool has plenty of fun obstacles and activities to keep the kids entertained.
Pet-friendly rooms are available upon request for an additional $30 per day pet fee.
---
Crescent Beach Resort
Crescent Beach Resort is your home away from home on Lake Okoboji. Located in Wahpeton, Iowa, this Lake Okoboji resort offers 250 feet of lake shorelines
Boats may be launched at Emerson Bay State Park, which is located approximately half a mile south on Highway 86. The resort has hoists available for rent for vacationers bringing their boats, and rental prices are available on their website.
The resort offers a two-room lakefront suite, a two-room loft, two-bedroom condos, three-bedroom condos, a three-bedroom lodge, and a four-bedroom lodge.
These comfortable, spacious living spaces provide you with several amenities to make you feel at home. All but the two-room lakefront suite offer either a kitchenette or a fully-equipped kitchen.
All rooms have flat-screen television and full bathrooms with shower/bathtub combinations, and the Grand Lodge rental features a jacuzzi tub.
Bar and restaurant available on site. No pets allowed.
---
Triggs Bay Resort
Triggs Bay Resort is located on the south shore of East Lake Okoboji Lake in Arnolds Park, just half a mile from the Wine Bar and Art Gallery, and less than a mile from Abbie Gardner Cabin, a historical museum that tells a tragic story about a teenager whose family was met with violence.
This Lake Okoboji resort recently remodeled 48 rooms, and 46 are condo-styled with one or two bedrooms. All rooms come with hide-a-beds, cable TV, Wi-Fi, and a beautiful lake view.
The small resort is a favorite for vacationers looking for a mix of value, comfort, and convenience. The non-smoking rooms feature air conditioning, kitchenettes, and refrigerators.
Guests' amenities include a pool, beach access, and free parking. Triggs Bay Resort also rents out powerboats, pontoons, PWC(s), paddleboards, water bikes, kayaks, and canoes to guests as well as the public.
A boat ramp, four docks, and boat hoist rentals make for a stay on the lake. The resort offers picnic tables, barbecue grills, and an easy-to-see children's playground.
Several restaurants are within walking distance, including Waterfront American Grille, Maxwell's Beach Cafe, and Captain's Getaway. The Koffee Kup and Boji Spudz are nearby breakfast spots. Also within walking distance is the historic Arnolds Park Amusement Park.
Bring your dog, because pets are allowed at Triggs Bay Resort!
---
West Oaks Resort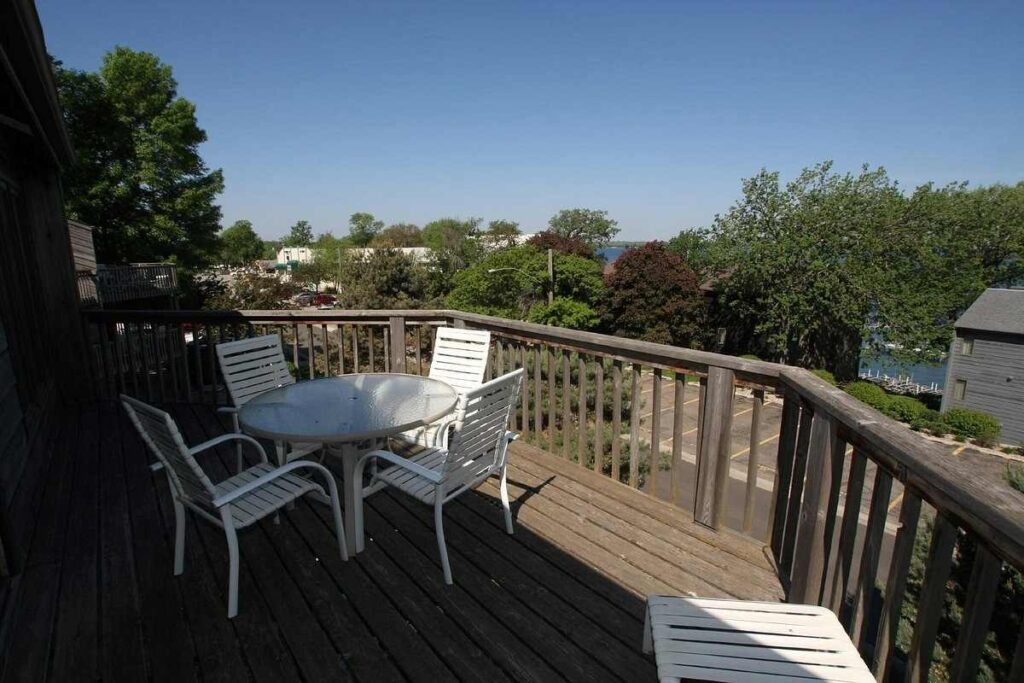 West Oaks Resort is a four-star hotel on the shore of West Lake Okoboji. This Lake Okoboji resort has unlimited outdoor recreation activities for its guests. The resort lists its rates online for every season.
The resort features Condominium-style vacation homes with premium amenities focused on comfort. Jacuzzis are available in the master bedrooms of the poolside condominiums.
The condos feature two-bedroom, two-bathroom units with fully furnished kitchens, comfy living rooms, and beautiful deck views with an outdoor table and chairs for enjoying a meal while watching the sunset. Each has a maximum occupancy of six. Free Wi-Fi is available in each room.
This Lake Okoboji resort is within walking distance of many restaurants in the area, including Nautical Bar & Grill and Smokin Jakes. It's also right by The Parks Marina, which features boat sales, rentals, shopping, and restaurants.
Canoes and paddle boats are available, free of charge, for guests to use on the lake. Life jackets are also supplied.
Pets are not allowed, and a $500 penalty is issued to anyone found with a pet in their condo with the potential to forfeit the remainder of their week.
---
Pick's Lakeshore Resort
Located just one block west of Arnold's Park and 190 feet from the Abigal Gardner Cabin, Pick's Lakeshore Resort offers a beautiful panoramic view of Lake Okoboji.
This Lake Okoboji resort features cabin-styled living, and all cabins have a kitchenette with essential appliances and kitchenware. A Weber charcoal grill is also available outside all cabins.
This Lake Okoboji Resort asks that you bring your towels for drying dishes, bathing, and swimming in the lake. The resort offers two cover hoists to rent, for vacationers bringing their boats. Two paddle boats are available to rent.
Cable TV and Wi-Fi are available in all cabins. No pets allowed.
Weekly reservations run from Saturday to Saturday and get priority. Daily reservations are available when not full. Check the resort's website for their weekly rates.
---
Comparing the Best Lake Okoboji Resorts
If you're planning on bringing your dog, Arrowwood and Triggs Resorts are the only ones that offer pet-friendly properties.
If you're traveling on a budget, Arrowwod is going to be the best option. While this resort is more hotel-style than the others on this list, you'll save money and have access to plenty of kid-friendly activities. Arrowwood is also a great winter resort stay with its indoor pool options.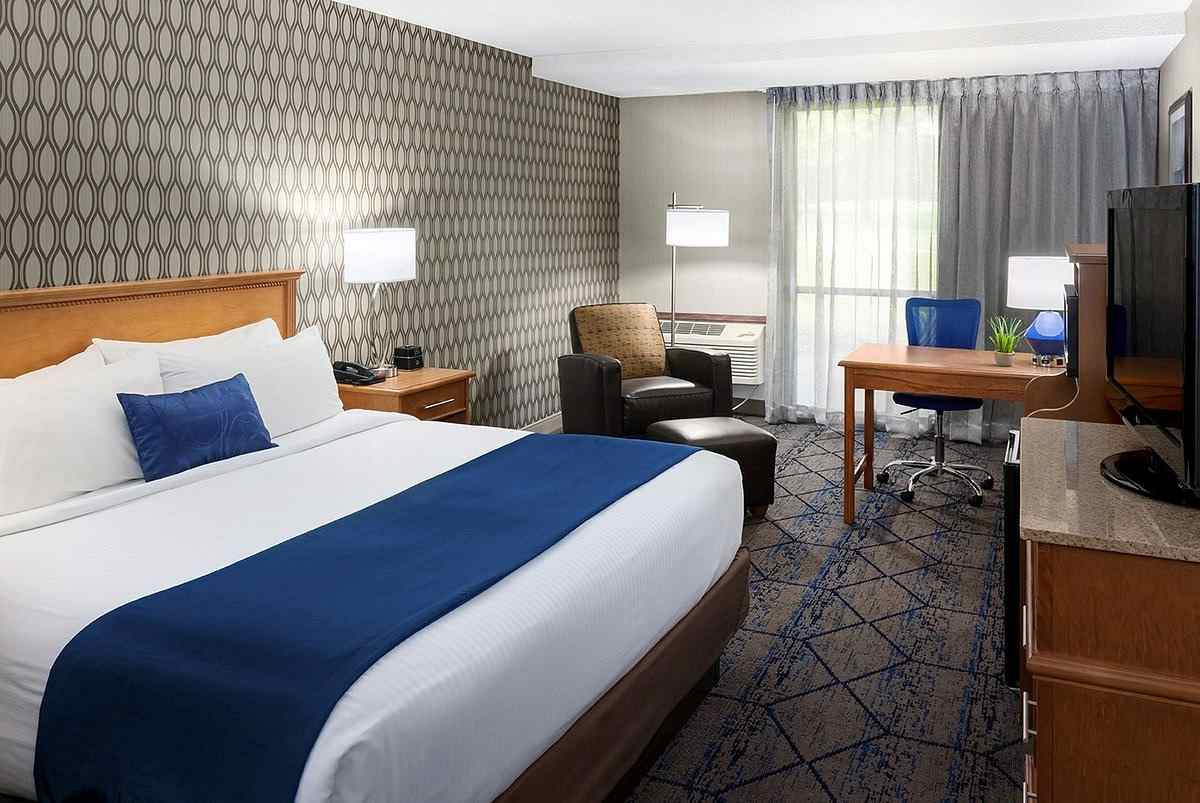 The other four resorts on this list offer more of a homey feel, with Crescent Bay Resort coming in on top for a variety of room styles, truly meeting the needs of every type of vacationer.
Triggs Bay Resort comes in at a close second for variety and comfort with its newly remodeled room and full-price comparison sheet available online, making it easy for vacationers to select the best option for their family and budget.
If you're staying at a Lake Okoboji resort solely for the lake fun, and you don't have your boat, Triggs Bay Resort is the best option for trying out a variety of water equipment without having to buy it with its numerous rental options.
West Oaks and Pick's are also excellent Lake Okoboji resorts for lake fun because they offer limited boat rentals. However, if you're bringing your boat, you might prefer to stay at Crescent Beach Resort.
---
Booking a Lake Okoboji Resort
Starting planning early is the best way to begin planning your Lake Okoboji Resort vacation. Sign up for TripAdvisor.com as soon as you know you want to book a Lake Okoboji Resort, so you can get alerted of the best deals.
Be flexible! Flexibility allows you to snag the best deals. If you're only able to go during peak season or the week of a holiday, you might end up paying double or even triple for your Lake Okoboji resort stay.
Play with the dates on TripAdvisor.com to find the best rates.
Note: Some resorts may not currently accept TripAdvisor bookings, so you may need to call the resort directly to book. Review the prices listed on the resort's website to know which dates will work best for your budget and confirm with the resort that the price is the same before you book.
You may also ask the resort directly about specials and discounts that aren't listed on their website or TripAdvisor!
---
Fun Things to Do at Lake Okoboji
Okoboji, Iowa, is a fun historic resort town with all sorts of entertainment, culture, and good eats. You already know about Arnold's Park, the Annie Gardner Cabin, the Parks Marina, and several options mentioned above. Let's talk about a few more fun things to do.
Concerts and Events
It's a good idea to head over to the Arnolds Park Amusement Park Event Calendar, which showcases concerts, festivals, and other events happening at the theme park. You should also check out the Okoboji Event Calendar for all the events in the area.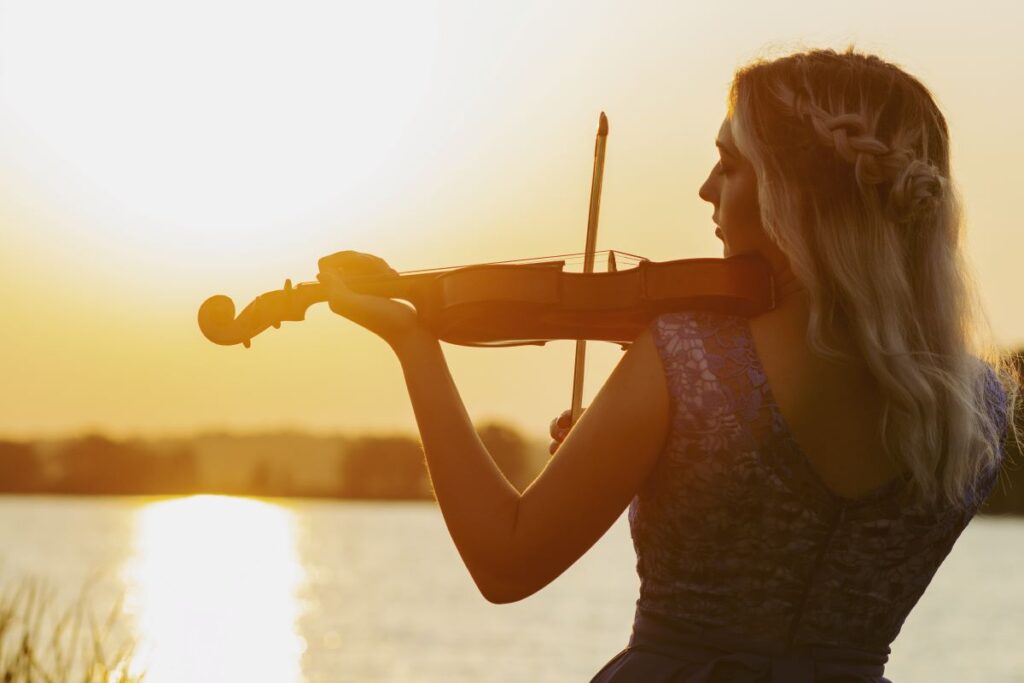 Farmers Market
Spend your Saturday morning from Memorial Day through September in the park listening to music while stocking up on fresh produce. The Farmers Market is a great place to stop for those staying at Lake Okoboji resorts with kitchens.
Dickinson County Nature Museum
Families can learn about the natural world at the Dickinson County Nature Museum. The kids will enjoy live animals, an augmented reality sandbox, a kids' play area, and a lot more.
---
Relax and Explore Staying at Lake Okoboji Resorts
Lake Okoboji resorts offer it all—tranquility and relaxation, proximity to great food and music, and access to nearby nature. You and your family will love staying at a Lake Okoboji resort, no matter the time of year. Are you researching other resorts in and around Minnesota? Check out the 10 best Minnesota resorts for your next vacation.
About the Author
Latest Posts
Nicole Kinkade loves taking regular road trips with her family around Minnesota. She especially enjoys visiting the Twin Cities area, where she can often be found hanging out at Mall of America and Como Park. Her favorite Minnesota restaurant is Fat Lorenzo's!
With a bachelor's degree in Business Administration and an associate's degree in Media Communication, Nicole is passionate about sharing her experiences with others through writing. She is currently writing full-time and loves every minute of it.
Nicole can be reached at nicolek.author@gmail.com