If you're German or like to party like the Germans, then fall means Oktoberfest celebrations. Finding incredible Oktoberfest celebrations throughout Minnesota isn't hard. This might have something to do with the fact there are more people in Minnesota of German ancestry than any other background.
You'll enjoy delicious brews, traditional German music, mouth-watering food, and all kinds of entertainment at Oktoberfest in Minnesota. After all, Minnesotans know how to put on a party!
We've tracked down the best Oktoberfest events you won't want to miss. Keep reading to see the complete guide to Oktoberfest Minnesota!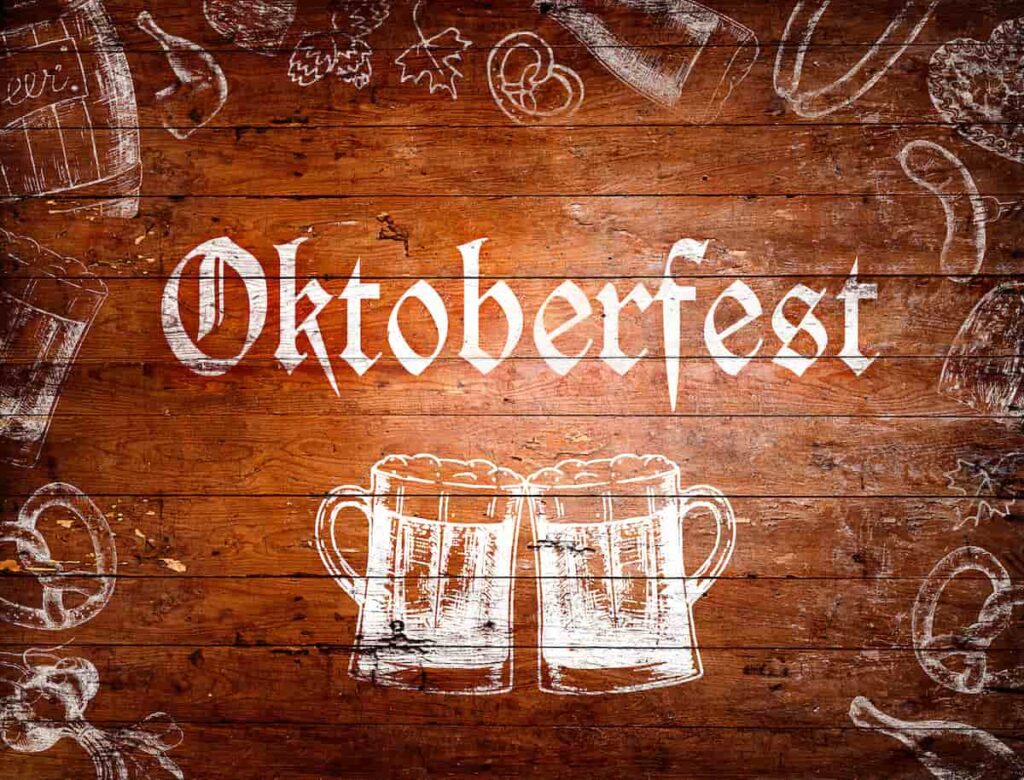 ---
Twin Cities Oktoberfest
The Twin Cities puts on the best Oktoberfest in Minnesota, and this event has also been named one of the best Oktoberfests in the United States. Hosted at the Historic Progress Center on the Minnesota State Fairgrounds, the event includes beer, food, music, and other entertainment.
Beer and cider companies from around the Twin Cities provide 20 beers and ciders for you to enjoy. The most authentic German food in the Twin Cities is served, including authentic brats, German potato salad, soft pretzels, and candied bacon. For dessert, you can enjoy sweet and savory pies.
Eventgoers can also shop German merchandise, including traditional clothing and collectibles. You'll find the finest lederhosen and dirndls on this side of the Atlantic!
This Twin Cities Oktoberfest event welcomes all ages, but the state law requires that you must be 21 years old or older to drink alcohol. Be prepared to show your ID.
---
St. Paul Oktoberfest
Located on the beautiful Germanic-American Institute (GAIMN) grounds, the St. Paul Oktoberfest is held each September like the Munich original. The reason for this is that the weather is warmer in September than in October.
This Oktoberfest Minnesota event is a two-day celebration of German food, beer, and culture. The event includes tons of entertainment, including various German dances and songs. The event also features a Dirndl and Lederhosen Contest for both adults and kids.
Parking is free at St. Paul College surface lots B, C, and E and in the parking ramp, just a few blocks north of North Farrington Street. You will also find street parking in the Summit neighborhood.
Adults 21 and older must purchase wristbands to buy alcohol. Photo IDs are required to purchase wristbands.
---
Oktoberfests at Twin Cities Breweries
While you'll also see several of these breweries as sponsors of other Oktoberfest Minnesota events, many Twin Cities breweries also host their own celebrations. Check out these breweries around the Twin Cities to get the most out of Oktoberfest Minnesota!
Utepils Brewery
Located on Thomas Avenue, Utepils Brewery puts on a stellar Minneapolis Oktoberfest that features German-style beers, sausage, pretzels, live music, and concerts.
Indeed Brewery
Indeed Brewery on Northeast 15 Avenue in Minneapolis has a seasonal Oktoberfest brew only available in the fall. This brew pays homage to its roots with smooth German malts and zesty, noble German hops.
St. Paul Brewing
St. Paul Brewing on Minnehaha Avenue East has previously hosted an Oktoberfest Bazaar, which included fall favorites such as Bavarian Pizza Pie, roast pork, and German-inspired snacking boards. The event included live music, ten unique vendors, and retro gear and goods.
Waldmann Brewery
Waldmann's Brewery, located on Smith Avenue North in St. Paul, hosts an annual Oktoberfest Minnesota celebration for a couple of weekends every fall.
This Friday through Sunday event features live music, traditional dance, tented biergarten, German food, beer, salt-glazed steins, and more.
Space is limited, so you'll want to arrive early! Parking is limited, so eventgoers are advised to take Uber or Lyft, carpool, or bike.
Fulton Brewery
Fulton Brewing's northeast Minneapolis location on Northeast 2nd Street hosts an annual two-weekend Oktoberfest celebration. This Oktoberfest Minneapolis event is called Gasthof's Oktoberfest and takes place in the brewery's parking lot.
Eventgoers can enjoy the largest selection of German beer found under one tent. The selection includes favorites like Pauaner and Hacker-Pschorr. You'll also find popular styles like Oktoberfest, Hefeweizen, Festbier, and more.
Lederhosen is not required, though it is strongly encouraged. Eventgoers are asked to bring their favorite stein since the hosts will only serve draft beer in steins. If you don't have one, you can buy one at the event to keep.
This Oktoberfest Minneapolis event has a full entertainment lineup, including Polish persuasion bands, Bavarian dances, and parking lot party games.
Lakes & Legends Brewing Company
Lakes & Legends Brewing Company on Lasalle Avenue celebrates Oktoberfest Minneapolis by releasing a special Oktoberfestbier and hosting a party in their taproom.
The party has previously featured Polka music, a Stein holding contest, bag boards, and of course, delicious beer for the occasion.
La Crosse Brewery
Wild Mind Ales on Pillsbury Avenue South in Minneapolis hosts an annual Oktoberfest event. This Oktoberfest Minneapolis has included taps served in steins and boots, traditional German food, raffles, contests, and dances.
Nouvelle Brewery
Located in the Twin Cities suburb, Robbinsdale, Nouvelle Brewery hosts an epic annual Oktoberfest party called a Geifest Party. The party has previously included German-style food stations, hammerschlagen, a Stein host competition, live music, and plenty of beer to go around.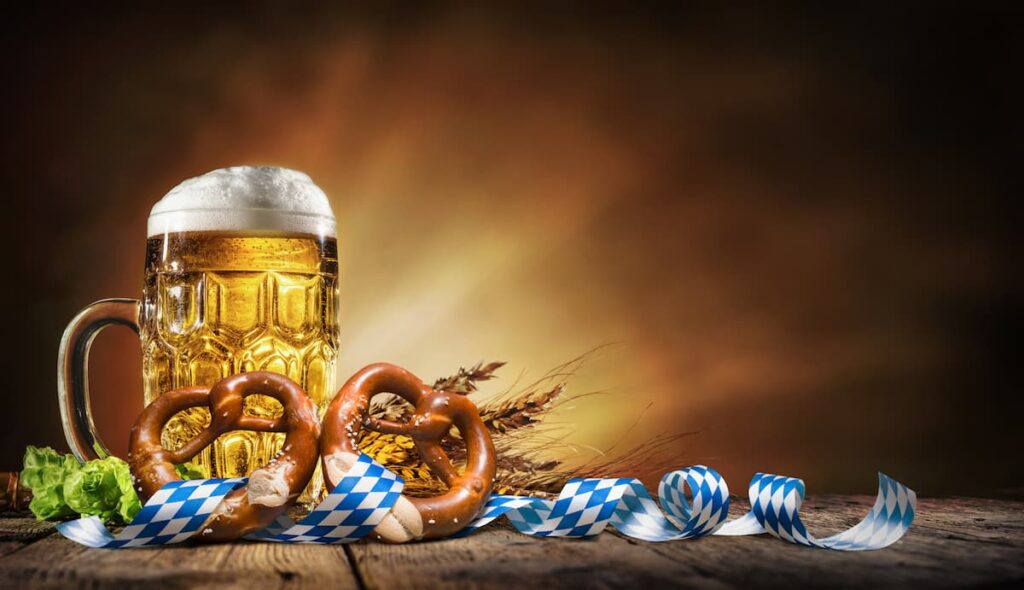 ---
New Ulm Oktoberfest
New Ulm, Minnesota, is located 90 miles southwest of the Twin Cities. The city was named the most German town in America as a result of the 2000 Census. After all, the city was predominantly settled by German immigrants in the 19th Century.
It's no surprise that New Ulm has some of the best Oktoberfest Minnesota celebrations! Minnesota Oktoberfest celebrations can be found throughout New Ulm on two weekends each year.
Best Western Plus
Best Western Plus in New Ulm has four afternoons and evenings of Oktoberfest celebrations on two separate weekends. This Oktoberfest Minnesota event features a keg and German-inspired bands.
Schell's Oktoberfest
Schell's Oktoberfest is the most popular New Ulm Oktoberfest event, hosted at the famous Schell's Brewery. This Oktoberfest Minnesota event features a full day of beer wagons, kegs, and German-inspired music.
This is a ticket-only event. Tickets can be purchased online or at the door.
Historic Downtown
Downtown New Ulm offers a full day of entertainment, food trucks, beer, music, and kids' activities. This New Ulm, Minnesota Oktoberfest event also offers VIP tickets, which include access to indoor bathrooms, a collectible beer mug, two beer tickets, and a swag bag.
The event hosts accept requests to be sponsors or vendors at this Minnesota Oktoberfest.
Morgan Creek Vineyard
Morgan Creek Vineyard on 478th Avenue hosts a full day of events, which includes the Annual Grape Stomp. Eventgoers will also enjoy artisan wine, craft beer, live music, and German woodfired food.
Reservations are always recommended for this Oktoberfest Minnesota event since it fills up quickly.
---
Black Forest Inn Oktoberfest
Black Forest Inn, a well-established German restaurant, is historically known for hosting the longest Minneapolis Oktoberfest event: ten consecutive days of fun.
Located on East 26th Street in Minneapolis, this Oktoberfest Minneapolis event might be the closest to what you would experience if you celebrated the festival in Germany: two weeks of carnival-like activities.
Each day has a unique theme, so eventgoers can experience something new each night. Past themes have included apples, sauerkraut, sausages, strudel, potatoes, and other German favorite foods.
The event has included rides and games, and of course, lots of German beer.
---
Delano Oktoberfest
Delano is around a half hour from the Twin Cities and hosts an annual Oktoberfest worth the short drive. The tents go up at Delano Central Park with Oktoberfest beer, food, and music.
The first 500 paid adults will get a commemorative mug of the Oktoberfest Minnesota festival. Eventgoers under 21 are free to enter.
---
Ruttger's Bay Lake Resort Oktoberfest
Ruttger's Bay Lake Resort is a historic resort in the Brainerd Lakes Area in Deerwood, Minnesota. The resort is a popular tourist destination for its golf and lake resort activities. The resort puts on an annual Oktoberfest event that includes traditional German food and entertainment all weekend.
The event includes an annual Oktoberfest Arts and Craft Show.
---
Luce Line Brewing Company
Luce Line Brewing Company located in Plymouth, Minnesota is an award-winning brewery known for its high quality beer and is a definite favorite among the locals and visitors alike!
The brewery hosts an annual Oktoberfest event that always takes place on the 4th Saturday in the month of September! If you're looking for a free event, good music and company, and absolutely satisfying brews, then be sure not to miss Oktoberfest at Luce Line Brewing Company!
---
Wrapping up The Complete Guide to Oktoberfest in Minnesota
Oktoberfest Minnesota is quite the celebration. We recommend checking out as many of these Oktoberfest events as possible!
Looking for places to stay during your Minnesota Oktoberfest tour? Check out our Places to Stay page for hotel and lodging recommendations across the state.