Minnesota's winter wonderland offers a unique blend of rugged wilderness, cozy comforts, and fun activities. It's no wonder why locals and tourists enjoy winter camping in Minnesota.
Unlike the south, Minnesota does not close down when snow strikes–a true Minnesotan knows the sight of the first snowflake means the fun is just beginning. Minnesota is a delightful place to enjoy all your favorite winter camping activities.
Keep reading to learn all about how to make the most of your Minnesota winter camping trip!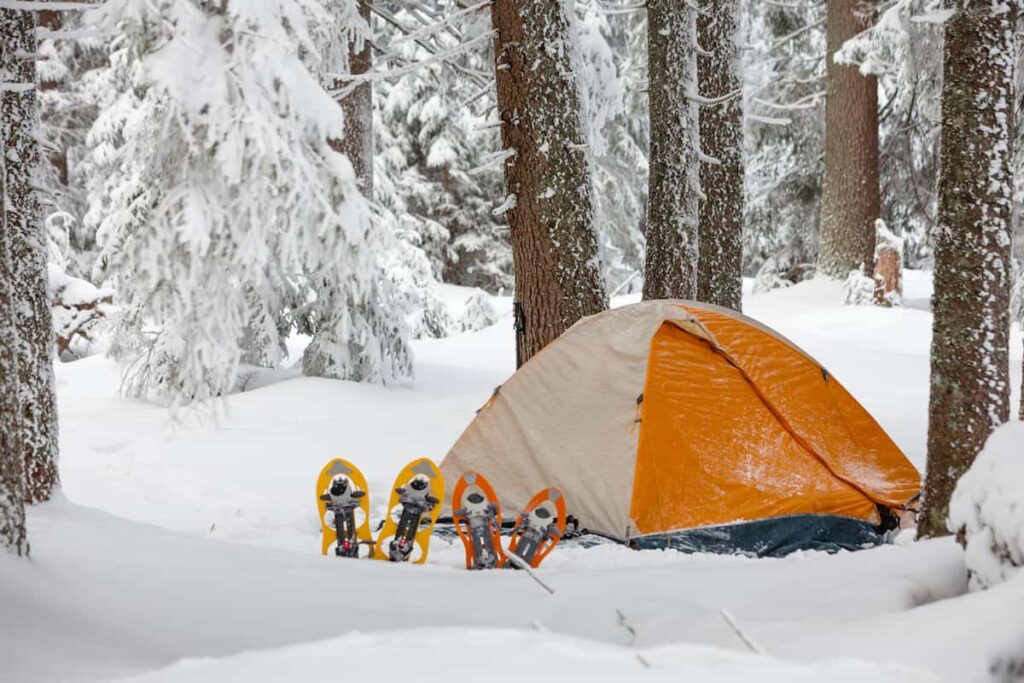 ---
What to Expect When Minnesota Winter Camping
Minnesota winter camping can be a thrilling adventure for cold-weather enthusiasts. However, it requires detailed planning. Winters in Minnesota are unpredictable and are known for rapidly changing temperatures.
Snowfall varies significantly from year to year, and wind chills can drastically affect how the air feels. The lake-snow effect, due to Lake Superior in northeastern Minnesota, can cause large amounts of snow to be dumped in areas near the shoreline.
Winter enthusiasts planning to brave the cold should prepare for the worst possible conditions, regardless of what the forecast says, because it's not uncommon for the weather report to be inaccurate due to sudden atmospheric changes.
Most public camp areas will have water turned off for the winter to prevent freezing pipes. Minnesota winter camping enthusiasts may need to prepare to bring a heated camping shower.
---
Best Places for Minnesota Winter Camping
The first step to having a successful Minnesota winter camping trip is to find out where you can winter camp since many campgrounds close for the winter. Learn all about the best places for winter camping in Minnesota.
You can see a full list of state parks with winter camping sites available on the Minnesota DNR website.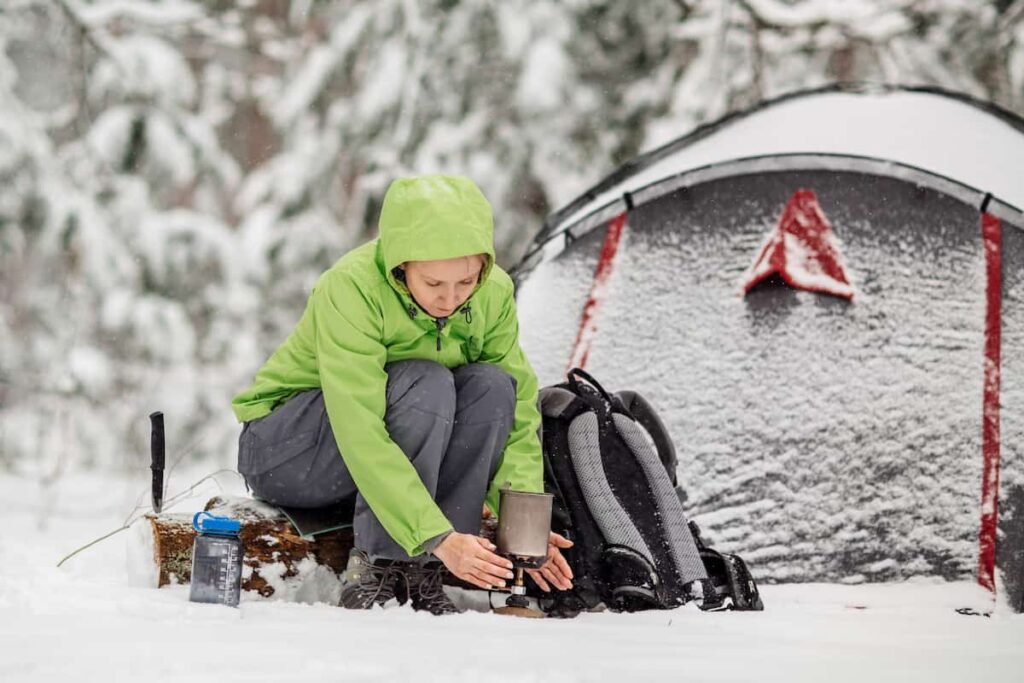 ---
Types of Minnesota Winter Camping
You can experience every type of camping in Minnesota's winter season.
RV Camping
RV camping is one of the most popular types of winter camping in Minnesota. Wintertime doesn't mean you have to put your RV in storage.
Several state parks offer electric sites, so you can enjoy Minnesota winter camping from the comfort of your RV. These are the best Minnesota state parks to park your RV in the winter:
Tent Camping
If you're looking to go winter tent camping, Minnesota is a great place to be. Many state parks also have tent sites open all year round. These are the best parks for winter tent camping in Minnesota:
Dispersed Camping
Minnesota state forests allow for winter dispersed camping unless notices are posted stating otherwise. From the second Sunday in September to the first Saturday in May, dispersed campers are limited to 21 days in the forest.
Dispersed Minnesota winter campers can select any existing site or any opening in the woods, including natural clearings, meadows, or timber sale landings. However, chopping down trees or vegetation is not allowed for the creation of new campsites.
These are the best places for dispersed Minnesota winter camping:
Camper Cabins
Enjoy Minnesota winter camping in a cozy cabin, which allows you to spend time in a rustic setting while relaxing with modern comforts like heat and electricity. The following state parks have camper cabins available all week, year-round:
Other year-round camper cabins (not located in state parks) worth reserving for your next Minnesota winter camping adventure include:
Yurts
A few state parks and recreation areas offer yurt rentals–a circular tent-like structure that is more durable and offers more headspace. The Minnesota yurt rentals range from 16 to 20 feet in diameter and come with wood-burning stoves, domed roofs, windows, bunk beds, and a table.
These are the parks where you can rent a yurt for your Minnesota winter camping trip:
---
Activities to Try When Minnesota Winter Camping
Winter camping in Minnesota is the perfect opportunity to try out some of the state's signature activities.
Snowshoeing
Snowshoeing is a fun opportunity to exercise and enjoy Minnesota's winter beauty. This activity makes it easier to explore areas that have not been plowed so you can explore tranquil landscapes. Snowshoeing is easy to pick up–if you can walk, you can snowshoe.
These state parks rent out snowshoes. Some of the best snowshoeing trails include:
Cross-Country Skiing
If you've ever wanted to try cross-country skiing outside of a resort, your Minnesota winter camping trip is the place to do it. Many Minnesota parks have groomed classic and skate ski trails.
Minnesota requires that anyone 16 or older carry a ski pass when using groomed cross-country trails in state parks or forests. This is a complete list of which state parks have groomed ski trails.
The Chippewa National Forest is also a popular place to cross-country ski.
Snowmobiling
Over 22,000 miles of groomed snowmobile trails encompass Minnesota land, with over 21,000 miles maintained by volunteers. Snowmobile trails are open December 1 through March 31, weather permitting.
This list provides an extensive catalog of available snowmobile trails and the contact number for each trail. Be sure you read up on the rules and regulations for snowmobiling in Minnesota before you head out to the trails, and remember to register your snowmobile.
Sightseeing and Photography
Minnesota winter camping is the perfect opportunity to catch stunning frosty shots. The perfect white, fluffy snow and delicate, shiny ice make for some unique shots. Here are a few places you will want to make sure you have your camera:
The frozen waterfall at Minneopa State Park
Scenic overlooks and frozen waterfalls at Gooseberry Falls State Park
A historic lighthouse at Split Lighthouse State Park
Also, be on the lookout for wildlife around the forests and parks. You can expect to see wolves, whitetail deer, red foxes, and bobcats. You might even see a black bear (who will come out of hibernation if they sense food in the area).
Dog Sledding and Skijoring
Dog sledding (or mushing) is a classic Minnesota winter sport, and the state is home to the longest dog sled race in the United States–the Beargrease Sled Dog Marathon in Duluth.
Groomed cross-country ski trails are not suitable for dog sledding (aside from Boundary Waters Canoe Area), so most dog sledding takes place on unplowed forest roads and some (but not all) trails used by snowmobiles.
Skijoring connects a dog to pull a person on skis. Dog paw prints and feces destroy groomed trails, so it is not allowed on most ski trails. However, a few trails have been designed for skijoring. Take your dog mushing or skijoring in these areas of the Superior National Forest:
Ice Fishing
Ice doesn't slow down angling in Minnesota. While winter camping in Minnesota, give ice fishing a try! Remember, no ice is 100% safe, so you should read up on ice fishing safety before attempting it.
These are the best locations to ice fish in Minnesota:
Glendalough State Park (Annie Battle Lake)
Boundary Waters Canoe Area Wilderness (1175 lakes varying in size)
Lake Bemidji State Park (Lake Bemidji)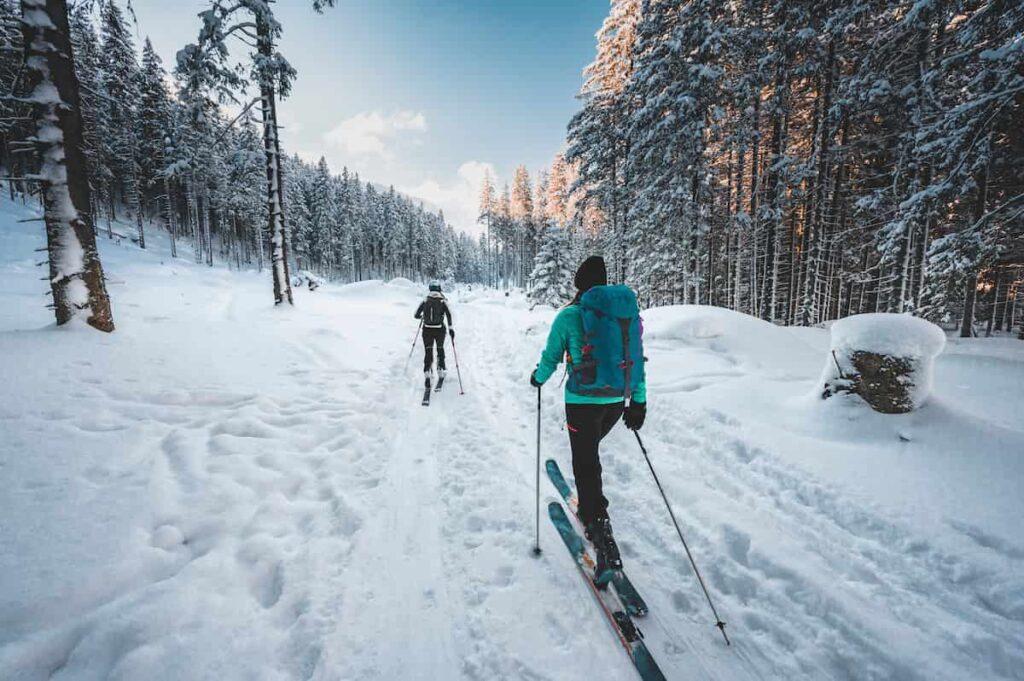 ---
Tips and Tricks for Making the Most of Minnesota Winter Camping
The following information is designed to ensure your Minnesota winter camping trip runs as smoothly as possible.
Safety
Winter camping in Minnesota comes with its challenges, so it's important to prioritize safety to ensure your trip doesn't get interrupted by an unexpected accident. These general camping safety tips will help you prepare for any remote situation.
Dressing in Layers
Wearing several layers of clothing (or bringing extra layers with you) can protect you from hypothermia or overheating when the temperature conditions suddenly change, as they often do in Minnesota. Read all about how to layer for your Minnesota winter camping trip.
Stay Hydrated
Drinking plenty of water is essential in winter because it can help protect your body from hypothermia. Water helps regulate your body temperature and maintain energy levels, so you can enjoy all your favorite winter activities at peak performance.
Minnesota winter campers have access to nature's largest water source: snow. Snow and other natural sources of water can be purified. A camping thermos is also a smart Minnesota winter camping investment, so you can enjoy warm beverages for longer periods.
Stay Aware of Surroundings
Never assume you're alone, even in a seemingly deserted area. Wearing a headlamp will help you see what (or who) is coming toward you and allow others to see you coming.
Black bears will come out of hibernation if they sense human food, so it's important to remain vigilant and take bear safety precautions.
Reservations
The state parks in Minnesota require reservations for all campsites year-round. Same-day reservations are allowed. Learn more about making a Minnesota winter camping reservation.
Meal Planning
It's important to plan to eat warm meals when winter camping in Minnesota. Warm food will help warm your body up, so it can maintain its energy levels. Check out 20 of the best campfire recipes anyone can make!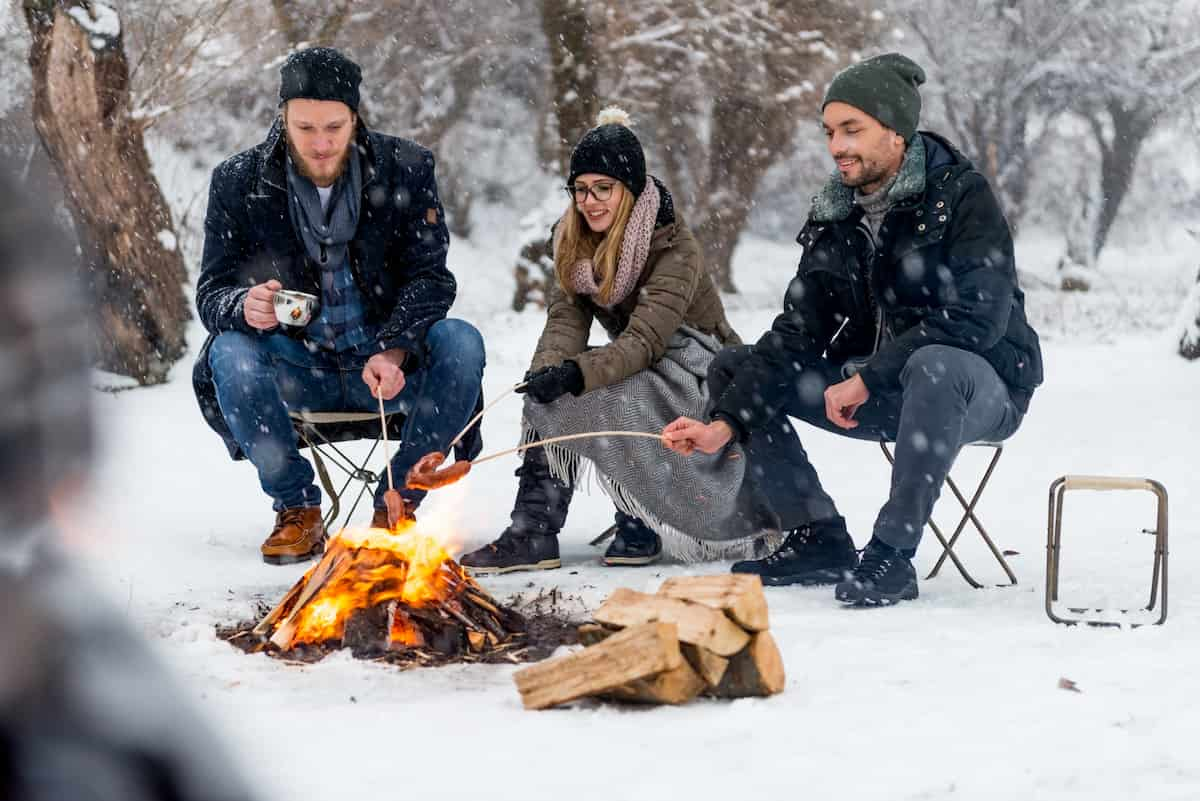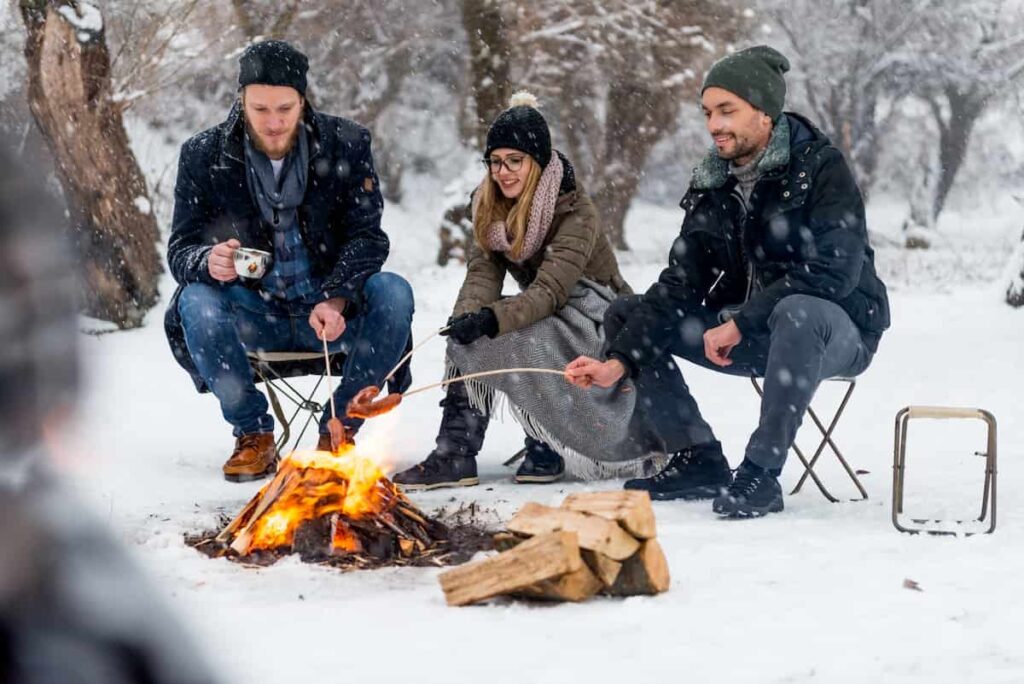 ---
Wrapping up Minnesota Winter Camping
You're ready to set up camp in Minnesota's wintery wonderland. Your Minnesota winter camping options are limitless! Minnesota never disappoints.
Interested in glamping this winter? Check out 12 of the best spots for glamping in Minnesota.
About the Author
Latest Posts
Nicole Kinkade loves taking regular road trips with her family around Minnesota. She especially enjoys visiting the Twin Cities area, where she can often be found hanging out at Mall of America and Como Park. Her favorite Minnesota restaurant is Fat Lorenzo's!
With a bachelor's degree in Business Administration and an associate's degree in Media Communication, Nicole is passionate about sharing her experiences with others through writing. She is currently writing full-time and loves every minute of it.
Nicole can be reached at nicolek.author@gmail.com