Minnesota is full of popular tourist spots and hoppin' "up north" destinations, and one of the best is the great city of Duluth! If you have yet to travel to this great city, let us help you out with your itinerary! We have created an amazing list of fun things to do in Duluth, MN that is sure to please you and whoever is lucky enough to join you on your venture.
31 Fun Things To Do In Duluth Minnesota
1. Take a stroll through Canal Park.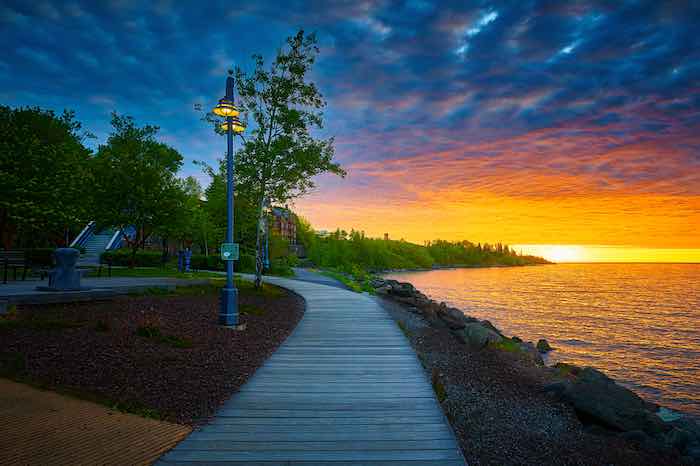 First on our list of fun things to do in Duluth is to visit Canal Park.
Canal Park is arguably the most visited attraction in the Duluth and the reason why it has made number one on our list of things to do in Duluth.
Being the park is centrally located in Duluth, you will find many sought-after hotels that offer amazing views of the water and located directly on the shoreline. An advantage of lodging at one of these hotels is being within walking distance to many attractions and having a guaranteed parking spot. If you've been to Duluth in the past, you may have experienced the heartache of having to circle the park a few times before you are able to snag a parking spot.
Just a short jaunt from the hotels, you will find many shoppes that offer a wide variety of souvenirs, trinkets, jewelry, and you will also stumble across many mouth-watering restaurants to choose from.
2. Get an adrenaline rush on Spirit Mountain
Spirit Mountain is a prime destination and thing to do in Duluth as it offers activities for all ages and both seasons of Minnesota (you know, summer and winter haha)
In the summer you can soar down the mountain side and capture amazing views while riding the Timber Twister alpine coaster, zip through the woods 700 feet above the ground, or take it slow and mellow on the Scenic Chairlift.
Winter brings a whole new way to have fun outdoors. If you crave thrill and speed then you will enjoy skiing, tubing, or even snowboarding through the white powder down the mountain side.
3. Drive through Minnesota's North Shore Scenic Drive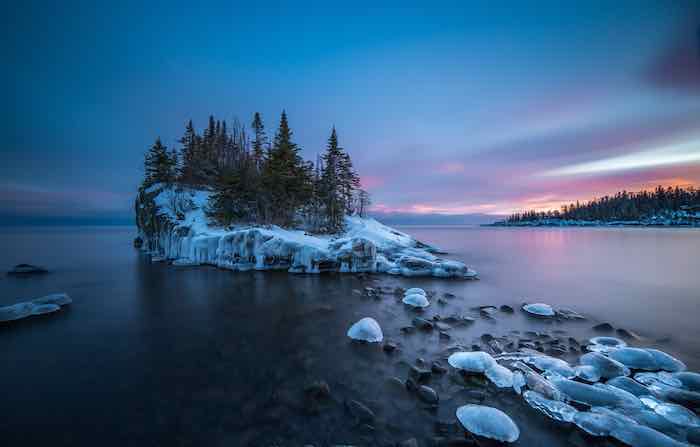 One of my personal favorite Things to do in Duluth is to drive up the scenic North Shore.
This scenic drive offers 154 miles of breathtaking views and numerous spots to stop for a photo or to soak in the North Shore air.
Before you get behind the wheel, be sure to map our your drive and plan possible stops where you may want hop out and go for an adventure.
Along the 2-hour route you will find waterfalls, dramatic cliff drop-offs, sprawling hills, and (depending on the time of year) the most beautiful fall foliage that you will ever lay your eyes on.
4. Cruise the Great Lake on a Vista Cruise
There's nothing more relaxing than the smell of crisp air upon the boat that is gliding on the largest fresh water lake in the world as waves gently rock the Vista Cruise.
Get the best of the best views of Duluth while aboard one of the elite Vista Fleet. Whether your goal is to take in the sights of the Duluth harbor, enjoy a dinner, or attend an event, Vista will exceed your expectations with their many types of cruises.
Ticket prices vary upon the length and type of cruise that you will be aboard for, so be sure to plan ahead as cruises sell out fast!
5. Climb the Enger Tower
A sight that shouldn't be missed when looking for fun things to do in Duluth is to see the Enger Tower.
Enger Tower (located in Enger Park) is a 5-story tower built in 1939 and dedicated by a Crown Prince and Princess of Norway. The tower was build in honor of Norway-native Bert Enger who came to this country to become a renown furniture dealer. Before Enger's death, he donated 2/3 of his estate to the great city of Duluth.
The tower's restoration project was completed in 2011 and was redicated by King of Norway.
Take a water bottle and climb the 5-story tower for a view of the Duluth harbor that is 531 feel above the ground.
For More Infomration On The Enger Tower Restoration Project Click Here
6. Take a tour of the SS William A. Irvin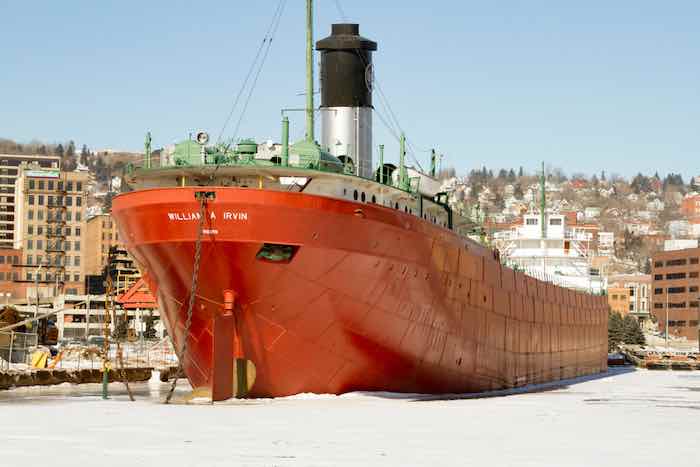 Ahoy, there! Do you enjoy history and tourism? Yes? Then this tour of the SS William A. Irvin is for you!
The SS William A. Irvin is freight ship that runs about 610 long and retired from voyage in 1978 and sat in layup for 8 years until the Duluth Entertainment Convention Center purchased it.
The 60 minute guided tour will show you what it was like for the lives of workers aboard the SS William A. Irvin from 1939 to 1978.
For More Information On The History Of The SS William A Irvin Click Here
7. Take a trip back in time at the Lake Superior Railroad Museum
Unlike the SS William A. Irvin, your tour of the Lake Superior Railroad Museum is self-guided and the only time requirement is that you are out by closing time!
This fan-favorite thing to do in Duluth is one of the most affordable and flexible. The majority of locomotives are indoors and the cost of admission in the museum covers all attractions within the Duluth Depot.
This tour features a wide collection of cabooses, passenger cars, steam/electric/diesel locomotives, and also exhibits featuring different types of settings with items of the times.
To Learn About Ticket Pricing And Hours For The Lake Superior Railroad Museum Click Here
8. Sink your teeth into a Jucy Lucy at The Breeze Inn
If you've worked up an appetite, then one of the things to do in Duluth is to pay a visit to The Breeze Inn which is located just 9 miles from Canal Park.
Placing #6 in the Top 10 Juicy Lucy's in the State of MInnesota, the Breeze Inn is by far the best maker of the delectable burger in the area.
The iconic burger was first created in Minneapolis in the 1950's and has since become a staple for Minneostan's and visitors. In fact, former President Barrack Obama paid a visit to Matt's Bar in Minneapolis and ordered the infamous burger.
To Learn More About The HIstory Of The Jucy Lucy Click Here
9. Enjoy lunch at Grandma's
Another thing to do in Duluth that is a no-brainer is to enjoy the iconic décor and views on the second-floor patio of Grandma's Saloon and Grill.
On the shore of the Duluth harbor and nestled next to the Superior Lift Bridge stands this 43y-ear old iconic restaurant. While Grandma's has changed over the years since it's doors first opened, 13 original items still remain on the menu to date.
Click Here To Learn How Exactly Grandma's Saloon and Grill Got Its Start
10. Sip a spot of tea at The Snooty Fox Tea Shop
Don't stick your nose up at this tea shop just yet because the name has no reflection of the atmosphere at this tea shop.
Snooty Fox Tea Shop has over 100 teas to choose from and also offers the popular kombucha and bubble tea. Another thing that the innovative tea shop has taken advantage of is the popular use of 'subscriptions'. They offer a subscription tea service that is created to meet your ideal tastes and interests.
Visiting this tea shop is definitely a thing to do in Duluth.
11. Tour Fitger's Brewery
When you hear 'Fitger's' you may think of a few things. One of the most common things people think of is Fitger's brewery.
The history of Fitger's Brewery dates back to 1881 when the brewery, that eventually became Fitger's, was opened. Fitger's survived through The Prohibition by strategically using it's resources to produce soda pops and candy bars until the end of The Prohibition.
This brewery offers weekly 1-hour tours that will excite your taste buds with brew tastings and a your 7oz glass to take home.
To Read More About Fitger's Beer Click Here
12. Stop and smell the roses at the Duluth Rose Garden
Nice weather is very much appreciated by Minnesotans, which is why visiting the Duluth Rose Garden is a for-sure thing to do in Duluth.
Spanning 4.5 acres through Leif Erickson Park, and featuring over 3,000 rose bushes, is this stunning rose garden that host's numerous weddings throughout the summer and (if you're an early riser) a great place to catch a glimpse of the glorious sunrise.
Read More About The History Of The Rose Garden Here
13. Soar through space at the Marshall W. Alworth Planetarium
Space geek or not, a visit to the Marshall W. Alworth Planetarium is a must-thing-to-do on your itinerary.
"The sky's the limit" phrase does not apply when you visit the planetarium because the only limitation is your imagination! The Spitz A3P star machine used by this planetarium projects the starry sky and hosts public shows on a variety of topics.
Show topic examples include Mythbusters astronomy, Larry Cat in Space, and Europe to the Stars.
View Showtimes And Purchase Tickets Here
14. Visit the Lake Superior Zoo
Another thing on your must-do-thing-to-do list on your Duluth trip itinerary has to be the Lake Superior Zoo which sprawls across over 19 acres on the hillside of Duluth.
This is a great thing to do in Duluth because it is open year round (minus a couple of days to celebrate Holidays) and offers entertainment for all ages.
See Upcoming Events At The Zoo Here
15. Catch a tour with The Duluth Experience
The Duluth Experience is your personal travel tour company is a PERFECT go-to when you are looking for something to do in Duluth but do not want to go through the hassle of seeking it out and planning it yourself.
The Duluth Experience offers tours upon tours (in case you didn't see it the first time… upon tours) that take you through the heights and depths of Duluth that include breweries, kayaks, history, and bus tours!
To View All Of The Amazing Tours Click Here
16. Dive into marine life at the Great Lakes Aquarium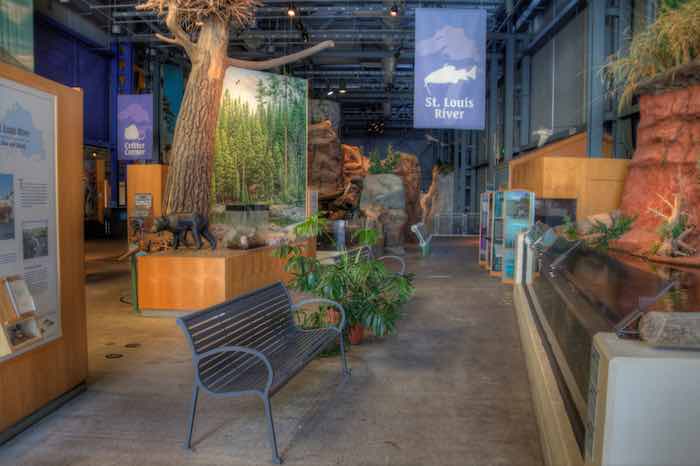 If you are looking for things to do in Duluth that involves biology and sea life, then you definitely need to make sure to add the Great Lakes Aquarium to your itinerary! This aquarium is indoors, therefore perfect for any day.
The Great Lakes Aquarium turns learning in to a whole new experience by offering group overnight events, yoga, summer camp, and even sensory-sensitive activities.
Click Here To See A Photo Gallery Of The Aquarium
17. Swim out to Uncle Harvey's Mausoleum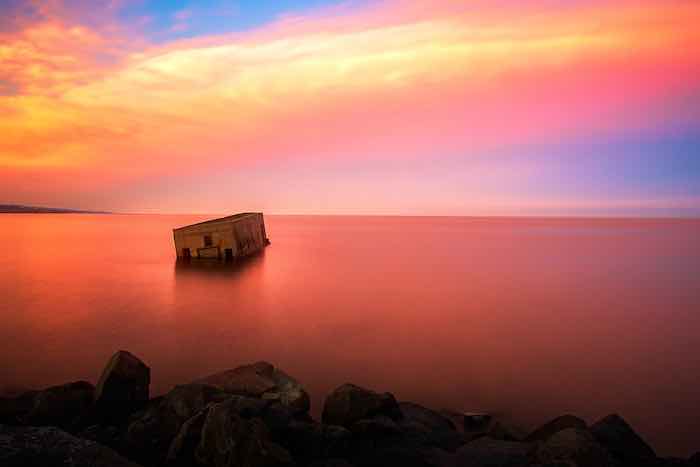 This here is a super cool thing to do and best part, it's free! Uncle Harvey's Mausoleum, or 'the cribs' as locals call it, is a 'ruins in water' on the shore line of Lake Superior and sits close to the boardwalk.
While no one knows the exact use of the mausoleum, one of the rumors is that it housed an illegal casino during The Prohibition. Spectators can either walk out on the ice to tour this magnificent building, or swim out during the summer.
Click Here To Find Out What Went Missing From The Ruins In 2015
18. Watch a vessel pass under the Aerial Lift Bridge

Many will say that the Duluth Aerial Lift Bridge is the main event of Duluth sights to see.
Throughout the year, hundreds of spectators flock to the bridge when they see a vessel coming in or read the vessel schedule religiously. The size of the ships can range anywhere from 600 feet to 1,100 feet and carry things such as iron ore, salt, and limestone.
Click Here For A Live Camera Feed Of The Bridge
19. Test your luck at Fond-Du-Luth Casino
Fond-Du-Luth Casino is a multi-level casino that offers free parking, Blackjack, and an assortment of fun slot machines.
The casino offers a lot of fun promotions for your birthday, on certain days of the week, and has a rewards membership!
For A Full List Of Promotions Click Here
20. Chug through Duluth on the North Shore Scenic Railroad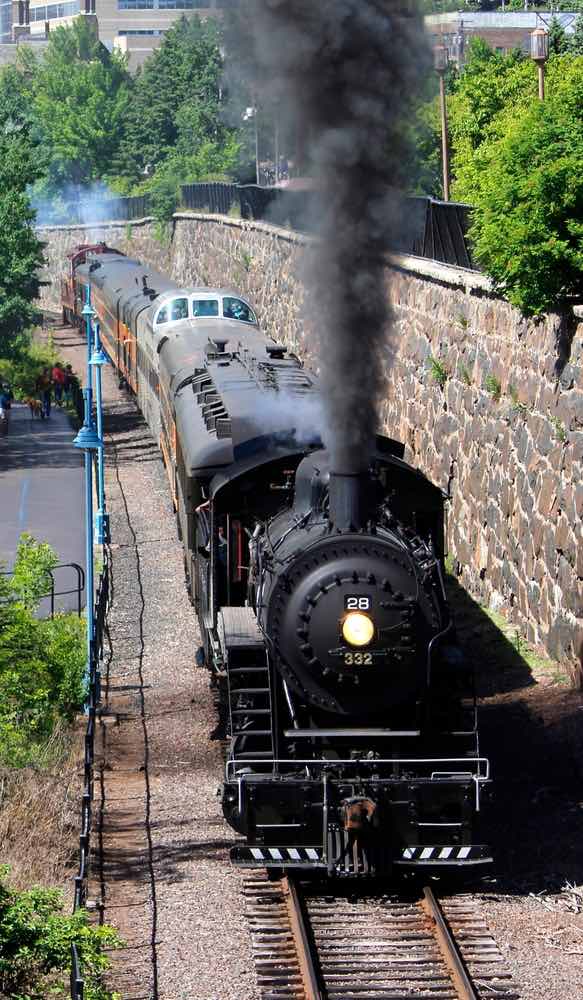 Another of our favorite things to do in Duluth is to visit the North Shore Scenic Railroad.
Along with touring the railroad museum, why not top off your day with a train tour along the North Shore? Add this one to your 'things to do in Duluth' list!
The North Shore Scenic Railroad offers train rides year-round to please the entire family. You tour the fall foliage up the lake-side or enjoy seasonal trips such as the Terror Train, the Great Pumpkin Train, or the Christmas City Train (fan favorite).
Click Here To Purchase Train Tickets For Your Favorite Excursion
21. Check out the original Duluth Trading Company
Go back to the roots of Duluth Trading Co. by visiting their Duluth retail store.
Over the past thirty-some years, Duluth Trading Co. has become a household name with it's funny-yet-real-life solutions to many problems that are encountered by real people on-the-job.
22. Satisfy your sweet tooth at Lake Superior Bakehouse
There's nothing sweeter than some sweet baked goods hot out of the oven, which is what the Lake Superior Bakehouse does best.
The married dynamic duo, who established this bakery in 2015, bring to the table their passion for baking, love of family, and obsession for making people happy through finding the way to their heart – their stomach.
Don't forget to check out this amazing bakery when you're looking for something to do in Duluth.
Click Here To View The Full Menu
23. Sample the spirits at Vikre Distillery
Last but not least on our list of fun things to do in Duluth, MN, is to sample to the Spirits at Vikre Distillery.
Lake Superior water is what makes these spirits so smooth. This distillery was founded by two Minnesotan natives who left their secure desk jobs on the East Coast to come home and get some dirt under their finger nails by opening this distillery.
Vikre Distillery specializes in an assortment of spirits including gin, vodka, and whiskey. Luckily, Duluth is not the only city that has the privilege of enjoying the smooth taste of these spirits. Vikre spirits are sold in over 900 restaurants and liquor stores spread through two countries!
Click Here For A Detailed List Of Retailers
Wrapping Up 23 Fun Things To Do In Duluth, Minnesota
We hope that you enjoyed our list of some fun things to do in Duluth. If you think we missed something, leave a comment below and let us know what you like to do in Duluth.
Check out these fun Minnesota Day Trips for more fun things to do in Minnesota.