---
Buyer's Guide for Electric Snow Shovels
Types of Electric Snow Shovels
Most electric snow shovels work similarly, but specific differences divide them into clear subsets. For example, although plenty of shovels are corded, you can also find cordless versions, which run on batteries. Depending on the batteries, they may be rechargeable. Otherwise, you would need an entirely new battery once the existing one dies.
Beyond that, the differences typically manifest as add-ons. To accommodate a variety of circumstances and preferences, some shovels include headlights, salt spreaders, and even snow blowers. Shovels vary widely in size and speed as well.
Materials Used
To be tough yet affordable, many electric snow shovels have plastic handles and bodies. Of course, the blades are made from metal, especially steel or aluminum. Cordless shovels usually feature lithium ion batteries.
What to Look For
If you're shopping for an electric snow shovel, you must do your best to filter out all the options so that they don't overwhelm or distract you.
For instance, consider speed. To get the highest value for your money, you'll want a shovel capable of moving at least 300 pounds of snow per minute. They can also throw the snow a minimum of 20 feet away. The most efficient models are even faster and more powerful.
Shoppers who prefer corded shovels must take cord length into account. To optimize your coverage and maneuverability, the cord should measure at least 50 feet long. However, you may need a longer one, depending on the location of your outlets combined with the size of your property.
If a battery is what you want, then consider whether you want it to be rechargeable. Look for cordless electric snow shovels that come with chargers, as not all of them do.
---
Frequently Asked Questions About Electric Snow Shovels
How are electric snow shovels different from snow blowers?
Electric snow shovels are similar to snow blowers in that they both grab snow and toss it to the side. The difference is in the method. Contrary to their name, blowers don't blow; they use mechanisms called impellers, which spin rapidly to push snow away. Shovels suck the snow up and then propel it.
Since blowers are usually faster and more powerful than shovels, they're great for covering large areas and deep snow. Shovels are light and compact in comparison, and they can get closer to the ground without damaging any mechanisms, so they excel at clearing smaller and paved areas like stairs, decks, and driveways.
What are the benefits of an electric snow shovel?
Although it's called a "shovel," an electric snow shovel doesn't require the same degree of manual labor. That's good news for anyone with injuries or limited physical ability, or if you just don't like tiring yourself out. Using one allows you to conserve your energy and avoid creating or worsening any medical conditions.
What maintenance does an electric snow shovel require?
After using your electric snow shovel, let it continue running for a few minutes to dry, and then store it in a cool, ventilated area. This will prevent ice from forming on the interior mechanisms.
At least once a month while the weather is cold, tighten the fasteners as well. Otherwise, they may loosen and fall off over time. You may also need a professional servicer to replace the drive belt and scraper every couple of years.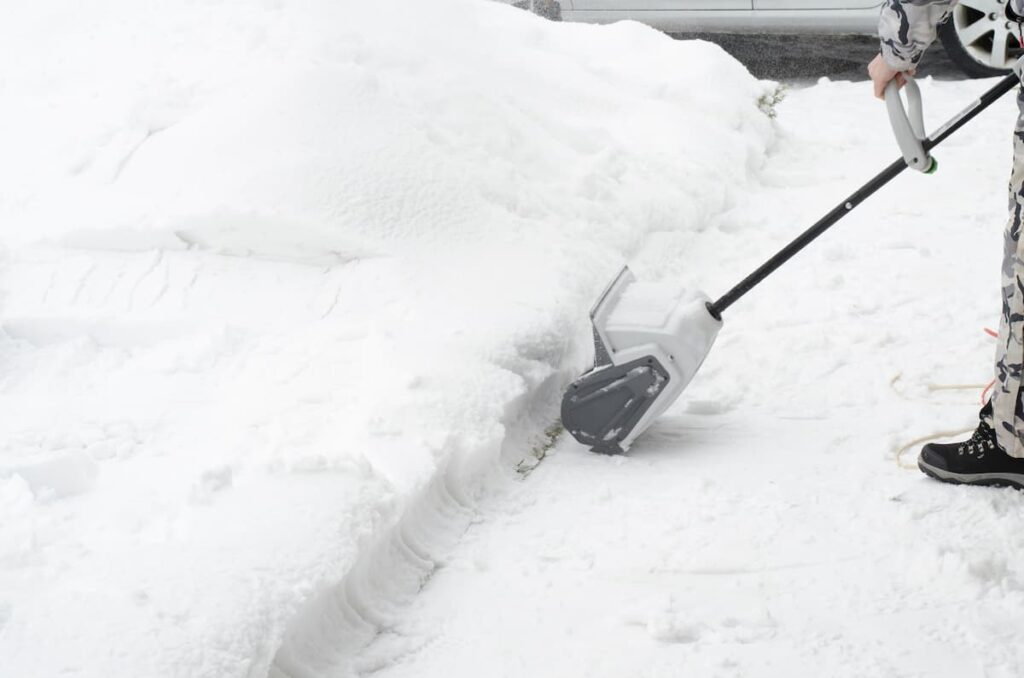 ---
Pick Up an Electric Snow Shovel!
Minnesotan winters are known to be rough, so arming yourself with the best equipment available is crucial to making the season comfortable for you. We're certain that the information we've provided on electric snow shovels will help you feel more prepared! However, if you'd like more advice on enjoying a winter in Minnesota, we've got you covered.