Whether you're from Minnesota or just passing through, it's important to know your options and choices when it comes to traveling to new places. Luckily, Minnesota has an abundance of airports to help make your travel dreams come true.
From private to regional and international, each airport offers its own unique features and positive experiences to make your trip planning smooth and simple.
Keep reading to learn all about the eight best airports in Minnesota!
---
Best International Airports in Minnesota
1. Minneapolis-Saint Paul International Airport
Minneapolis-Saint Paul International Airport (or MSP) is a civil-military and public-use airport. It's also sometimes referred to as Wold-Chamberlain Field International Airport. Located in Fort Snelling, Minnesota, it is one of the best airports in the state.
Here you can find flights traveling with many of the well-known major airlines and other smaller ones including Delta, American, Air France, United, Allegiant Air, SkyWest Airlines, Endeavor Air, and much more.
Not only is this one of the best airports in Minnesota for regional or international commercial flights, but it's also a well-known military airport. It supports the Air Force Reserve Command and Air National Guard operations.
For civilian travelers, MSP's easy webpage provides you with all the relevant information you may want to know before your trip. It has links specific to each terminal and frequently updated parking lot capacities and security wait times. They also have 24/7 trains that run between terminals for those who need them.
From quick-service food stands to sit-down restaurants, there is an abundance of places to eat. If you have some extra time, check out this airport's curated shops or variety of relaxation areas.
While this airport likely has many of the flights and trips you're looking to book, it should also be noted that it's the busiest airport in Minnesota and the Upper Midwest. Minneapolis-Saint Paul International is located within 10 miles of downtown Minneapolis and Downtown Saint Paul, making it a prime central location.
2. Falls International Airport
Falls International Airport (INL) is one of the best airports in Minnesota, for its ease and efficiency when it comes to traveling across the world. It's located on the Minnesota and Canadian border and also offers flights to Minneapolis-Saint Paul International Airport daily.
INL offers free parking, easy check-in services, and free wifi to make your journey more comfortable. The newly constructed terminals make it one of the best airports in Minnesota whether you're traveling locally, nationally, or internationally.
The INL website has an online flight tracker and other helpful information so you can stay up-to-date on your trip and well-informed before you fly. It is also helpful to keep an eye on incoming friends or family if you're local and manning pick-up!
3. Duluth International Airport
Duluth International Airport (DLH) is found in its namesake city of Duluth, Minnesota. It makes our list as one of the best airports in Minnesota due to its crucial operations that serve the Twin Ports area, which includes Superior, Wisconsin, and other in-state nearby regions.
Like the other airports in Minnesota, Duluth is city-owned and a public-use joint civil-military airport. While this airport is mostly used for general aviation (specialized aviation services), it also serves to fly three public airlines, including Delta, Sun Country, and United Express.
DLH offers two bus routes from the airport for ground transportation that includes both weekdays and weekends. The top destinations traveled through DLH are Minneapolis, Minnesota, Chicago, Illinois, and Fort Myers, Florida.
Although its original terminal was built in 1954, new additions have been made to DLH in recent years. The newest terminal was built in 2013 and in 2020 the airport received over five million dollars worth of federal grants via the CARES Act to continue upgrades.
---
Best Regional Airports in Minnesota
4. Brainerd Lakes Regional Airport
Brainerd Lakes Regional Airport (BRD) is a great choice when deciding which of the best airports in Minnesota is right for your trip. Brainerd Lakes takes pride in providing safe flights for passengers and is up to date with modern and complete terminals.
Travelers can take advantage of large airport services without the long walks, congested spaces, and stress. BRD has check-in/bag drop areas, at-the-gate boarding, and top-notch baggage claim areas that are sanitized frequently.
This airport also offers free short-term and long-term parking for up to 45 days. These lots feature well-lit, convenient locations to make your trip run as smoothly as possible. A perk that compliments their partnerships with Delta as well as SkyWest Airlines and their top-rated on-time flights.
Easy flights from BRD to MSP guarantee you reach your destinations safely and with ease.
5. Sky Harbor Regional Airport
Sky Harbor Regional Airport (KDYT) has a mission to enable pilots and travelers to fly simply and safely. It's located in Duluth, Minnesota, and provides the beauty of both the city and Lake Superior to all who visit.
They pride themselves in being an airport "for the people" and deliver on that moniker through plenty of amenities to guarantee smooth travels. On-site mechanic support and around-the-clock fuel services ensure you have all that you need at your fingertips.
Sky Harbor also has one land runway and two sea runways that allow for a variety of aircraft types to land and take off. This airport allows deck-side camping for fly-in guests!
The unique rustic accommodations secure its place on our list of best airports in Minnesota. Whether you're looking to stay overnight or simply want to take in the bay shore views, Sky Harbor has it all.
6. Southwest Minnesota Regional Airport
Another one of the best airports in Minnesota for general aviation is the Southwest Minnesota Regional Airport. It is located in Marshall, Minnesota, just one mile from the central business district.
Although today the runways are traversed by civil aviators, it did previously cater to passenger air service via Lake State Airways. The Southwest Minnesota Regional Airport offers two paved runways and since 2010 has had about 28 aircraft based on the field.
The airport is open to the public and has fuel, parking, a powerplant, and airframe services.There are high-intensity runway lights that line the edges of the runway to ensure maximum safety during takeoff and landing, especially as there is no air control tower for guidance.
---
Best General Aviation Airports in Minnesota
7. Albert Lea Municipal Airport
Albert Lea Airport originally operated as a private field in the 1920s, but has since moved locations and now offers T-hangars for rent. This airport, with its rich history, prides itself on providing a high-quality space for general aviation.
The airfield at Albert Lea Municipal Airport is made up of two surfaced runways. On each of these runways, you'll find medium-intensity runway lights, runway identifier lights, and a precision approach path indicator to ensure maximum safety for all pilots and travelers.
Its website has an array of information and relevant links that are designed to assist pilots and their crews in flight preparation and planning. If you're a pilot looking to fly, Albert Lea Municipal Airport is one of the best airports in Minnesota.
8. Alexandria Municipal Airport
As its name suggests, Alexandria Municipal Airport is located in Alexandria, Minnesota. It's one of the best airports in Minnesota, as it's known for its friendly hospitality and up-scale experience.
This airport gives new meaning to luxury, providing pilots and travelers with a wide range of exciting and unique activities. Relax with a glass of wine at the local winery in Carlos Creek or take a leisurely walk through the lakefront at Alexandria City Park.
Whether you're staying in Minnesota for vacation or just passing through, Alexandria Municipal Airport will provide a quality experience to start or end your trip on a high note.
---
Time to Fly!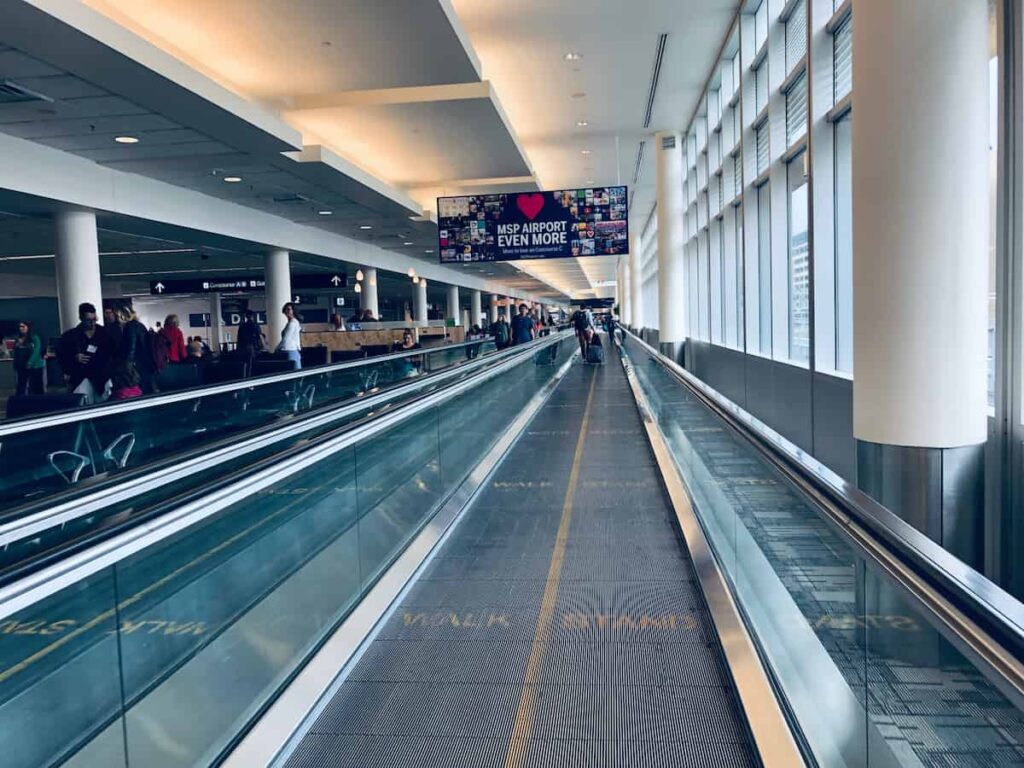 Now that you know all about the best airports in Minnesota, it's time to start planning your next trip! Whether you're looking to stay in the state, fly private, commercial, or even internationally, there are a range of incredible airports in Minnesota just waiting to be explored.
Want more information on planning your next trip to Minnesota? Make sure to check out our Places to Stay in Minnesota post for all you need to know!