Minnesota isn't just a winter wonderland full of ice, lakes, and snow. It's also a state that's packed with fun things to do during the spring and summer months. Whether you're into biking, hiking, fishing, or ATVing, there's no shortage of opportunities in the Northstar State.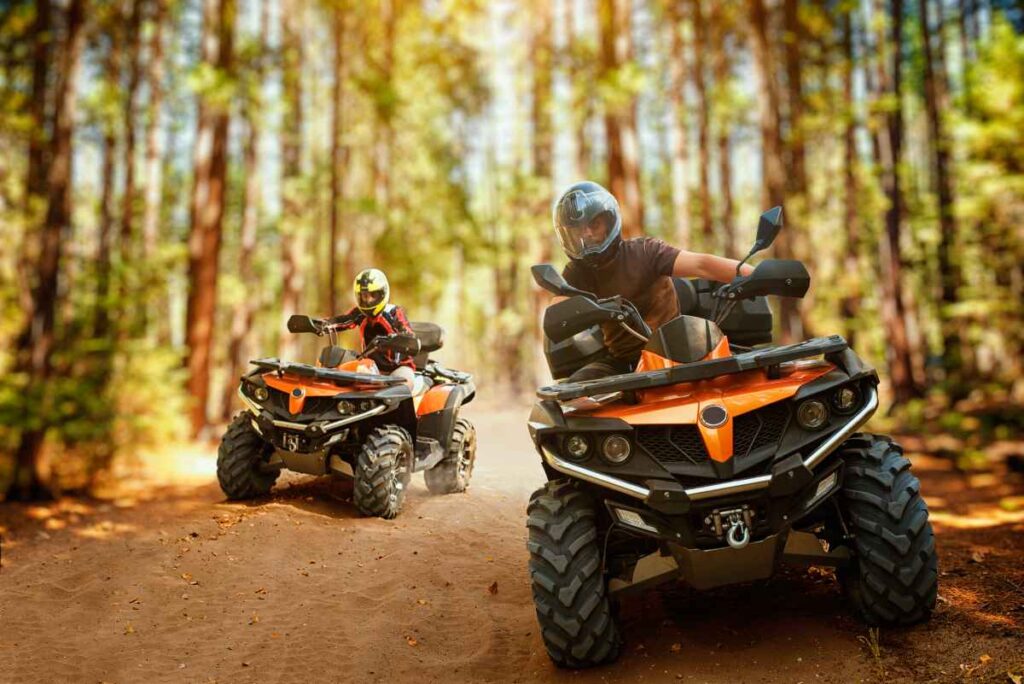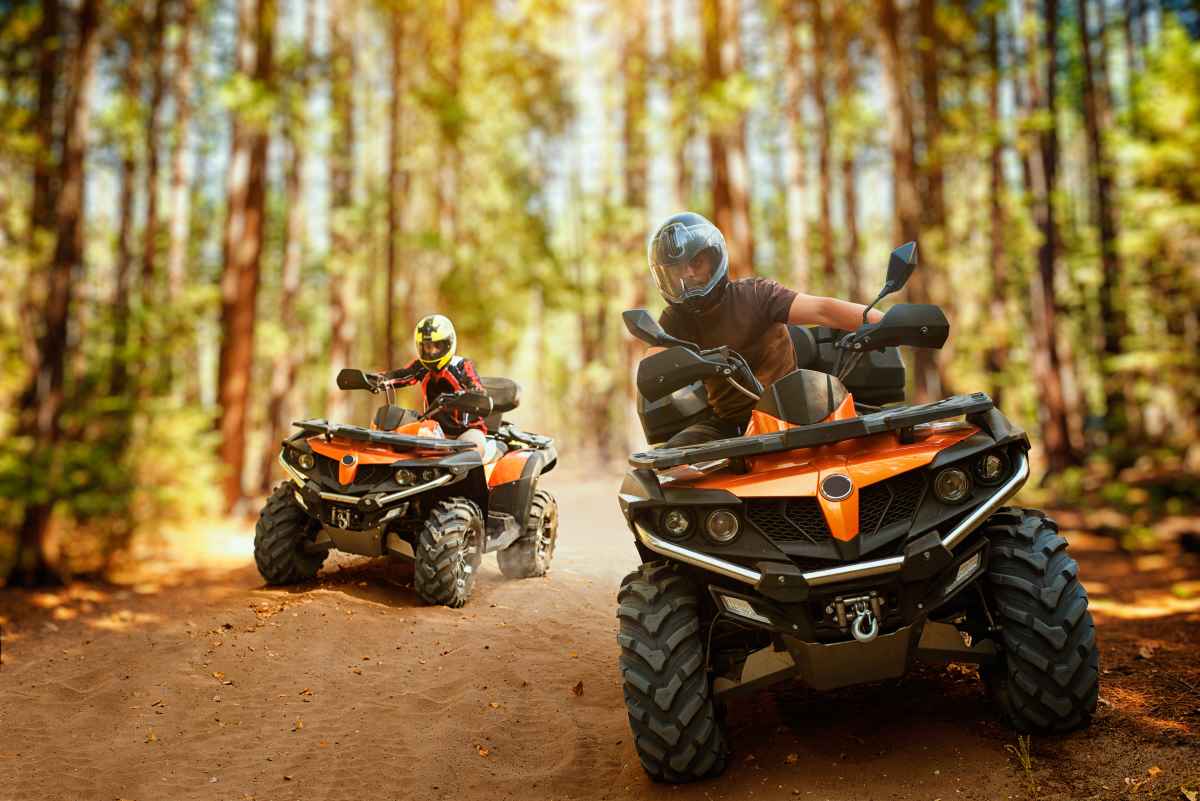 If you want to get into nature and feed your wild side, you should consider getting into four-wheelers, dirt bikes, or ATVs. There's no shortage of ATV trails in Minnesota for you to practice on, and we'll go over a few of the best ones now.
The Best ATV Trails in Minnesota
Because of how popular four-wheelers and other types of all-terrain vehicles are, there are tons of ATV trails in Minnesota. Most of them are concentrated in the northern part of the state, where nature is wilder and more abundant.
While many ATV trails in Minnesota are ok for riders of any skill level, some are more difficult to navigate than others. You should also be aware that some ATV trails in Minnesota are open to hikers and bikers, so proceed with caution and check before you go.
1. Forest Riders Trail
One of the first ATV trails in Minnesota you should check out is the Forest Riders Trail. It runs through two counties and consists of 100 miles of the most scenic nature in all of the state. The trail runs through four state forests, White Earth, Smoky Hills, Paul Bunyan, and Two Inlets, and has a good variety of twists, turns, hills, and valleys.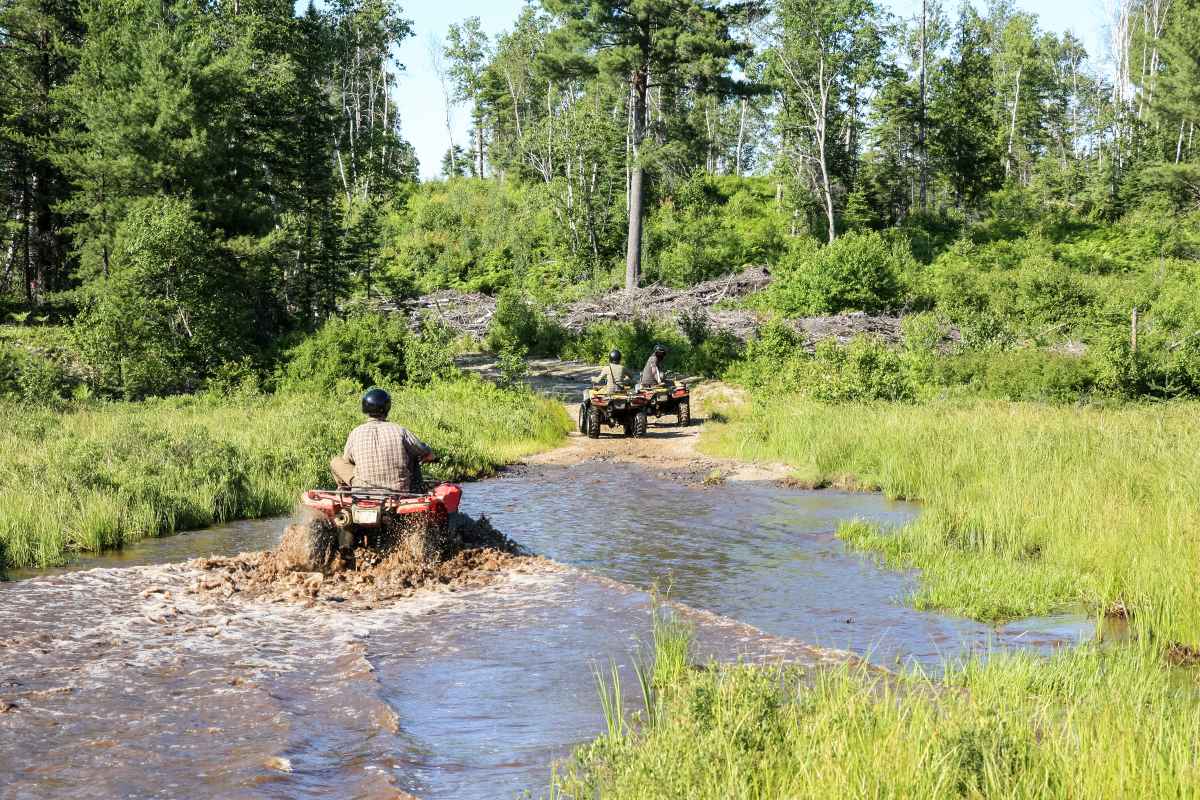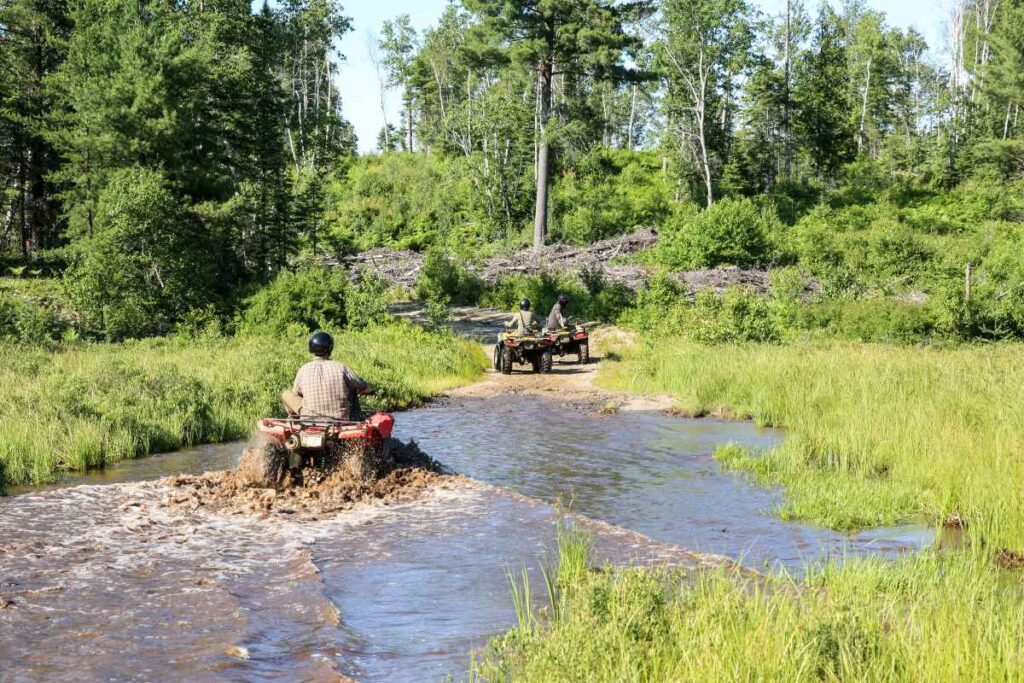 You'll also have the opportunity to bed down at one of the many campsites or resorts along the trail. The commodity of being able to spend one or multiple nights on your journey makes this one of the best overnight ATV trails in Minnesota. Best of all, the trail is maintained by a local ATV club, which means they'll know exactly how to keep it at its best.
2. Spider Lake Trails
The Spider Lake Trails are just 29 miles long, making it one of the shorter ATV trails in Minnesota we included on this list. However, while short, these trails are extremely diverse, and you'll see more terrain here than in most other trails. You'll see a combination of rocky, sandy, and smooth trails that dips, rises, twists, and turns.
Because the trail is very diverse but not so much that it's only fit for expert riders, Spider Lakes is a great trail to practice your ATV skills. You can advance from this trail to some of the more challenging ones on this list.
3. Blue Ox Trail
If you're in the northern part of the state and want an ATV trail that goes right up to the Canadian border, the Blue Ox Trail is the one for you. This 70+ mile trail gets inspiration for its name from the story of Paul Bunyan and is a fairly easy and smooth trail to drive. It follows an abandoned railroad line and is a great place for a leisure drive on your ATV.
4. Gandy Dancer Trail
Not only is the Gandy Dancer Trail one of the most uniquely named ATV trails in Minnesota, but it's also one of the most used. It runs from Minnesota to Wisconsin and is open to all types of ATVs and OHVs. Like the Blue Ox Trail, the Gandy Dancer stretches for 30 miles and runs along an abandoned rail line, making it easy to stay on track, no pun intended.
It's also a popular trail because it connects to several other trail loops and systems, including the Nemadji State Forest Trails. Camping opportunities are available along the Gandy Dancer Trail if you want to make a weekend trip out of your travels.
5. Nemadji State Forest Trails
The Nemadji State Forest Trails consists of ATV trails running over 200 miles throughout Nemadji State Forest. It's the most diverse and longest ATV trail system in the state and one of the longest in the country. While most of the trail is fair game for ATVs and OHVs of all types, certain sections are reserved for Class-1 ATVs and motorcycles.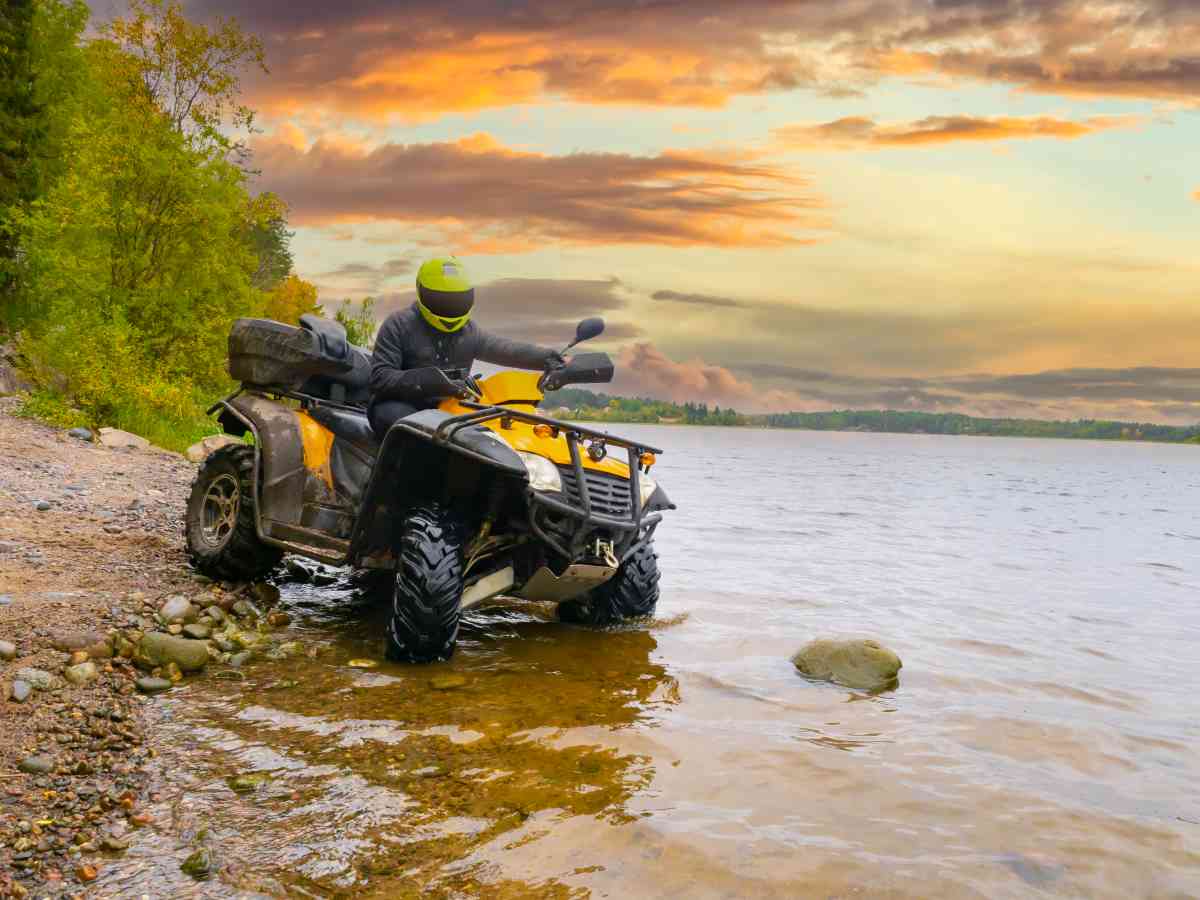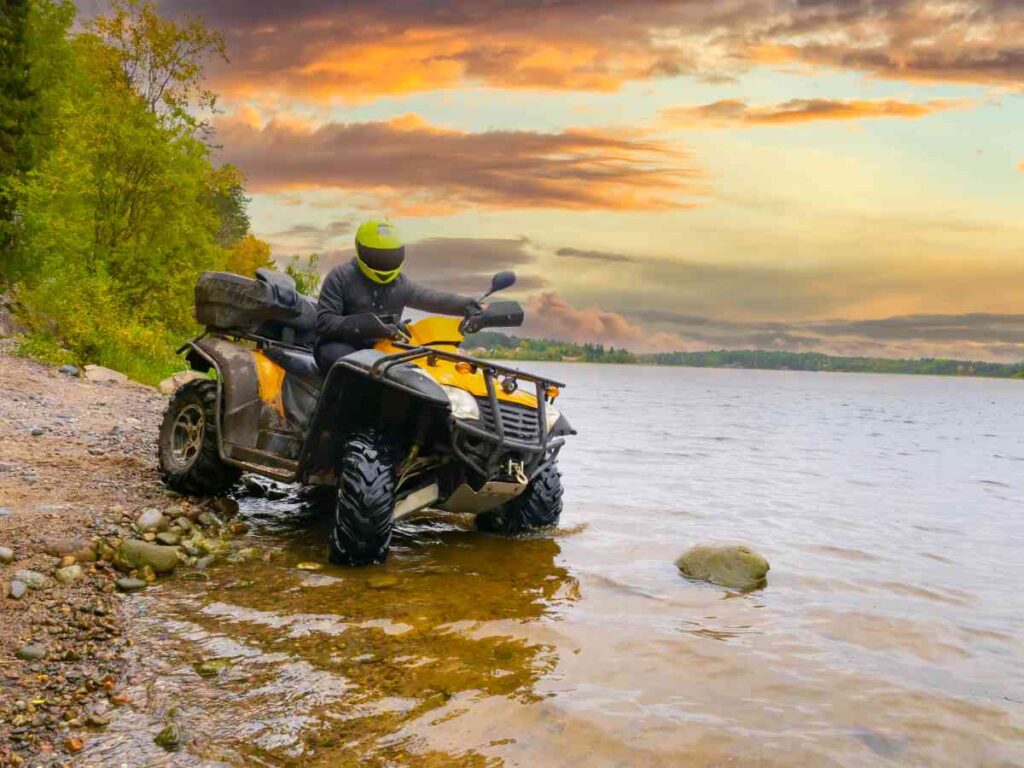 Nemadji is located on the eastern border of central Minnesota, which means it gets visitors from all over the state and even Wisconsin. If you want to explore gentle hills and slopes, stick to the trail system's southern end. However, the northern trails are ideal for more complicated, tight twists.
6. Iron Range Off-Road Recreational Area
If you're looking for the best of the best in terms of ATV trails in Minnesota, look no further than the Iron Range Off-Road Recreational Area. As the name indicates, this area consists of more than just ATV trails. You'll have the chance to tackle rock walls, boulders, intense off-road areas, mud pits, and much more at what can only be described as a slice of ATV and OHV heaven.
All in all, there are nearly forty miles of ATV trails throughout this massive area. Most trails are open to all types of off-road vehicles, but some are specifically reserved for ATVs, OHVs, or ORMs. There are helpful signs at the start of each trail indicating how difficult it is, so make sure to check them before you head out.
7. Soo Line Trails
The Soo Line Trails, in and of itself, is one of the best ATV trails in Minnesota. What makes it even better is that it connects to four other trail loops that are equally awesome. The Soo Line Trails are over 200 miles long when you add in the various loops, but it's all fairly easy to navigate for riders of all skill levels.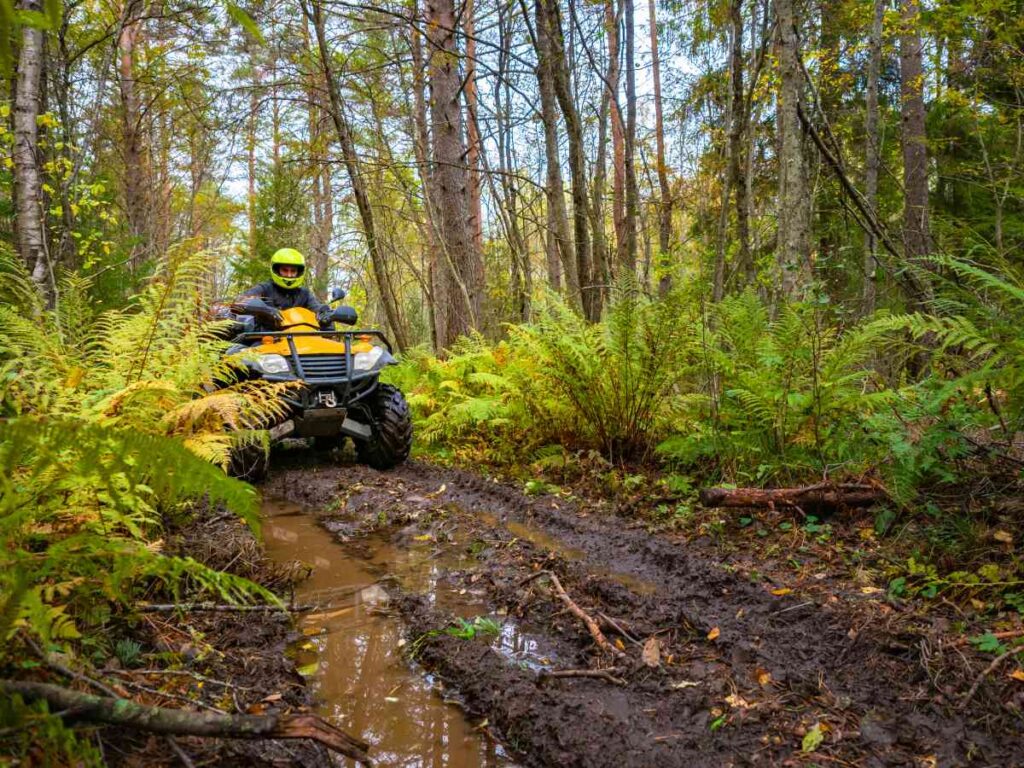 The trail system is divided into a northern and a southern route. The southern route runs through five counties from southwest to northwest and stretches just over 105 miles. The northern route is similar to the southern one but slightly longer at 113 miles. It runs through Cass, Carlton, and Aitkin counties.
8. Appleton Lake Recreational Area
The Appleton Lake Recreational Area is one of the premier places to go if you have any off-road vehicle. The entire area consists of over 300 acres of off-roading heaven. There are more than 20 miles of ATV, OHV, and UTV trails to explore, and there's a good one for you, no matter how skilled or experienced you are.
There's also a rock climbing wall, a motocross track, and a mud pit for when you want to get dirty. The surrounding town of Appleton is known to be one of the friendliest in regards to allowing ATVs on their roads, so you might even be able to drive down to a restaurant when you're done! The park is located in Swift County and is one of the only ATV parks in southwestern Minnesota.
9. Snake Creek Trail
The Snake Creek OHV Trails are just over thirteen miles long, making it the shortest trail system on this list. However, it offers lots of variety, camping opportunities, and obstacles. You'll run into everything from rocky berms to water crossings, mud pits, and wooded forests.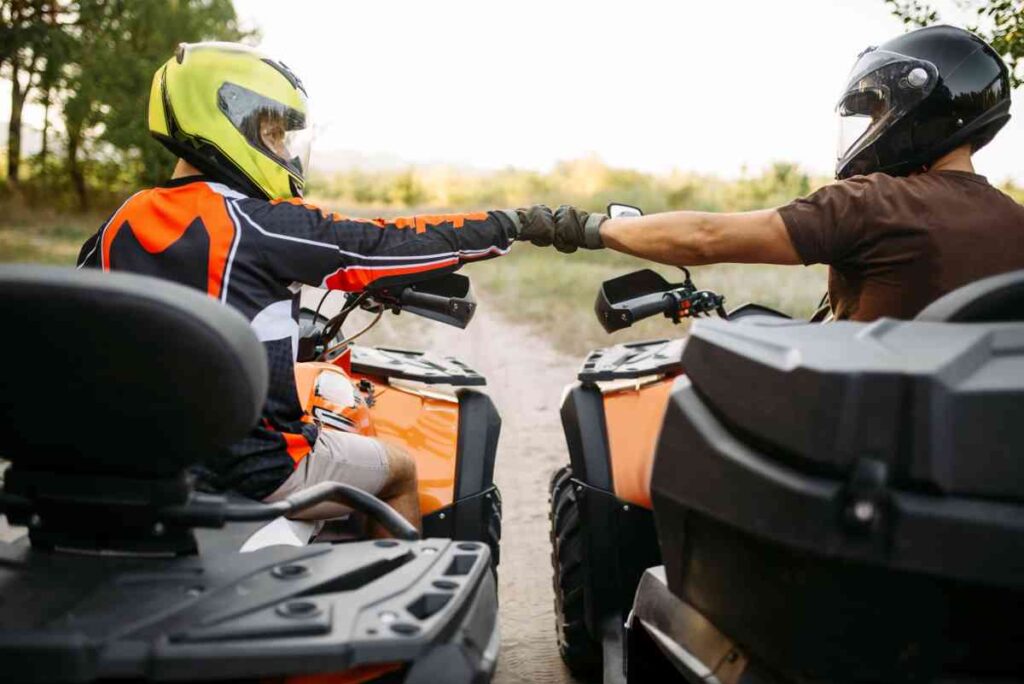 Additionally, the Snake Creek Trail is one of the only OHV and ATV trails in Minnesota in the southeastern part of the state. In addition to ATVs, you can also bring your motorcycle, dirtbike, SXS, or UTV.
Wrapping Up the Best ATV Trails in Minnesota
As you can see, there's no shortage of quality ATV trails in Minnesota. Regardless of your skill or experience level, there's something for everyone. However, make sure to purchase any necessary permits and maintain safety standards when you're tackling any of these trail systems or recreational areas.
While you're looking for fun outdoor activities in Minnesota, check out these 13 Best Vacation Lakes in Minnesota.
Love spending time outside? Then discover the Minnesota Outdoors to continue learning new ways to reconnect with nature!
Looking for some warm weather recommendations? Discover spring and summer in Minnesota for best destinations, travel recommendations, small (and big!) town events, and more!
Looking for more autumnal activities? Then visit our Minnesota Fall page to find inspiration for sweater weather fun!