Maybe you've heard the saying that goes something like relax and unwind; you're on patio time. If your patio is anything but relaxing, you may just need a few backyard patio ideas to get the creative juices flowing.
From simple and budget-friendly ideas like cleaning and adding plants to more elaborate ideas like a gazebo or fish pond, read on for our 15 favorite backyard patio ideas to help melt the stress away. We even have a few ideas for the kiddos, including a DIY project.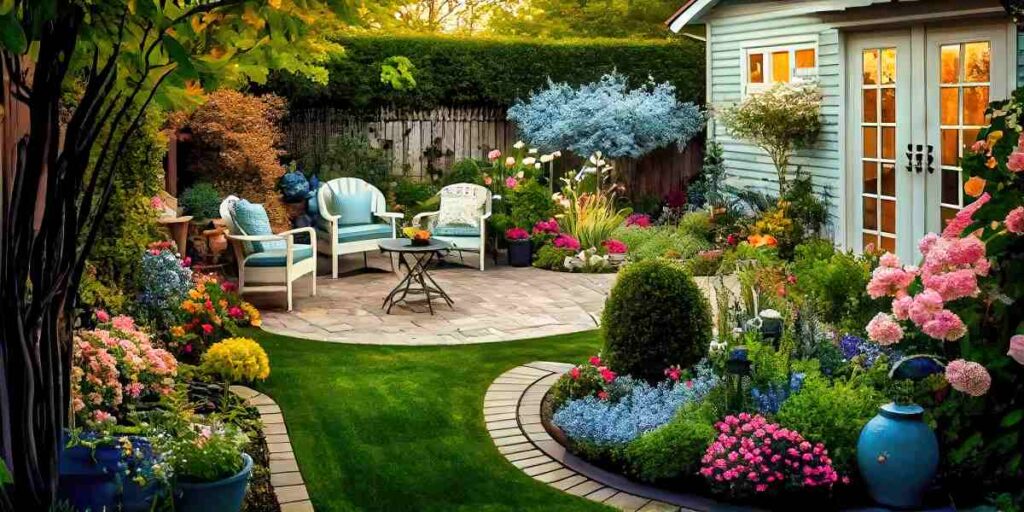 ---
Start With the Basics
1. Clean Your Patio
The first step, and probably the easiest backyard patio idea, is to start by cleaning your patio. Take a look around your patio area and consider decluttering and having a yard sale to pay for the rest of the fabulous updates you want to make.
After selling the old to bring in the new, consider washing your deck or patio. You can probably rent a powerwasher from your local hardware store to make quick work of this project.
If that's not an option, Scott's makes a multipurpose outdoor cleaner that hooks up to your garden hose.
2. Paint
The next easiest and most budget-friendly backyard patio idea is painting. A fresh coat of paint can breathe life into any space. Make the space uniquely yours by using a favorite color. Rustoleum makes an ultra-cover paint that can be used on different surfaces and comes in several color choices.
And we have lots of tips for painting outdoor furniture.
---
Patio Ideas on a Budget
When you've decluttered and painted but just want something extra, consider these backyard patio ideas that won't break the bank.
3. Water Feature
There's nothing like the sound of gently flowing water to take away the stress of the day. If building a waterfall isn't exactly in your budget or your idea of fun, consider a waterfall in a container.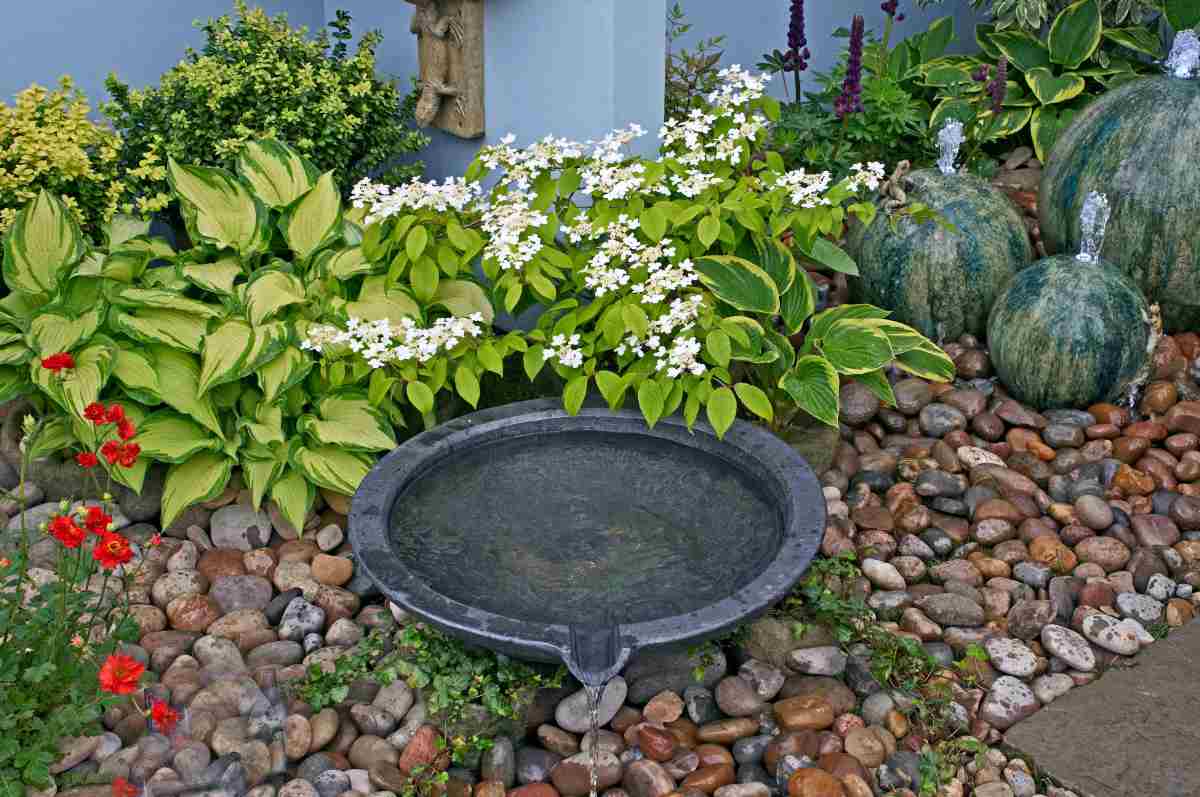 This can be placed anywhere there's access to electricity. Adding plants or fish will bring this feature to life.
4. Plants
You can't go wrong with having plants on your backyard patio. Try grouping them in sets of three or more for a more dramatic look. If you're not sure what to plant in your pots, we have a whole guide on flowers to help with your decision-making.
Afraid anything you plant won't last? No problem, just add some artificial plants for a pop of color; no green thumb required.
5. Lighting
Probably one of the most popular backyard patio ideas you've seen lately is patio lights. These string lights come in different styles and even colors. They're able to be hooked together so you can line your entire patio ceiling with them.
When considering backyard patio ideas for lighting that serves dual purposes, try this light and heater. This patio heater gives you the ambiance and heat of a flickering fire without the mess or hassle.
Using candles around your backyard patio is a great idea for lighting that doesn't take away from the night sky. If you're concerned about the open flames and that you won't forget to blow them out before you retire for the night, simply grab a set of these battery-operated candles with remote control and put your mind at ease.
6. Seating
Now that you have the right mood set, you need the right furniture. An outdoor sectional is always a great backyard patio idea, but for a real conversation piece, consider a retro glider. If you need more seating, keep reading for ideas for outdoor sectionals.
7. Shade
If you have a backyard patio area that isn't covered, you know how hot and miserable it can be on summer afternoons when you're just trying to sit and enjoy some downtime. That's where a super cool sunshade can come in handy. As a bonus, these sunshades come in several sizes and colors, so you're sure to find one to suit your needs.
---
Kid-Friendly Patio Ideas
Next on our list of backyard patio ideas is kid-friendly patios. Kids love being outdoors, and these ideas will help fuel their creativity and maybe even wear them out, so you both get a good night's sleep. And who doesn't want that?
8. Sandbox
There are plenty of options to choose from for sandboxes. If you want a sandbox that has seats for snacktime, a canopy overhead to keep the sun off the littles, and a cover to keep the neighborhood cats out, consider this cabana-style sandbox.
9. Gravel Pit
Don't particularly like the mess of sand? Consider filling your sandbox with pea gravel and give the kids an instant gravel pit to play in. No messy sand to wash off at the end of the day or track through the house.
10. Kiddie Pool
A kiddie pool is a great way for the kids to stay cool in the summertime, and you can let them jump in after playing in the sandbox to help keep the sand out of the house.
Here's another idea for your kiddie pool when summer is over and it's too cold to play in the water. Simply fill the pool with pit balls and continue to enjoy it on nice days all winter long.
11. Backyard Ball Run
Here's a DIY your kids will enjoy for your backyard patio using various gutter parts. Here are the steps:
Pick a spot to use to attach the gutters. A fence would work great for this project.
Choose various pieces of guttering, like straight and angled pieces, flexible elbows, and drop outlets. Don't forget bands to hold your pieces to the fence.
Paint the pieces with fun colors of spray paint.
This is the part where you and your child's imagination can run wild! Design your ball run any way you like and attach your pieces to the fence, making a maze to get the balls from the top to the bottom. Add buckets at the bottom to catch whatever your little one decides to send down the gutters.
Even though this is called a ball run, you can send marbles, water, and even cars and trucks down the gutters.
---
More Elaborate Ideas
We've covered the basics, budget-friendly, and even a few kid-friendly backyard patio ideas. Now let's take a look at some less budget-friendly, more elaborate options that you can order online and have delivered right to your doorstep.
12. Shelter
If your backyard patio doesn't have a roof, and you want something a little more substantial than a sunshade, consider a gazebo.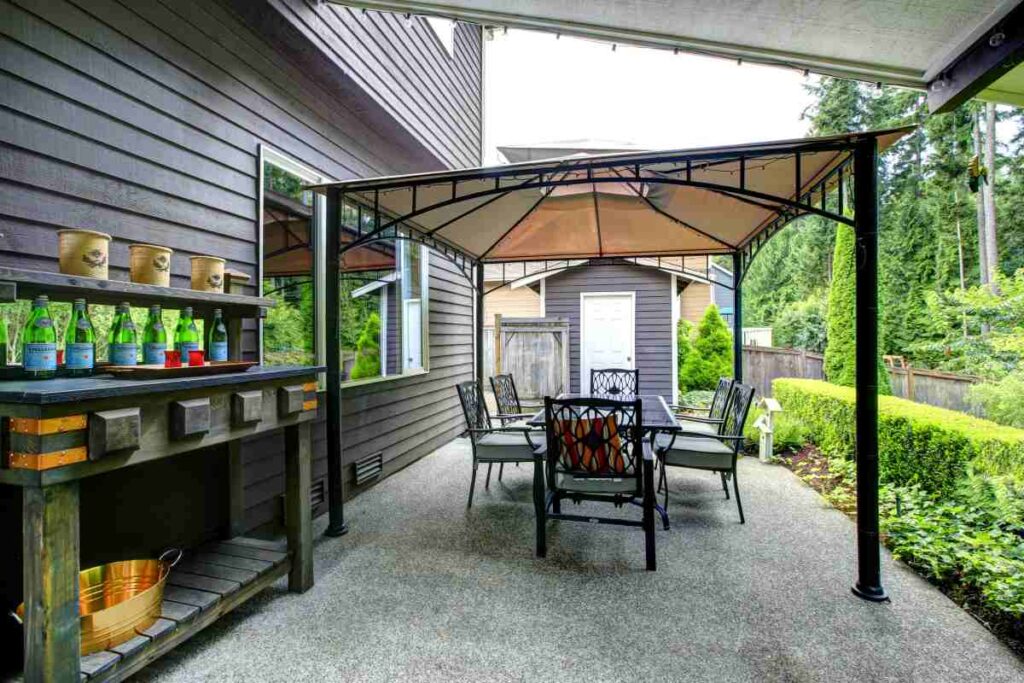 Yes, you can actually order a gazebo online and have it delivered to your home. Then invite a few friends over and have them help you put it together. You can reward them with a steak cooked out on the grill under your gazebo.
13. Comfortable Furniture
While the retro glider mentioned above was good for one or two people, sometimes you need more seating, like for those friends who are going to help build your gazebo. In that case, consider a sectional sofa set. The nice thing about this company is that they have several different styles and colors to choose from.
14. Water Feature
We talked about the sound of a waterfall fountain in the budget backyard patio ideas. If you want something a little more elaborate, consider a zen waterfall fountain. This conversation piece will add a bit of art to your backyard patio, as well as light and the soothing sounds of water.
Keeping in mind that this section is about more elaborate backyard patio ideas, a garden aquarium seems appropriate. Yes, there is a lot to consider, like whether your outdoor patio area is heated in the winter and the cost of shipping from the UK. But, when you've taken all the things into consideration, this would make a very unique and elaborate feature to add to your backyard patio.
15. Fire Feature
No backyard patio idea post would be complete without a fire feature. Fire brings warmth and ambiance to your backyard patio. Choose a propane fire feature that doubles as a table, and you're all set to entertain.
If you like the idea of a fire feature but are leaning more toward a firepit rather than just a fire feature, keep reading.
Speaking of fire, we can't leave out a gas/charcoal grill for your backyard patio. After all, you have to have a way to cook those steaks. Though this isn't an elaborate idea, it does fall under the fire category.
One of the big decisions in choosing a grill is whether you want to use propane or charcoal. This grill takes away all the angst by offering both in one appliance. Win, win.
---
Wrapping up Backyard Patio Ideas
Now that you have some backyard patio ideas to make your area a fun, relaxing, and maybe even one-of-a-kind hangout spot for you, your family, and your friends, it's time to get busy.
Build on the ideas here, or combine a few of them to make your backyard patio your own little piece of paradise. No matter what you do, if you love it, it's perfect.
Looking to upgrade your outdoor spaces at home? Then find inspiration for your Minnesota backyard with our landscaping ideas, outdoor furniture suggestions, gardening recommendations, and more!