---
Fish Finder Buyer's Guide
Types of Fish Finders
There are two main categories of fish finders; portable and mounted. Depending on your fishing situation will help determine which one you should get.
If you fish from a boat, kayak, or any other fishing vessel, a mounted fish finder is a better option. A portable fish finder is a better choice if you fish in many different situations, like from docks, shore, and boats.
Portable units give you the greatest flexibility, while mounted fish finders provide the best features. Taking a look at your own fishing preferences will allow you to see which option is best for you.
Sonar Compatibility
Fish finders give you a glimpse underwater because of sonar, a sound signal that is emitted and returned out of a transducer. There are several different types of sonar for fishing, and depending on what you want, there will be certain fish finders that have different capabilities.
Most Popular Fishing Sonars
2D: this is the most basic version of sonar and comes equipped with seeing standard returns. It is best for tracking how deep you are or if fish are directly under the boat.
Down Imaging: This is another basic fishing sonar but gives you an extra level of detail. Down imaging has greater clarity and will show details that will allow you to determine what kind of structure you are looking at. Things like brush piles, rocks, and stumps.
Side Imaging: This shares the same frequency as down imaging, but instead of looking down, it emits sonar beams out to the sides. This allows the angler in a boat to cover more water to find places that are holding fish.
360 Imaging: This also shares the same sonar as down and side imaging, but the transducer spins 360 degrees. This allows you to be stationary while getting a picture of the area completely around you. Great for fishing a specific spot like a boulder.
Forward Facing: The most detailed of the sonars, allows you to point the transducer in any direction and see in real-time what is going on under the water. This is the best sonar if you want to understand the mood of the fish and how they are reacting to your bait
Screen Size
Probably the most noticeable difference between fish finders is screen size. Bigger isn't always better. Just like choosing what type of fish finder is best for you, think about your personal fishing situation and gravitate towards the one that fits your needs.
Larger screens are better for seeing multiple views at once as well as providing better clarity. This is why you sometimes see people with multiple screens that are networked together. For people who like to mesh a couple of different sonars and mapping together.
If you only plan on using one view at a time or prefer a more basic sonar setup, a smaller screen will work great.
When using a portable unit, a more compact screen would work better for transporting it from spot to spot. Also, some boats have limited space where a larger screen would get in the way more.
Screen size, among other features, has a direct impact on the cost of a fish finder. As you step up in screen size, you also increase the cost. Choosing a smaller screen size will help you save money while still allowing you to have advanced sonar capabilities.
Additional Features
As with all technology, there seems to be an unlimited amount of features. Choosing the best fish finder for you is no different. Depending on the features you want will determine how much you will need to spend on a fish finder.
Common Features Available on Fish Finders
GPS/Mapping: This feature is really only applicable to people using it on a boat. It gives you the capability of knowing your position in relation to water depths (contours) on a map. This gives you the added capability of finding the best fishing spots as well as safety in navigating shallow water areas.
Networking: This means you can link multiple fish finders together so they can share information like transducers and waypoints. It's a good idea to have network-compatible units if you plan on using multiple fish finders at the same time.
Operating System: Just like phones or a computer, different brands of fish finders have different user experiences. Even though the sonars are pretty much the same, the navigation can be completely different. The best way to review the operating system is to try out a demo unit in a store or search for review videos online.
Manufacturer Customer Service
This sounds like a no-brainer, but the best fish finders are the ones that have the best customer support. You are mixing technology and water. There are a lot of things that can go wrong!
Fish finders are built to be durable and designed to withstand the elements you put them through. With their complexity of wiring and advanced sonar capabilities, there is a learning curve to getting the most out of your fish finder.
The more help you can receive from the manufacturer, the better. This could be in the form of guides and manuals or libraries of videos for you to watch. Then if you still have questions or issues, being able to call and talk to someone who can help is a huge advantage.
---
Fish Finder Frequently Asked Questions
What is the easiest fish finder for beginners?
The easiest fish finders for beginners come equipped with 2D and Down Imaging sonar and have a simplified user interface. The Humminbird HELIX 7, Lowrance HOOK2, or Garmin STRIKER 5CV make great beginner fish finder units for your boat.
How do fish finders work?
Fish finders emit a sound signal underwater from a transducer. The sound waves bounce off objects and create a return signal back to the transducer. These readings are formed into an image and displayed on a compatible screen. The harder the object, the greater the return.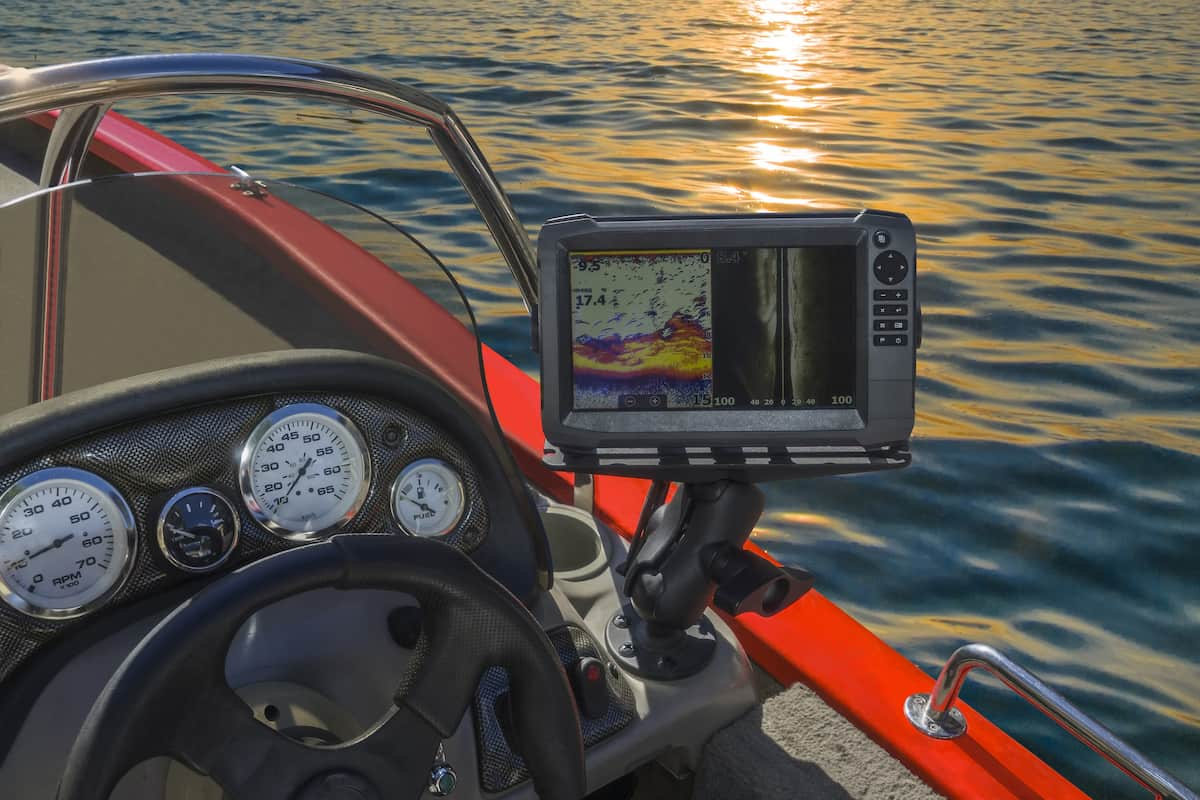 ---
Time to Go Fishing
With the advancements in technology in nearly every sector, fishing is no different. There are many options to choose from when it comes to finding the best fish finder.
It all depends on your personal preference and fishing style. Once you do make a selection, spend time on the water with it. Check out the different settings and options so you can dial in the functionality.
When you get your fish finder set up and are ready to fish, check out all the great fishing opportunities that are around you in our Minnesota fishing library.