---
Hockey Skates Buyer's Guide: What Makes the Best Hockey Skates?
Any of the hockey skates listed above will do wonders on the ice! But sometimes, it's hard to pick which is the absolute best for you.
But don't worry, we've got you covered!
Read on for our detailed hockey skates buyer's guide; basically everything you need to know or consider before buying a fresh pair of ice skates! Can't wait to get started? Check out online hockey training while you wait for your new skates to arrive.
Consider What You Are Using Your Ice Hockey Skates For
Recreational use doesn't require an elite-level skate, but if you play hockey at a high level, even if it's relatively infrequent, you definitely may want to consider investing in a more durable and high-level skate. Take some time to figure out what you'll be using the hockey skates for to help kick off your decision-making!
Consider How Often You Will Be Using Your Hockey Skates
How often you'll be using your hockey skates is one of the best factors for helping you pick your perfect skate! To help you out, we've put together a few recommendations for which level of skate you should purchase depending on how frequently you plan on hitting the ice:
Consider Where You Will Be Using Your Ice Hockey Skates
From beautifully maintained indoor rinks to skating on frozen-over ponds, a consideration to take into account before purchasing your hockey skates is where you'll be using them!
Indoor and outdoor rinks that are well maintained generally pose no risk to your hockey skates, but if you plan on skating on lower-quality ice (e.g. a frozen lake or a small neighborhood rink) you risk damaging your hockey skates' blades. If this skating is what you're looking to do, the best hockey skate for you is probably a lower-cost recreational skate.
Another innovative type of skating available is synthetic ice! Synthetic ice rinks, like PolyGlide Ice, can be installed at any size, inside or out! Hockey skates with durable metal blades can be used on synthetic ice for both recreational and training purposes. Just keep in mind that your blades may have to be sharpened a little more often if used on synthetic ice.
Interested in skating all year round? Use our discount code "lifeinminnesota" for a 15% discount on PolyGlide's synthetic ice!
Boot Build, Stability, and Maneuverability
Ice hockey skates are designed to have stiff boots to improve power transfer, propelling you forward on the ice! Stiffness in the heel of the boot, in particular, will give you more control over your hockey skates while you're on the ice. Some movement or flexibility at the top of the skate, like on the tongue, for example, will increase the hockey skate's maneuverability.
While you're looking for the best hockey skate out there, keep an eye out for hockey skates made from carbon, as they're stiff and stable boots!
Blade Build
Checking out the blade, or runner, is imperative while choosing the best hockey skate!
The runners on the highest quality hockey skates are built for durability and longevity. They typically have longer life spans than other runners. So while you're on the hunt for your next pair of skates, definitely ask about the skate's runners before making your purchase!
A great indication of a high-quality skate is the ability of the runners to be swapped out. Most elite-level skates on the market have this runner interchangeability feature.
Ankle and Foot Protection
Different hockey skates offer varying degrees of foot, ankle, and tendon protection.
Hard skates made from carbon offer more overall protection against any shots or stray slashes. A thick tongue on the front of the skate will keep your foot protected from the top and a high tendon guard in the back will protect your Achilles tendon. If you're prone to foot or ankle injuries, definitely look for these safety features when you're weighing out which skate might be best for you!
Finding the Best Fit For Your Foot
Even if you have the best hockey skates in the game, you'll lose speed, comfort, and balance without the right fit.
So time to get yourself a great pair of hockey skates with the perfect fit for your feet!
To get you started on finding your perfect fit, a properly fitted skate is normally about one to one and a half sizes smaller than your regular shoe size. So get started there, but don't be surprised if the sizing differs even more!
Now that you have your starting point, consider your foot. Do you have high arches? Low arches? A more wide or narrow foot shape? Most hockey skates come in a variety of widths that can help accommodate the specificities of your feet.
If you can get into a store in person, try on a bunch of makes and models to find the skates that best suit your feet. Make sure to try them on with what you'd usually wear underneath your skates (e.g. the same socks) so you can get an accurate fit!
If you're buying online and can't try on the hockey skates in person, don't worry, many hockey skate retailers offer precise sizing charts or recommendations! Always have a look at those before picking the best hockey skate for you!
---
It's Time to Hit the Ice In Your New Hockey Skates!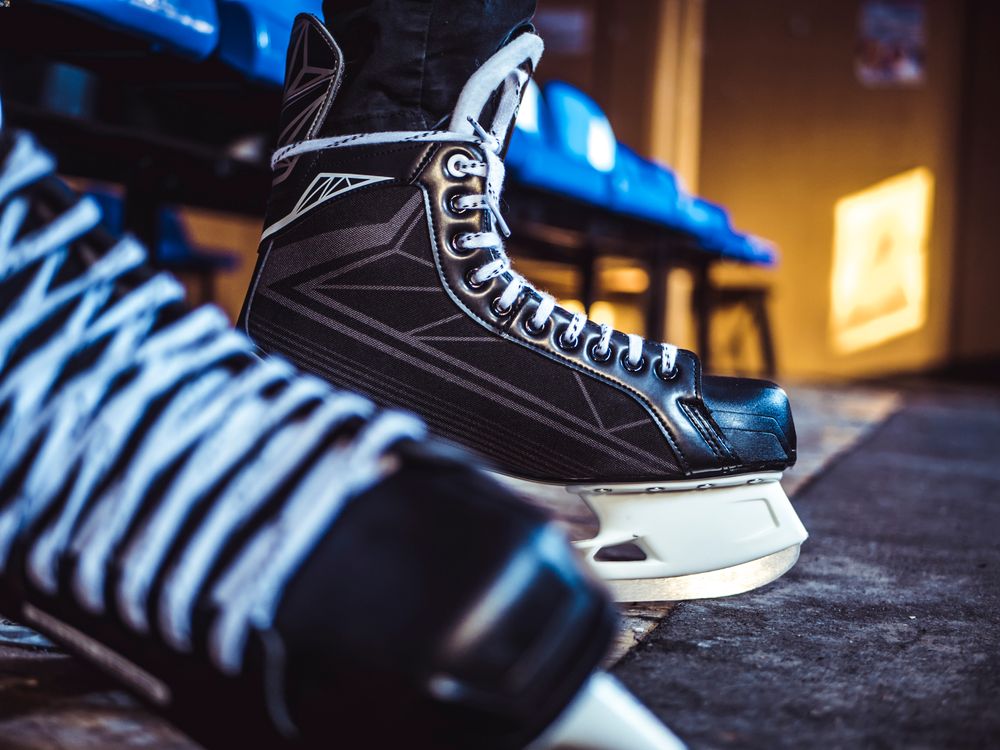 Let's go back to that feeling… the feeling of your hockey skates hitting the ice.
But this time, this time you're wearing the perfect hockey skates. The best hockey skates. You're infinitely comfortable, incredibly sturdy, and wildly fast.
Unquestionably, it's now time for you to go and make that feeling a reality!
We hope you enjoyed this list of the best hockey skates for 2023 and can't wait to see you on the ice!
Interested in keeping that on-ice feeling year-round at your own home? Check out our top five picks of the best synthetic ice that will keep you playing anywhere, anytime!
Still want more hockey content? Then check out our hockey page for training guides, equipment rankings, and fun facts about our favorite sport!