---
Buyers Guide: The Best Ice Melt For Concrete?
There may not be one size fits all when it comes to picking the right ice melt for your home or business, but let's break it down into the most popular and highly used chemical compounds that make up ice melt.
Calcium Chloride
Calcium chloride is a chemical compound ice melt that works much faster than the other versions and works down to -40 degrees. So, it is a pretty strong ice melt for concrete. It's less corrosive than regular rock salt but much safer because it won't harm underlying plants or grass.
Magnesium Chloride
Magnesium chloride is best to keep heavily landscaped walkways or driveways cleared of snow and ice down to – 13 degrees. This is non-corrosive and won't kill or burn any grass or plant life if accidentally spread on top.
Potassium Chloride
Potassium chloride is the safest option for areas where pets and children will be traveling. It does take longer to melt ice, but it's safe for pet paws and plant life.
If you need to clear a large area of ice, this melt may not be chosen as it loses its effectiveness. But pathways around your home or business will benefit greatly as they won't corrode and can work down to -12 degrees.
Pet Safety
Rock salt is very dangerous to pets. Not only is it dangerous for them to digest, but it's very harsh on their paws. If ingested, rock salt can lead to dehydration and severe stomach upset.
Ice melt for concrete is less harsh on our pets. Some are entirely pet-safe. Pet-safe ice melts have natural minerals versus harsh salt, making them a bit more expensive but definitely worth it.
---
What's The Difference Between Rock Salt And Ice Melt?
So, what really is the difference between ice melt for concrete and regular rock salt? In short, its chemical makeup is what is the difference. Rock salt uses only sodium chloride, which is cheap but is highly corrosive and harsh on all concrete surfaces.
I'm sure if you live in an area that gets frequent winter storms, you'll notice how awful the main roads can be come spring. That is not only because of extreme weather but also because of rock salt and its incredibly corrosive properties.
Why is Rock Salt on Roads an Effective Option But Not Our Driveways?
There are two main reasons for this: the first is that it's much cheaper, and the second is that what is thrown on roadways is typically a mixture of rock salt with sand. This is so vehicles driving on ice and snow have something for their tires to grip.
Rock salt is only effective down to 25 degrees, whereas some ice melts can melt ice down to -40. Ice melts for concrete are more effective at maintaining a cleared surface, whereas rock salt melts the ice above 25 degrees but is safer for traffic to drive on.
---
Frequently Asked Questions
How will I know that the ice melt for concrete I purchase is safe for my dog?
The ASPCA states that magnesium chloride ice melts are safest for your pets. Of course, this doesn't mean you should allow your dog to ingest ice melt freely, but it won't harm their paws if they ingest it in small doses.
Is there anything I shouldn't use for melting ice and snow around my home?
Ice melt that is designed for concrete is chemically different from that for roadways or large parking lots. Do not use conventional rock salt around your home, as this is highly corrosive and damaging vegetation.
It's also good to steer clear of potassium chloride, ammonium sulfate, and ammonium nitrate.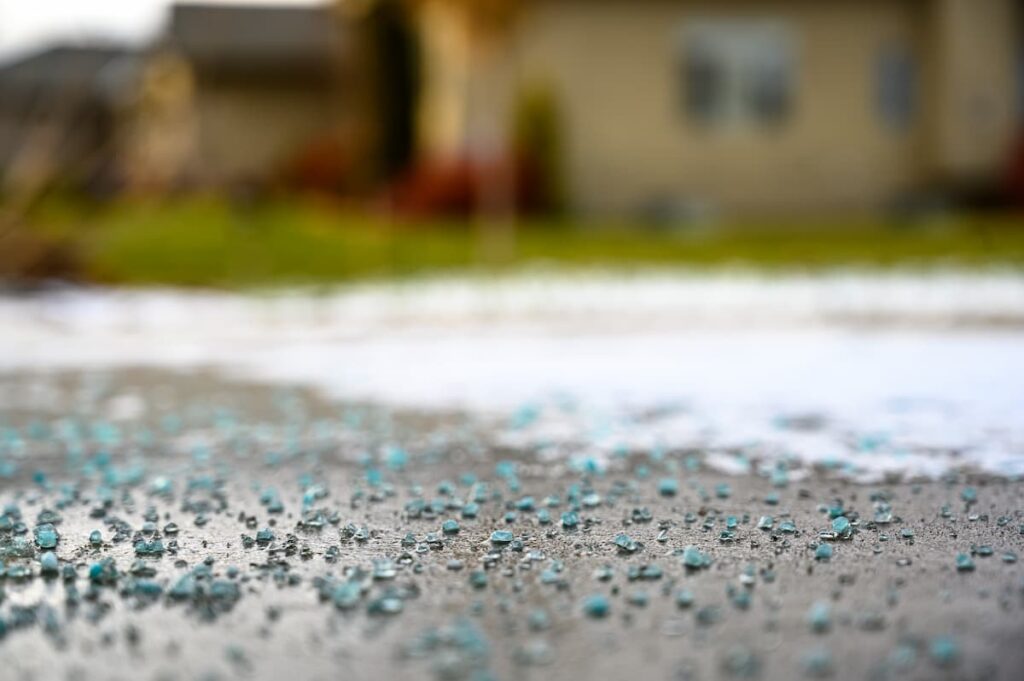 ---
Wrapping Up The Best Ice Melts For Concrete
When you live where winter weather can be extreme, you'll need to keep your pathways safe for you, your family, pets, and guests. If you have pets or little ones, look for the pet-safe ice melt much safer than traditional rock salt.
Ice melt won't pit or corrode your concrete surfaces and will clear away ice and snow quicker than harsh rock salt without residue. Here, you can check out everything winter-related, from sports and clothes to tools and activities. You'll be fully prepared for this snowy season.