---
Best Fish Finders for Kayaks Buyer's Guide
There are a number of different configurations among the best kayak fish finder options available on the market today. Each of them, though, will have a transducer, the electronic element that gathers data from the water and displays it on a screen.
Transducers can be mounted directly on your kayak or attached to your fishing line and cast out into the area where you're planning to fish. In both cases, images gathered by the transducer are transmitted to a screen for viewing.
In the case of castable transducers, the image is transmitted wirelessly. It can be routed to your cellphone or other screen device via an associated computer application.
Screen Size
If you're using a castable-transducer fish finder, your screen size will be dictated by the screen size of your cellphone or other device. Otherwise, fish finders are equipped with screens ranging from 4 inches to 12 inches, measured diagonally.
A 4-inch display can be difficult to decipher because details revealed by even the best kayak fish finder will be displayed in a narrow space. On the other hand, a 12-inch display screen will consume much more battery power, limiting the time it will be useful on the water.
A good compromise, balancing battery consumption with screen area, would be either a 7-inch screen or a 10-inch screen.
Waterproofing
Most fish finders are, as you should expect, at least somewhat waterproof. And there is a standard by which you can know the waterproofing level of a particular fish finder. The International Electrotechnical Commission has set Ingress Protection (IPX) standards that are applied to items used in or near water.
The minimum acceptable IPX rating for a kayak fish finder is IPX7. Anything less means you're not getting a good fish finder.
Side Scan vs Down Scan
As you look into purchasing a kayak fish finder, you'll discover that they have two different ways of revealing what's in the water. A side-scan fish finder produces data about what is underwater to the left and right of the kayak. A down-scan fish finder produces images of the bottom of the body of water.
Both side-scan and down-scan fish finders will show where fish are located. On a down-scan fish finder, fish will show up as white dots, while on a side-scan finder, fish will appear as arches. Some of the best kayak fish finder choices will offer both side-scan and down-scan images.
Down-scan fish finders are excellent for use in deep water, while side-scan fish finders provide great images in shallow water.
CHIRP Scan
A third option in technologies for the best kayak fish finder is CHIRP, which stands for Compressed High-Intensity Radiated Pulse. CHIRP-equipped fish finders use multiple frequencies and thus can offer high-speed imaging in deep water. CHIRP-equipped finders also offer crisp images of the water adjacent to your kayak.
Installation
Most of the best kayak fish finder options will come with installation hardware. However, you should be ready to adapt the hardware, and any installation instructions, to avoid drilling any holes.
With regard to your unit's transducer, if it's not a wireless model, you can simply let it dangle over the side of your kayak. But the better option is to mount it on your kayak.
One of the best options is to mount the transducer inside the hull. Access the hull through a hatch door or other opening, and choose a flat spot as a mounting location.
Next, clean the location with rubbing alcohol. Once it has dried, apply some marine adhesive to the spot and press the transducer into it. Be certain to press the transducer into the adhesive firmly enough to eliminate any air pockets. Air pockets will compromise the transducer's ability to see into the water.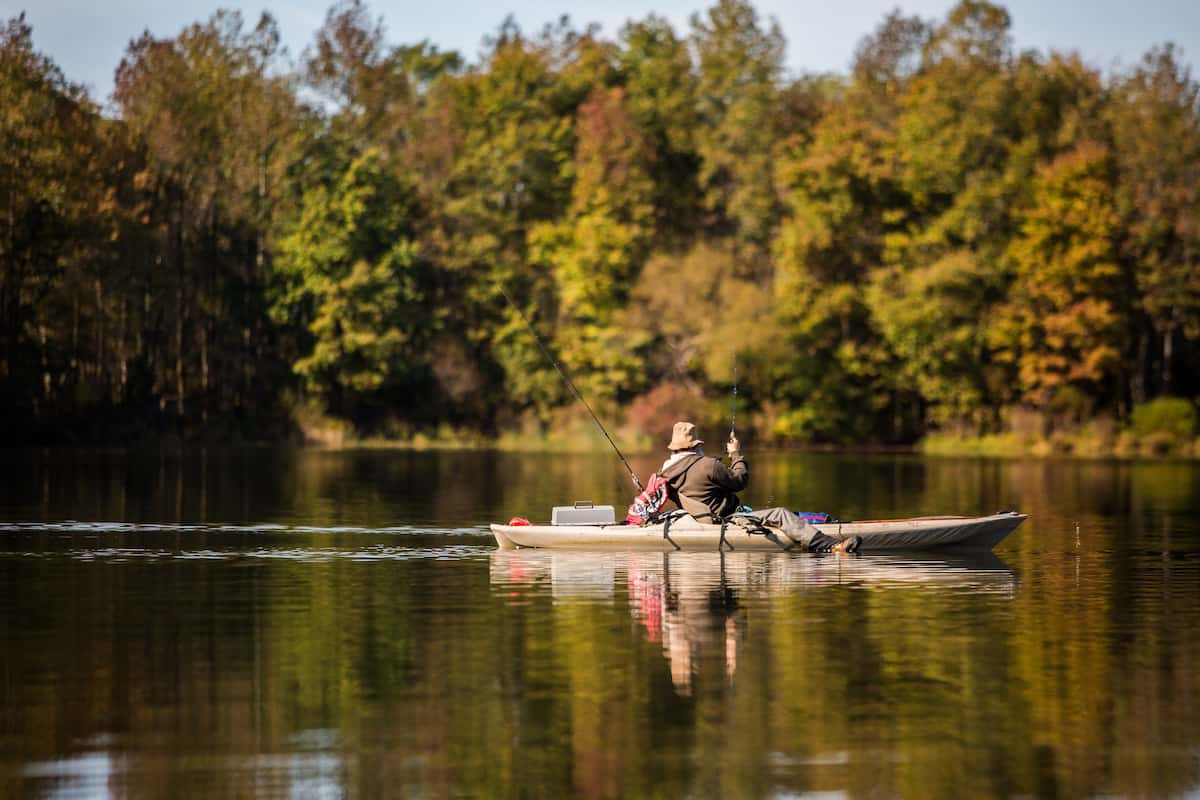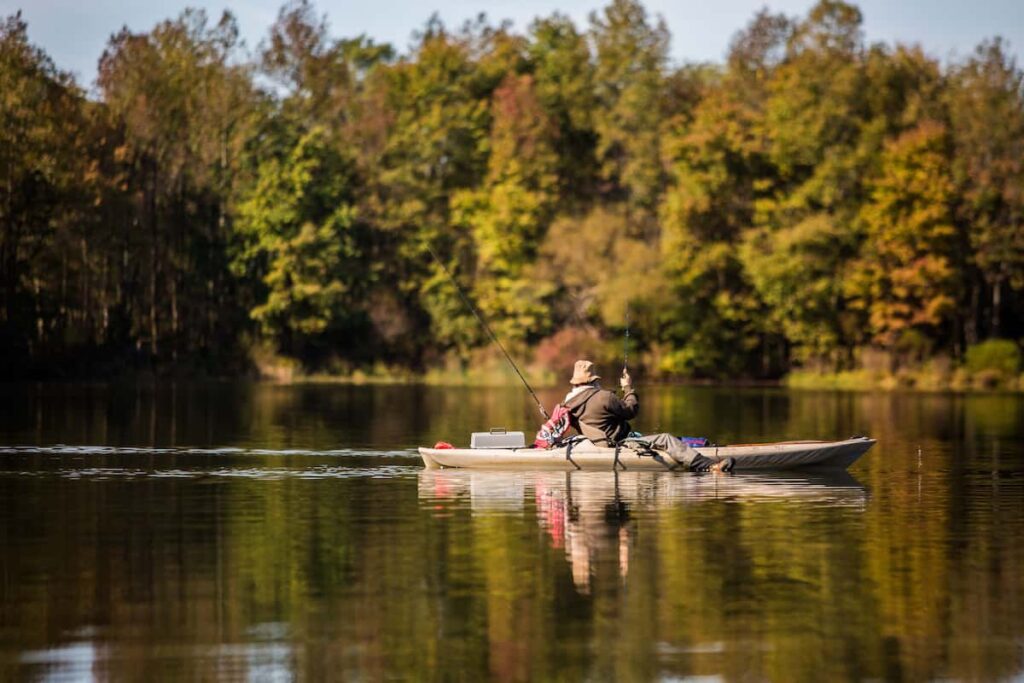 ---
Best Fish Finders for Kayaks Frequently Asked Questions
After learning something about choosing the best kayak fish finder for your needs, you certainly will have other questions. Read on for some insights into using a kayak fish finder.
Where should a fish finder be mounted on a kayak?
When choosing a place to mount your kayak fish finder, choose the lowest place where you can still comfortably view the screen. Placing the fish finder low in your kayak keeps it out of the way when casting or when landing a fish. It also keeps the fish finder from interfering with paddling.
There are slip-on fish finder mounts available for kayaks, but a better choice is a clamp-style mount, which can be made more secure.
Are there any limitations to using a castable fish finder?
A castable fish finder is extraordinarily easy to use. Just cast it out into the water and wait for its images to show up on your cellphone or other screen device.
But castable fish finders do have some limitations. Primarily, to get the best results from a castable fish finder, you should use it only on calm days. Because it is placed directly atop the water, a castable fish finder is subject to ripples and waves, which can distort its images.
Castable fish finders are also a poor choice for trolling while fishing. Moving a castable finder at any speed faster than you can reel in your line produces unusable images. Additionally, if the wind is high while you're fishing, it can blow your castable fish finder around, also resulting in poor images.
What is the best type of screen protector film for a kayak fish finder?
One of the things you should add immediately to your fish finder is a clear film protector for its screen. Many manufacturers have screen protectors made for their fish finders, and there also are generic screen protectors available.
When you choose a screen protector, select one made of anti-glare material. Anything less, and even the best kayak fish finder display, will be difficult to read.
---
Wrapping up the 5 Best Fish Finders for Kayak Anglers
Now that you've learned something about fish finders for kayak anglers, you're ready to figure out what will work best for you. As a reminder, our recommendation for the overall best kayak fish finder is the Garmin Striker 4.
If you'd like to learn even more about fishing, Life in Minnesota has you covered. Check out our posts on everything from the best lures to use in Minnesota's lakes to a complete guide to ice fishing in the state.