Where there's snow, there's snowball-throwing and snowman- and fort-building. But in a northern state like Minnesota, what better way to enjoy it than to race down a hill?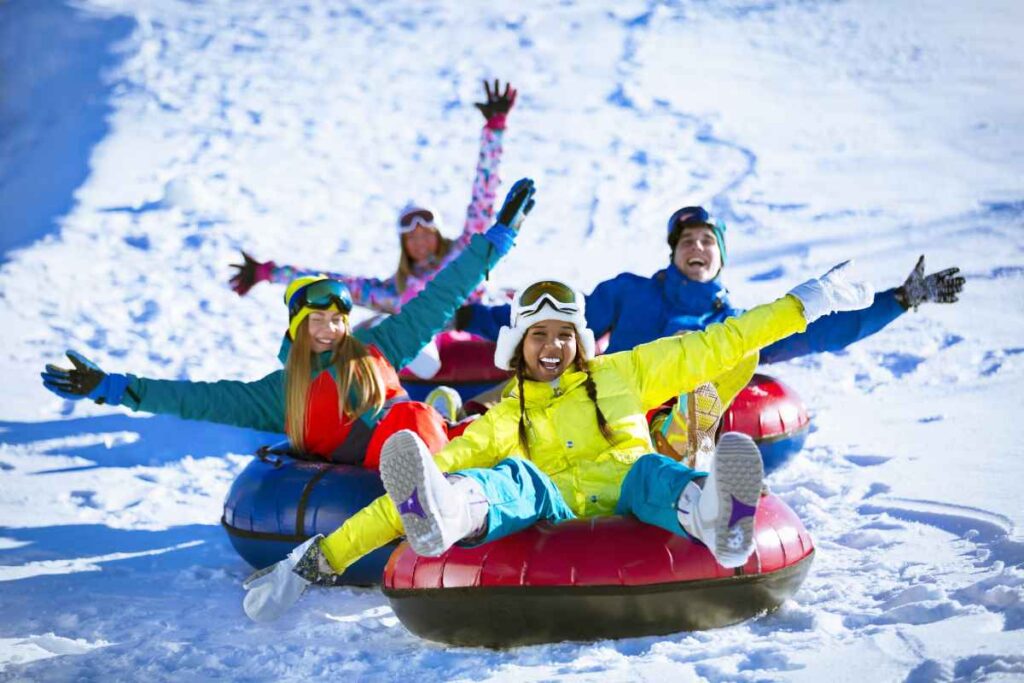 It's understandable; standing up while going down a hill can be scary. Luckily, laying on your back or stomach while holding onto a snow tube down a hill counts as exciting!
There are plenty of snow tubing hills to choose from, but which is the best snow tubing hill in Minnesota for you? Check out our top picks on where you can go for the best snow tubing in Minnesota!
---
Northern Minnesota's Best Snow Tubing
Detroit Mountain
Detroit Lakes, MN
Detroit Mountain is a landslide tubing park with a new tubing lodge. From there, you can purchase your tickets to receive a tube, have two hours of thrills, and take a rest.
Not being required to bring your own tube(s) qualifies for the best snow tubing in Minnesota! That gives you less baggage to pack, especially when the lodge prohibits personal snow devices in the first place.
Better yet, you have more than one way to get up the hill. If it's too tiring for you to walk up with your tube, go on their magic carpets (moving upward sidewalks).
Giants Ridge
Biwabik, MN
If you want to have fun family time whether you're good at tubing or not, Giants Ridge is for you! Located in the Superior National Forest, this park has three tubing lanes for you to race down.
Snow tubing sessions usually last for two hours at a lot of parks. But Giants Ridge gives you the option to make it longer than that. Pay a small fee for each additional hour so the fun will last longer!
And if you need to refuel from tubing, Giants Ridge has dining and lodging options. Whether you prefer to be onsite or not, you're accommodated for however long you plan to stay.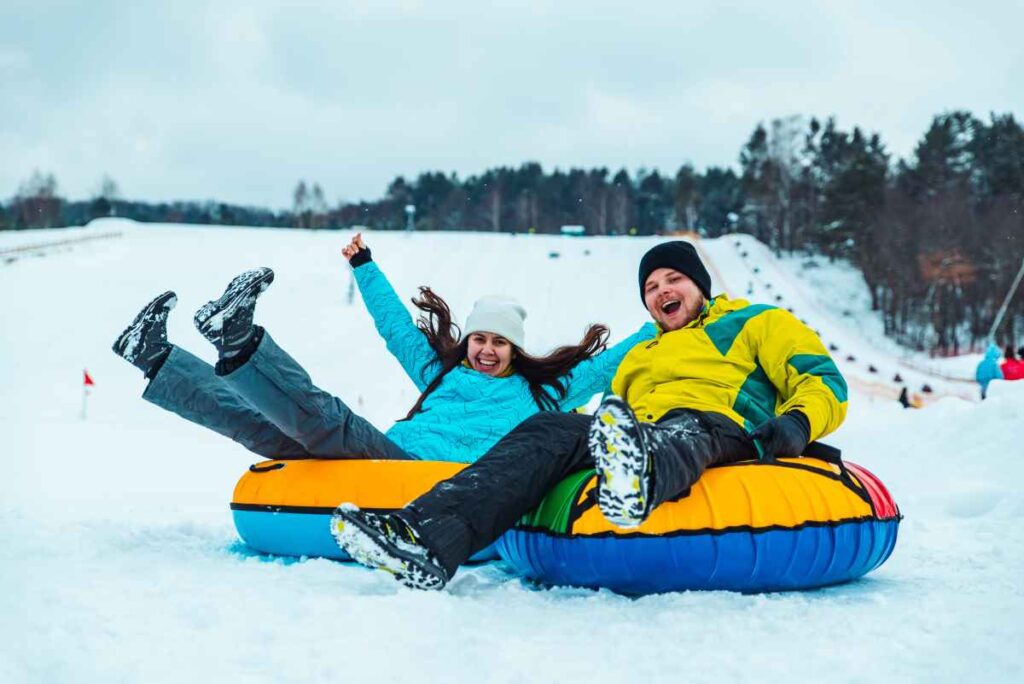 Mount Ski Gull
Nisswa, MN
Mount Ski Gull added its tubing hill in 2006 so new guests could experience the park in a new way. After all, a lot of these hills don't just offer skiing.
Like Giants Ridge, Mount Ski Gull has the best snow tubing in Minnesota for family time and novice tubers! The lanes and magic carpet are 700 feet long, with the latter recently installed to assist tubers going up.
It's also perfect for planning birthday parties. You can reserve a yurt (round tent) and get two hours of snow tubing with it. For private group tubing, you'll get three hours of snow tubing during weekdays!
Spirit Mountain
Duluth, MN
Spirit Mountain is a snow tubing hill that will lift your spirit! Duluth is said to be the best outdoor city in America, and Spirit Mountain's popular for its winter recreation in Minnesota.
There are not only two hours of daytime snow tubing but also two hours of nighttime snow tubing! At half past five on Fridays and Saturdays, the lanes will be colorfully lit; this is called glow tubing.
You're in for the best snow tubing in Minnesota if you can tube by day and night! Be aware that advanced online reservations are a must, as the tubing sessions sell out regularly over this.
---
Central Minnesota's Best Snow Tubing
Andes Tower Hills
Kensington, MN
Andes Tower Hills has four tubing lanes and two cable lifts in the middle of Minnesota's farm country. Their customer service is stellar as they provide the tubes to guests and ensure a family-friendly environment.
A ticket for all-day snow tubing makes Andes Tower one of the best snow-tubing hills in Minnesota! You won't have to pay for additional hours with the usual two or three hours originally paid for.
Snow tubing at Andes Tower on a nice day is desirable, but it will mean long lift lines. Between 12:30 and 4:30 is when you'll be waiting to ride yourself and your tube up the hill.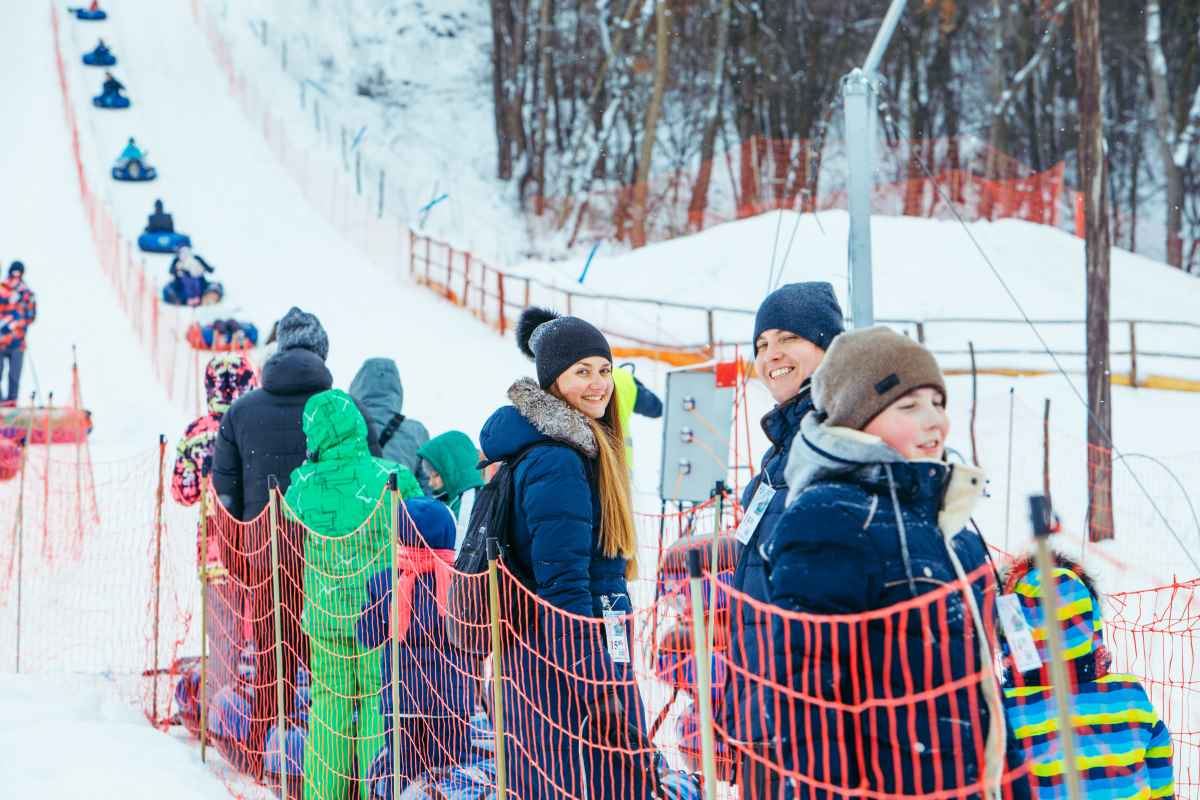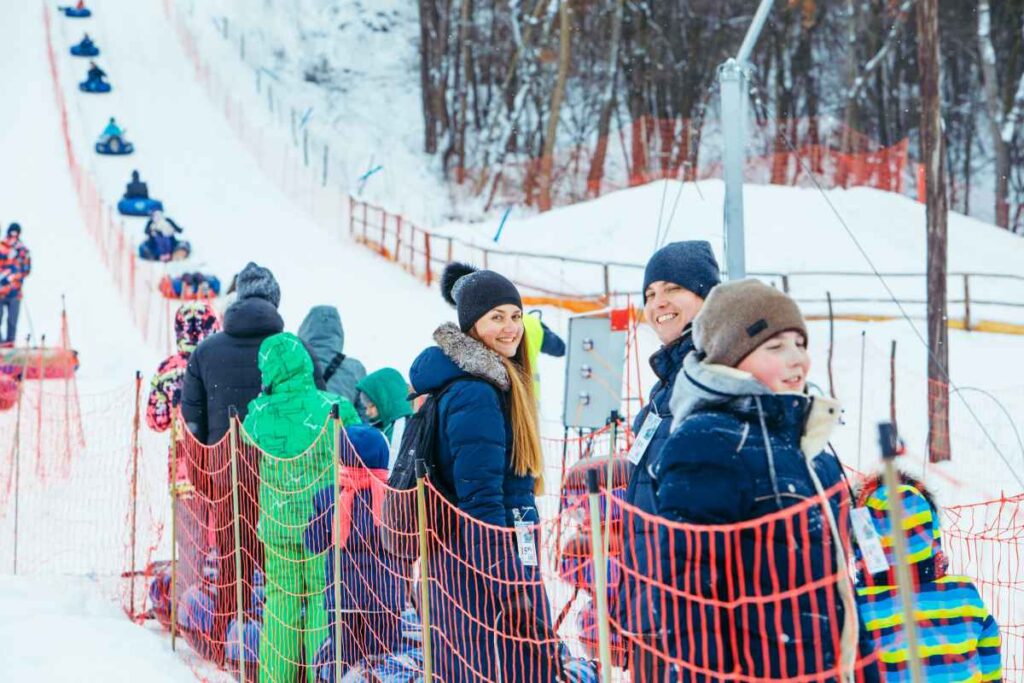 Powder Ridge
Kimball, MN
Snow tubing is what Powder Ridge calls the easiest way to enjoy the snow. Experience isn't required since the Ridge wants guests to simply have fun!
When you purchase a tubing ticket, you get a free glow stick. Be sure to save it for select nights of lazer light tubing! Unlike Spirit Mountain, this kind of glow tubing includes neon lights, music, and a fire pit.
There are also two dining places onsite to try out if you need a break from tubing. A bar and grill or a cafeteria-style kitchen are available depending on the season.
Wild Mountain
Taylor Falls, MN
Wild Mountain has a 500-foot tubing hill, offering the best snow tubing in Minnesota. That's because the resort has smaller tubes for guests under a certain weight. Tubers in the big tubes aren't the only ones having fun here!
Students also have a chance to go snow tubing if Wild Mountain is their field trip destination. They'll engage in hands-on learning with the Science of Snow Tubing program. And once the program is complete, the students' reward is free snow tubing!
Going snow tubing on your birthday? Wild Mountain's the perfect place; tell them your birthdate, and your ticket's free! But if you're hosting your party there, you'll need to pay the ticket rates.
---
Metropolitan Minnesota's Best Snow Tubing
Buck Hill
Burnsville, MN
Buck Hill boasts itself as a place for the best snow tubing in Minnesota! One reason could be the group tubing sessions that give you up to four hours of fun during non-tubing hours.
Another reason could be that their events, such as the Northern Lights Tubing, make for an exciting time at night! While glow tubing, you'll see about 12 lanes flooded with laser lights as music blares in the background.
Buck Hill is also ideal for field trips, another mix of fun and education. Like Wild Mountain, they have a three-hour learning program on the physics of snow tubing, including trigonometry.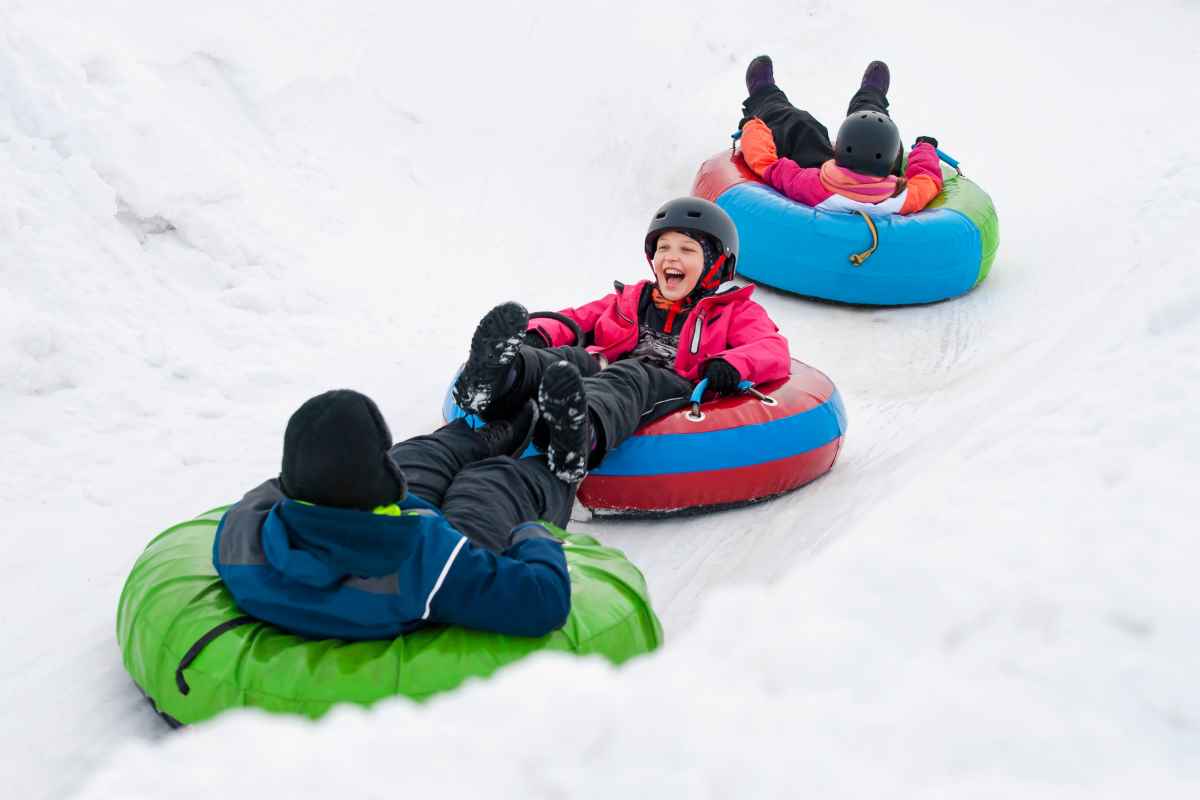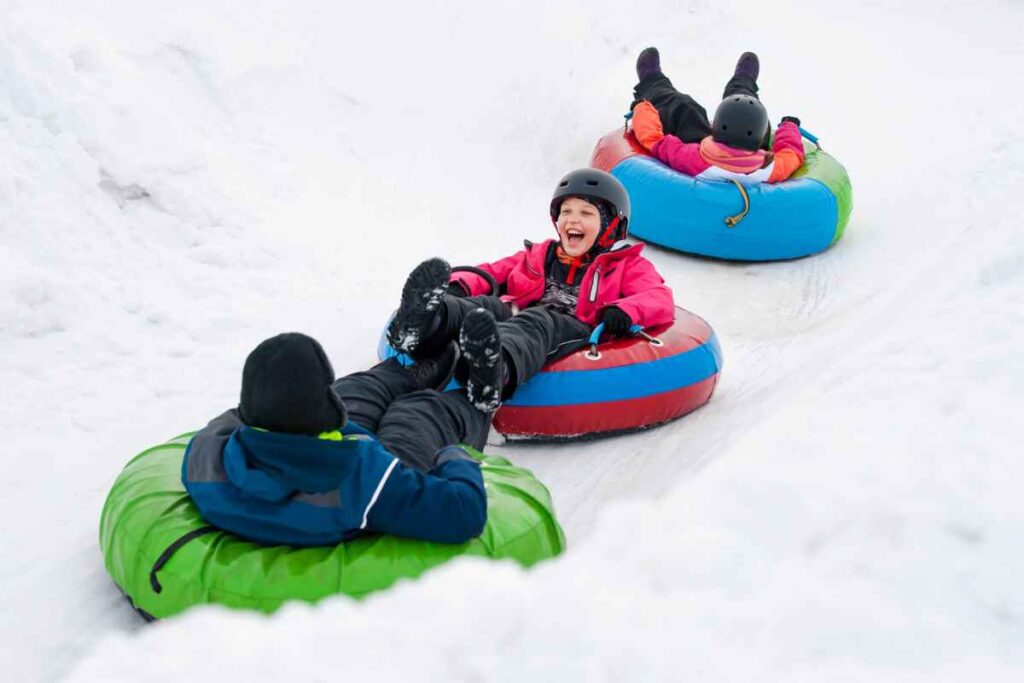 Elm Creek Park Reserve
Maple Grove, MN
Part of Minnesota's Three Rivers District, Elm Creek Park Reserve is the district's largest park with a 10-story high hill. They have a magic carpet lift and 12 specially designed lanes.
Elm Creek has the best snow tubing hill in Minnesota for tubers who need mobility assistance. The park prides itself on inclusivity and accessibility, and with the double tubes, guests with mobility issues can join the fun!
Advanced online reservations are required, and you can reserve up to 10 tubes per day. Your rate's reduced if you come as a group of 30 or more on a weekday (or weekend after four).
Green Acres
Lake Elmo, MN
Green Acres is the place to be; snow tubing is the life for thee! And they've made that a point as a family business since the early 1970s.
Instead of lanes, Green Acres has a groomed, open tubing hill, as well as their own tubes. This gives you more of a challenge as you race and dodge your opponents toward the common runout area!
Because it doesn't get so crowded, reservations aren't urgent if you want to go snow tubing. And if you come as a group? You'll get a discount on your group's ticket price if you arrive on a weeknight.
Trapp Farm Park Tubing Hill
Eagen, MN
Trapp Farm Park Tubing Hill is the best snow tubing hill in Minnesota for tubers who seek adventure! That includes the absence of a tow rope to bring you and the park's tube to the top.
A magic carpet won't always make a snow tubing experience exciting. Once in a while, it's best to remember the days when we didn't have extra technology to ensure fun times.
The park recently built a new shelter, serving as a warming house for tubers. After all those numerous walks up the hill, it's a great way to temporarily pause your tubing adventure.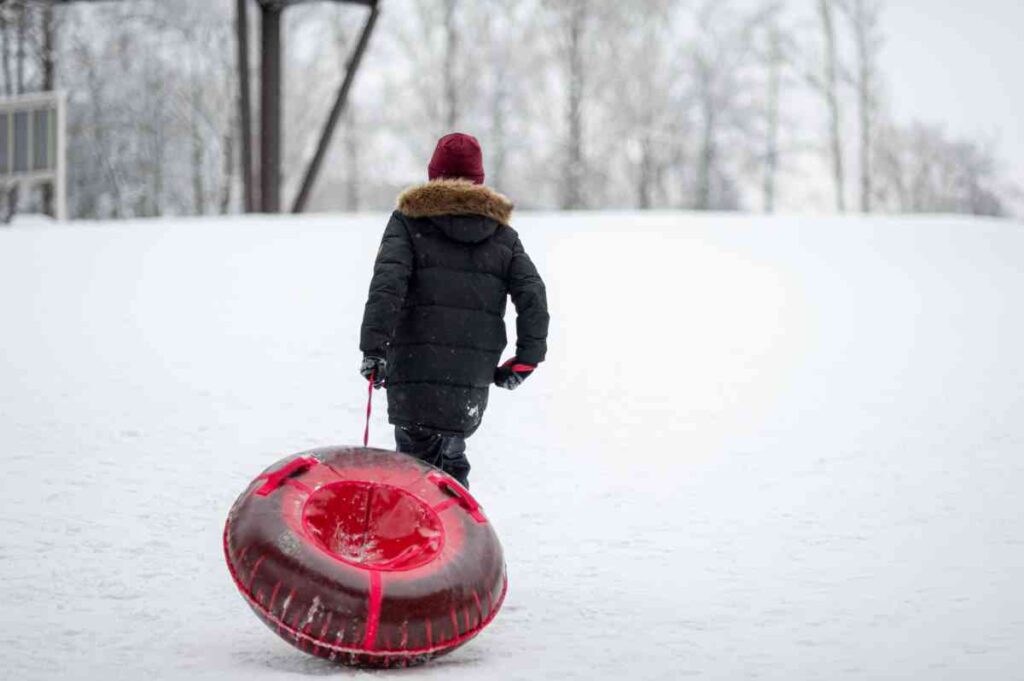 ---
Southern Minnesota's Best Snow Tubing
Ironwood Springs Christian Ranch
Stewartville, MN
Winter Village at Ironwood Springs Christian Ranch is open to all tubers regardless of age and height. Though children five and under need to ride with a parent or guardian, three and under tube for free!
The ranch has three different tubing hills for you to choose from for your kind of ride. And you're in for the best snow tubing in Minnesota if you can pick your challenge!
For resting and warming up, a warming house is available with what you need to make hot beverages.
Mount Kato
Mankato, MN
With Mount Kato settled in southern Minnesota's valleys, it makes the terrain perfect for their four tubing lanes! Lane number four, as a Rochester, MN reviewer recalls, is bumpy, making it an interesting ride for tubers.
This winter sports facility's big on snowboarding and skiing lessons, but like Giants Ridge, tubing lessons are unnecessary. For two hours during the day, or when glow tubing at night, you may snow tube at your pleasure.
Steeplechase Event Center
Mazeppa, MN
Steeplechase Event Center is the newest and best snow tubing facility in Minnesota! You'll have one to four hours of racing down the lanes or linking the center's tubes with fellow tubers.
Super Hill at Steeplechase is the longest, fastest snow tubing hill for tubers 10 and older. Open on the weekends, it's ideal for tubers who want an extended tubing experience.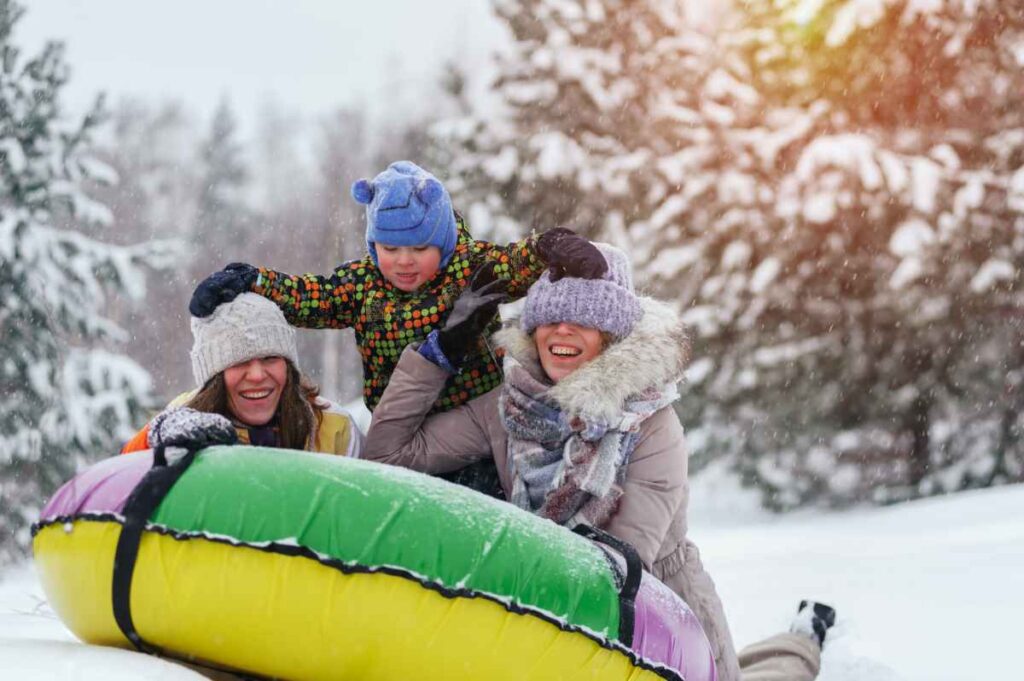 ---
Go for the Best Snow Tubing in Minnesota!
Don't just frolic and play the Eskimo way! Go for the best snow tubing in Minnesota by checking out these cool parks and hills. Whichever one you choose, you're in for a thrilling winter vacation with friends and family.
Also, visit our best outdoors page for more information on the best places to engage in your favorite winter activities!
Looking for Minnesota winter inspiration? Check out our Minnesota winter guide for activity ideas, winter apparel suggestion, and endless ways to enjoy the snow!