Whether you're a lifelong Minnesotan looking for a spa day close to home or visiting from out of town and hoping to include some rest and relaxation in your trip, the great state of Minnesota has plenty of options!
From high-tech beauty treatments in sleek facilities to ancient and earth-inspired body rituals, there's something for everyone when it comes to Minnesota's spas.
You won't have to travel far, either, no matter where you are. Some of the best spas in Minnesota are located in the heart of Minneapolis and other cities, while others are in remote areas surrounded by the natural beauty of Minnesota's lakes and mountains.
So whether you're looking for a convenient day trip or a week-long resort and spa getaway, you'll certainly find what you're looking for among Minnesota's spas. Check out our list of the best spas in Minnesota to relax and recharge:
1. Fusion LifeSpa
Located in Deephaven, Minnesota, Fusion LifeSpa is one of the best spas in Minnesota for anyone looking for a unique curative experience.
Fusion LifeSpa is part spa and part natural health clinic, meaning they can provide a holistic and full-body approach to wellness and relaxation. Their building is an "Asian-inspired" and ecologically friendly space designed to emphasize rejuvenation.
Interested in a unique soaking experience? Fusion LifeSpa offers a "Mustard Detox," which uses the stimulating properties of the mustard plant to energize and restore the body. This unusual treatment involves a hot mustard soak followed by a hot and cold rain shower.
Looking for something a bit more standard? Check out their other curative bath options, which all involve organic herbal ingredients, and their spectacular Japanese soaking tub.
It's not a spa day without a massage, and Fusion LifeSpa has plenty of options. Treat yourself to a custom massage experience, where a trained massage therapist works with you to design and provide a personalized massage based on your body's needs and that individual therapist's areas of specialization.
For even more options, check out their balneotherapy and organic body rituals, including the detox treatments, a cranberry and blood orange body polish, and a purifying seaweed wrap!
2. Glacial Waters Spa
Glacial Waters Spa at Grand View Lodge isn't just one of the best spas in Minnesota – it was ranked among the best spas in America by Spas of America! Located in Nisswa, Minnesota, the Grand View Lodge offers something for everyone, including golfing, swimming, homemade ice cream, and gorgeous accommodations. Surrounded by stunning natural beauty, Grand View Lodge is also a premier wedding destination for the Minnesota area.
Located beside a spectacular pond on the Grand View Lodge property, the Glacial Waters Spa offers a range of services, from massages to nail treatments to facials.
Their assortment of facials featuring natural ingredients can have you looking and feeling your best. Try their "Clear Skin" facial, which uses cucumber and yogurt to reduce the signs of acne and blemishes. Or, check out their "Bright Skin" facial option with stonecrop and licorice!
Many people are unsure about what to expect during their first visit to a spa. Since Glacial Waters Spa serves all sorts of Grand View Lodge guests, including those who are there as part of a wedding, their spa is welcoming and well suited for first-time spa-goers. They even have information on their website that answers questions about electronic devices, disrobing, and other spa etiquettes.
Whether you're a seasoned spa aficionado or checking one out for the first time, the staff at Glacial Waters are ready to give you the best experience possible.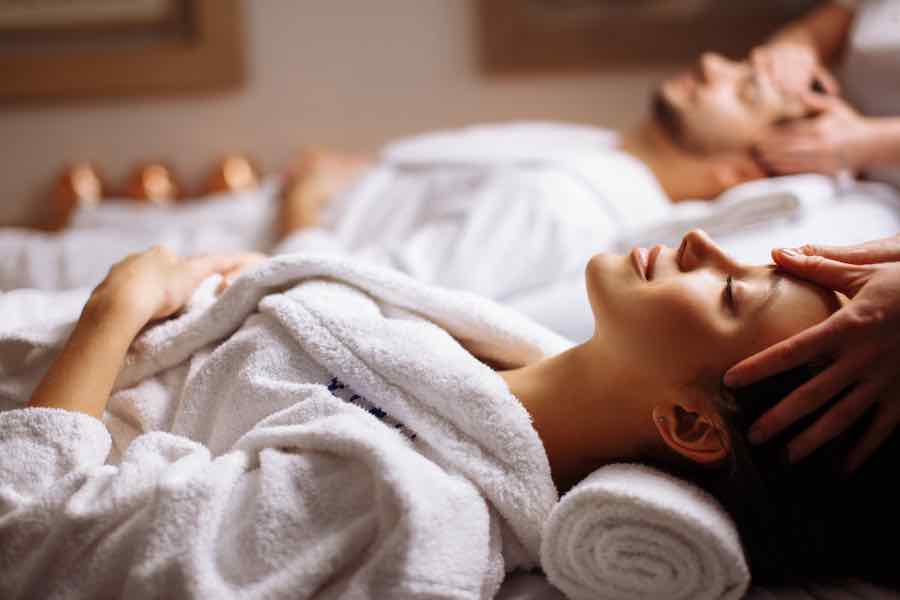 3. Waves of Superior Spa
On the North Shore of Lake Superior, Waves of Superior Spa is part of the Bluefin Bay Family of Resorts.
Only in Minnesota can you get the incredible views of the Sawtooth Mountains and the gorgeous Lake Superior shoreline at the same place, all while surrounded by the luxury of the spa and its attached resort.
As the saying goes, "location, location, location." Waves of Superior offers surfside massages that let you sink into a professional massage while listening to the sounds of Lake Superior's waves. Couples interested in a shared experience can reserve the coastal suite that lets them receive messages side by side.
Waves of Superior Spa offers a full range of spa services, including facials and body scrubs, facials, manicures and pedicures, and a variety of massages.
For a more self-guided experience, check out their heated lap pool, hot tub, sauna, and fitness center, all located upstairs, affording incredible views while you soak!
If you get hungry during your stay, Waves of Superior also has a cafe, which serves healthy, seasonal fare like sandwiches, salads, and smoothies.
4. Copper Door Aveda Spa
Copper Door Aveda Spa is part of the Chase on the Lake Resort and uses products made by local Minnesota skincare company Aveda.
Their body wrap treatments all include aromatherapy using Aveda essential oils and moisturizing and rejuvenating body wraps. Choose from their Caribbean, Copper Door Herbal Body Wrap, or their Aveda™ Rosemary-Mint Body Therapy.
Massage of all types is also available at the Copper Door Aveda Spa, including an Ayurvedic Chakra Massage and a hot stone massage.
If there's a particular area of your body that needs special therapeutic attention, their "Just The Spot" massage allows you to get a personalized massage that focuses on a specific area.
Copper Door Aveda Spa is one of the only spas in Minnesota that offers Reiki services. Their energetically attuned Reiki practitioners will take you through a full Reiki treatment, which includes a sea salt foot scrub and a foot massage and a guided heart meditation and hand-painted mandala stone placement. Music and essential oil aromatherapy complete the relaxation experience.
5. Läka Spa
If you want to combine one of Minnesota's best spa experiences with a touch of local culture and history, look no further than Läka Spa at The Hotel Landing. Designed to capture the richness of Minnesota's Nordic heritage, the Läka Spa takes its inspiration from the purity and loveliness of nearby Lake Minnetonka.
Most of their spa treatments take their inspiration from Nordic culture and traditions, like their Nordic Radiance Facial and their Nordic Experience Body Treatment, which use flowers and herbs of Nordic descent.
This theme also inspires a number of their products and enhancements, like their Arctic Scrub and Northern Brightening Facial.
But it's not all ancient traditions at Läka Spa – they also use state-of-the-art medical technology for 21st-century beauty treatments.
They offer a signature Botox service, exfoliating dermaplaning facials, and even clinically tested sub-sensory macrocyclic treatments.
6. Just For Me Spa
Find your inner stillness at this lovely, intimate spa in Stillwater, Minnesota. You can opt for a day trip or stay in one of their attached rental suites to make it an overnight destination. Just For Me Spa offers a range of relaxing treatments, but what makes them one of the best spas in Minnesota is its unique LED light therapies.
Using high-tech LightStim devices, the professionals at Just For Me Spa can apply UV-free light energy to the skin. Various wavelengths and colors can affect skin blemishes and even pain within the body. Blue light kills acne-causing bacteria, while red light helps cellular regeneration, and infrared light reduces pain and inflammation.
For a full LED light therapy experience, step into Just For Me Spa's LED Light Lounge, where you can receive massages and light-enhanced Celluma skin treatments.
Want even more light in your life? Try out their signature River Sôk, which uses chromatherapy to create a relaxing rainbow of light while you soak in a bubbly tub of Himalayan minerals. Finish your day with a swim in their Mineral Pool or some time spent reading and meditating in their Salt Room.
While Just For Me Spa is great for couples and individuals seeking an intimate experience, it's also perfect for large groups and parties. Their LED light lounge can be shifted to accommodate up to ten guests at a time, and their large St. Croix room is ideal for bachelorette parties, baby showers, birthdays, and other get-togethers.
7. Anda Spa
Part of Hotel Ivy in Minneapolis, the Anda Spa is the best spa in Minnesota for those looking for a natural, crystal-based experience. Services at Anda Spa combine ancient, earth-based techniques with state-of-the-art skincare technology.
Try out one of their skin rituals, which uses natural stones like rose quartz and labradorite to refresh and transform your skin. For those who want even more precious gems in their treatment, Anda Spa offers 24k gold enhancements for lip and facial treatments.
Not sure where to start? Their Anda Holistic Naturopathic Facial gives you a personalized consultation focused on diet, stress, and overall health to help you understand your skin's unique needs and personality. Feeling a bit more adventurous? Sign up for time in their Quartz Spa or even a Forest Bathing Experience.
Finish up any facial, body, or massage treatment with a relaxing soak in one of their many baths. Anda Spa offers both stimulating and soothing baths, with options ranging from an organic bamboo charcoal and Epsom salt soak to a sweet birch magnesium bath cure.
8. Sundara Inn & Spa
One thing that makes Sundara Inn & Spa one of the best spas in Minnesota is their inclusive environment that offers spa treatments for anyone and everyone. There's a full menu of spa treatments just for men, and another set of pampering options for pregnant mothers to be.
At Sundara Inn & Spa, you can literally surround yourself with relaxation in their Salt Treatment Room. Based on salt caves in Europe, this room creates its own "salt microclimate" by lining the floors and walls with natural salt tiles.
A halo therapy generator then fills the air with microscopic salt particles, which can enhance respiratory function and soothe the skin. You can also get the benefits of their natural salt treatments with a salt scrub or a salt bath treatment.
At Sundara Inn & Spa, there's a body treatment for everyone, with options ranging from Lavender Lemongrass CBD to Detoxifying Thermal Mud to a Coffee Bean Firming Body Wrap.
Looking for something a bit more invigorating at Sundara Inn & Spa? Try one of their body treatments with a Vichy shower.
First, you'll be treated to an all-over body scrub, then one of their natural, healing masks will be applied to your body. Let it soak in while you get a scalp and face massage. When it's time to remove the mask, you'll step into a powerful Vichy shower before finishing up with a moisturizer.
9. The Spa at Mystic Lake
Combine your spa journey with golfing adventures and fun casino games when you visit The Spa at Mystic Lake. Using soothing and invigorating Pevonia products, the facial and body treatments at The Spa at Mystic Lake will have you looking and feeling your best in no time!
Just because you're in the heart of the midwest doesn't mean you can't enjoy some desert heat. Try their sixty-minute Desert Heat Wrap, which uses Arizona mud rich in the desert minerals of copper, magnesium, and zinc to nourish and heal the skin.
Get even farther from home with the Tropical Papaya Pineapple Body Wrap, which uses pomegranate extract, vitamin A, and polypeptides to fight ageing and treat your skin to a tropical paradise.
The Spa at Mystic Lake also offers a wide range of deluxe beauty treatments, including a variety of brow and lash options. Finish up with their signature facial, which is personalized to suit your skin's needs. Or, spend time in their luxurious steam room as you relax and unwind.
Time to Relax at One of the Best Spas in Minnesota
If you are planning your spa day along with a special event, you might like our article on 14 of the Best Wedding Venues in Minnesota for Your Special Day.
Also, if you need overnight accommodations for your spa excursion, check out our Places To Stay page, where you'll find a variety of great options for your visit.