There's never a dull moment with toddlers. Once they start walking and talking, the game changes. With their energy and curiosity, they become hyper-mobile, and parents have to be extra careful. Nowhere is that truer than around water. You want them to explore while staying safe. Investing in the best toddler life jacket will ensure that they're able to have a great time on the water and that you can breathe a little easier.
There are copious brands out there, lots of toddler life jackets that promise they can keep your little one nice and secure. But how to find the right one? Look no further, because we've compiled the best toddler life jackets below and what factors to take into account when shopping around.
Keep reading to find out everything you need to know about the best toddler life jackets for your next family vacation.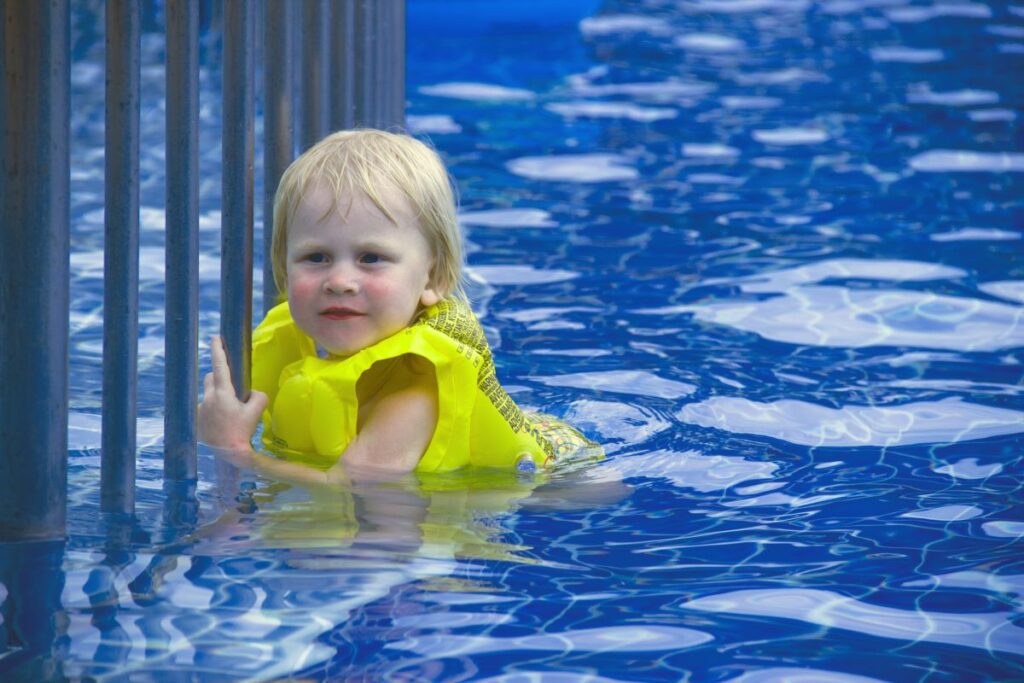 Get Them Swimming Now
While it's scary getting your toddler into the water, it's a vital step for their development. You want to get them in water when they're young so that they can build up the skills and confidence to handle themselves.
Studies have shown that kids can develop a fear of water as early as seven months old, and the fear of water is one that can be the longest lasting. If your toddler is scared to get in the water now, then that fear may not go away as they get older, which can impact their ability to enjoy vacations and have new experiences.
Putting them in the best toddler life jacket for their current skill level is a safe and secure way to get them exposed to water. It could even help them unlock a passion for swimming or marine life.
As the parent, you set the example, so it's recommended that parents wear a life jacket when they get in the water with their toddlers for the first time. That will set the example for how to be safe in water. If mommy and daddy are wearing their life jacket, then it's easier to get the child to follow suit. That's one less argument you can have.
Life Jacket > Swim Vest
When we were growing up, water wings were all the rage. Now swim vests have come into vogue. Should you put your toddler in a swim vest instead of a life jacket?
We vote no. Life jackets are preferable to swim vests because they help children develop better swimming skills. The best toddler life jackets are designed to be flexible enough to give children mobility required for swimming. Toddlers can better move their arms, making them able to practice proper swim techniques
Swim vests and water wings limit how children can move. They inhibit arm wingspan, keeping them from strengthening their swim strokes. They keep toddlers' arms and chest in an unnatural state in the water: their arms are puffed out to the sides and can't rotate because they're strapped to their chest. How can a child learn how to swim when they're constrained like that?
You want your toddler to learn to swim so that in the future, they won't need a life jacket anymore. That's the goal, and toddler life jackets will get you there faster than a swim vest.
Why You Need a Toddler Life Jacket
We say that life jackets are needed because they keep your toddler safe. But safe how?
In short, they can keep kids from drowning. Drowning is the number one cause of death for kids age one to four. The scariest part of drowning is how quiet it is. It's not like what you see in the movies. When a child drowns, they quickly and quietly slip under the water, and by the time you realize what's going on, it's too late.
Put your toddler in a life jacket whenever you'll be around water. Even if they're not going in, you want to be prepared.
Life jackets give toddlers autonomy in the water. They can play and splash and practice swimming knowing they are secure from going under. That autonomy can help dispel anxiety they may have about a new experience. Although no matter how secure a life jacket is, always make sure to keep an eye on your child around water.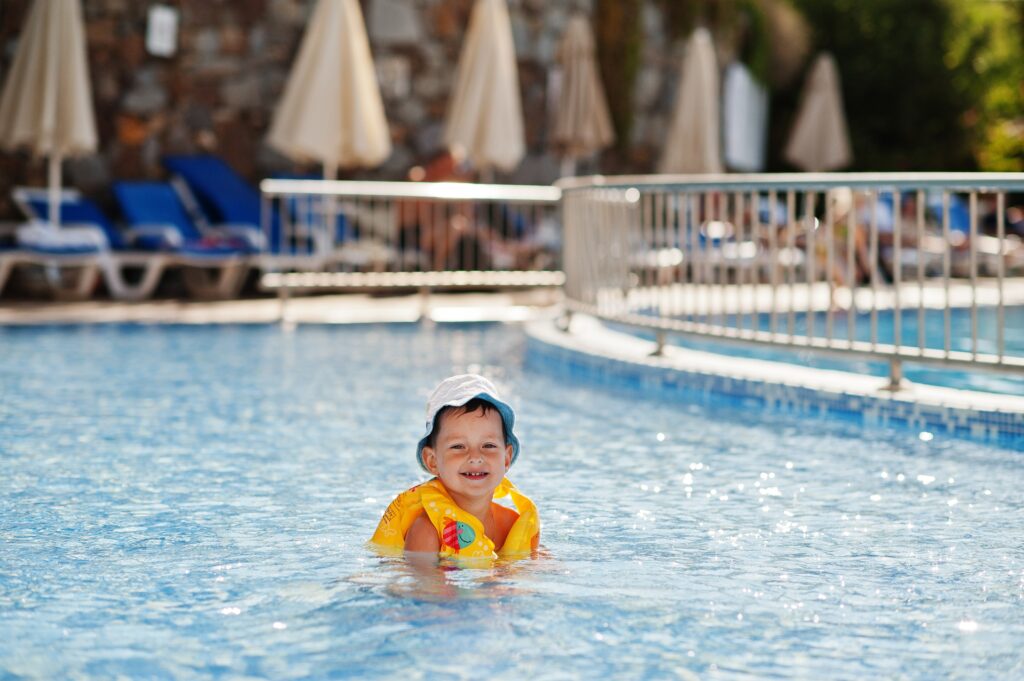 Choosing the Best Toddler Life Jacket
Life jackets are designated into certain categories by the United States Coast Guard based on weight of the wearer and jacket buoyancy. Toddler life jackets will typically fall into Type II or Type III life jackets.
Type II life jackets have a padded collar and sturdy upper body support for your young ones. These are for toddlers who may still need help with head and neck balance and need extra security when in the water. It's best for toddlers on the younger and smaller side. Their specially padded backs are able to turn wearers face up.
Type II life jackets are best for calm waters and when you plan to keep your child near the shore.
Type III life jackets are for more active wear. These are for when you'll be out on the water with your kids. Swimming, white water rafting, canoeing, and tubing are likely scenarios for Type III life jackets. They don't have all the excess head and neck padding and are thus more comfortable for wearing.
When picking the best toddler life jacket for your child, think about their weight and size. Life jackets are usually split into weight classes: 8-30 pounds, and 30-50 pounds. The former will be for younger and smaller toddlers who are still getting out of the baby stage; the latter weight class are for older toddlers soon to graduate into full-blown kiddom.
The weight class isn't a hard and fast rule. If your child's swim skills aren't developed, or if they're smaller than usual, then you may want to use a Type II jacket. Your mileage will vary.
A Note About Toddler Versus Infant Life Jackets
Despite the name "toddler" or "infant" in life jacket branding, most young children's life jackets cover the safety range of both infants (0-12 months, typically five to 20 pounds) and toddlers (one to three years and typically 20 to 30 pounds). So you might see "infant" in some of the life jacket names below, but rest assured that they'll be perfect for your toddlers, too (but always make sure to read the safety guidelines!).
I advise you do some further research on what the CDC has to say about younger toddlers and older toddlers, including child safety.
6 Best Toddler Life Jackets
---
Best Toddler Life Jacket: Overall
Stearns Infant Puddle Jumper Hydroprene Life Jacket
Your toddler will love swimming and splashing around in the Stearns Infant Puddle Jumper Hydroprene Life Jacket. Even though it's technically for an infant, this is a Type II life jacket is also great for toddlers weighing less than thirty pounds. It has an oversized headrest that can provide additional support to their neck and turn them face up in the water. Parents have raved about its ability to turn their toddler face up in all kinds of water.
The shell is made of a soft hydroprene material that won't chafe their skin or cause them discomfort. The crosstech foam provides high levels of buoyancy, while extra leg straps and a zippered back make them extra secure inside their life jacket. It will be a great fit for your toddler as many parents have reported how comfortable their toddler finds the Stearns Puddle Jumper.
On the back is a grab handle, so if you need to intervene for any reason, you can easily pull your toddler out of harm's way.
It's rated by the US Coast Guard as one of the best toddler life jackets on the market when it comes to keeping kids safe in the water.
Pros:
Oversized headrest
Expertly turns kids face up
Very comfortable
Cons:
Can't handle rougher waters
Not enough protection for inexperienced swimmers
---
Best Toddler Life Jacket: Type III
Stohlquist Fit Youth PFD
The Stohlquist is the best toddler life jacket to handle rougher adventures on the water with you and your kids. It's our top choice among Type III life jackets, specifically designed to be comfortable in more rigorous water activities like paddling and boating.
With the sculpted back and front panels, your toddler will be able to have increased mobility in the water, the unrestricted freedom to move their arms and torso to handle whatever the waves bring.
The thinner back panel makes it easier to sit in boats or cars with high seatbacks, and the three-buckle clasp system makes for a comfortable fit for your toddler. You don't want them pulling at their buckles while in the middle going through white water rapids.
Pros:
Enhanced mobility
Thinner back panel
Can handle vigorous activity
Cons:
Won't turn kid face up
No grab handle
---
Best Toddler Life Jacket: Under 50 pounds
Mustang Survival Rev Child
The Mustang Survival Rev Child is another of the best toddler life jackets for younger or smaller toddlers, and with its fire engine red shell, you'll have no problem finding your child in the water – or outside the water for that matter!
With its built-in, proprietary Ultrasoft segmented foam, the Mustang Survival Rev provides enhanced mobility for your toddler. They'll be able to practice their swim strokes or paddle without a problem. The special material can move with your child and give them the space to be little water explorers. The soft, durable, quick-drying panels will make for a pleasurable experience and avoid rubbing or cutting on their skin.
The oversized buckles on the front make it easy to get them into the jacket and keep them in the jacket. There's also a zipper underneath for added security.
There's no back pillow support, so it's best for kids over thirty pounds.
Pros:
Oversized buckles
Quick-drying
Good for sensitive skin
Cons:
No head or neck support
Not machine washable
---
Best Toddler's Life Jacket: Tri-Buckle System
Stohlquist Child Fit
The Stohlquist Child fit has sculpted foam paneling that provides increased mobility to your toddler, and the tri-buckle system will keep them safe in the water.
There's also a crotch strap that provides extra security against slipping out of their jacket. This provides for a wide range of toddler sizes and weight, as the extra safety measure ensures that kids who are on the smaller side won't be separated from their life jacket.
Pros:
Sculpted foam paneling
Crotch strap
Cons:
Buckles are hard to secure
Material tears easily
---
Best Toddler Life Jacket: for Inexperienced Swimmers
Airhead Infant General Purpose Life Jacket
No, the candy manufacturer hasn't branched into swimwear. This Airhead is anything but a dumb choice for your toddler on the younger side.
Made for toddlers under thirty pounds, it has the biggest head and neck support of any brand we've analyzed. You could land a helicopter on this pad. It'll ensure that your toddler will always land face up in the water, and their neck muscles will receive all the necessary support.
The soft, lightweight material has UV protection against the hot sun. The life jacket comes in at 0.13 pounds, making it portable and easy to carry.
Pros:
Generous head and neck support
Lightweight
UV protection built-in
Cons:
Not for older toddlers
Your child will look like a minion
---
Best Toddler Life Jacket: Under Thirty Dollars
Connelly Babysafe Nylon Vest
Keep your toddler safe without breaking the bank. The Connelly Babysafe Nylon Vest is more of a cocoon than a vest. Meant for toddlers under thirty pounds, it will encase your child in its protective, V-shaped fabric.
It completely wraps around their neck with a buckle strap, and then at the bottom is a mesh elastic crotch seat where they'll sit. It is by far the most secure toddler life jacket we've seen, but it is not for rougher adventures nor is it appropriate for kids who want more mobility. If your toddler is new to water, this is perfect. They can have fun without fear.
Pros:
Under twenty-five dollars
Cocoon like for extra protection
Crotch seat
Cons:
Child will grow out of this real fast
Limited mobility for the child
---
Have a Fantastic Voyage with the Best Toddler Life Jackets
Safety is no joke. Make sure your child is protected with a life jacket that's age appropriate for their developing bodies. Whether your toddler still needs neck support or a jacket that can give them extra latitude, the list above has you covered. My top pick remains the Stearns Infant Puddle Jumper Hydroprene Life Jacket for all its safety features and comfort! Ready for more water content? Keep reading about lake life in Minnesota!
Need some more Minnesota gear? Trust our recommendations to guide your next shopping trip!