Minnesota is known as the "Land of 10,000 Lakes," so there's always an opportunity to go fishing, even when winter arrives.
Walleye season in Minnesota runs from mid-May through February, meaning they can be caught during ice-fishing season. Walleye are common across the state, they put up a good fight, and they taste great, making them a perfect reason to try ice fishing.
The best walleye ice fishing in Minnesota is concentrated in the northern part of the state. But don't despair if you live elsewhere in Minnesota, or if your travel plans won't take you into the northern part of the state. As you'll see, there are plenty of places all across Minnesota to try walleye ice fishing.
Read on to find the places that offer the best walleye ice fishing in Minnesota.
Walleye Ice Fishing in Northern Minnesota
1. Lake Vermilion
Cook, MN
Lake Vermilion is a particularly good body of water on which to find some of the best walleye ice fishing in Minnesota. Unlike most Minnesota lakes, which have cereal-bowl-shaped contours, Lake Vermilion has a varied structure, with reefs, rocks and islands.
That varied structure provides a diverse habitat for walleye, giving anglers a host of options for landing a good catch of the popular gamefish.
And with its mix of both eating-size walleye and the larger walleye that can present a serious challenge to even the most experienced angler, Lake Vermillion provides a good experience to a wide variety of people pursuing a passion for ice fishing.
2. Rainy Lake
International Falls, MN
If you want to get a taste of the popularity of ice fishing, you should plan a trip to Rainy Lake for some of the best walleye ice fishing in Minnesota.
Show up at the 360-square mile lake during ice fishing season, and you'll join the large number of visitors who have discovered the magic of Rainy Lake. During the season, you'll see a lake festooned with ice fishing shelters hosting hundreds of eager walleye anglers.
While you're at Rainy Lake, you might want to try "tip-up" fishing. Special fishing rigs set up beside holes in the ice allow anglers to monitor several holes at once, and when one rig is hit by a fish — hopefully, a huge walleye — a metal flag tips up to signal a catch is on the line and ready to be reeled in.
3. Lake of the Woods
Baudette, MN
The self-proclaimed "Walleye Capital of the World," Lake of the Woods, stretching across the border into Canada, covers nearly 1,700 square miles that truly do offer some of the best walleye ice fishing in Minnesota.
With a lake as large as Lake of the Woods, there are a number of places that anglers over the years have identified as particularly good for walleye ice fishing. If you'd like to try some of those places, a partial list includes Franz Jevne State Park, Kenora, Northwest Angle and Traverse Bay.
Routinely, walleye caught while ice fishing in Minnesota will weigh between two and five pounds, but some of the walleye inhabiting Lake of the Woods will grow to twice that size, ensuring an entertaining fight and a rewarding day on the ice as you experience some of the best walleye ice fishing in Minnesota.
4. Upper Red Lake
Waskish, MN
The Minnesota Department of Natural Resources (DNR) lists Upper Red Lake among the state's top places for walleye ice fishing in Minnesota. Behind that ranking is an amazing success story in bringing the species back from a 1990s population collapse on Upper Red Lake due to overfishing.
Efforts of the DNR, the Red Lake Band of Chippewa and the Bureau of Indian Affairs to restock the lake, along with halting walleye fishing for a time, helped walleye to rebound to make Upper Red Lake a top destination today for the best walleye ice fishing in Minnesota.
5. Leech Lake
Walker, MN
If you're looking for some of the best walleye ice fishing in Minnesota, you'll find it at Leech Lake in the eastern edge of northwestern Minnesota.
Covering more than 100,000 acres in the Chippewa National Forest, Leech Lake boasts a large and healthy walleye population. That makes it a great place for walleye ice fishing novices, and for trying a variety of techniques for landing a walleye.
You're most likely to catch walleye measuring from 10 to 20 inches at Leech Lake, but it's not uncommon to catch walleye measuring 30 inches. That's just more proof that Leech Lake provides some of the best walleye ice fishing in Minnesota.
And if you're wondering what to do with your catch, you should know that Leech Lake walleye are revered as the most tasty walleye you'll ever catch.
Walleye Ice Fishing in Central Minnesota
6. Lake Miltona
Leaf Valley, MN
Located just north of Alexandria, Lake Miltona offers some of the best walleye ice fishing in Minnesota.
The lake covers more than 5,700 acres, and has a maximum depth of 105 feet. Due to its size, and to the fact that it is not a typical cereal-bowl-shaped Minnesota lake, but has a varied underwater structure, finding good spots for ice fishing on Lake Miltona isn't a challenge.
The lake can have as much as 8 inches of ice by late November, and in any case, ice fishing is under way in earnest on Lake Miltona by late December each year.
Walleye are plentiful on the lake, and the average walleye caught on Lake Miltona measure almost 15 inches, meaning your catch will be filled with good eating-size fish.
7. Mille Lacs Lake
Kathio, MN
Less than 25 miles east of Brainerd, and an even shorter distance south of Aitkin, you'll find Mille Lacs Lake, another of the lakes given special note by the Minnesota DNR for its winter walleye fishing.
You should know, though, that for 2022, part of the walleye season on Mille Lacs Lake will be catch-and-release, and the remainder of the season will include a one-walleye limit.
Changing conditions on the lake, including the presence of invasive species like the zebra mussel and spiny water flea, are placing limits on walleye this year to help the species rebound.
Nonetheless, it's still worth a trip to try your luck on a well-loved lake that has consistently provided some of the best walleye ice fishing in Minnesota.
Walleye Ice Fishing in Southern Minnesota
8. Lake Pepin
Red Wing, MN
If you'd like to try some of the best walleye ice fishing in Minnesota, but in a different kind of lake, you should try Lake Pepin.
A naturally occurring lake on the Mississippi River between Red Wing and Wabasha, Lake Pepin offers walleye ice fishing in river water moving under the ice.
Ice fishing on Lake Pepin requires caution. You should stay away from points where land juts out into deep water, because the ice can be dangerously thin in those places. Also, numerous creeks run into the lake, where ice also can be dangerously thin.
Regular visitors to Lake Pepin say there are lots of good areas for finding some of the best walleye ice fishing in Minnesota. But they also say to be prepared to work a little bit to find a really good spot.
9. Fountain Lake
Albert Lea, MN
When you're talking about the best walleye ice fishing in Minnesota, the southern part of the state gets little or no mention. Fountain Lake, a 521-acre lake in the middle of Albert Lea, shows why discounting walleye ice fishing prospects in the southern part of the state is misguided.
At least one Minnesota DNR official believes that spots like Fountain Lake might be shortchanged because their surroundings — mostly prairieland — aren't as aesthetically pleasing as the wooded landscapes surrounding lakes farther north in the state.
Of course, fish don't care about aesthetics, and Fountain Lake holds good numbers of walleye. According to fishing reports, most of those walleye are between 12 and 19 inches long, just perfect for eating.
10. Lake Okabena
Worthington, MN
At 776 acres, most of Lake Okabena is just 5 to 7 feet deep, with a deepest point of just 16 feet. Nonetheless, the lake has a plentiful supply of walleye, and local anglers routinely praise it as a good place to catch walleye.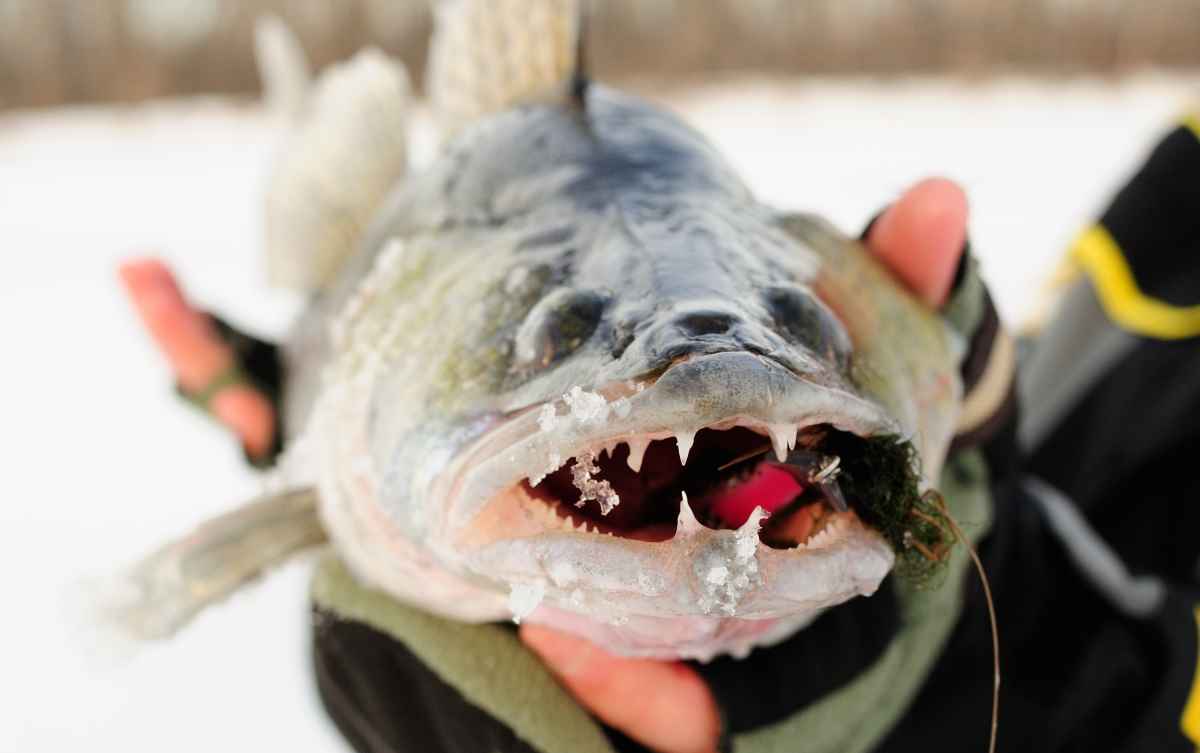 Like most other lakes in Minnesota, Lake Okabena has a classic "cereal bowl" contour. But there are some places where dredging has created other contours that are attractive habitat for walleye, and which have landed Lake Okabena on the list of lakes offering the best walleye ice fishing in Minnesota.
According to one local account, large numbers of small walleye are routinely brought up through the ice. That might make Lake Okabena a good place to introduce younger anglers in your family to ice fishing, while you're having fun, too.
Wrapping Up the Best Walleye Ice Fishing in Minnesota
We hope this post on the best walleye ice fishing in Minnesota has helped you decide where you'd like to track down walleye in the winter, inspiring you to try some different places to test your luck. For more on fishing in Minnesota, check out this post on the best places to catch panfish.
Want to learn more about fishing, discover more fishing spots, and or read up on the best fishing gear? Then continue your fishing adventure with our comprehensive guides, info posts, and more!
Looking for Minnesota winter inspiration? Check out our Minnesota winter guide for activity ideas, winter apparel suggestion, and endless ways to enjoy the snow!
About the Author
Latest Posts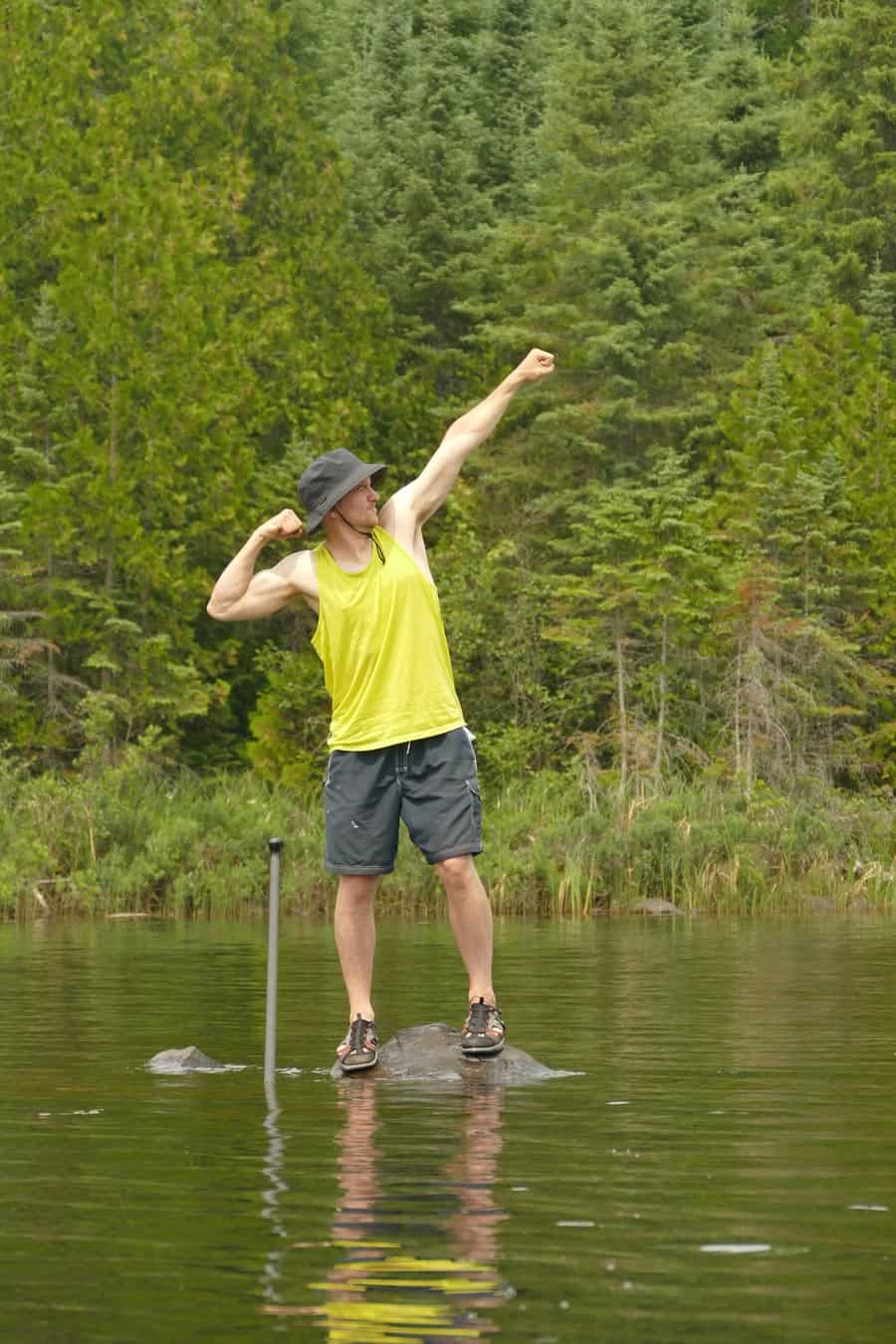 Born in Madelia, MN, to a now 5-generation Minnesota family, Ryan's MN roots go deep.
A painter by day, Ryan founded Life in Minnesota in 2013 with his wife Kelly to chronicle their musings on everything Minnesota. Ryan and Kelly are raising their 7 kiddos in Maple Grove, MN.
When he's not shuttling his kids around to hockey practice, you might find him in the shop working on his leatherwork. Undoubtedly, there will be a family trip to the Boundary Waters Canoe Area every summer, and of course weekends at Grandpa's cabin up north in the summer.