Winter Work Boots Buyer's Guide
With so many products on the market labeled 'winter work boots,' it can be challenging to decipher which boot will best suit your needs. Lucky for you, we've compiled this guide to help you choose which product is right for you.
From insulation and weather-proofing to traction and durability, we hope this comprehensive guide helps point you in the right direction.
Insulation
Insulation is the most important factor for you to consider while you're shopping for the best winter work boots.
There are a few different types of materials used for insulating winter boots, including synthetic, felt, sheepskin, wool, and down. Each material is suited for different weather, so make sure that you choose boots with the best insulating material for the climate you expect to work in.
Synthetic Insulation
Synthetic materials are the most commonly used for insulating winter work boots. Manufacturers stuff synthetic down between the boot's inner lining and outer shell.
The most common types of synthetic down include PrimaLoft and Thinsulate by 3M. These materials continue to be popular because they're lightweight and don't weigh down your feet, and the materials continue to insulate even when wet.
If you're trying to figure out how to measure the warmth, remember that the number of grams of insulating material indicates the level of warmth you can expect. For instance, lightweight boots, and those that are a little heavier, usually contain anywhere from 200 to 400 grams of insulating material, while heavy-duty boots will contain significantly more.
Felt, Sheepskin, Wool Insulation
Unlike synthetic insulation, these winter work boots are made using a thick lining of felt, sheepskin, or wool, which can quickly get wet if exposed to the elements. These materials can be a bit bulky, but they continue to insulate even if they're exposed to the elements.
Down Fill Insulation
Down-insulated winter work boots are the least common of the materials since they're not very secure when you're in direct contact with the snow. This insulating material will lose its insulating properties once it gets wet, so it's not the best for deep snow.
Weather Protection
When you're looking for winter work boots, weather protection should be one of the top priorities. It's crucial for work boots for winter to keep your feet warm and dry, so they'll need to have good water resistance.
You'll find that most winter boots will have some kind of waterproofing since they're generally made for snowy conditions, like a durable rubber outer, treated leather, or a waterproof and breathable membrane.
It's worth noting that your boots won't protect your feet from water and cold air if there are areas where snow and moisture can seep in around the tongue or the top of the boot. For this reason, you should consider boots with a gusseted tongue that connects to the upper high of the boot.
Typically, two-piece boots that have a separate shell and liner rely on a burly exterior to keep moisture out. The rubber lowers tend to form excellent barriers from the wet, shedding anything from falling snow to slushy puddles.
On the other hand, one-piece boots have a thin waterproof membrane that's sandwiched in between the outer material and lining. Typically these types of winter work boots aren't as waterproof as two-piece constructions.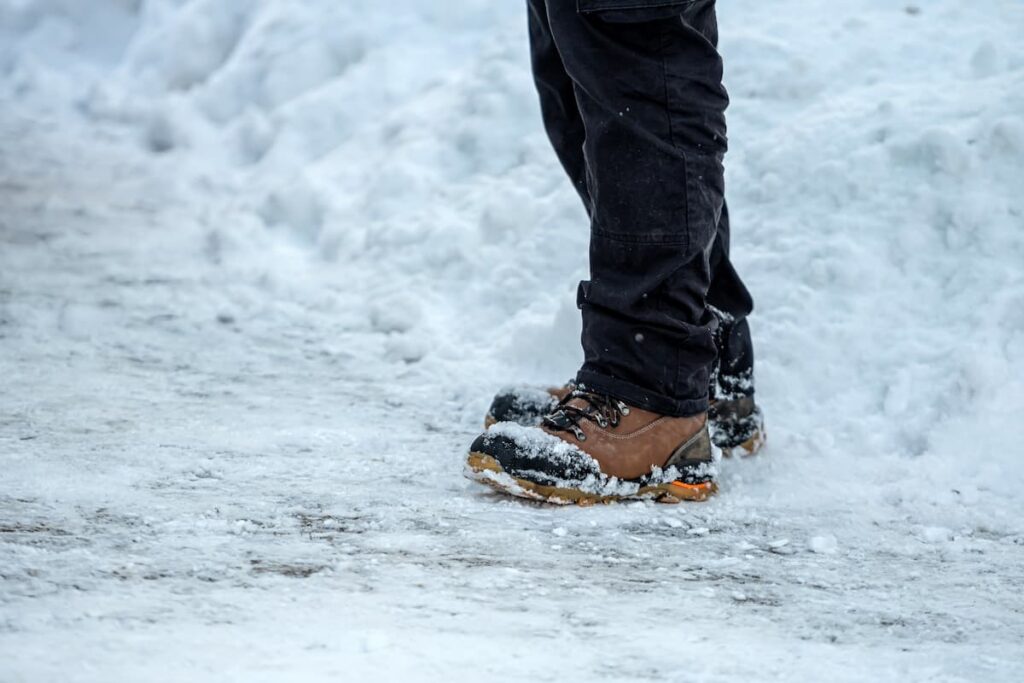 Traction
Considering you'll be trekking through the snow and ice, traction is a pretty important consideration when you're on the market for winter work boots.
It becomes even more essential if you're working around oil or other slippery substances that may cause you to slip and fall. When you're shopping for the best boots, look for slip-resistant soles.
Generally, boots designed for extreme cold are equipped with studded high-traction outsoles, which are great for snow-covered roads. If you plan to be walking through deep snow, it's worth considering a model that comes with cleats for extra traction.
Durability
Work boots, in general, are rather on the pricey side, and you'll be relying on them to keep your feet dry and protected from the elements during the coldest and stormiest months of the year. For this reason, it's crucial to choose boots that will hold up to harsh conditions and regular wear and tear.
The best winter work boots are made using high-quality materials such as full-grain leather, as well as reinforced stitching to ensure they are built to last through multiple seasons.
Safety Toe
The safety toe of your winter work boots is important because it protects your feet from any hazards you may encounter at the job site, like falling objects or punctures.
There are three main types of safety toes for work boots: steel, composite, and aluminum. Each material offers a different level of protection and comfort, so it's important to select a boot with your safety needs in mind.
Steel Toes
The most commonly used safety toe material for work boots is steel because it offers strong protection against impacts and compression, in addition to strong puncture resistance. The only drawback to steel-toed winter work boots is how much heavier and colder they are when compared to other options.
Composite Toe
These boots can also be made using non-metal materials like carbon fiber, plastic, or Kevlar, and they offer protection similar to that of steel toes, but they are more lightweight options. Composite toes also won't conduct cold or heat, which makes them a great choice for providing warmth without skimping on breathability and comfort.
Aluminum Toe
Aluminum is another lightweight alternative used in place of steel when creating the safety toe in work boots. Aluminum offers the same level of protection as steel, without the extra weight pulling you down. You'll need to consider the fact that aluminum, like steel, does conduct cold, so it may not be the best choice for dangerously frigid conditions.
---
Wrapping Up The 5 Best Winter Work Boots
Whether you're working in extreme subzero temperatures or in snowy, slushy conditions, we hope this guide has helped you decide which pair of winter work boots is best for your needs.
If you're interested in learning more, check out Winter in Minnesota for tips, tricks, and gear for keeping warm during winter seasons.