There are some truy unique places in Minnesota where you can get in touch with, and experience, a timeless sort of natural beauty. Blue Mounds State Park is one of the best places to do that!
Read on to learn all about visiting and camping at this stunning state park where the past and present collide.
---
How to Get to Blue Mounds State Park
Blue Mounds State Park is located in the far southeastern corner of Minnesota, not too far from the border with South Dakota. Though relatively remote in location, it can still be accessed fairly easily by a couple of major roads.
One way for visitors traveling from the north to reach Blue Mounds State Park easily would be by coming in via Minnesota State Highway 23 or Highway 75. Both of these pass relatively near the state park.
For those who are approaching the park from across the width of the state, particularly from around the Minneapolis/St. Paul area, Interstate 90 passes not too far from Blue Mounds State Park.
This can also be a straightforward way for visitors from surrounding states to easily reach the state park, as I-90 connects across the upper portions of Illinois, Indiana, Ohio, and even out into New York State.
It is always recommended to use an up-to-date map or GPS when traveling to Blue Mounds State Park to ensure you are aware of any current road closures or other traffic issues at the time of your planned visit.
---
When Is the Best Time to Visit Blue Mounds State Park?
The best time to visit Blue Mounds State Park will vary for each individual based on what he or she hopes to experience at the park!
For campers, the typical camping season of May through September or October will be the best time to come and visit Blue Mounds State Park. You will find lots of different camping options from the recreational to the rugged available in the park.
Hikers and animal enthusiasts may want to aim for the warmer months as well, or the transitionary season of spring and fall. These can be the best visiting times for those looking to enjoy the hiking trails and breathtaking views in Blue Mounds State Park or to catch a glimpse of the park's resident bison herd or the migratory birds who visit each year.
Enthusiasts of more taxing hikes and winter sports will likely enjoy planning a visit around the cold months. Snow is frequent in this area of Minnesota, and Blue Mounds State Park boasts some wonderful winter recreational activities for those who feel so inclined.
All in all, no matter when you choose to visit Blue Mounds State Park based on your personal needs, you are sure to love your experience at this one-of-a-kind state park.
---
Where to Stay at Blue Mounds State Park
Best Camping Spots
Within Blue Mounds State Park are 3 campground loops, all located near the park's wildlife viewing pond. There are 73 drive-in sites total on the loops, and all of them are shaded sites set just off of a paved road. There is one wheelchair-accessible site located among the drive-in sites.
In addition, within each of the 3 campground loops, you will find 40 electric sites, one of which is fully wheelchair accessible. Electric sites have an RV length limit of 50 feet, which is measured from the front of the towing vehicle to the rear of the vehicle being towed.
There are also 14 cart-in sites available, which are perfect for small tents. The park provides carts for campers to haul their camping gear roughly 100 to 300 feet from the parking lot to the cart-in sites themselves.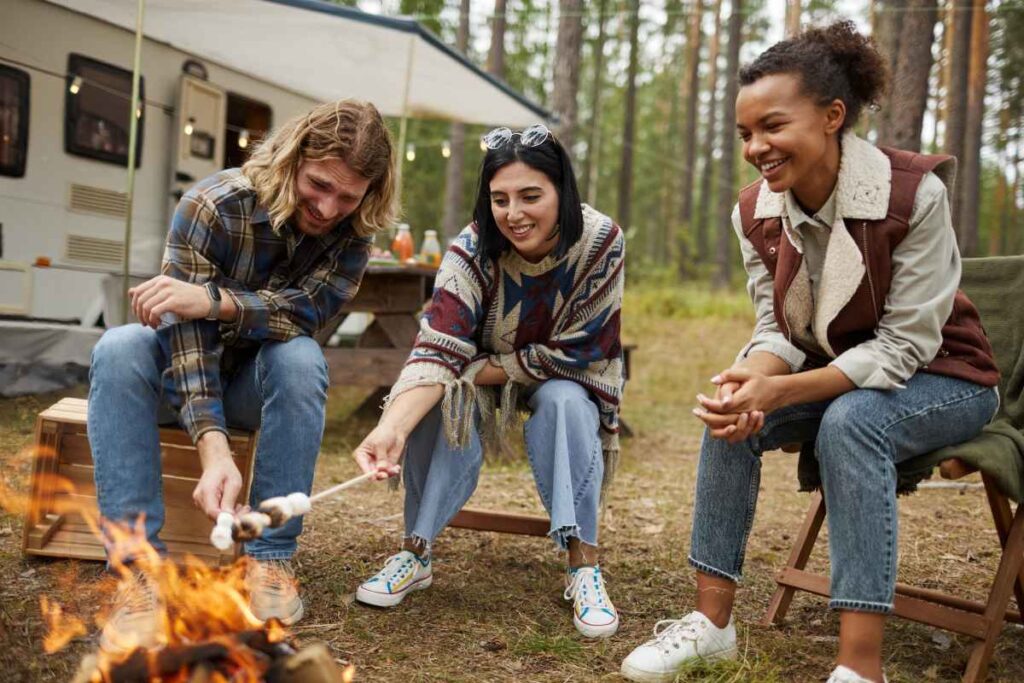 For groups looking to camp together, there is a single-group camp at Blue Mounds State Park, which can be found adjacent to the beautiful Mound Creek. This group camp contains its own vault toilets and pressurized water and accommodates up to 50 people. However, there is no vehicle access to the group camp, so campers will need to carry their gear a small distance from the parking lot.
Lastly, for those looking for a bit of a different, unique lodging accommodation during their trip to the park, there are two tipis that can be reserved during the camping season. These canvas tipis are each 18 feet in diameter and can sleep up to 6 campers. They are located in the cart-in campground.
The main campground contains wheelchair-accessible showers and flush toilets, as well as a dump station, all open during the camping season. There are vault toilets scattered throughout the park that are available all year round.
Booking, Fees, and What to Bring
Campsites can be reserved up to 120 days before the first day of your intended stay at Blue Mounds State Park via the Minnesota State Parks and Trails website.
Campers and visitors alike should ensure all attire and gear they bring is sturdy and in good repair. This includes footwear, clothing, camping gear, and items such as sunblock and insect repellant.
---
Things to Do at the Park
Hiking
Folks who are fond of hiking will find something to love at Blue Mounds State Park all throughout the year! Within the park, there is a 1-mile self-guided hiking trail, as well as 13 miles of trails ranging from easy to moderate difficult through the tallgrass prairie. Hikers can also hike up the Sioux Quartzite cliff for a stunning view of the plains where the bison herd resides.
In the winter, hikers need not be deterred by inclement weather. There are 13 miles of winter hiking trails maintained throughout the cold season.
Biking
Cycling enthusiasts can bring their bicycles along or rent them and hit the little more than 2 miles of paved bike trails through the park. These trails then connect to the 3-mile bike trail that feeds into the nearby town of Luverne.
Other Recreation
There are plenty of other recreational activities to enjoy in Blue Mounds State Park. Wildlife enthusiasts can spot various deer, coyotes, and wild birds throughout the park, or enjoy the guided bison tours available seasonally.
Folks who love the water will enjoy swimming and fishing in Mound Creek. There is also the opportunity for rock climbing and snowmobiling within the season at the park. And kids will love visiting the gift shop!
---
Wrapping Up Blue Mounds State Park
Before you take off for your adventure at Blue Mounds State Park, make sure you're equipped! Check out our Minnesota Gear page for ideas on attire and more for your visit to the park.
Love spending time outside? Then discover the Minnesota Outdoors to continue learning new ways to reconnect with nature!