There are all types of fun Bob Dylan facts that shed light on the global icon's life. Aside from his legendary folk music career, Bob Dylan has long been known for his freewheeling spirit and conman antics.
For all of the Bob Dylan fans out there, here are 35 of the most interesting Bob Dylan facts!
1. He is a Minnesota native
Dylan was born in the city of Duluth in 1941. His family moved to Hibbing in 1948, where the future star spent the majority of his upbringing.
2. His birth name isn't Bob Dylan
Robert Allen Zimmerman was the icon's birth name before he legally changed it to Bob Dylan in 1962.
3. He has never had a number one single
One of the more surprising Bob Dylan facts is that the legendary artist has never had a release reach number one on the charts. "Like a Rolling Stone" and "Rainy Day Women' came close, peaking at the number two position.
4. He used to have an obsession with chess
The game is weaved throughout many of Dylan's original songs, including one of his greatest hits, "The Times They Are a-Changing."
5. He spent much of his early career living in New York
Dylan moved to New York City in 1960 after spending his entire childhood and adolescence in Minnesota.
6. He lied to Columbia Records before signing
Because he was considered a minor at the time of his first record deal, Dylan told the record company that he was an orphan so that his parents wouldn't need to co-sign the contract.
7. His first record deal was highly controversial
Columbia Records producer John Hammond hastily signed Bob Dylan to his first contract, though he didn't have the authority to do so.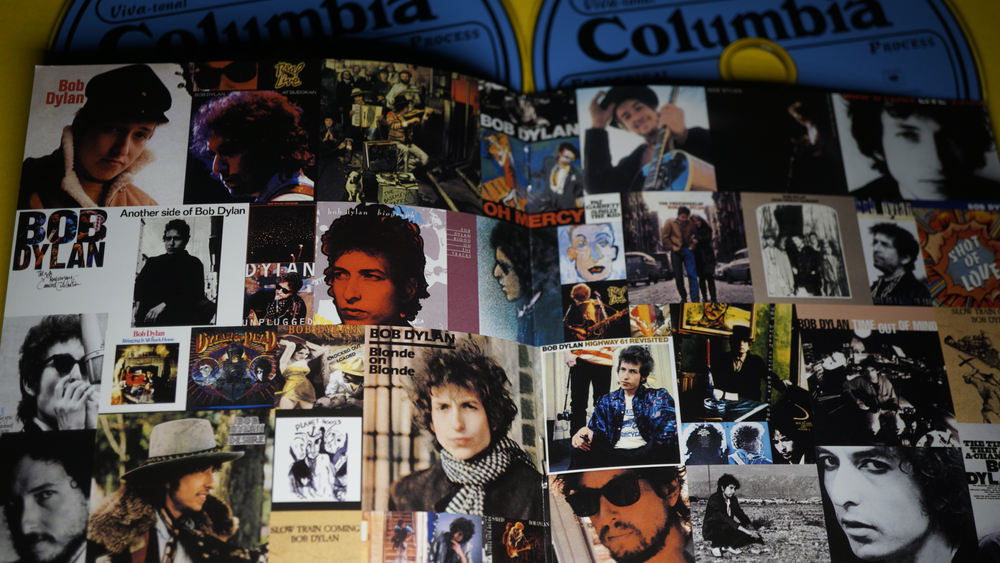 8. His 1966 motorcycle accident was a turning point in his life
The accident reportedly left him with a concussion and several broken vertebrae. Following his accident, he removed himself from the public eye for several years.
9. He is in the Rock and Roll Hall of Fame
Despite being more closely tied to folk music, Bob Dylan was inducted into the prestigious Rock and Roll Hall of Fame in 1988. Rock and roll legend Bruce Springsteen did the honors.
10. His father was a semi-professional athlete
Abram Zimmerman, Dylan's father, played semi-professional baseball before polio cut his career and life short.
11. He is an Oscar winner
The popular music sensation won an Academy Award in 2000 for the song "Things Have Changed", a track that was featured in Wonder Boys.
12. He dropped out of a university
Following his first year at the University of Minnesota, Dylan dropped out of school and relocated to New York.
13. He holds two degrees
Despite never graduating from university, Dylan received an honorary degree from Princeton University in 1970 and a Doctor of Music degree from the University of St. Andrews in 2004.
14. He is a published author
Bob Dylan's prodigious writing ability has translated to other published works, including an autobiography, multiple poetry books, and more.
15. He once appeared on reality TV
In 2010, Dylan made an impromptu appearance on the popular television show Pawn Stars — signing one of his records for cohost Chumlee.
16. He loves his fellow Minnesota native, Prince
In a 1986 interview, Dylan spoke glowingly of the pop-funk legend when asked if he enjoyed Prince's music.
17. He created a four-hour film
One of the more impressive Bob Dylan facts is that he has directed a few films during his career, none more famous than Renaldo and Clara — a four-hour documentary drama.
18. He belonged to a fraternity
Prior to dropping out of school, Bob Dylan was a part of Greek life and pledged to the Sigma Alpha Mu fraternity at the University of Minnesota.
19. He was homeless before recording his first album
Before receiving an advance to fund his first New York City apartment, Bob Dylan stayed with various friends.
20. His debut album was recorded in two days
In one of Columbia's New York City studios, Bob Dylan cut each of his 17 tracks in a single take and completed the entire record in two afternoons.
21. He left The Ed Sullivan Show a few hours before his scheduled performance
After being asked to perform a more politically friendly number in place of "John Birch Paranoid Blues", Bob Dylan canceled his live performance.
22. He didn't speak for an entire week after Elvis Presley's death
The folk singer-songwriter has credited Elvis for much of his career success. Following the King's tragic passing, Dylan spent some time evaluating his life and refused to speak to anyone for a week.
23. He is a Nobel Prize winner
The prodigious songwriter won the Nobel Prize in Literature in 2016, an award that had never been given to an American musician up until that point.
24. He turned down the legendary 1969 Woodstock Festival
The 1969 Woodstock Festival has gone down in history as one of the most iconic music events in history. While Bob Dylan was initially scheduled to perform, he backed out in lieu of the Isle of Wight festival.
25. He has won 10 Grammy awards
Bob Dylan has accumulated 10 Grammy award wins and 38 nominations over his illustrious career. Remarkably, his first Album of the Year award didn't come until 1997.
26. He looked up to Little Richard
One of the more obscure Bob Dylan facts, the artist once wrote under his high school yearbook picture that his life goal was "to join Little Richard."
27. He hosted his own satellite radio show
Between 2006 and 2009, Dylan would host Theme Time Radio Hour — a weekly radio show that featured hand-curated mixes based on themes rather than genres.
28. He is a big fan of hip-hop music
Over the years, Dylan has spoken highly of artists such as Ice-T, Run-DMC, and others. He even contributed a few bars of his own to Kurtis Blow's 1986 track, "Street Rock Duet."
29. He switched over to gospel music mid-career
Following his conversion to Christianity in the 1970s, Bob Dylan made multiple gospel-inspired records — including the albums Saved and Slow Train Coming, as well as the hit, "Gotta Serve Somebody."
30. He is an avid painter and artist
Dylan's artistic talents also include painting and drawing. His work has been featured in various art galleries since 1994.
31. He wrote a breakup album
After more than a dozen studio albums, Bob Dylan wrote and released Blood on the Tracks — a project that chronicled the events surrounding his divorce from Sara Lownds.
32. He formed a supergroup with other music icons
In 1988, Dylan got together with Tom Petty, Roy Orbison, George Harrison, and other rock legends to form The Traveling Wilburys. The supergroup released multiple records before disbanding in 1991.
33. He is a Pulitzer Prize winner
Bob Dylan won an honorary Pulitzer in 2008 for his extraordinary impact on American culture and music.
34. He has sold over 125 million records to date
Bob Dylan has sold a whopping 125 million records, a figure that firmly places him within the top 30 best-selling artists of all time.
35. His music career is celebrated in Tulsa, Oklahoma
The Bob Dylan Center, located in Tulsa, is a museum that features exhibits, manuscripts, and recordings from the artist's seven-decade career.
Wrapping Up Bob Dylan Facts
These fascinating facts about Bob Dylan speak to not only his incredible musical achievements but also his fun-loving outlook and mischievous personality.
Next, from influential locals to international celebrities, learn about more Minnesota people!