Gull Lake, the largest lake in Minnesota's Gull Lake Chain, is a popular vacation destination. Whether you're boating and fishing in the summer, or you're skiing and ice fishing in the winter, you'll have no shortage of things to do and enjoy in the area.
If you're planning a vacation, you'll need the perfect place to stay. Luckily, we've done the research so you don't have to.
Read on to find the 10 best cabins on Gull Lake, as well as some tips about what to expect!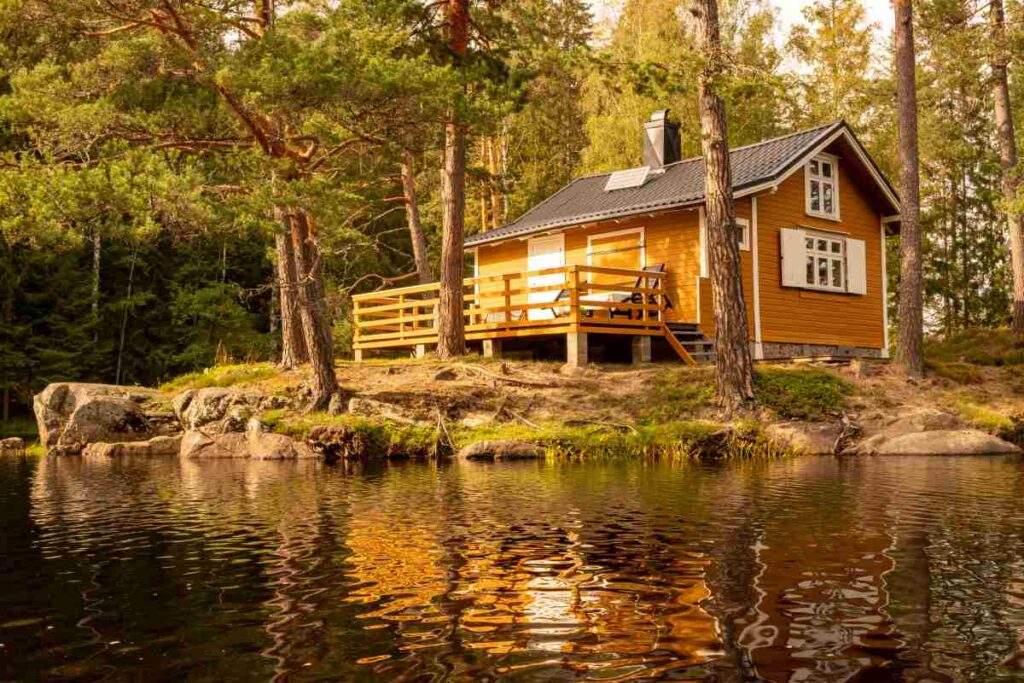 ---
Gull Lake Cabins Overview
Choosing a cabin on Gull Lake means sorting through lots of options.
For one, the lake offers cabins in a handful of different locations, with the western and northern shores being popular options.
Different Gull Lake cabins also offer different features and amenities that can contribute greatly to your vacation. For example, some cabins are right on the lake's shoreline, whereas others are set further back. Some have docks, outdoor patios, boats, or fishing access. Some are located within a ski resort, have restaurants nearby, and much more.
Below, we've listed our favorite options that take advantage of all that Gull Lake has to offer!
---
Luxury Cabins on Gull Lake
1. Cape Cod-Style Cabin
Bedrooms: 3
Bathrooms: 3
Maximum guests: 8
Pets allowed: No
Price: $$$$
This Cape Cod-style cottage is cozy, spacious, and has tons of natural light. With a main house, guesthouse, and screened-in breezeway between them, guests will have plenty of space to relax and enjoy their time on Gull Lake.
Perhaps the best part of this Gull Lake cabin is its views. Located right on the lake, the home boasts stunning outlooks over the water, perfect for enjoying the daytime scene or a picturesque sunset. One reviewer even notes that it feels "like you are on top of the water."
Whether you want to sit around the fire pit, shower outside, spend time on the private dock, or grill your dinner outside, you'll find everything you need in this lovely cottage.
---
2. Serene Quarters
Bedrooms: 6
Bathrooms: 5
Maximum guests: 16
Pets allowed: No
Price: $$$$
Serene Quarters may very well be one of the most luxurious cabins on Gull Lake. The owners truly thought of everything! The home has a beach, paddle boards, and kayaks for guests to enjoy. And when you're ready to be cozy inside the cabin, luxury linens and toiletries will give you a hotel-like experience.
If you're looking to stay at this pristine cabin on Gull Lake, make sure to plan ahead and book early! It's an extremely popular vacation rental and gets snatched up several months in advance
---
Log Cabins on Gull Lake
3. Family Cabin on Gull Lake
Bedrooms: 2
Bathrooms: 2
Maximum guests: 6
Pets allowed: No
Price: $$$$
This family cabin is more than your average log cabin. It's cozy and private, with a bedroom in the main house and a bedroom in the boat house, and if you need more space, you can also rent out the two-bedroom carriage house addition.
This home is also in a prime location that brings some families back year after year. Just 45 feet from shore, the house has its own miniature sandy beach, dock, and boat lift. It's also located within a ski resort for those who enjoy winter activities, too. Previous guests also love how close it is to the Grand View Lodge Resort and all of its amenities.
---
4. Eagle Pines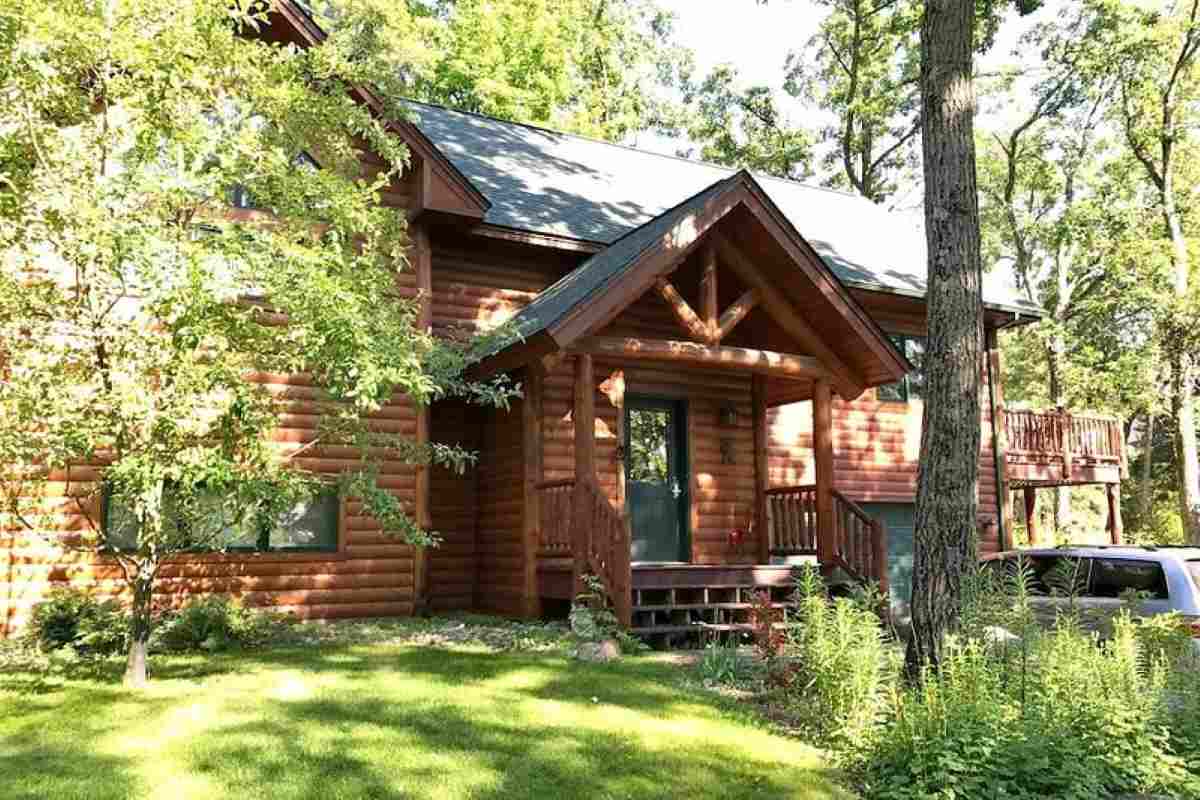 Bedrooms: 4
Bathrooms: 4
Maximum guests: 10
Pets allowed: Yes
Price: $$
Eagle Pines is another wonderful log cabin on Gull Lake! Although this property isn't directly on the waterfront, it's separated from the lake by just one other home, making the shoreline easily accessible. Eagle Pines also has 100 feet of a semi-private beach that's shared with just one other home.
One of the best features of Eagle Pines is its location. It's in a ski resort, centrally located to restaurants, golf, shops, and the locals' favorite ice cream shop, the Chocolate Ox.
---
Fishing Cabins on Gull Lake
5. Three-Bedroom Cabin and Guest Cabin
Bedrooms: 3
Bathrooms: 3
Maximum guests: 10
Pets allowed: No
Price: $$$
If you're looking for a stay in one of the smaller lakes in the Gull Lake chain, look no further than this three-bedroom cabin and guest cabin. Located on the 350-acre Roy Lake, it's the perfect fishing cabin!
Guests who stay at this home will be pleased with all it offers. With a dock you can fish off of, sandy shoreline, canoe, kayak, paddle boat, and more, there is no shortage of ways to enjoy your time on the lake. Plus, this home is located within a ski resort, so it's a great destination year-round!
Other notable features include an upstairs loft with a view of the lake and a guest house, giving you plenty of space indoors. Outdoors, the home has a deck and a grill, too.
---
6. Gull Lake Cottage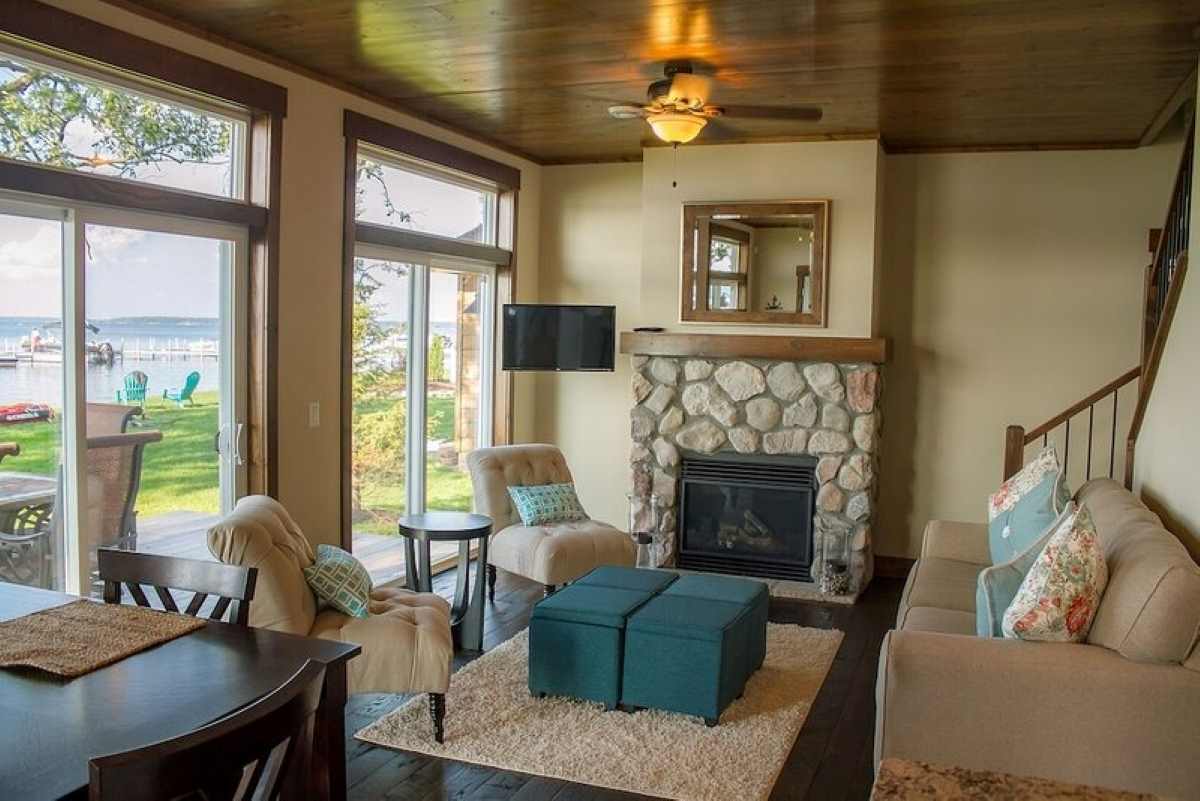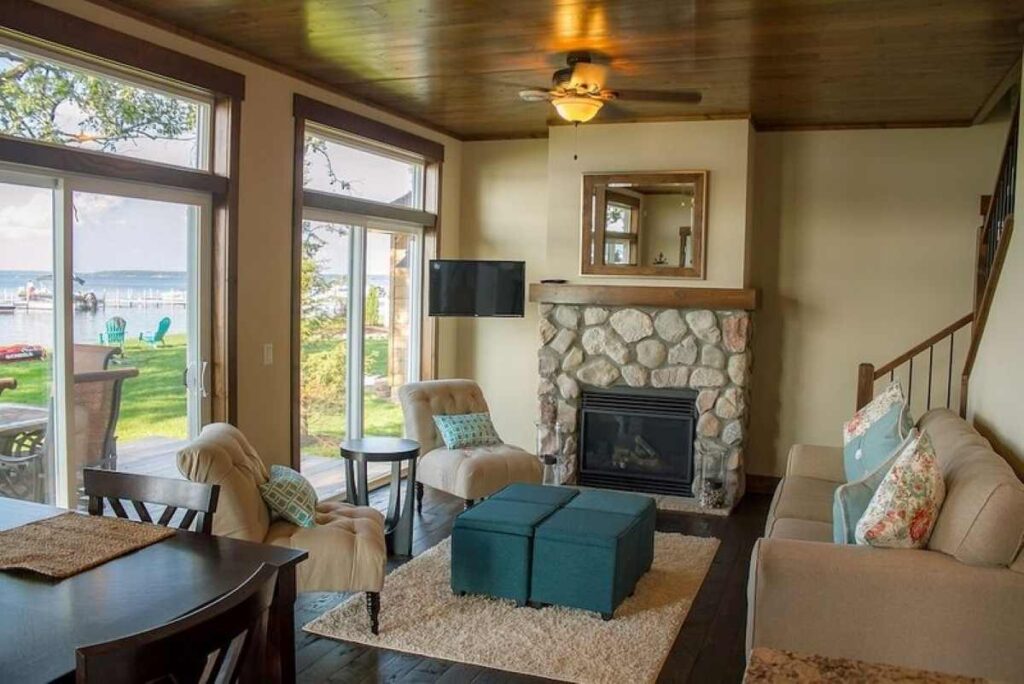 Bedrooms: 3
Bathrooms: 3
Maximum guests: 7
Pets allowed: No
Price: $$$
If fishing is your goal, check out this Gull Lake Cottage. In the spring and summer, you can access the lake from the cottage's dock, kayak, and stand-up paddleboard, which are all included with your stay. In the wintertime, you can rent the ice fishing cabin that sits right in front of this home, making it the perfect destination for fishing year-round.
The standout feature of this Gull Lake cabin is its incredible views of the lake. With plenty of windows, sliding glass doors, and an outdoor deck that sits just above water level, you'll find that the scenery is unmatched.
---
7. Four-Bedroom Gull Lake Cabin
Bedrooms: 4
Bathrooms: 2
Maximum guests:12
Pets allowed: Yes
Price: $$$$
This four-bedroom Gull Lake Cabin is perfect for families. With four bedrooms, 3,000 square feet of space, a location right on the lake, and so much to do nearby, it's an ideal destination to bring everybody.
If you want to go swimming or fishing, you can enjoy the cabin's new dock, which grants easy access to both activities. There's also a boat slip if you'd like to bring your own boar.
The cabin is located near several resorts, so you can go skiing in the winter and ziplining in the summer. The Pillsbury State Forest is also nearby, offering hiking trails, biking, horseback riding, snowmobiling, and more!
---
Cheap Cabins on Gull Lake
8. Gull Haven 704
Bedrooms: 3
Bathrooms: 3
Maximum guests: 10
Pets allowed: No
Price: $$
Located within the Gull Haven resort, Gull Haven 704 is a great affordable option. And to make it even more budget-friendly, the property allows you to split up your payments if you book far enough in advance.
Reviewers note that this cabin is spacious, clean, and well-kept. With three bedrooms, it comfortably fits ten people, and many guests are pleasantly surprised by just how roomy it is.
The best part of Gull Haven 704 is its location right on the lake and sandy beach. This makes it perfect for enjoying beach time, getting great views of the lake, and enjoying your vacation!
---
9. Interlachen 18
Bedrooms:
Bathrooms:
Maximum guests:
Pets allowed: No
Price:
Gull Lake Beach Resorts boasts charming cabins, and if staying on the lake is your goal, you won't want to miss Interlachen 18. Interlachen 18 is the resort's only lakefront vacation rental, and they make sure you'll enjoy every minute of it.
With plenty of tall windows that offer views of the lake, an outdoor grill, and an outdoor fire pit, you'll get to spend as much time enjoying the scenery as you want. The house also offers easy access to a boat lift and pontoon rentals, in case just being near the lake isn't quite enough.
---
Gull Lake Cabins with a Hot Tub
10. Causeway on Gull
Bedrooms: 2
Bathrooms: 2
Maximum guests: 10
Pets allowed: No
Price: $$
Last but not least is Causeway on Gull. Hot tubs can be hard to come by in cabins on Gull Lake, but Causeway on Gull has you covered! With an indoor hot tub and a fireplace, this may just be the coziest cabin on our list.
In addition to these amenities, Causeway on Gull is conveniently located near other things to do in the area! Whether you want to rent a boat or enjoy a nearby restaurant, this cabin has it all,
---
Tips for Booking the Perfect Cabin on Gull Lake
Ready to book your Gull Lake cabin, but not sure how to snag the perfect vacation home? Here are a few tips.
Read the reviews. In addition to our recommendations, check out what previous guests have to say! Sites like TripAdvisor collect reviews from people who have stayed at these Gull Lake vacation rentals so that you can hear from people just like you.
Consider your timing to get better deals. If your dates are flexible, you can often get a cheaper vacation rental by booking on weekdays or off-season. In Gull Lake, summers are popular, as is the winter ski season. Consider visiting outside of these dates, if you want to avoid the crowds and higher prices that come with them.
Know the house rules. When choosing your Gull Lake cabin, read the home's description carefully! Many cabins have rules about pets, smoking, and more. Do your due diligence to make sure there are no surprises!
---
The Perfect Gull Lake Vacation
No matter which Gull Lake cabin you choose, you're sure to have an amazing stay! Whether you prefer to relax and enjoy the views, go boating on the lake, fish from the dock, or ski nearby, there's a perfect cabin for you. Can't get enough of Minnesota's wonderful lakes? Visit our Lake Life page for more vacation, guides, tips, and places to stay!