Carp fishing in Minnesota isn't as popular as fishing for other species, but it's a challenge many anglers welcome with open arms. Carp and other rough fish aren't as appealing or tasty as popular options such as bass, walleye, or muskie, but they're a target nonetheless.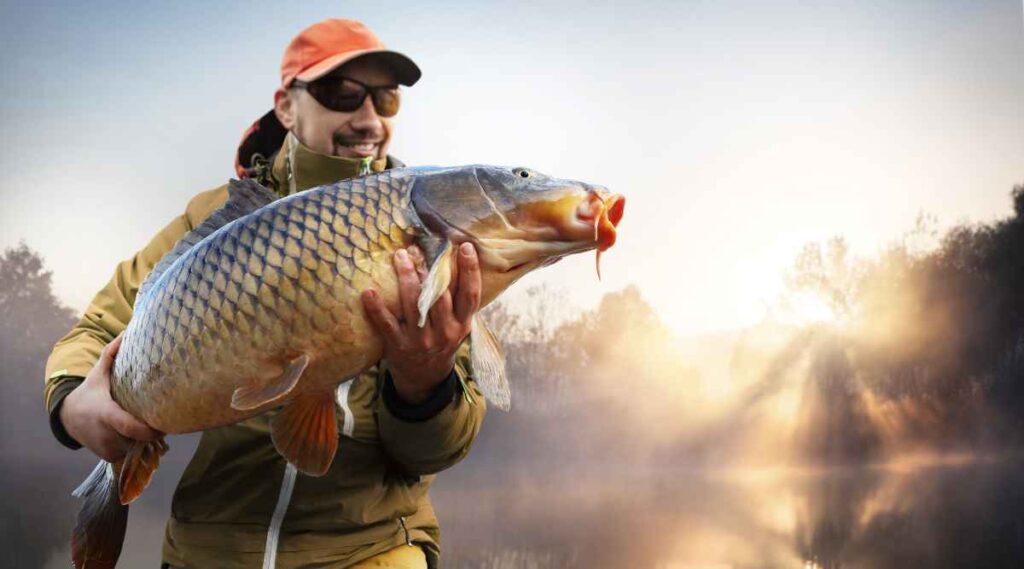 If you're looking to do some of the best carp fishing in Minnesota, you've come to the right place. This article will lay out more than ten of the best spots from north to south where you'll have the best chance of landing a monster carp.
Best Carp Fishing in Northern Minnesota
The Boundary Waters Canoe Area
We'll start our list of the best spots to do carp fishing in Minnesota with arguably the top spot. The Boundary Waters Canoe Area isn't just one of the best spots, but it also happens to be one of the most primitive and least populated.
However, the reason for its lack of visitors isn't that the Boundary Waters don't have carp. Rather, it's because the only way to get to the BWCA is by boat, which means that not everyone can get to the best areas.
If you have a way to get there, however, any of the many rivers and lakes that run through the BWCA, such as Lake Saginaga or Basswood, you're sure to catch a few monster carp.
Whether you use a bow and arrow or a traditional rod and reel, the BWCA is definitely a must if you're looking for the best carp fishing in Minnesota.
Mille Lacs Lake
Mille Lacs Lake is the second biggest lake in all of the Northstar State. It is also one of the best lakes for carp fishing in Minnesota.
Mille Lacs can be overwhelming at over 130,000 acres in size if you're not experienced with its waters. However, as long as you focus your time around the lake's perimeter near reed beds and foliage, you're sure to catch a few monsters.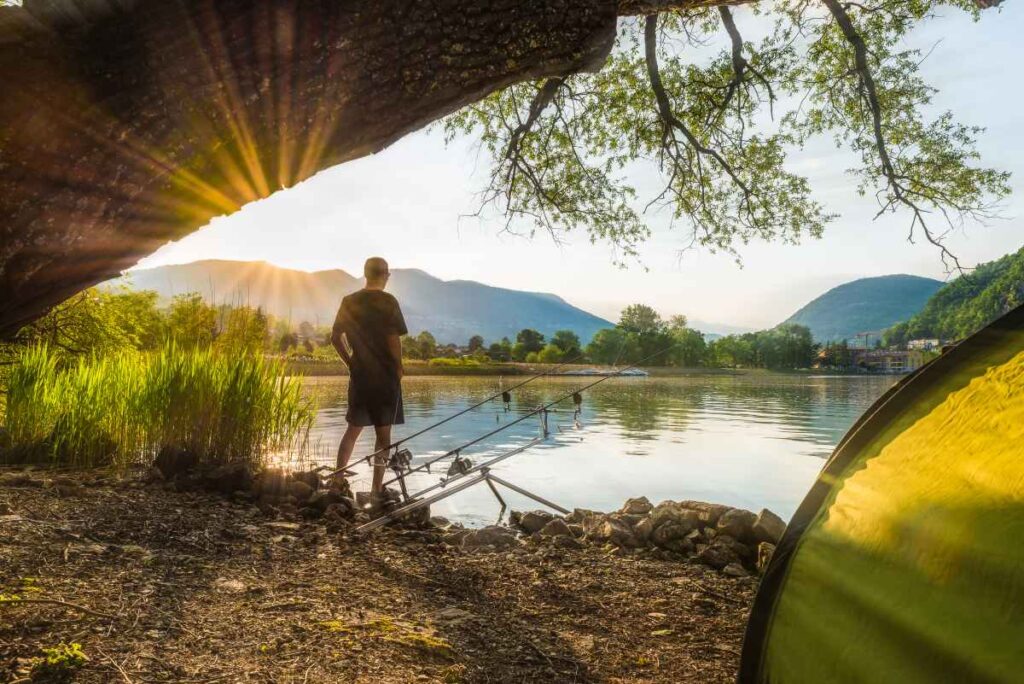 Carp in Mille Lacs Lake can weigh up to forty pounds and are surprisingly plentiful. If you're not having any luck around the perimeter of the shoreline, you should also check around the perimeter of some of the islands throughout the lake.
Lake Superior
When you're talking about the best carp fishing in Minnesota, you'd be remiss if you didn't include Lake Superior on the list. The great thing about fishing in Lake Superior is that if you aren't having any luck with carp, there are dozens of other fish you're likely to catch.
As in Mille Lacs Lake, carp in Lake Superior like to hug the shoreline in search of food. Carp are like the cleaners or janitors of the water.
While they eat small insects and plankton, carp will also eat grass, reeds, and anything else they can get their mouths on. You're sure to catch a few monsters if you choose the right bait and target the grassy areas around Lake Superior.
Best Carp Fishing in Central Minnesota
South Fork Crow River
Minnesota's South Fork Crow River flows mostly from east to west and slightly from north to south. It connects to the North Fork River on one side and the Mississippi River on the other.
Like all bodies of water that connect to the Mississippi, South Fork Crow River is a great option when carp fishing in Minnesota. In recent years, there have been more than 200,000 reports of carp being caught up and down the South Fork Crow River.
As in most cases, your best chances of snagging a carp in this river are in shallow, grassy areas. You should also target warmer waters that are heavy in vegetation and slow in current.
Sauk River, Cold Springs
The Sauk River in Minnesota runs from southwest to northeast and travels through a good chunk of the state. While the entire river is rife with good fishing spots, the area around Cold Springs is one of the best for carp fishing in Minnesota.
For the best and most fruitful carp results, focus on the area below the Cold Spring dam. For whatever reason, the area below the dam is jam-packed with carp, some of them getting into the thirty-pound range.
Once again, the entirety of the Sauk River holds carp, but they're extra concentrated around the Cold Spring dam area.
Clearwater Lake
If you're looking for another lake spot with some of the best carp fishing in Minnesota, look no further than Clearwater Lake. Clearwater Lake is located just northwest of Minneapolis, making it popular for city dwellers and outdoorsy folks.
Clearwater Lake is also just south of St. Cloud – which means it gets visitors from the north and the south. However, while Clearwater Lake is one of the busiest and most visited spots for carp fishing in Minnesota, it's also one of the best.
In addition to having vast numbers of carp in Clearwater Lake, there are also carp monsters roaming its waters. Historically, there have even been reports of carp being caught in the lake in excess of fifty-five pounds!
While you might not reel one in that big, you'll surely enjoy carp fishing success in Minnesota when you drop a line in Clearwater Lake.
St. Croix River
The St. Croix River is one of the longest rivers in Minnesota and serves as part of the border between Minnesota and Wisconsin. Technically, the St. Croix River is in both Minnesota and Wisconsin, but some of the best carp fishing in Minnesota comes on the shores of this river.
Carp are especially prevalent around the area where the St. Croix River joins the Mississippi River. The carp around this part of Minnesota often don't get quite as big as in other areas, but they're extremely plentiful.
If you're looking for bigger and more exotic carp, you can also find invasive Asian carp, which can grow to between 50 and 100 pounds. This fish, along with the silver carp, can each be caught in the St. Croix river and are considered invasive species.
Once again, target the shallow, warm river areas around the shoreline, preferably in grassy or reedy areas.
Best Carp Fishing in Southern Minnesota
The Mississippi River
As we've been saying all along, some of the best carp fishing in Minnesota is on and around the Mississippi River. Many of the lakes and rivers we've mentioned thus far connect to the Mississippi at some point or another.
In fact, the Mississippi River serves as the breeding ground and a major highway for carp to move about and reproduce. Since carp were first introduced to the United States midway through the 1800s, the Mississippi River has been primarily where carp live.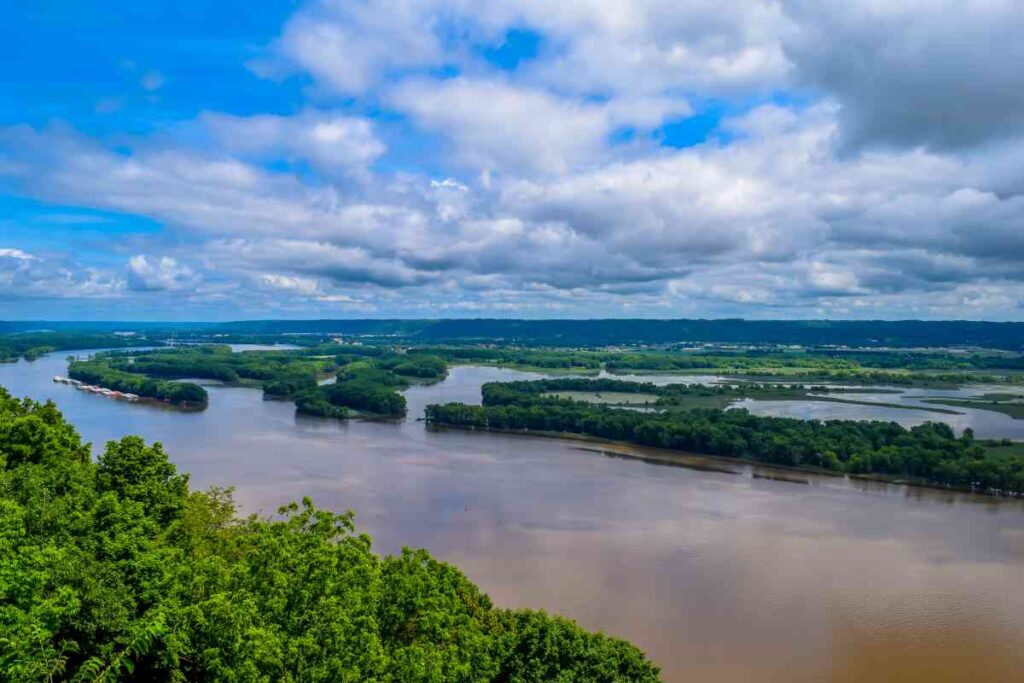 However, because of how long the Mississippi is, it's important to be deliberate on the locations you plan to target. While much of this river is covered in carp, you'll have more success if you're deliberate.
The best areas to target for carp are around the Twin Cities or wherever another major river joins the Mississippi. If you do target these areas, make sure to focus your attention on shallow areas of warm water where there's plenty of vegetation.
Lake Okamanpeedan
If you find yourself as far south as you can go in Minnesota along the Iowa border, be sure to give Lake Okamanpeedan a try. Lake Okamanpeedan is one of the southernmost lakes in the state and has some of the best carp fishing in Minnesota.
For the most success, you should focus on the inlets that flow in and out of the lake. Part of the reason that Lake Okamanpeedan is such a hotspot for carp is because of how shallow it is.
You can wade deep into the lake as long as your waders are on, and carp can be found throughout it. In fact, carp are so thick in Lake Okamanpeedan that there's a good chance one will run into your leg if you've got your waders on.
Lake Okabena
If you catch carp in Lake Okabena, you won't just be reeling in a monster fish. You'll also be doing the city of Worthington a huge favor.
Carp in Lake Okabena isn't just popular and widespread. They're so popular, in fact, that they're being targeted for removal from the lake because of their immense numbers.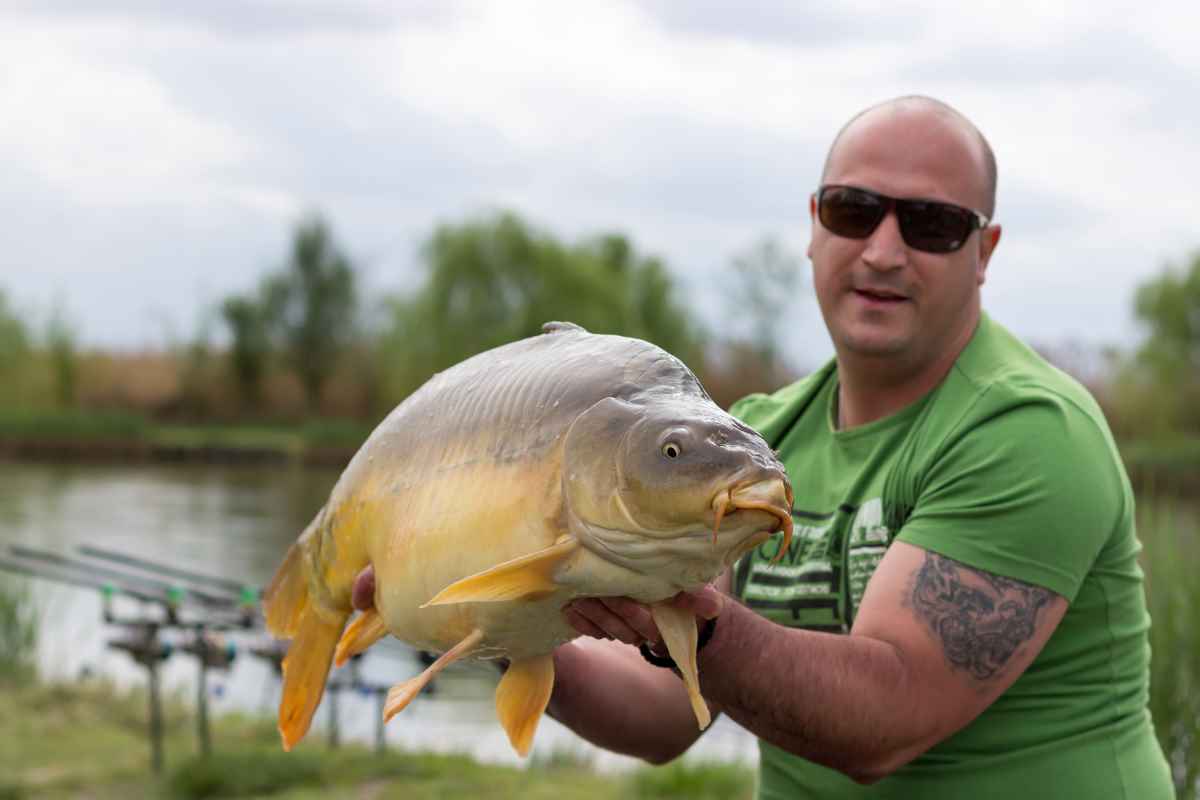 Although carp are considered a nuisance in most of the country, they're especially bad in Lake Okabena. While the locals can't stand them, their overrunning presence means that Lake Okabena has some of the best carp fishing in Minnesota.
The most common method for catching carp in Lake Okabena is with a net, but you can also enjoy success with a rod, reel, and doughballs or corn.
The Minneapolis Metropolitan Lakes
If you're in the mood for carp fishing in Minnesota and you happen to be in the Metropolitan area, you're in luck. The Metropolitan lakes around Minneapolis and St. Paul are some of the best for carp in the state.
The reason that the Metropolitan lakes are drowning (no pun intended) in carp is because the Mississippi River runs through the heart of St. Paul and Minneapolis. As such, any lakes that branch off of the Mississippi are bound the be plentiful in carp.
If you're not sure where to start, here are a few of the top options.
Lake Minnetonka
Lake Nakomis
Lake Prior
Lake Elmo
Lake Johanna
White Bear Lake
Bald Eagle Lake
In addition to these lakes, there are plenty more to choose from in the Minneapolis/St. Paul area.
Wrapping Up the Best Spots for Carp Fishing in Minnesota
Carp fishing in Minnesota isn't necessarily the state's main event, but it is increasingly popular. In most parts of the state, carp are considered both an invasive nuisance and a challenge worth undertaking.
They're one of the biggest and hardest-fighting fish in the state and are sure to challenge your fishing abilities.
Want to learn more about fishing, discover more fishing spots, and or read up on the best fishing gear? Then continue your fishing adventure with our comprehensive guides, info posts, and more!