Deer hunting is a time-honored tradition in Minnesota. Not only does it offer residents and visitors the opportunity to enjoy the outdoors, it's also a popular form of wildlife management.
White-tailed deer are prevalent throughout the state, allowing hunters to experience a quality hunting experience no matter their location. In addition to managing the deer population, this activity provides a sustainable source of healthy protein for many families.
Whether it's for sport or necessity, deer hunting is a big part of the outdoor culture in the land of 10,000 lakes. In this guide, we're going to be covering everything you need to know about deer hunting here in Minnesota. So, read on to learn more!
---
Before You Can Hunt
Deer hunting is a popular activity in Minnesota, attracting both local and out-of-state hunters to pursue the plentiful white-tailed deer found throughout the state. With a mixture of forested, agricultural, and urban landscapes, Minnesota offers diverse habitats and opportunities for deer hunting enthusiasts.
The Minnesota Department of Natural Resources (DNR) oversees and regulates deer hunting in the state, ensuring that the deer population remains healthy and sustainable. There are several key factors that hunters should be aware of in order to participate in Minnesota's deer hunting tradition.
Hunting Licenses
All hunters must obtain a valid deer hunting license, which can be purchased starting from August 1st. Licenses are available for different types of deer hunting, including firearms, archery, and muzzleloader hunts. It is essential for hunters to be knowledgeable about the specific regulations applicable to the type of hunting they choose.
The Minnesota Department of Natural Resources (DNR) issues hunting licenses and collects the applicant's social security number for non-commercial hunting or fishing licenses. Licenses can be purchased over the counter from various retailers, making it convenient for hunters to obtain their required documentation.
Deer Permit Areas
When obtaining a deer hunting license, hunters must declare the deer permit area (DPA) in which they plan to hunt. Minnesota is divided into numerous DPAs to manage deer populations effectively.
Each DPA has specific hunting regulations, bag limits, and lottery permits to maintain a healthy deer population and provide suitable hunting opportunities. The DNR has an interactive deer permit area map available on its website, allowing hunters to explore various DPAs, view additional roads, cities, and labels, and gather important hunting information.
For the current hunting season, the bag limit or lottery permits have increased by 12 DPAs, 80 DPAs have the same designation as the previous year, and 38 DPAs have reduced bag limits or lottery permits. The information, including specific bag limits and other season details, can be found on the Minnesota DNR website. It is crucial for hunters to be familiar with the DPA they plan to hunt in, understand the regulations, and ensure they have the necessary licenses and permits.
Firearms Safety
Hunters are also required to complete a firearms safety training course, ensuring they are adequately prepared and educated on hunting practices and safety measures. It is important to note that some deer management permits may also be required, depending on the hunting zone and specific conditions in place during a given season.
Scouting
It is recommended that hunters invest time in identifying and understanding deer movement patterns within the area they plan to hunt. This will help navigate terrain more effectively and increase the likelihood of a successful and enjoyable hunting experience.
CDW Requirements
In recent years, the Minnesota DNR has been taking measures to manage and monitor Chronic Wasting Disease (CWD) in deer populations. Some zones have mandatory CWD sampling requirements on opening weekends, which apply to deer one year and older.
Hunters should stay informed about CWD management efforts and adhere to any additional regulations in designated CWD zones.
Other Regulations
Hunters may not take deer with the aid or use of bait. This practice is prohibited to ensure a fair and sportsmanlike experience.
It is also essential that all hunters ensure their equipment is legal before stepping into the woods. Hunters using firearms to take big game must use legal ammunition and follow the specific hunting guidelines laid out by the Minnesota DNR. For example, legal bucks have at least one antler that measures 3 inches long or more. Fawn bucks, sometimes referred to as button bucks, are not considered legal bucks.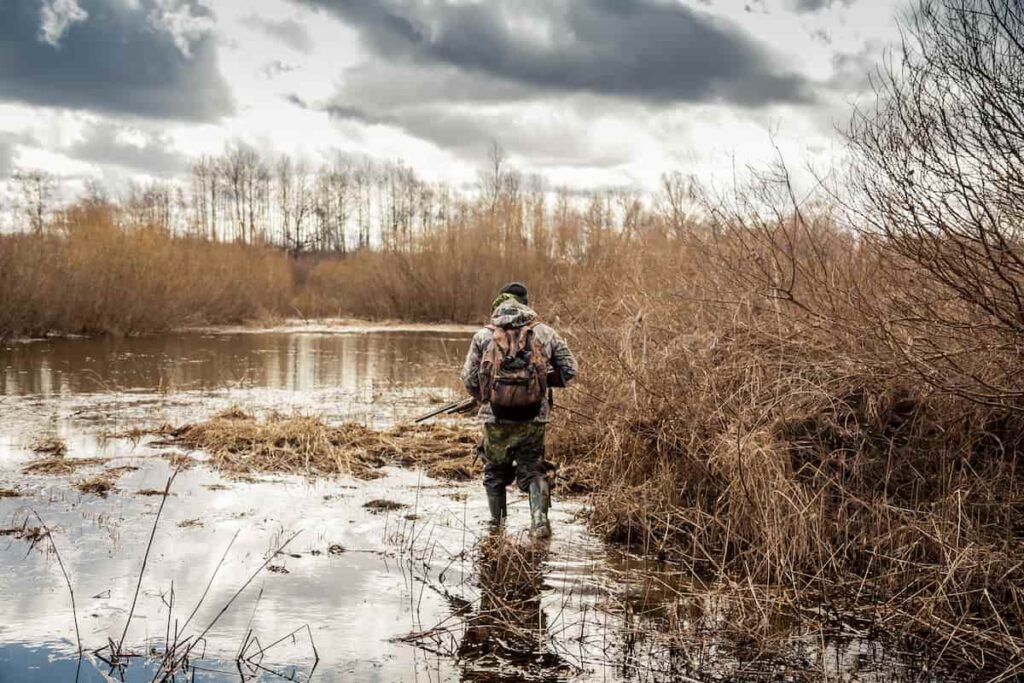 ---
Hunting Seasons
Archery Season
The archery season for deer hunting in Minnesota typically runs from mid-September to the end of the year. For the 2023 season, the dates are September 16th, 2023, to December 31st, 2023. During this time, hunters can pursue deer with archery equipment such as compound bows, recurve bows, or longbows. Keep in mind that a valid archery license is required to participate in this season.
Firearm Season
Minnesota's firearm deer season falls in November, and the specific dates vary depending on the Deer Permit Area (DPA). Hunters can use rifles, shotguns, or handguns to harvest deer during this time, and it's essential to be familiar with corresponding regulations and required licenses.
For the 2023 season, firearm hunting is scheduled for the following dates:
Firearm (A) – 300 Series: November 4th to November 5th, 2023
Firearm – Early Antlerless: October 19th to October 22nd, 2023
Firearm (B): November 15th to November 17th, 2023
Make sure to check the specific hunting zones and regulations, as they might change year-to-year.
Muzzleloader Season
Muzzleloader deer hunting provides a unique challenge for hunters who prefer using a muzzle-loading firearm. Minnesota's muzzleloader season usually begins in late November and runs for several weeks. If you plan to hunt during this time, ensure that you have the proper licenses and follow the specific rules set for muzzleloader hunting.
---
Special Hunting Opportunities
Youth Hunts
Minnesota offers special deer hunts for young hunters, giving them the opportunity to learn about and engage in deer hunting. The youth hunt deadlines vary, but the deadline for 2023 falls on Friday, August 18. These hunts typically include youth firearm and youth archery sections, targeting different age groups and skill levels while ensuring a safe and memorable experience.
Special Hunts
Special hunts take place in select areas within Minnesota to help manage the deer population effectively. These hunts usually require permits issued through a lottery system. In 2023, the adult hunt deadline is Thursday, September 7. Special hunts include adult archery, adult firearm, and adult muzzleloader categories, providing options for various hunting enthusiasts and allowing them to contribute to the state's wildlife management efforts.
Camp Ripley Hunts
Camp Ripley, a renowned military training site in Minnesota, allows archery hunts within its grounds. Crossbows, commonly used by hunters, are permitted in these hunts. The applications for Camp Ripley's archery hunts are open until Friday, August 18. This hunt is a single, three-day event that offers a unique opportunity for hunters to hone their skills at a state-of-the-art facility while helping control the deer population.
---
Safety Measures for Hunting
Prioritizing safety is paramount in having an enjoyable hunting experience. Adhering to the basic rules of hunter and firearms safety can significantly reduce the risk of accidents and injuries.
One essential precaution to take while hunting is wearing blaze-orange clothing. This brightly colored clothing makes the hunter easily visible to other hunters, thus reducing the risk of accidental shootings. It is advisable to wear at least a blaze orange cap and vest while hunting deer in Minnesota.
Ground blinds are also an important safety consideration when deer hunting. When using ground blinds, it is recommended to have a blaze orange safety covering on top of the blind that is visible from all directions or attach a patch made of blaze orange material measuring at least 144 square inches (12×12 inches) on each side of the blind. This requirement applies year-round on all public land, ensuring that other hunters can easily spot the blind and avoid accidentally firing in that direction.
Firearms safety is another key aspect to consider. Hunters should always treat every firearm as if it is loaded, never pointing the firearm at anything they don't intend to shoot. Additionally, it is important to keep the finger off the trigger until ready to fire and to be aware of the target and what lies beyond it.
Planning ahead and being familiar with the hunting laws and regulations in Minnesota is essential to ensuring a safe hunting experience. This includes knowing deer hunting season dates, relevant permits, and restrictions that may apply in certain areas.
By taking these necessary safety measures, deer hunters in Minnesota can help prevent accidents and create a more enjoyable and secure hunting environment for all involved.
---
Equipment and Ammunition
Archery Equipment
Archery equipment is a common choice for deer hunting in Minnesota. Bowhunters use a variety of bows, such as recurve, longbows, and compound bows. It is essential to select the right type of arrows and broadheads for effective and ethical hunting.
Firearms and Ammunition
Deer hunting in Minnesota can be done using rifles, shotguns, or muzzleloaders. The legal big game ammunition must meet the following criteria:
It should be at least .220 caliber
It should have center fire ignition
It should be loaded only with a single projectile
The projectile used must have a soft point or be an expanding bullet type
In special youth hunts in shotgun-only use areas and during special hunts or disease management hunts in Minnesota state parks, nontoxic ammunition is required. Alternatively, hunters can opt to remove all parts of harvested deer, including the entrails.
Crossbows
Crossbows are also a popular choice for deer hunting in Minnesota. They provide a powerful and accurate means of taking down game, while still requiring skill and precision. Crossbows may be used by hunters who meet specific medical exemptions or during particular deer hunting seasons. It is essential to understand and adhere to the legal requirements surrounding crossbow use to ensure ethical and responsible hunting practices.
---
Frequently Asked Questions
What are the MN DNR hunting regulations for 2023-2024?
In 2023, there are some significant changes in the hunting regulations. One major change is that hunters who purchase an archery deer license can use a crossbow throughout the archery deer season. Remember to check the official Minnesota Hunting Regulations document to stay up to date with all the regulations for 2023-2024.
Where can I find the Minnesota DNR hunting map?
You can find the Minnesota DNR hunting map on their official website. There are interactive maps and downloadable maps (PDF) available for your convenience. They provide valuable information on hunting locations and public land access.
What guns are legal for deer hunting in Minnesota?
In Minnesota, you can hunt deer using rifles, shotguns, or muzzleloaders. The specific type and caliber of gun used may vary depending on the area and hunting season. Always consult the Minnesota hunting regulations to ensure your firearm is legal and appropriate for the area and season you plan to hunt.
Where is the best hunting area in MN?
There are many great hunting areas throughout Minnesota, as white-tailed deer can be found all across the state. The best hunting area often depends on your personal preferences and hunting goals. Consult the Minnesota DNR hunting map to help you find a suitable location based on public land access and deer density in the region.
---
Time to Go Deer Hunting
Deer hunting continues to grow in popularity here in the land of 10,000 lakes, and as fall approaches, it is time to start gearing up for hunting season!
If you've never gone deer hunting or you're a seasoned veteran, we hope this was helpful in explaining all you need to know to start planning your hunting expedition!
Be sure to check out this post on Choosing the Best Camo for Deer Hunting!