No matter where you live in Minnesota, it seems that all roads lead to Duluth! The largest American city on Lake Superior, Duluth is a charming little town that makes good use of its stunning coastline.
Averaging 78 inches of snow a year, winter in Duluth is no joke. But when the season gives Duluthians snow, they make snowmen! Making the best of their long winters, Duluth's friendly locals fill the city's calendars with countless winter festivities.
We invite you to come up north and see what the season is all about! Keep reading to learn about 9 places and/or events you don't want to miss!
---
1. Festival of Holiday Lights
Grab a cup of hot chocolate, some cookies, and wander through a winter wonderland of over 5 million lights! From November 18th to December 26th, guests can enjoy Duluth's massive annual festival of holiday lights free of charge.
Bentleyville is truly a community effort. The impressive seasonal event is completely run by local volunteers and doubles as Duluth's largest annual food drive. In 2022, over 250,000 guests donated non-perishable goods and toys!
Bentleyville's hospitality lives up to the true meaning of what it is to be "Minnesota nice." With free shuttle services from parking lots, strollers for families, and complimentary refreshments for all guests? You'd be hard-pressed to find a more hospitable family event!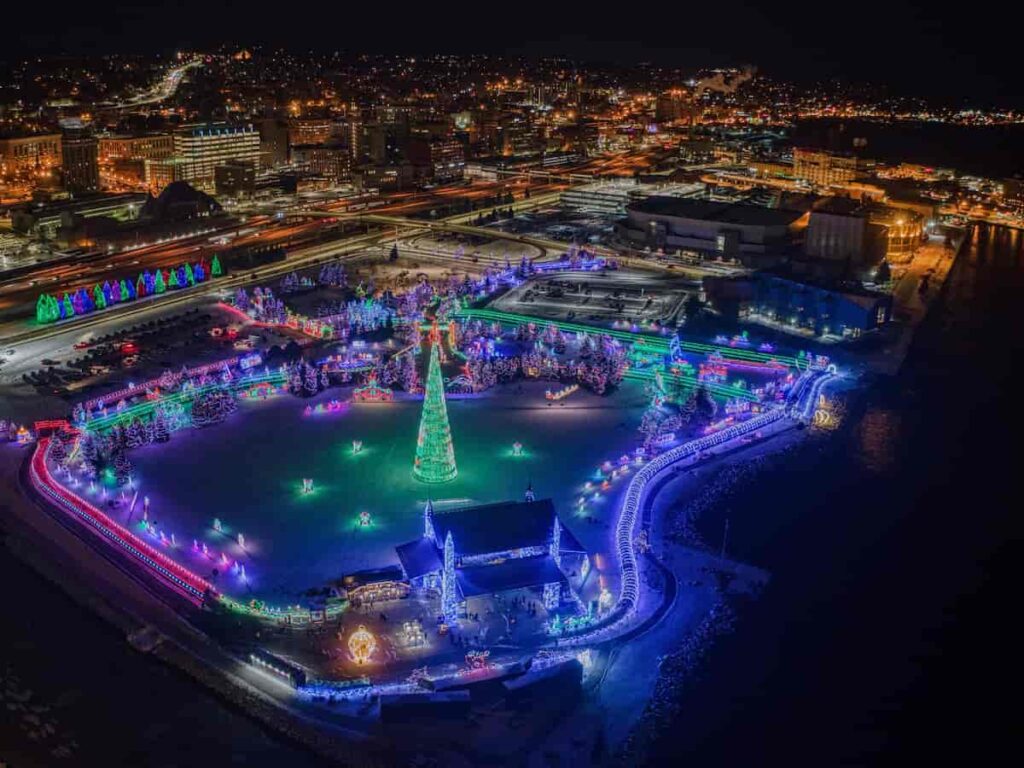 ---
2. Duluth Winter Village
Every first weekend of December the Duluth Convention Center and surrounding area transforms into a beautiful winter market, filled to the brim with local vendors, foods, treats, and alcoholic beverages.
Stroll around over 40 festively decorated custom wooden cabins, housing each of the festival's vendors. Visitors can enjoy their tasty treats as they peruse local goods, in a heated dining tent, or around a number of the provided fire pits.
In case all of the good food isn't enough, guests can enjoy carolers, a petting zoo, and ice skating in the convention center – all free of charge!
---
3. Spirit Mountain
Duluth is on a mission to become one of the nation's finest nordic ski trail destinations. Spirit Mountain is constantly expanding its world-class nordic trails, already offering around 24 kilometers of exceptionally groomed paths to explore.
Not sold yet? Adult skiers can rent all of their cross-country equipment and have a full day of access to the nordic trails for only $20 total.
Downhill skiers also can get their fix as they traverse down any of Spirit Mountain's four cleverly designed slopes, all with exceptional views looking over Lake Superior. If you're a more technical skier, Spirit Mountain also offers the Midwest's largest terrain park with solidly designed obstacles and great flow.
And for you folks that never plan on strapping on skis or a snowboard in their life? Embrace your inner child and drab a tube to rocket down one of Spirit Mountain's four well-groomed sledding slopes!
Truth be told, it's hard not to find something to like at Spirit Mountain, one of the best winter activities in Duluth!
---
4. John Beargrease Sled Dog Marathon
Witness one of winter's most iconic sports at the United State's premiere sled dog race. This 300-mile journey draws in some of the most renowned world-class mushers as they compete over the course of three grueling days in the ice and snow.
The John Beargrease Sled Dog Marathon is so well regarded that competing in it qualifies teams for the legendary Iditarod race in Alaska!
All checkpoints along the race route are made easily accessible for spectators and frequently offer opportunities for winter camping – in case you really want to get in on the action.
Live GPS tracking and checkpoint information is made available on the Beargrease website closer to the event date. Admission anywhere along the route is completely free, and a world-class veterinary team is on deck at all checkpoints to ensure the health and well-being of the canine athletes.
---
5. Cold Front Winter Festival
Let it snow! Let it snow! Let it snow! Every year, the city comes together to celebrate the best that a north shore winter has to offer. Free of charge, the Duluth Parks and Recreation organizes a plethora of family-friendly winter activities. Experience luge sledding, ice skating, Quinzee building, fat bike riding, cross-country skiing, curling, dog sledding, ice sculpting, and more!
With a number of available scheduled competitions, performances, and great food, you won't run out of things to do and friendly folks to meet! While a date has not yet been set, visitors can expect the event to take place on the first Saturday of February. Details and updates can be found on the Cold Front Winter Festival website.
---
6. Glensheen Historic Estate
Looking to get out of the ice and snow for a little bit? Explore the stunning Glensheen Historic Estate. A gem of Duluth, this 20th-century mansion has 39 rooms to explore and sits on over 12 acres of beautifully manicured landscapes.
Right on the shore of Lake Superior, Glensheen Mansion is one of the most visited historic locations in the state of Minnesota. Built at the turn of the century in 1905, the stunning estate offers a beautiful peek into the fascinating history of Duluth.
Costing over $800,000 to build in the early 1900s, the craftsmanship of the estate is jaw-dropping. From the stunning woodwork to artisanal stained glass windows, the architectural exuberance of this mansion tells the story of the rivalry between the Rockefeller and Carnegie families.
Owned, preserved, and operated by the University of Minnesota system, the estate offers self-guided tours curated by university historians.
The best part about going in the winter? The estate sets up an elegant light show for all to enjoy on the estate grounds. It's certainly a wonder to behold!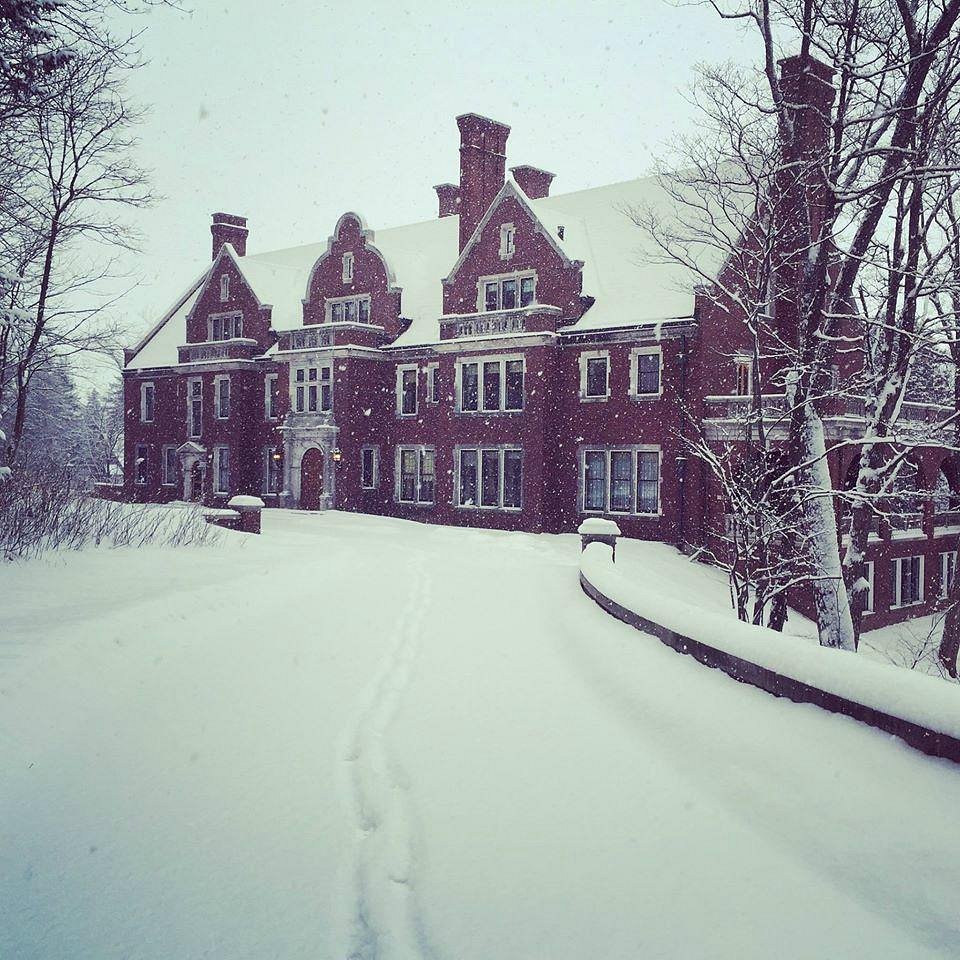 ---
7. North Shore Scenic Railroad
Have some young – or young at heart – railroad enthusiasts in the family? From November 24th to December 17th, the North Shore Scenic Railroad hosts the Christmas City Express.
Embark upon a 90-minute holiday journey beginning at the Lake Superior Railroad Museum. Shortly after you arrive, you'll be swept away by the holiday spirit as you're serenaded by carolers and treated to a performative reading of the Christmas City Express Story. (We hear there may even be a visit from the big man in red!)
The performance will be followed by a 30-minute scenic train ride with stunning winter views of Lake Superior as you're treated to complimentary hot chocolate, cookies, and live holiday music!
Passengers will have the option to purchase tickets for the classic coach car or the domed observation car.
Each night will have different performers, so make sure you check the website to pick the night that works best for you!
The event takes place 13 times a weekend, and tickets can be purchased directly from the North Shore Scenic Railroad Website. All aboard!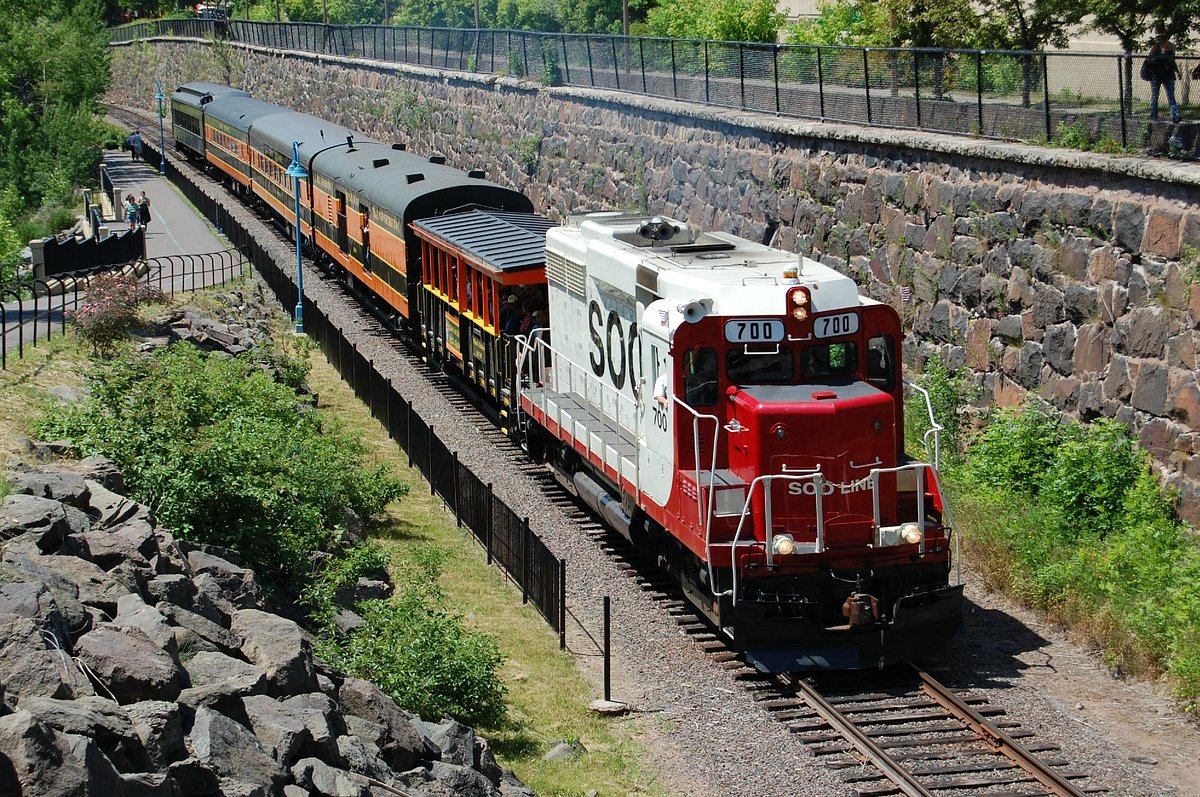 ---
8. Duluth Superior Symphony Orchestra
Don't let anyone tell you that you can't find class and culture up in the north woods! Duluth's world-class symphony orchestra offers affordable tickets and world-class music all season long.
Performing orchestral masterworks, operas, and pop concerts, the Duluth Superior Symphony Orchestra is not a musical experience to be missed.
Like many things in Duluth, the symphony orchestra is truly a pillar of the local community. If you're lucky, you may even get to enjoy the Symphony Chorus, composed entirely of volunteer musicians!
Keep an eye on the Duluth Superior Symphony Orchestra website for upcoming concert dates during your visit.
---
9. Duluth Harbor
When people think of Duluth, they often picture the famous aerial lift bridge over the Duluth Ship Canal.
Built in 1871, the Duluth Ship Canal was created to provide easier access from Lake Superior into Duluth's harbor.
Once a major mining town, Duluth was a battleground for some of the wealthiest barons of the 1900s. The canal put this industrious little town on the map, making it the largest trading port on the United States side of Lake Superior.
The Duluth Aerial Lift Bridge was built in 1905 and spans the entirety of the ship canal. Over 4,500 ships navigate under the bridge yearly!
Visitors can drive over the bridge toll-free and can enjoy an exceptional view of the famous landmark from Canal Park. The bridge operates 24 hours a day, 365 days a year, and is quite the sight when lit up throughout the night.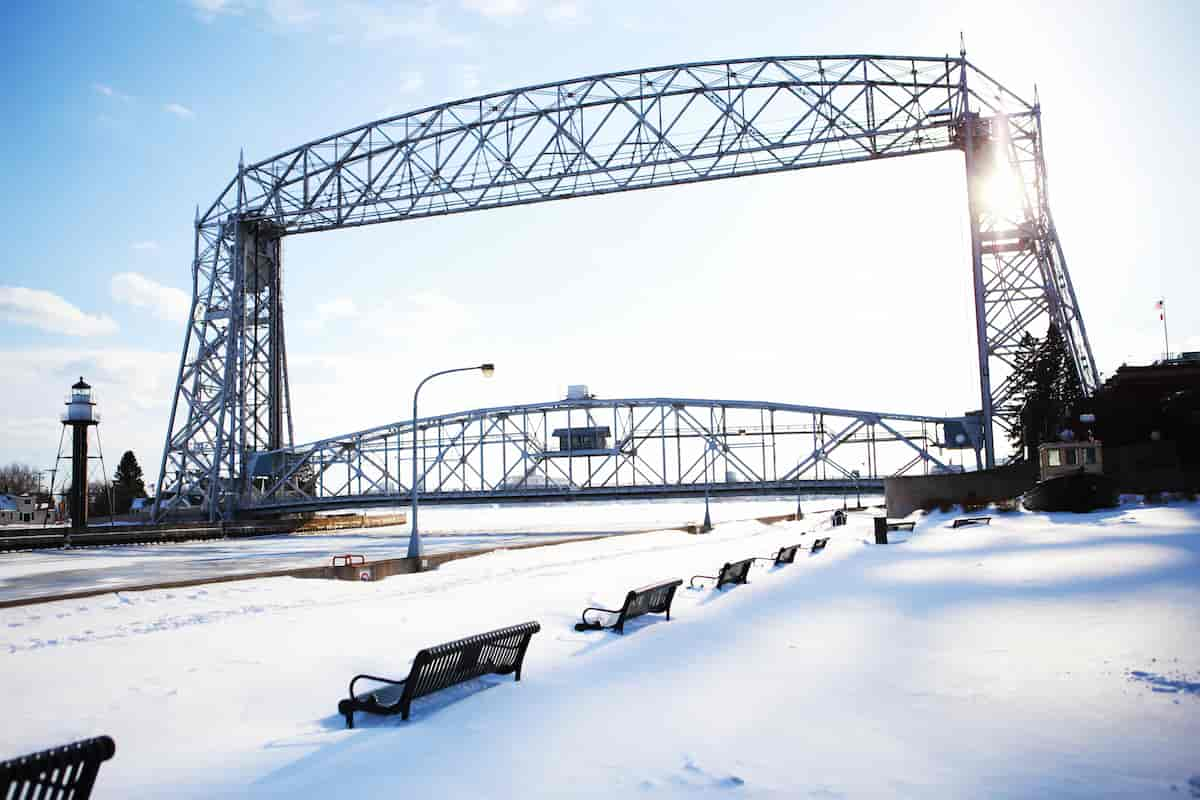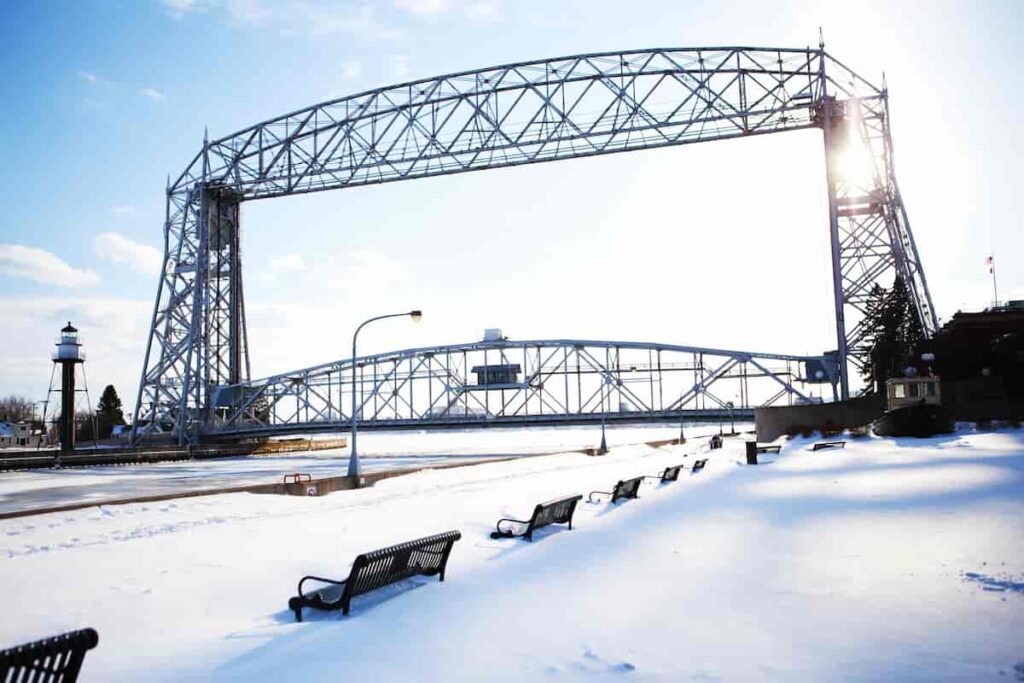 ---
A Midwestern Gem Unlike Any Other
Winter in Duluth is an incredibly special time of year. The clean air of the north woods is made even fresher by the crisp breeze off of Lake Superior.
Blankets of untouched snow, incredibly preserved wildlife, and friendly locals all make Duluth a must-visit destination for your winter travel.
Duluth is an incredibly affordable and unique hidden gem just waiting to be discovered. So get ahead of the game and make your trip up to the great north shore before the rest of the country figures it out!
Looking to explore some of Minnesota's incredible wilderness? Check out our article on 18 of the Best State Parks in Minnesota for Exploring the Great Outdoors!
About the Author
Latest Posts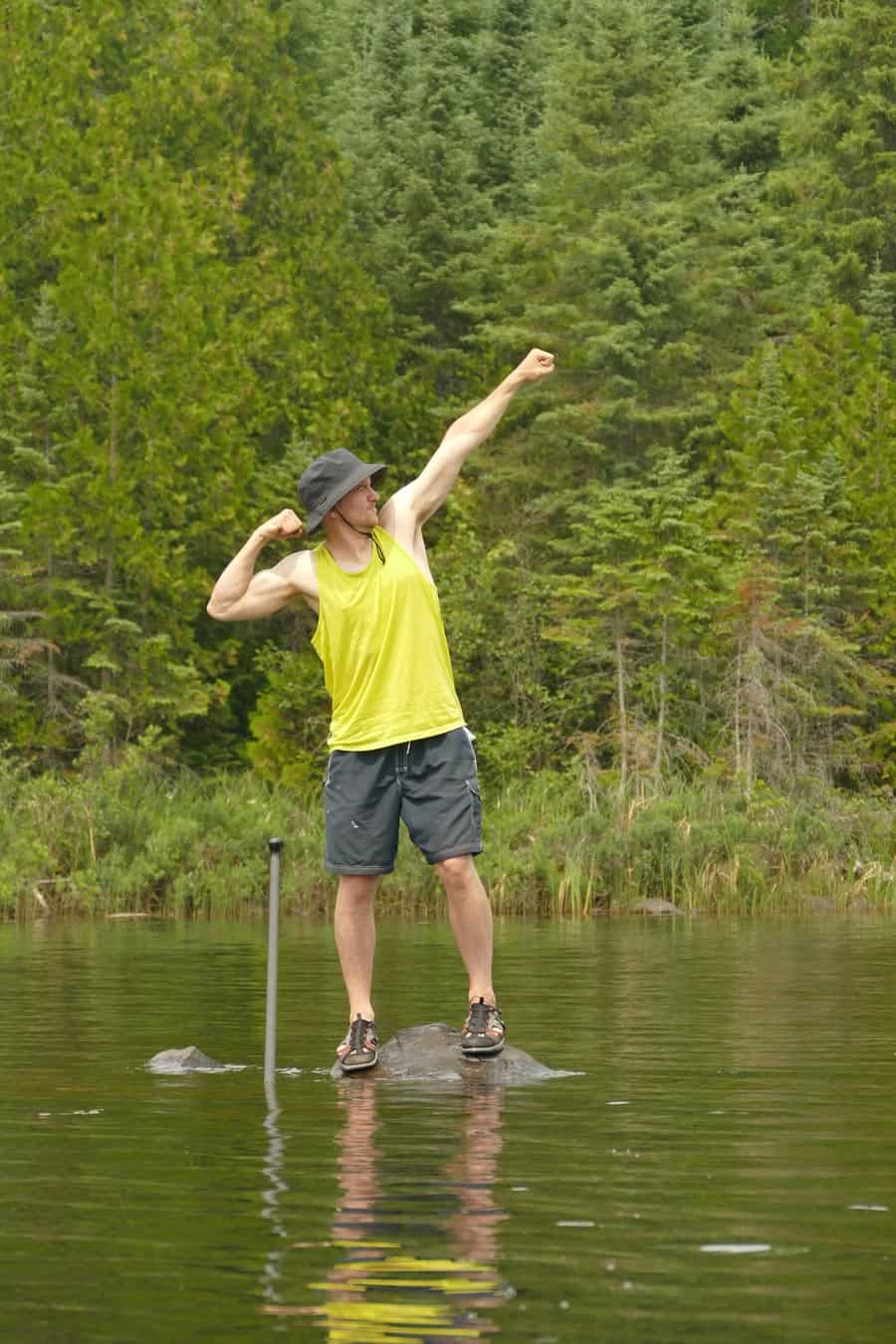 Born in Madelia, MN, to a now 5-generation Minnesota family, Ryan's MN roots go deep.
A painter by day, Ryan founded Life in Minnesota in 2013 with his wife Kelly to chronicle their musings on everything Minnesota. Ryan and Kelly are raising their 7 kiddos in Maple Grove, MN.
When he's not shuttling his kids around to hockey practice, you might find him in the shop working on his leatherwork. Undoubtedly, there will be a family trip to the Boundary Waters Canoe Area every summer, and of course weekends at Grandpa's cabin up north in the summer.