Flandrau State Park is 1000 acres of pure outdoor bliss. Formerly known as Cottonwood River State Park, Flandrau's prime location on the Cottonwood River makes it a popular destination for nature lovers.
Between camping, hiking, swimming, cross-country skiing, and much more, this park has something for you.
Keep reading to learn all about why Flandrau State Park is highly worth a visit!
---
How to Get to Flandrau State Park
Flandrau State Park is located in Southern Minnesota, nestled in the quaint town of New Ulm. The park is not far from Minneapolis/St. Paul area – the drive is slightly over one and a half hours!
If you're leaving from the Twin Cities, it's best to take I-35W S. From there, you'll exit onto I-494 W and follow signs to merge onto US-169 S, ultimately traveling on MN-15 S and arrive at Flandrau State Park.
If you're traveling to the park from the Rochester area, your trip will take you about two hours via US-14 W. Follow until reaching MN-68 W, where you'll ultimately end up on Co Highway 26 and reach the park. Following up-to-date maps or using a GPS is the best way to ensure accuracy and safety when traveling to Flandrau State Park.
---
Best Time to Visit Flandrau State Park
Flandrau State Park is beautiful throughout the whole year, with each season offering guests new opportunities. However, the best time to visit the park has got to be the summer!
During the warmer months, guests can enjoy a swimming beach, go fishing, take a trip down the Cottonwood River, and more. Camping is plentiful in the summer, and the park is a great place to gather with friends and family!
---
Where to Stay at Flandrau State Park
Camping
From drive-in sites with electricity to more rustic walk-in sites and even a couple of pull-through sites, Flandrau State Parks has plenty of options to suit your camping needs.
A semi-modern campground offers 17 sites without electricity and 34 electric sites that use 30 and 50-amp service. One of the electric options is wheelchair accessible. These sites are not very private, but can be a great option if you're looking to make friends with your campsite neighbors!
The rustic campground is a more secluded option for guests, offering 33 campsites and three walk-in sites. The walk-in sites are between 100-300 yards from the parking area. Vault toilets and a water handpump are available nearby.
There are two pull-through campsites, one with electricity and one without. The RV length limit is 66 feet, with measurements starting from the front of the tow vehicle to the rear of the vehicle being towed.
The semi-modern campground is open year-round, although there are a limited number of campsites during the winter months. The rustic campground closes in November and reopens in May.
Three shower houses, restroom facilities, and a dumping station are all seasonal amenities. Vault toilets are available for use year-round.
Cabins
If you prefer indoor lodging, Flandrau State Park has plenty of cabin space for you and your loved ones to rent.
The Stone Civilian Conservation Corps Cabin is a historic lodging option that once served as a kitchen shelter for the CCC. Open from mid-May to mid-October due to no heating or insulation, this cabin is ideal for two people.
Adorably named the Coffeetree Retreat and the accessible Hackberry Haven, these two camper cabins sleep six and five, respectively. Each cabin is available year-round and comes with heat, electricity, an outdoor grill, and a screened-in porch. Camper cabins and the Stone CCC Cabin are all a short walking distance from restroom facilities.
For larger family and friend groups, the Group Center (which housed German prisoners of war during World War Two!) is open from June to mid-September and makes a fantastic indoor lodging option. Eight two-room cabins can comfortably fit up to 100 people.
The cabins do not have heat or running water, but they share modern restrooms and a large kitchen and dining area. Each cabin has electricity and ceiling fans. Cabins do not allow pets.
How to Book
Campsite and cabin reservations in Flandrau State Park may be made up to 120 days in advance from the day you intend to arrive. Reservations may be made through the Minnesota State Parks and Trails website. Camping fees are separate from the park entrance fee.
To enter the park, a day pass is $7, or you can purchase an annual pass (valid for all 75 state parks in Minnesota) for $35, with $26 for a second vehicle and $12 for a handicap pass.
If you'd like to book the Group Center, you may make a reservation up to 12 months in advance by calling the park office.
What to Bring
If you are staying in one of the cabins in Flandrau State Park, don't forget to bring linens, bedding, and a pillow. For the campsites, make sure to bring all your favorite camping gear, including a tent, sleeping bag, and a flashlight. Firewood may be bought at the park.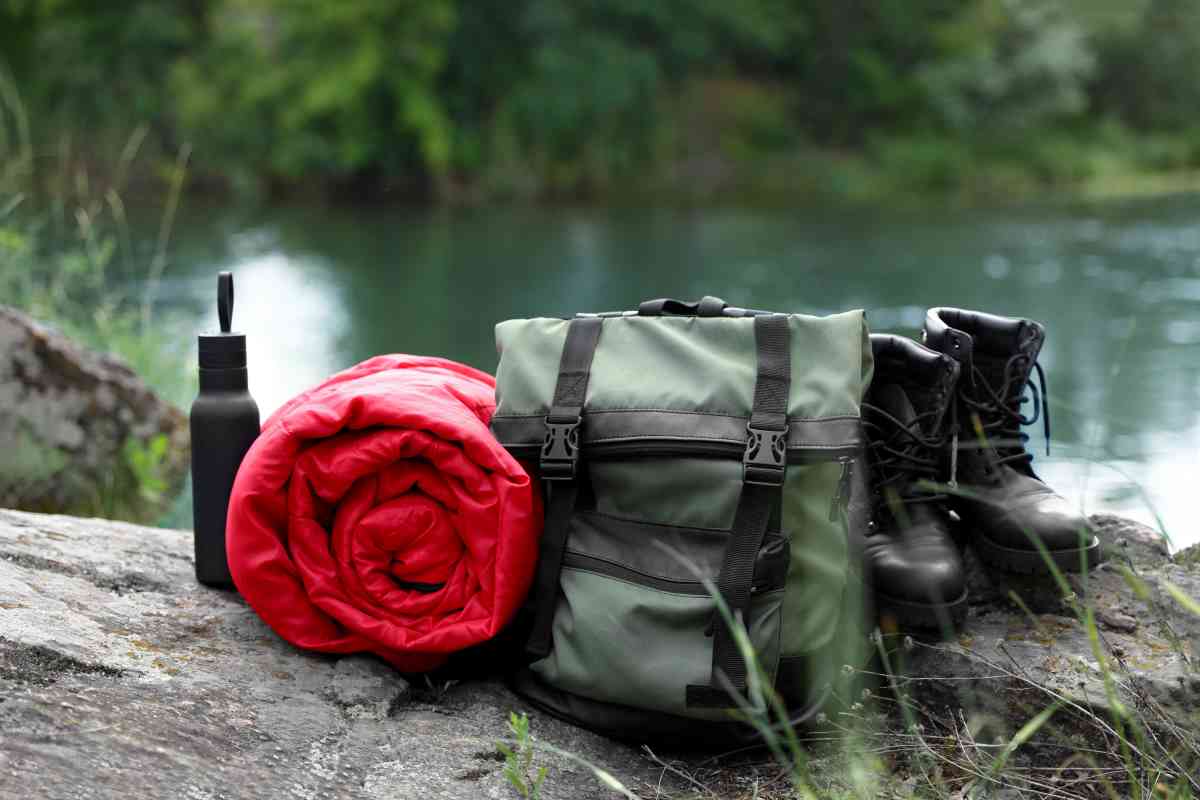 Sunscreen and bug spray are always recommended to bring with you outdoors, as well as sturdy shoes that can support you during long-distance hiking and walking. If you visit the park in warmer months, don't forget to bring a swimsuit! Visitors without swimsuits will not be permitted to enter the swimming pond.
Whether you're hiking, camping, or just want to relax during a day trip to the park, make sure to bring plenty of food and water.
---
Things to Do at the Park
Hiking
Flandrau State Park has eight beautiful miles of hiking trails that stretch throughout the park and give guests the chance to appreciate the tranquility of Minnesota's nature. There are three specific trails, all between 1.8 to 2.9 miles long. All of the hikes are relatively easy, with the longest 2.9-mile hike listed as one of the Minnesota Hiking Club trails!
Bikes are not permitted on Flandrau State Park hiking trails, but dogs are welcome as long as they remain on a leash.
Fishing
The Cottonwood River makes Flandrau State Park a great place to go fishing. Fish commonly caught in this river include Walleye, Channel Catfish, Northern Pike, Smallmouth Bass, and more!
If you're looking to try your hand at angling, make sure to bring your own fishing equipment, as the park does not offer any rentals.
Swimming
One of the most popular attractions in Flandrau State Park is the unique swimming beach. The sand-bottomed pond is chlorinated, giving guests a memorable experience that is fun for all ages.
The pond has a maximum depth of seven feet and has a wheelchair-accessible ramp. Guests may relax in the sand or choose to find shade under the trees or in a covered hut.
The pond is typically open from the first Friday in June to the third Sunday in August.
Other Activities
Other recreational activities at Flandrau State Park include sand volleyball courts, horseshoe pits, fire pits, and a playground for younger outdoorsmen.
In addition to swimming, the park offers carry-in boat access, where visitors can bring their canoes, kayaks, and paddleboards to float down the Cottonwood River. Guests must bring their own boats.
In the winter months, cross-country skis and snowshoes are available for rent from the park office!
If you'd like to host an event at Flandrau State Park, the Beachhouse Shelter is a large facility seasonally available to rent out for different occasions. The shelter has a great room and kitchen area, close proximity to the swimming beach and playground, as well as various outdoor picnic tables and a grill. Rentals may be made via the park office!
---
So Many Things to See at Flandrau State Park
With so many ways to enjoy Flandrau State Park, the only thing left to do is plan your visit.
Love spending time outside? Then discover the Minnesota Outdoors to continue learning new ways to reconnect with nature!