Minnesota is, without doubt, one of the top states in the US when it comes to shore and boat fishing. With thousands of lakes and rivers running through the state, there are nearly unlimited fishing options. Whether you're new to the game or you've been fly fishing Minnesota waters for years, this article will offer tips and tricks to increase your luck.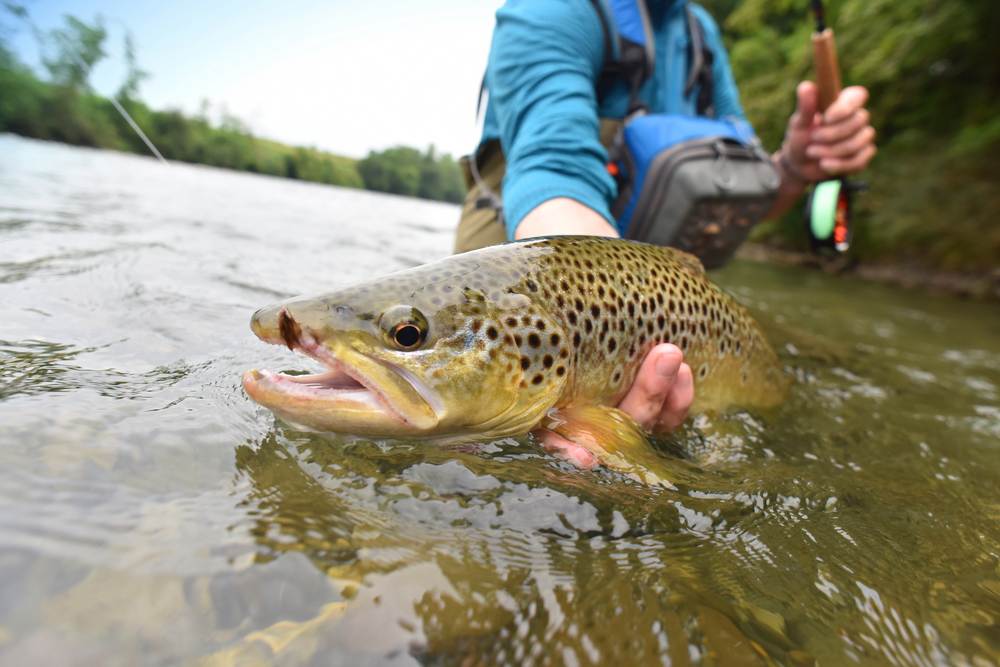 From the best baits to use and spots to try, our goal is to give you all the information you need for maximum success while fly fishing in Minnesota.
Best Areas for Minnesota Fly Fishing
The first thing you should know about fly fishing is that it's primarily done on rivers, streams, and brooks. While it's possible to fly fish on lakes, it simply isn't as popular of an option. There's nothing wrong with trying your luck on a lake, but you'll likely have more luck on a moving body of water with shallow depths since your bait isn't going to sink the way it does with other forms of fishing.
So, if you're looking for some of the best fly fishing Minnesota offers, here are some of the top spots to try.
Trout Run Creek
As the name indicates, Trout Run Creek is packed with the fish for which it's named. It's estimated that for every mile of river, there are between 2,000 and 4,000 trout. As such, you shouldn't have any trouble picking a few out of the water. There's also a good mix of rapids and fast-moving water versus slower spots.
Croix River
If you're looking for a wide variety of big and small fish to catch while fly fishing in Minnesota, the St. Croix River should be at the top of your list. The fish in this river range from smallmouth bass and trout to muskie and even sturgeon. The St. Croix River flows through eastern Minnesota and is one of the biggest rivers in the state aside from the Mississippi.
The waters are deep enough that you can alternate between shore fly fishing or getting into a boat.
Baptism River
The Baptism River starts in Lake Superior and flows through the northern part of Minnesota. It's one of the premier fly fishing rivers for various types of trout, including rainbow and brook, and it's also home to salmon. While there are many places you can fish the Baptism River from the shoreline, it's also a good place to strap on a pair of waders and get into the thick of it.
Cenaiko Lake
Like we said before, most of the top spots for fly fishing Minnesota are on rivers and streams, but Cenaiko Lake is an exception. This lake is dedicated exclusively to trout and is a prime spot for trout anglers. Because trout are a prime suspect for fly fishing, it's only fitting that Cenaiko Lake is one of the best lakes in the state to try your hand at fly fishing.
In addition to these four locations, there are thousands more to try your hand at in Minnesota. You'd also be remiss if you didn't head into the Boundary Waters Canoe Area and fly fish the 1,000 plus lakes and rivers in the protected wilderness.
Best Fish to Catch While Minnesota Fly Fishing
For the most part, people aim to catch small to medium-sized fish while fly fishing in Minnesota. However, there's no rule saying that you can't catch big fish while fly fishing and people do it all the time. The main reason that smaller fish are the main targets is that you're primarily fishing close to the water's surface, which is populated primarily with smaller fish.
Big fish tend to gravitate towards the cooler and safer waters in deep parts of lakes and rivers. However, they come closer to the surface in search of food, and if you're at the right place at the right time, don't be surprised if you haul in a monster. Here are some of the main fish species you can catch while fly fishing Minnesota waters.
Rainbow Trout
Brook Trout
Bluegill
Largemouth Bass
Smallmouth Bass
Brown trout
Muskie
Pike
Sturgeon
Catfish
Best Gear for Fly Fishing in Minnesota
If you're looking to get your fly fishing career started, you need to purchase the right gear. The gear and bait used in fly fishing are completely different from traditional fishing, and you'll essentially be starting from scratch.
The Accessories
The accessories that you use with fly fishing are very similar to all types of fishing.
Waders for getting into the water up to waist-deep
Sunglasses for eye protection
Waterproof boots or shoes
Insect repellent, as Minnesota is notorious for its mosquitoes
Forceps or needle-nose pliers for removing hooks from the fish
A variety of fishing hook sizes ranging from small to large
The Rod and Reel
The rod and reel you use for fly fishing are completely different from traditional fishing. For most versatile use, you should go for a nine-foot, five-weight rod and reel combination, as it will give you the best chance to catch all types and sizes of fish. This combo is especially prolific with trout, one of the primary targets when fly fishing in Minnesota.
The Flies
Rather than using bait while fly fishing, you'll use flies. Flies are meant to look, sound, and seem like insects that land on the water's surface and then fly away. Fish love to eat these types of insects, and when you cast your fly correctly, it mimics them perfectly.
There are two basic types of flies: sinking and floating. Floating flies are the ones you use when casting your line in and out repeatedly. You'll use a sinking fly if you know that the fish are feeding away from the water's surface. You can control the depth that your fly sinks and tweak the depth until you hit the jackpot.
How Does Fly Fishing Work?
With traditional fishing, you cast your line into the water with bait and weights attached to it. The goal is for the bait to sink to the necessary depths so that fish are attracted to it and bite it. However, with fly fishing, the bait that you use doesn't always sink but rather floats on the surface. The casting method is also different from fly fishing or traditional fishing. Here's a general idea of how to cast while fly fishing.
Start by unwinding around 15 to 20 feet of fishing line from your rod.
Ensuring that your line isn't tangled at all, hold the rod in front of you with your throwing hand.
Raise the tip of the rod up above your head quickly as if you're Indiana Jones using his whip.
If you do this quickly enough, the fishing line will follow.
Move the rod in a slight semi-circle above your head so that the line makes a half-circle during your cast.
Fling the front end of the rod forward in a traditional casting motion before the line has the chance to fully straighten out behind you.
The goal of traditional fly fishing is to cast the line back and forth on the water's surface quickly enough that the fly makes a splashing or popping sound when it strikes the surface.
The sound draws fish to the surface of the water, where they will attempt to nab your fly as it hits the water, similar to how they would with an actual fly.
Learning the different casting techniques is the trickiest part of fly fishing, but it's important to remember that you don't have to be an expert. For beginners, you simply need to learn enough to get around 15′ of line in and out and gradually increase the length as you get more comfortable. The farther you can cast, the more surface area of the water you can cover.
What Flies do I Need for Fly Fishing Minnesota Waters?
To enjoy the most success, you should use several different flies while fly fishing in Minnesota. Alternate between floating flies such as bugs and dry flies and sinking flies such as nymphs and streamers. The biggest thing to keep in mind is that you learn how to cast with both types of flies to maximize your odds.
Best Time for Fly Fishing Minnesota
As long as the water isn't frozen in Minnesota, there's no such thing as a bad time for fly fishing. However, the time of year you go fishing could impact the fish you'll catch. Most trout species, for example, prefer cooler waters which means that early spring and fall are the best times for trout fishing.
Other freshwater fish such as smallmouth bass, largemouth bass, bluegill, and perch prefer cool to warm water. Therefore, the summer months of May, June, July, and August are best for these types of fish.
Time to Try the Best Fly Fishing Minnesota Offers
As you can see, there's a lot you need to know if you have the goal of fly fishing Minnesota waters. The rod, reel, bait, and techniques you'll use are completely different than traditional fishing, but the amount of fish you catch and the fun you have will be the same. If you're a beginner willing to learn the tricks of the trade, you'll be a fly fishing pro in no time!
Want to learn more about fishing, discover more fishing spots, and or read up on the best fishing gear? Then continue your fishing adventure with our comprehensive guides, info posts, and more!
Can't get enough of Minnesota bodies of water? Then keep living the Minnesota lake life with the help of my info posts and guides!
About the Author
Latest Posts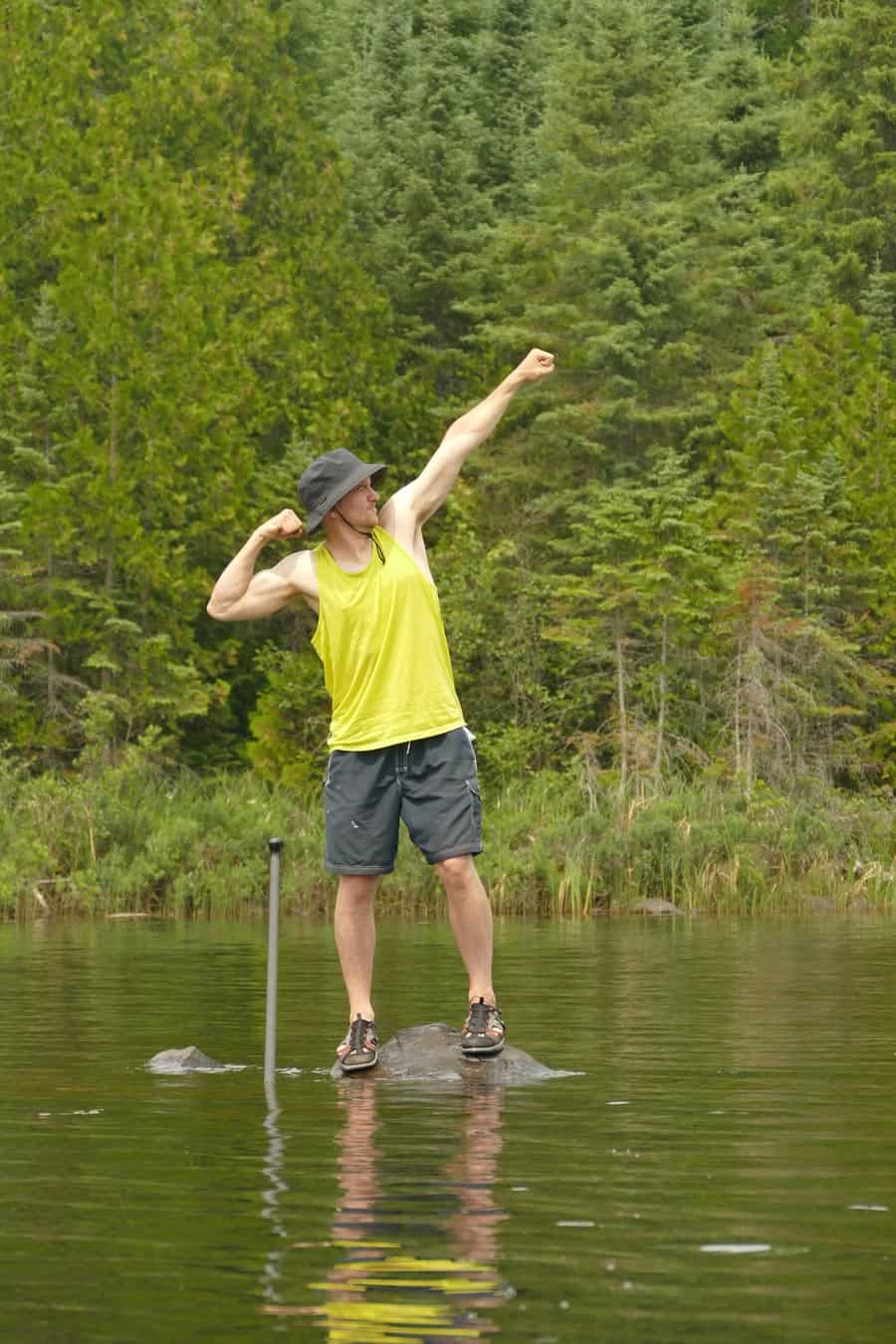 Born in Madelia, MN, to a now 5-generation Minnesota family, Ryan's MN roots go deep.
A painter by day, Ryan founded Life in Minnesota in 2013 with his wife Kelly to chronicle their musings on everything Minnesota. Ryan and Kelly are raising their 7 kiddos in Maple Grove, MN.
When he's not shuttling his kids around to hockey practice, you might find him in the shop working on his leatherwork. Undoubtedly, there will be a family trip to the Boundary Waters Canoe Area every summer, and of course weekends at Grandpa's cabin up north in the summer.