Every state needs a place where folks can retreat and be out in the very heart of nature—somewhere that perfectly captures all the beauty of the world and provides a fantastic retreat for families and people of all ages to take a pause and breathe. For the brilliant state of Minnesota, that place is Garden Island State Recreation Area!
Read on to learn more about all of the fun activities that await at this one-of-a-kind, island state recreation area!
---
Fun Facts About Garden Island State Recreation Area
There are a few unique things that set Garden Island State Recreation Area apart, making it a must-see location for nature enthusiasts and visitors from afar as well as those who call Minnesota their home!
First, and perhaps most important to know when planning a visit to Garden Island State Recreation Area, is that this remote, 734-acre island in the midst of Lake of the Woods cannot be reached except by boat.
No land bridges connect to the recreation area at all, and there are certainly no sounds of vehicles or road noise to break up the atmosphere! In fact, the island lies nearly 20 miles north of the south shore of Lake of the Woods, making it quite a journey to get there.
Because of its isolated nature, visitors will need to plan ahead for their travel plans to Garden Island State Recreation Area, and secure a watercraft before they make their journey out to the island. This can be an electric boat, or a kayak…whatever works best for the individual!
Given the island's far-flung setting, it comes as no surprise at all that Garden Island State Recreation Area has an incredibly remote atmosphere and is all but completely undeveloped. This makes it an ideal location to experience the beauty of nature in a safe environment with no distractions from nearby developments.
Another cool little detail about this State Recreation Area is that it's located the absolute furthest north of any land parcel in the Minnesota State Park system! This certainly sets it apart and makes it a fun bucket-list item for many to check off.
Folks should also be aware that Garden Island State Recreation Area is a day-use only park. There is no camping, RVing, or any other overnight accommodations at the Recreation Area, so one should plan accordingly when deciding when to visit and what time of day to arrive. This will help you maximize your time on the island!
---
When Is the Best Time to Visit Garden Island State Recreation Area?
Like its fellow parks and recreation areas in the lovely state of Minnesota, you will find there is plenty to enjoy at Garden Island State Recreation Area in all seasons!
However, due to its far northern location set within the heart of Lake of the Woods, it is also uniquely appropriate to be mindful of the cold weather conditions in the winter months before you strike off for an adventure at Garden Island State Recreation Area.
The good news is, there are things to enjoy at the Recreation Area in the wintertime! This includes snowmobiling across Lake of the Woods conditions or spotting the rare gray wolves who are most active on the island in the frigid winter months.
But you should be mindful of the brutal cold; visitors have compared wintertime at Garden Island State Recreation Area to an Arctic tundra! And, because Lake of the Woods freezes over in the wintertime, access by boat is also restricted; if you are planning a wintertime visit, you will need a snowmobile to reach the island.
If you have no interest in tangling with the colder weather this far north, you may want to visit Garden Island State Recreation Area in the summertime or springtime!
These are among the best seasons for a visit because, not only is the weather much more temperate, but there is simply more recreation to enjoy in the warmer months!
Because the island's landscape and geology lends itself more to low, sandy beaches and marshes and woodlands, the bulk of Garden Island State Recreation Area can be more easily navigated and enjoyed in the spring and summer.
The dense, uncultivated woodlands also offer some truly breathtaking, majestic views in the autumn months as well when leaves change.
Summer and spring offer a bevy of outdoor activities to enjoy, from hiking the shores and inland to swimming and fishing. Many visitors love to strike out in various watercraft to enjoy the crystalline waters of Lake of the Woods. All of these make the appeal in the warmer months much higher than in the cold!
---
Things to Bring to the Recreation Area
No mater what time of year you plan to visit Garden Island State Recreation Area, you will want to be sure you come prepared!
Due to the island's undeveloped nature and the lack of any towns, cities, etc. within 20 miles of the island's shores, it is particularly important to be mindful of bringing all the gear and items you will need—and ensuring they are in good repair.
This includes enough food and water for the day's visit, as well as a fully stocked first aid kit. Season-appropriate attire is also a must—and not just in the frigid months!
Since there is plenty of marshland and forest within Garden Island State Recreation Area, visitors are greatly encouraged to bring their insect repellant of choice.
In the warmer months, sun protection is also recommended. Sturdy footwear is needed for those exploring the Recreation Area's interior with its lack of cultivated trails, while appropriate swimwear and swimming safety gear such as life vests are highly recommended for those casting out on the water by boat, kayak, or canoe.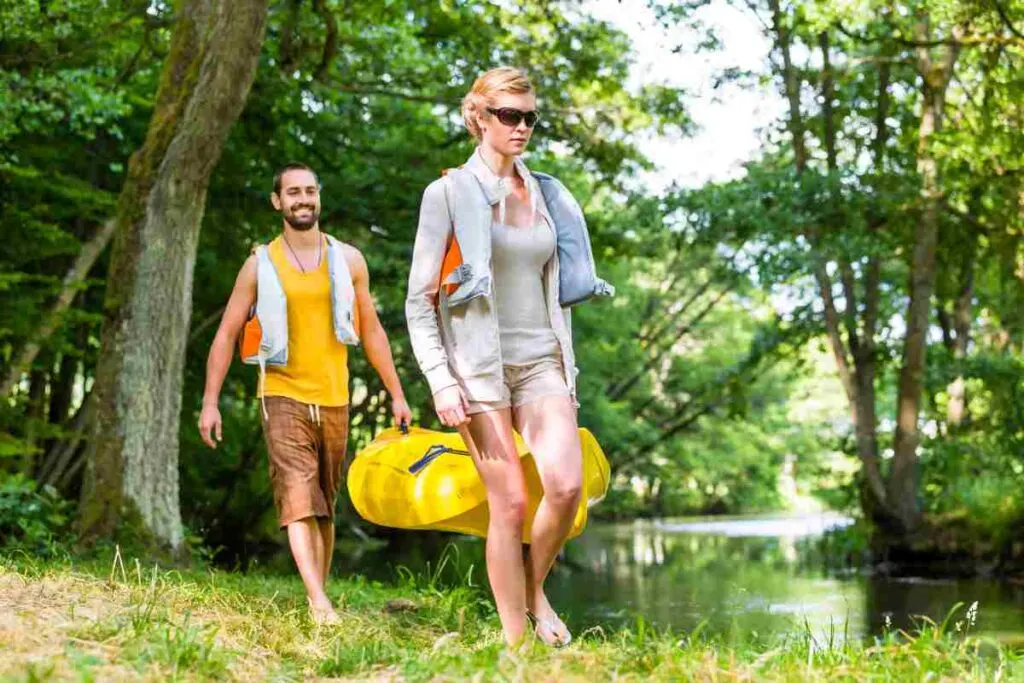 For those who are planning to take advantage of the wonderful fishing opportunities at Garden Island State Recreation Area, you will want to ensure your tackle is in good repair. Additionally, make sure you bring plenty of bait to last you the duration of your visit!
Folks visiting in the wintertime by snowmobile should ensure that their vehicles are in good shape and plan ahead for any issues that may need to be addressed. Always keep safety and preparedness in mind when packing for your visit to Garden Island State Recreation Area!
---
Things to Do at Garden Island State Recreation Area
Hiking
Though its undeveloped status means that there are no preset hiking trails within Garden Island State Recreation Area, this by no means requires folks to be limited to the shoreline!
Of course, traversing the miles of beaches along the coast of the Recreation Area is certainly something you can do—and many visitors come simply for the opportunity to walk alongside the water and take in the breathtaking wonder of Lake of the Woods!
However, if you prefer more inland hiking, you will find plenty of opportunities for that as well within the Recreation Area. Strike off into the island's interior to witness its variety of habitats and the untouched beauty of the natural world!
Just be sure to come prepared with good attire and footwear that can hold up to the undeveloped wilderness hiking offered by this Recreation Area.
Water Recreation
Given that it's an island, Garden Island State Recreation Area is understandably long on water recreation! Many folks enjoy docking their boats and casting off from the island, kayaking, paddling, and canoeing as well.
There is also plenty of opportunity to enjoy swimming in the chilly water for those who feel so inclined, while others may enjoy sunning themselves on the endless banners of sandy beaches, out of reach of that cool surf.
Fishing for walleye and other species of fish in Lake of the Woods has been an attraction to many an angler over the years.
Other Recreation
One of the biggest attractions at Garden Island State Recreation Area is the picnicking opportunities! There are plenty of spots where you can take in the scenery off the island while enjoying a packed-along meal.
In addition, there are grills along the shore where anglers can enjoy cooking up and serving their fresh-caught fish. It's truly an experience like no other!
Wildlife enthusiasts and birdwatchers often find great attraction in the undisturbed beauty of Garden Island State Recreation Area. This is an ideal location to spot many animals in their natural habitat.
This includes bears, deer, otters, foxes, beavers, minks, and more. In the wintertime, one is more likely to spot gray wolves moving about the island.
In terms of avian population, there is a particularly high number of shorebirds who call the Recreation Area home. This includes gulls, pelicans, cormorants, and terns.
Meanwhile, inland, there are several pairs of bald eagles who nest within the island each year, and various other birds who can be spotted throughout the Recreation Area especially during migration, when many stop over on the island when traveling north or south for the year.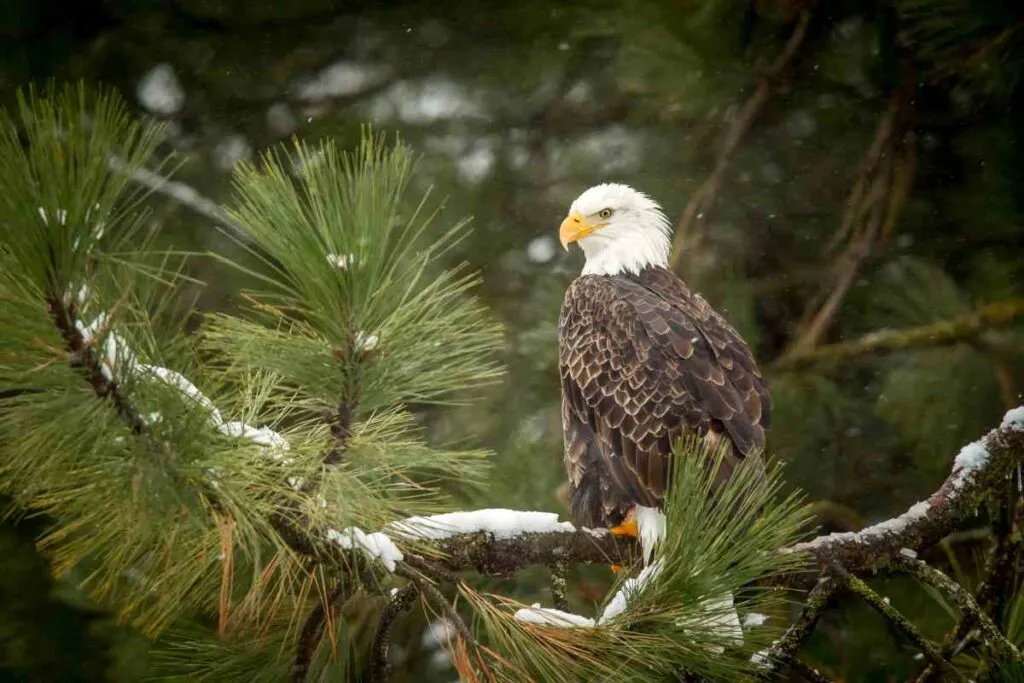 In the wintertime, snowmobiling on the frozen Lake of the Woods has long attracted cold weather sports enthusiasts, who will not often find a better span of open area for their snowmobiling needs! The island is part of the Ballard snowmobile trail, laying roughly 35 miles from Baudette and continuing up to Oak Island and the Angle Inlet.
Folks snowmobiling across the snow and ice of the lake can pause for a rest in the Recreation Area's shelter before continuing across the nearly-arctic conditions on the unbroken expanse of the lake.
---
Wrapping up Garden Island State Recreation Area
Before you take off for Garden Island State Recreation Area, you will certainly want to ensure you are prepared.
Love spending time outside? Then discover the Minnesota Outdoors to continue learning new ways to reconnect with nature!