Lovers of the beauty and power of nature, particularly as it pertains to water, will absolutely adore a visit to Grand Portage State Park in Minnesota—home of Minnesota's tallest waterfall!
Read on to learn all there is to know about this day-use state park, the best time to pay a visit to Grand Portage State Park, what to bring for your visit, and more!
---
How to Get to Grand Portage State Park
Grand Portage State Park can be found just a stone's throw from the border of the Canadian province of Ontario. This majestic park lies just south of Thunder Bay, on the shores of Lake Superior. Because of its far-flung, remote location, you have somewhat limited options in order to reach Grand Portage State Park.
Whether you are approaching from the south, such as from near the Minneapolis/St. Paul area, or from the west, such as from out near Grand Rapids, your approach to Grand Portage State Park will likely be largely the same. You will need to connect with Minnesota State Highway 61, the only major road that leads straight to the park.
Folks traveling up from the south can catch this state highway out of the Duluth area. From the west, you can take such major roads as State Route 2 in order to reach the Duluth area and meet up with State Highway 61 there as well.
It is always advised that you bring an up-to-date map or use a GPS when driving to Grand Portage State Park. This will help keep you apprised of any traffic issues, road closures, or other travel delays in the area at the time of your visit.
---
When Is the Best Time to Visit Grand Portage State Park?
The best time to visit Grand Portage State Park depends largely on what you most hope to get out of your time here, and what recreations you hope to enjoy during your visit.
However, ultimately, the largest draw at Grand Portage State Park for most folks is its majestic, breathtaking scenic views. This is particularly true of the High Falls and Pigeon River, a sight of awe-inspiring natural power for which Grand Portage is widely revered—and from which the area derived its name.
Due to the appeal of the park's scenery, and its many outdoor recreational activities, you may find that a visit in the summer or fall seasons would be best!
During the summertime, the stunning High Falls can be enjoyed in comfortable warmth. The weather is often ideal for hiking both the rugged and easy trails in the park, as well as for picnicking—both of which are incredibly popular recreational activities at Grand Portage State Park. This season also allows motorists to make the most of the 4-hour parking limit in the rest areas.
Meanwhile, in the autumn months, a visit to Grand Portage State Park will afford you the opportunity to bask in the splendor of the changing colors of the fall season. Photographers in particular have found these cooler months to be a fantastic time for capturing the riot of colors that change on the seasonal trees throughout the park.
However, those who choose to visit in the wintertime or in the spring season will not be disappointed with what Grand Portage has to offer! Snowshoeing and winter hiking on certain trails is permitted. And a visit in the spring can afford the opportunity to see more activity in some of the wildlife that calls this state park home.
---
Things to Know About Grand Portage State Park
Grand Portage State Park is a park for day use only. This means there is no camping or lodging available, and vehicle camping is also prohibited within the park. The park does contain a gift shop and a single rustic vault toilet open for use near the boardwalk that leads up to the falls.
This stunning state park is also home to the highest waterfall in all of Minnesota and is considered a landmark along the United States and Canadian border. It lies within the boundaries of the Grand Portage Indian Reservation. There are murals and interpretive displays that delve into the history of the Ojibwe people.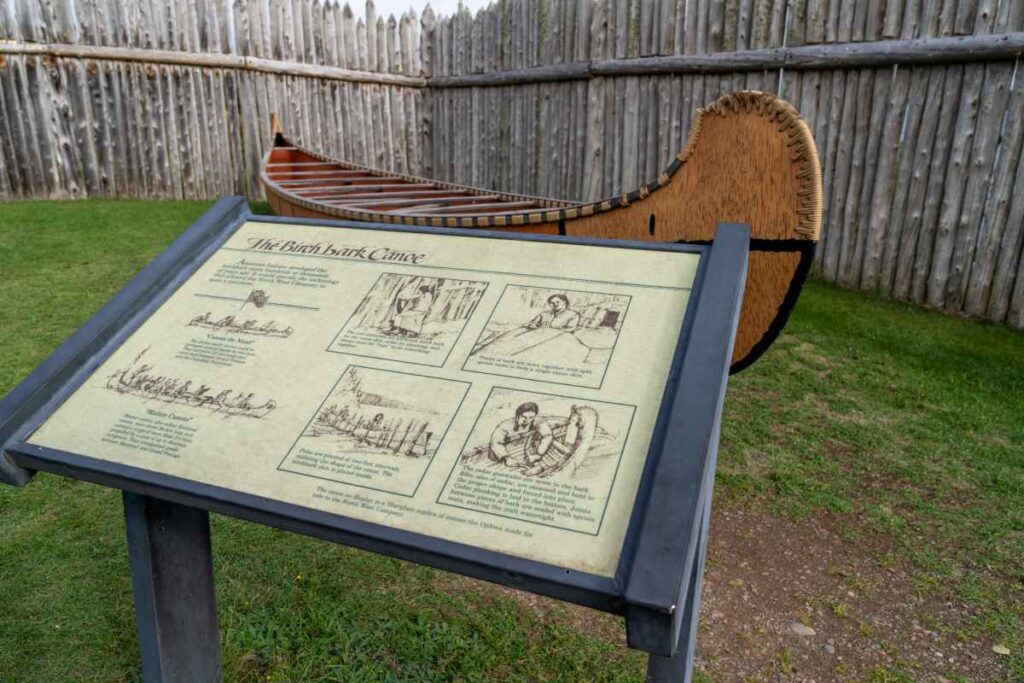 The terrain within Grand Portage State Park can be rugged, depending on what trails you take. It is advised for visitors to bring sturdy footwear and weather-appropriate clothing for whichever season they plan to visit. A working map and compass or GPS, a well-stocked first aid kit, and plenty of food and water are also wise to bring.
Summertime visitors will likely also want to pack along their preferred method of sun protection and insect repellant. Many insects frequent the waterside, and sunburn can happen easily near the reflection of the falls on the viewing decks.
---
Things to Do at Grand Portage State Park
Hiking
Hiking is one of, if not the most, popular recreation choice at Grand Portage State Park. The trails lead toward High Falls and Middle Falls. This includes access to High Falls's three prominent viewing decks, from which you can best enjoy the majesty of the waterfall.
During the summertime, there are several trails accessible. There is a 4-and-a-half-mile roundtrip trail, which goes to the stunning, 20-foot-high Middle Falls. This is considered a more challenging trail, as it winds through dense forestland and over the park's ridges.
However, the scenery is well worth the hike, as it offers not only beautiful views of the Middle Falls but also of the river gorge, Pigeon River itself, and Lake Superior.
In addition, there are two wheelchair-accessible trails that lead to High Falls, a total of a mile and a half between them.
Best known is the single-mile roundtrip High Falls Trail, which intersects with the park's boardwalk for the last 700 feet or so. High Falls Trail is paved, and the boardwalk leads to the scenic overlook at the falls, which allows for some of the most breathtaking views in the park.
The second wheelchair-accessible trail is the Picnic Trail, a half-mile loop trail that accesses a picnicking site.
Photography
It likely comes as little surprise that Grand Portage State Park and High Falls in particular are vastly popular among photographers. Whether you're an experienced photographer, an amateur photographer, or simply someone who loves to capture beauty with your phone camera, be sure to come prepared with your camera of choice at the ready! You are sure to witness some natural beauty you will want to remember forever after your trip to Grand Portage State Park.
Wildlife Viewing
There is also plenty to see for wildlife and bird enthusiasts visiting Grand Portage State Park! Along the small river islands and channeled bays that lie below the falls, bird species including osprey, great blue herons, and eagles make their home. Alongside them, beavers, moose, and otters can often be spotted frequenting the shores and swimming in the water.
Throughout the park, you may also have the chance to spot black bears, white-tail deer, and other various small mammals and birds roosting throughout the hardwood-conifer forests.
Other Recreation
For folks visiting Grand Portage State Park in the wintertime, the High Falls Trail and the Picnic Trail are both open for easy snowshoeing. This is a great chance to continue to enjoy the beauty of the park even in the cold months!
The Middle Falls Trail is also open for snowshoeing in the wintertime. However, due to the trail's difficult terrain, it is advised that only experienced snowshoers attempt to snowshoe on Middle Falls Trail.
---
Wrapping Up Grand Portage State Park
Are you excited to make some memories and have your breath taken away by the beauty of Grand Portage State Park? Make sure you are prepared for your visit by first checking out our Best Products page! This is the perfect place to make sure you're outfitted for your state park visit and show your Minnesota pride!
Love spending time outside? Then discover the Minnesota Outdoors to continue learning new ways to reconnect with nature!