For nearly a half-century, Hayes Lake State Park in the far northern part of the state near Roseau has been a haven for hiking, fishing, and birdwatching.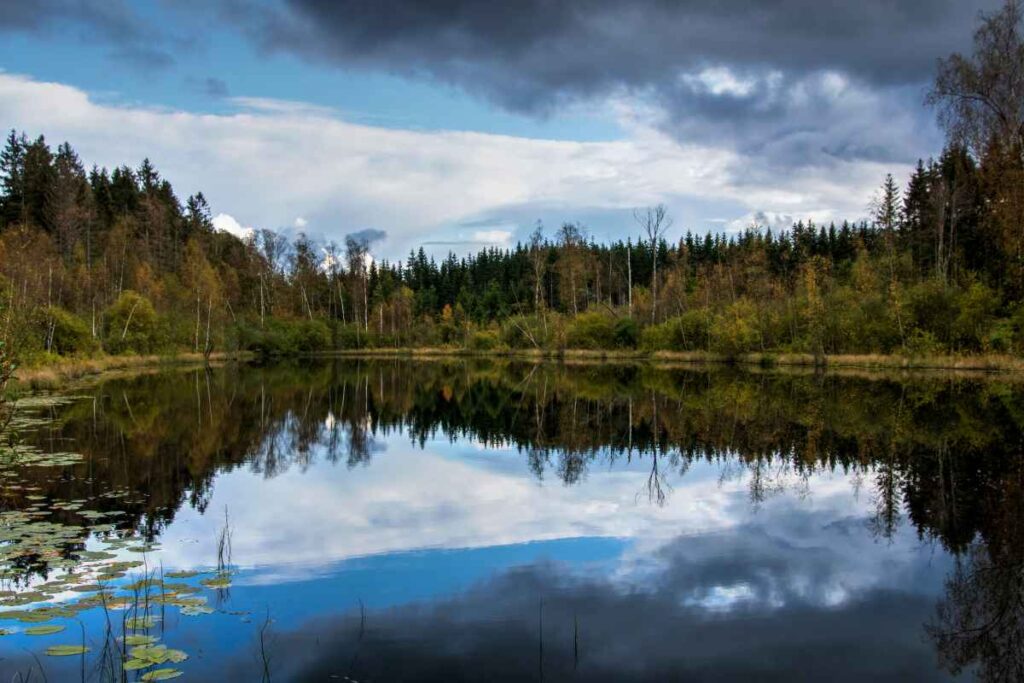 And don't be surprised if your visit to this 3,000-acre park in the Beltrami Island State Forest includes sightings of moose, otters, bobcats, timber wolves, or even black bears, along with the more common wildlife in the park like deer, foxes, and raccoons.
There is, of course, much more to learn about this sprawling gem of public land. Read on to find out more about how you can enjoy Hayes Lake State Park.
How to Get to Hayes Lake State Park
Hayes Lake State Park is located about as deep in northern Minnesota as you can go without crossing into Canada, but it is nonetheless readily accessible.
For instance, the park is just slightly more than 100 miles from Bemidji, making it an easy day trip along a straight set of US, state and county highways.
If you're traveling to the park from Minneapolis-St. Paul, you'll be taking a trip of about six hours, but with a number of Interstate or state highway options to make the drive as painless as possible.
One bit of warning, though: No matter what route you take to Hayes Lake State Park, you'll be on an unpaved road for the last two miles as you traverse the northern side of the park a short distance above the lake.
When Is the Best Time to Visit Hayes Lake State Park?
If you could choose only one time of year to visit Hayes Lake State Park, going in the fall would be a great decision. Despite the fact that the park is so far north in Minnesota, the riot of colors as the leaves change with the season will be worth the trip.
But there are other charms to the park, no matter what time of year you choose to visit. The park is open year-round, so you'll have plenty of time to experience it, and perhaps you'll want to visit more than once.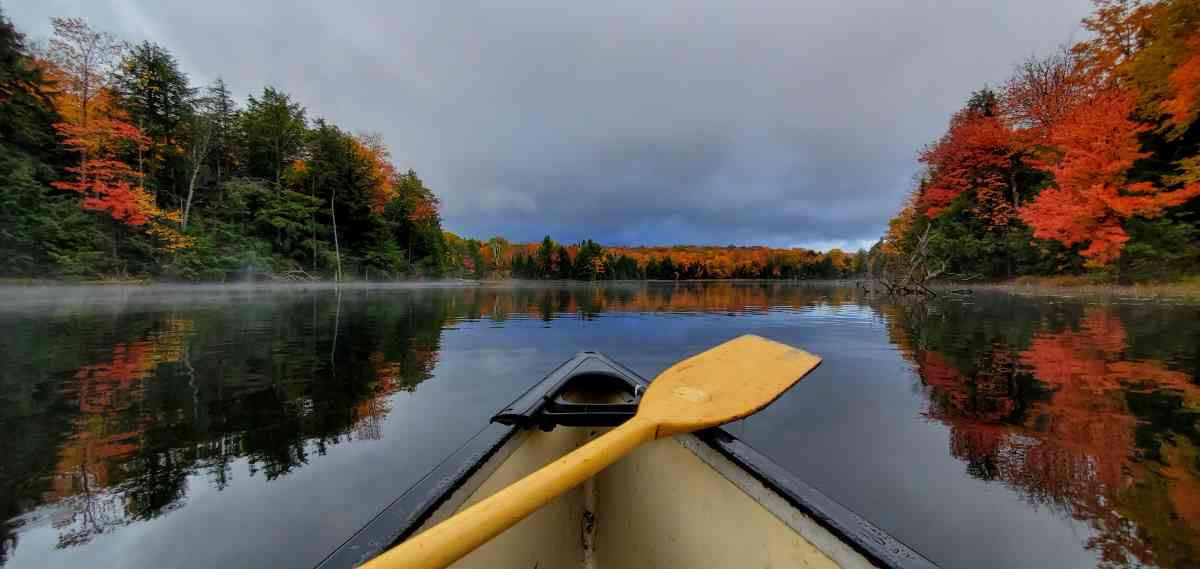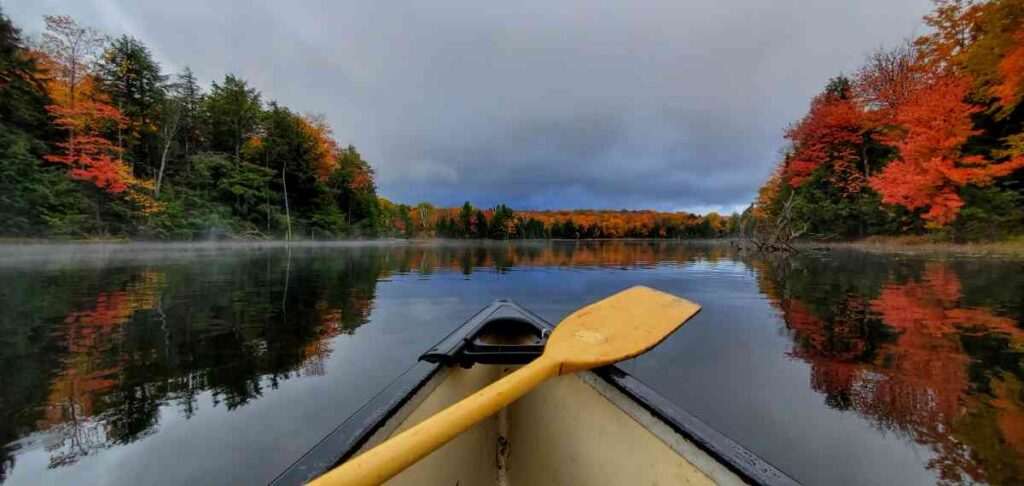 In the summer, there are lots of different ways to enjoy Hayes Lake State Park, whether you're interested in fishing, hiking, mountain biking or simply delighting in the natural world in which you'll be immersed.
During winter, Hayes Lake State Park is a great place to do some cross-country skiing, snowshoeing, snowmobiling and ice fishing.
And throughout the year, the park is unparalleled as a place to do some serious birdwatching, as there are 200 different bird species that make a home on and around the lake.
Where to Stay at Hayes Lake State Park
Camping at Hayes Lake means taking advantage of an array of options available for spending some up-close time in the natural world.
For your convenience, camping spots at Hayes Lake State Park and other Minnesota state parks can be reserved online. Reservations can be made 24 hours a day, and as far in advance as 120 days prior to your arrival date.
Campsites
There are 35 drive-in campsites at Hayes Lake State Park, all wooded and well-screened from neighboring campsites. Eighteen of the 35 sites are equipped with electrical hookups.
If you're traveling in a recreational vehicle, or towing a camping trailer, you should know that there is a length restriction for campsites. Single vehicles, or vehicles towing trailers, can't exceed 40 feet in length. In the case of trailers, length is measured from the front of the tow vehicle.
Cabins
There are two camper cabins at Hayes Lake State Park. The cabin called Camp Three sleeps six people and the Timberline cabin, which is accessible to people with handicaps, sleeps five.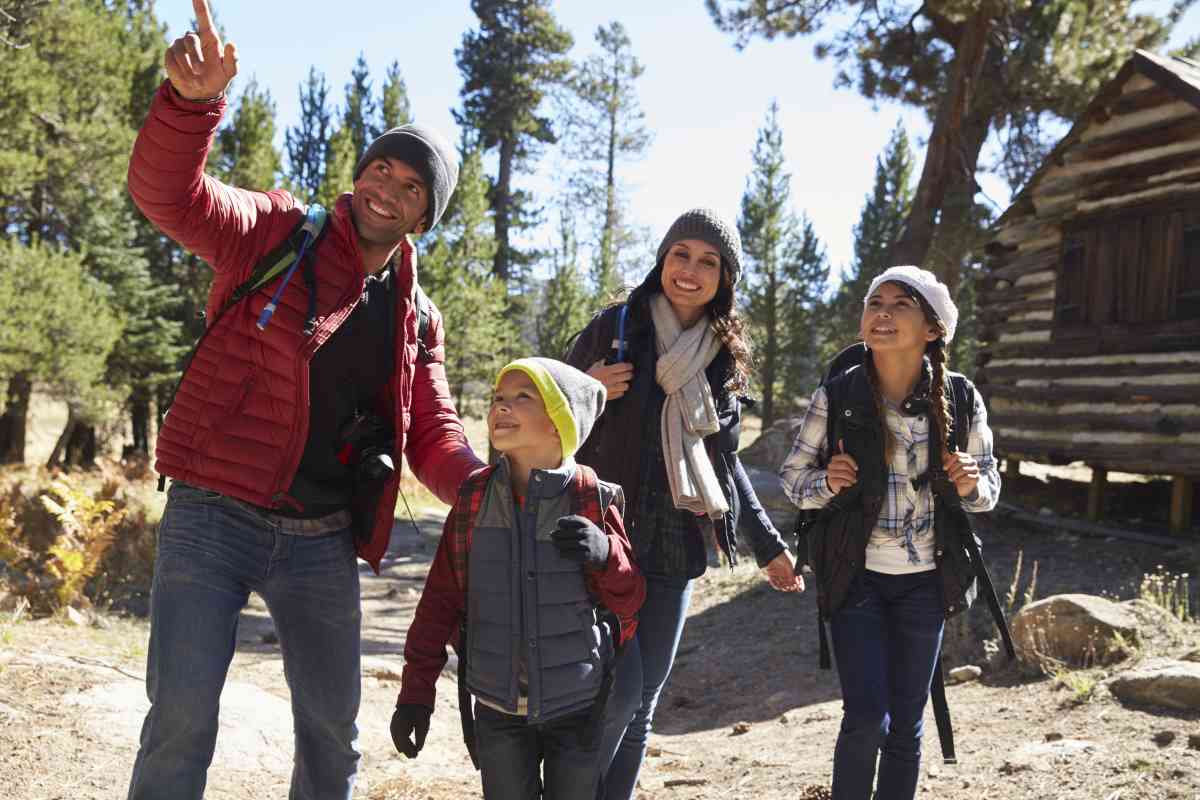 As at other Minnesota state parks, the cabins at Hayes Lake State Park are 12-by-16-foot wooden structures outfitted with a table, benches, and wooden bunk beds with mattresses. The cabins don't have indoor plumbing but are located near campgrounds where restrooms and showers are available.
Backpacking
Hayes Lake State Park also has two backpacking sites available for campers who might want to hike or canoe into a place to spend their nights. Both backpacking sites are located on Hayes Lake, and for the less adventurous hiker, are located within an easy walk of parking spaces.
Other Details (Timing, Vehicle Permit, Year Pass, Etc.)
Camping is available at Hayes Lake State Park from Memorial Day to Labor Day. If you're planning a lengthy stay, you might want to consider purchasing a $35 year-round vehicle permit, which provides unlimited access to all 75 Minnesota state parks, as an alternative to the $7 daily parking pass.
Campsites at this state park and other Minnesota state parks range from $20 to $25 per night, while cabins are available for $75 to $90 per night.
There is a $7 fee for reserving a campsite online and a $10 fee for making a reservation through the state call center at (866) 857-2757.
Things to Do at Hayes Lake State Park
1. Hiking Around Hayes Lake
There are more than 15 miles of hiking trails at Hayes Lake State Park. Thirteen miles of trail take visitors through wooded areas along the shores of Hayes Lake and the Roseau River.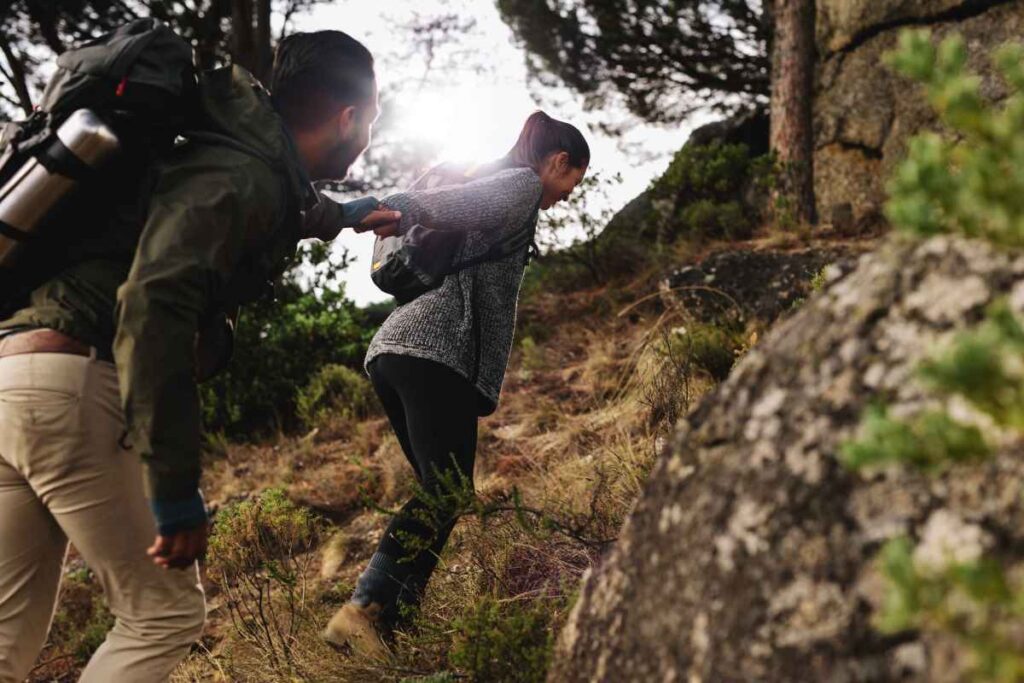 The remaining couple of miles of trail in the park are contained in the Pine Ridge Interpretive Trail, which goes from the campground to the main picnic area, and the History Trail, which starts at Hayes Dam.
2. Fishing at Hayes Lake State Park
Hayes Lake State Park was established in 1967. Fishing was always a part of the plan for this recreational area because water-based recreation had previously been established as a priority for that part of northern Minnesota.
Today, the manmade lake supports populations of crappie, sunfish, largemouth bass, and northern pike. Anglers have access to a boat ramp and wooden dock to get out into Hayes Lake, but only electric motors are allowed on boats to keep noise down.
Additionally, a wooden fishing pier, accessible to people with handicaps, provides anglers with a perfect spot to try their luck with a pole and hook.
3. Swimming in Hayes Lake
The sandy beach at the park's swimming area extends out into the water, making it an ideal place to spend a day of aquatic fun. And for breaks in the swimming action, there is plenty of nearby green space for picnicking, and even a picnic shelter for groups to enjoy.
4. Visiting Roseau Near Hayes Lake State Park
Take a half-hour drive north from the state park, and you'll be in the town of Roseau, famed as the birthplace of Polaris snowmobiles, all-terrain vehicles, and military equipment.
The Polaris Experience Center, near the company's Roseau plant, offers an entertaining set of presentations and exhibits, including the second snowmobile ever built, which rolled off the assembly line in 1956.
A stop at Earl's Drive-In, a 1950s-style drive-in restaurant with great burgers, chicken, and other delights, also is a must while visiting Roseau. Earl's Drive-In opens in early May and closes on Labor Day each year – so as not to interfere with watching the hockey season unfold on TV, the management explains.
Wrapping up Hayes Lake State Park
We hope that this excursion into the experiences that await you at Hayes Lake State Park has inspired you to make the time for a visit to see all of its natural wonders, take a dip in the lake, or cast a fishing line into the water.
Love spending time outside? Then discover the Minnesota Outdoors to continue learning new ways to reconnect with nature!
About the Author
Latest Posts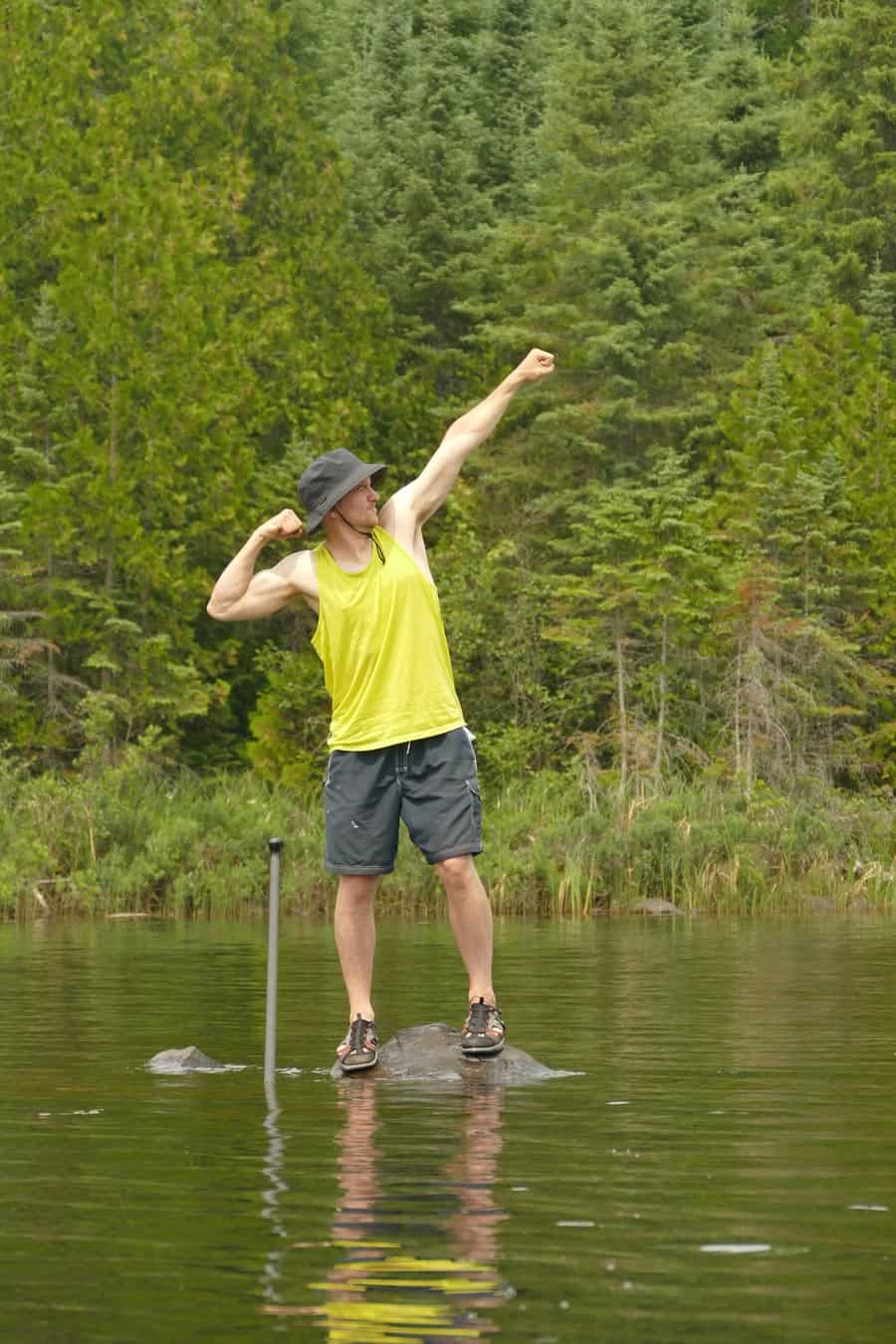 Born in Madelia, MN, to a now 5-generation Minnesota family, Ryan's MN roots go deep.
A painter by day, Ryan founded Life in Minnesota in 2013 with his wife Kelly to chronicle their musings on everything Minnesota. Ryan and Kelly are raising their 7 kiddos in Maple Grove, MN.
When he's not shuttling his kids around to hockey practice, you might find him in the shop working on his leatherwork. Undoubtedly, there will be a family trip to the Boundary Waters Canoe Area every summer, and of course weekends at Grandpa's cabin up north in the summer.