Finding the right hockey skates is essential for optimal performance and comfort on the ice. One key aspect of selecting the perfect pair lies in understanding the appropriate size for your feet.
With several sizing methods and charts available, it may seem confusing at first, but being well-informed ensures you make the right choice for both your skill level and personal needs.
Knowing how to interpret and use a hockey skate size chart empowers you with the ability to choose the right pair of skates that will support your performance on the ice. In this post, we'll walk you through how to use a chart and choose the best size for you!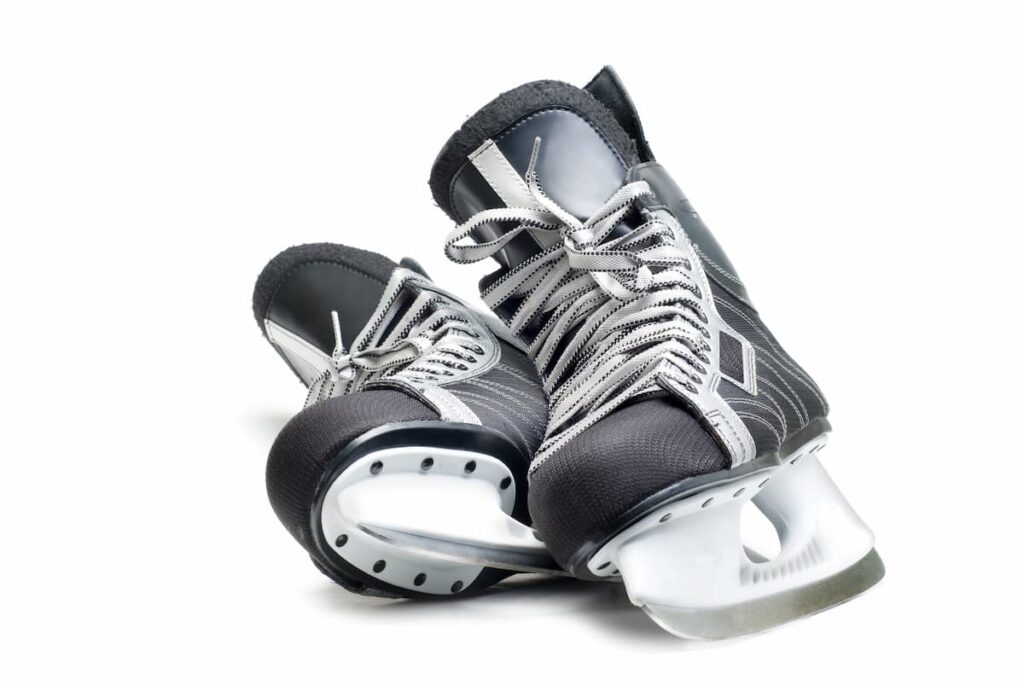 ---
Understanding Hockey Skate Sizes
Skates that are too large can cause discomfort, while skates that are too small can lead to painful blisters and limited mobility.
In general, the hockey skate size is usually 1 to 1.5 sizes smaller than your regular shoe size. However, sizing may vary between brands, and it is crucial to reference a hockey skate sizing chart for accurate measurements.
To begin determining your correct hockey skate size, first measure your foot in inches or centimeters. Make a note of the length and width measurements, as both will play a role in selecting the proper size. To get an initial estimate of your skate size, subtract 1 to 1.5 sizes from your shoe size, keeping in mind that this method is not foolproof.
A hockey skate sizing chart is an invaluable tool for refining your size estimate. These charts usually provide a comparison of general shoe sizes to corresponding hockey skate sizes, sometimes accompanied by specific brand recommendations. It is crucial to note that sizing may differ between skate manufacturers, so you may not wear the same size in all brands.
When trying on skates, your toes should barely touch the toe cap, while the heel should have no more than a 1/4 inch of space. The skate should feel snug with your foot resting flat on the footbed. If you are sizing skates for children, follow the same method while leaving an extra 1/2 size for growing room.
---
Comparing Skate and Shoe Sizes
When selecting hockey skates, it's important to understand how they differ in size compared to regular shoes. Typically, hockey skate sizes are smaller than your regular US shoe size. For men, hockey skate sizes are generally 1 to 1.5 sizes smaller than their US men's shoe size, while for women, the difference is usually around 2.5 to 3 sizes smaller than their US women's shoe size.
For example, if a man wears a US shoe size of 11, he should try on hockey skates in a size 9.5 or 10. Similarly, if a woman wears a US shoe size of 8, she should try on hockey skates in a size 5 or 5.5. It's important to note that these size differences are just general guidelines, and the fit may vary between different skate brands and models.
Another aspect to consider when comparing skates and shoes is width. Hockey skates are often available in different widths, typically denoted as D (standard) and EE (extra-wide). EE width is usually around 3/16 of an inch wider than D width, accommodating those with wider feet. Some skate manufacturers use different lines of skates to address different widths, so it's important to know which width is most suitable for your feet.
---
Manufacturer Differences
Not all manufacturers size their skates the same way. Although there are general sizing guidelines, such as skates being 1 to 1.5 sizes smaller than men's shoe sizes and 2.5 to 3 sizes smaller than women's shoe sizes, some differences may occur between brands like CCM and Bauer. This section will explore some of those variations and how they might impact the sizing of hockey skates for players.
CCM and Bauer are two of the leading manufacturers in the hockey skate industry, and each brand has its sizing and fit specifications for their skate lineup. For example, CCM skates are known to have a more tapered fit in the heel area, while Bauer skates provide a more anatomical fit. This difference in fit could impact the overall comfort and performance of the skates for some players. To ensure an optimal fit, it is crucial to try on skates from different manufacturers and compare how they feel on your feet.
Additionally, manufacturers, including CCM and Bauer, offer multiple lines of skates to cater to different foot shapes and widths. For instance, CCM has the Jetspeed, Ribcor, and Tacks lines, while Bauer offers the Vapor, Supreme, and Nexus lines. The specific fit of each line varies, with some designed for narrower feet and others for wider feet. As a result, hockey players may need to try multiple skate lines within a single brand to find the best fit for their foot shape.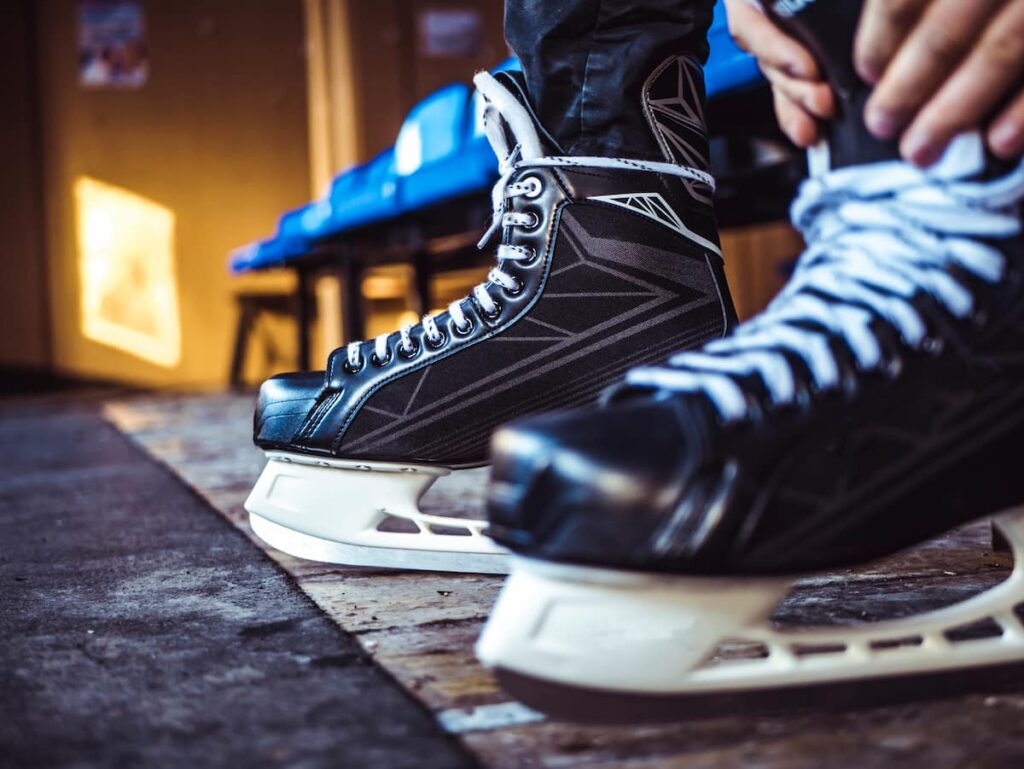 ---
Specifics for Youth Skates
Youth hockey skates are designed to cater to the needs of growing children. When selecting the right size, consider the child's age, size, and skill level.
Age and Size Ranges: Youth skates typically fit children who are 9 years old or younger and have a US youth shoe size of 1.5 or smaller. Junior hockey skates, on the other hand, cater to kids aged approximately 8 to 10 years old with US shoe sizes between 2 to 4.5.
Sizing Formula: A properly fitted youth skate will usually be about 1 to 1.5 sizes smaller than their actual shoe size. Most manufacturers abide by this general sizing rule; however, not all skates are sized the same. Always consult the manufacturer's sizing chart before making a purchase.
Avoid Common Sizing Mistakes: Some parents may be tempted to buy larger skates to accommodate their child's growing feet. This should be avoided, as oversized skates can cause blisters, foot pain, and may even lead to injuries. Instead, prioritize finding the correct size for their current stage of growth.
Comfort and Support: Young skaters need proper support while they develop their skills and confidence on the ice. Ensure the youth skates provide ample ankle support and padding without restricting their range of motion. It's also essential to strike a balance between snugness and comfort, as skates that are too tight can create discomfort and hinder performance.
Blade Considerations: The blade of a youth skate should be straight and lie flat on the ice, ensuring proper alignment and balance. Make sure to maintain a properly sharpened blade.
By following these guidelines and consulting manufacturer-specific size charts, you can find the perfect youth hockey skates for your child that provide comfort, safety, and room for growth.
---
Guide for Senior Skates
Senior hockey skates are designed to accommodate the needs of adult and fully grown teenage players with a US shoe size of 8 or greater.
Sizing for senior hockey skates typically runs 1.5 sizes smaller than a men's shoe size. Using a skate sizing chart as a reference can be helpful, especially for first-time buyers.
To ensure a proper fit, measure the player's foot length and width, as well as taking into account individual comfort preferences and skating style. Some players prefer a more snug fit, while others require additional space or more flexible skate boots, depending on how they play.
When trying on senior hockey skates, it is advisable to wear the same type of socks that will be used during gameplay. This will provide the most accurate representation of how the skates will feel on the ice.
The player should lace up the skates and stand up to check for any pressure points, heel slipping, or toe room. There should be minimal movement within the skate, while still allowing some wiggle room for the toes.
---
Frequently Asked Questions
What is the difference between skate size and shoe size?
The main difference between skate size and shoe size is that hockey skates are typically sized 1-1.5 sizes smaller than street shoes. This is because a proper skate fit should be snug and precise to ensure optimal comfort, support, and performance on the ice. When trying on skates, your toes should just barely touch the toe cap, while having no more than 1/4 inch of space in the heel.
What does the "D" width mean in skate sizes?
"D" width in skate sizes usually refers to a standard or average width skate. This measurement is essential for correctly fitting your foot into the skate. Skates are made in different widths to accommodate various foot shapes. There is also an "EE" width available, which is typically 3/16ths of an inch wider than a "D" width. It's important to understand that different skate manufacturers may have slightly different sizing methods, so always refer to their specific charts or consult a professional for the best fit.
Is there a difference between youth and adult skate sizing?
Yes, there is a difference between youth and adult skate sizing. While the general sizing method remains the same – skates should be 1-1.5 sizes smaller than street shoes – youth hockey skates are designed specifically for younger players with smaller, growing feet. They are often more flexible, lightweight, and have a lower boot cut than adult skates to support young players' developing skating abilities. Keep in mind that children's sizes might differ from adults, so make sure to consult a sizing chart or a professional to ensure an accurate fit.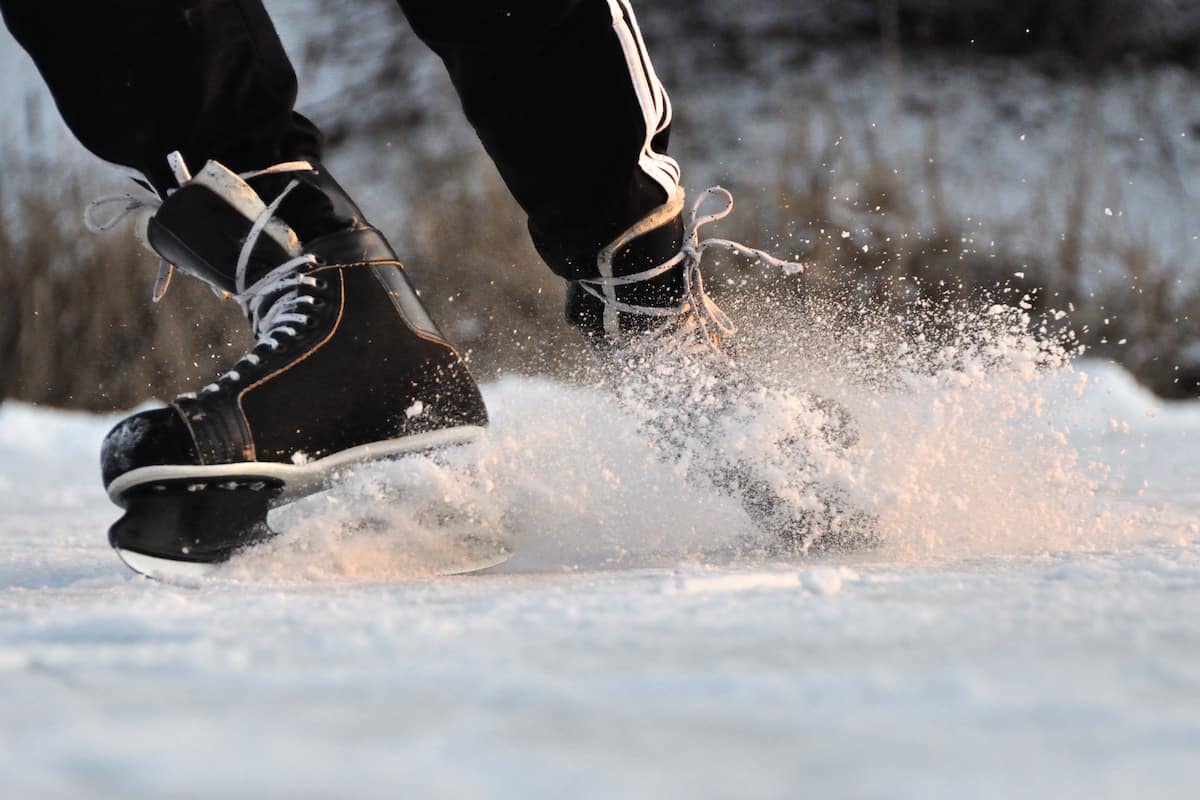 ---
Wrapping Up
In order to ensure optimal performance and safety on the ice, it's imperative that hockey players choose the right skates. To do this, understanding how sizing works for hockey skates and how to best measure your foot will ultimately help you determine which size and skate is right for you.
We hope this guide was helpful in determining your skate size, and we hope you enjoy your new skates!
To get more equipment advice, don't miss the hockey page on the blog. And if you're looking to learn from an NHL pro, check out this online hockey training.