Spring and summer usually come to mind as the best times of year for outdoor activities. However, winter is just as fabulous, particularly if you love things like camping, backpacking, and hiking. You just need to prepare differently, and that includes looking into a great pair of ice cleats for shoes. If you haven't heard of them before, allow us to enlighten you!
---
What are Ice Cleats for Shoes?
The shoes that you use to spend time outside during spring and summer don't work quite so well in the winter. They might have the best traction in the world for navigating rocks and dirt, but that doesn't mean they'll save you from slipping and falling on steep slopes, muddy soil, or snowy and icy terrain. This problem is what inspired the invention of ice cleats for shoes.
Ice cleats consist of numerous spikes, small and/or large, protruding from the bottom of a frame or harness that fits over the shoe. The spikes cover the shoe soles, spread out evenly to ensure your weight is distributed well enough to keep your balance. Rather than being built directly into a pair of shoes, the cleats are removable.
---
Buyer's Guide for Ice Cleats for Shoes
Now you know the basic definition of ice cleats for shoes, but there's more to them than that. A little more information could turn you into a much savvier buyer!
Types
Just as there are different activities you can do in the snow, there are corresponding types of ice cleats for shoes.
For example, if your goal is to walk or run a lot–as with jogging or hiking–then cleats with microspikes are best. Bigger and longer spikes are better for camping or rock climbing, which usually call for less vigorous movement but still require strength and stability. Other cleats are fashioned specifically for ski boots so that you can travel between slopes without trouble.
Materials
Since they're expected to withstand ice, gravel, and extremely cold temperatures without breaking, ice cleats for shoes are made from highly durable materials. Steel and tungsten are common for the spikes, and they are sometimes used for the harness or the chains that connect all the pieces together. Some cleats use silicone or other types of thermoplastic rubber.
What to Look For
When shopping, you'll find no shortage of appealing ice cleats for shoes, but some of them aren't as great as they look.
Durability
If you're trying to stay safe while having fun outside, the last thing you need is equipment that falls apart easily. Although most metals and rubbers work well for ice cleats for shoes, opt for tungsten and/or silicone, as they are among the strongest of their kind.
Traction
You won't usually get the traction you'd like out of your cleats if they only have a few spikes, particularly if they're small. A good pair of ice cleats for shoes is lined with enough spikes to cover all or most of the sole.
Ease of Use
Imagine that you're out in the freezing weather and need to take your cleats on or off or reposition them. With gloves, your hands might feel bulky and limited. If you take off the gloves, your hands could quickly become too cold to move properly. Perhaps you're in a hurry, too.
In all these cases, you need ice cleats for shoes that are simple to adjust, remove, or slip on as needed. Manufacturers might try to complicate the frames or harnesses for aesthetic appeal or a tighter fit, but that doesn't help you much if the cleats are difficult to use as intended.
Reliability
Ease of use doesn't negate the importance of reliability. Once you're wearing your ice cleats for shoes, you need to have confidence that they'll stay on your feet. They shouldn't be loose enough to slip off or get knocked out of place, and they should be close enough to the sole to block debris from getting wedged between them.
You can't always tell when ice cleats are dependable just by looking at them. Ideally, the cleats will be somewhat adjustable so that you can achieve a snug fit for the size and shape of your shoes. Alternatively, read user reviews to look for information about this characteristic before investing in a pair.
---
Frequently Asked Questions
You're off to a great start for becoming an expert shopper of ice cleats for shoes! As you begin your search, however, some more questions may come to mind. We'll answer the most frequent ones.
What are the benefits of ice cleats?
As you consider all the options for ice cleats for shoes, you might wonder whether they're really worth the effort. We assure you that they are! These are the benefits you can enjoy from investing in a good pair.
Safety
We noted earlier that ice cleats for shoes are vital for keeping you balanced and upright, but the point warrants elaboration.
If you forego cleats, you're far more likely to slip and fall on the ice, which could lead to serious injury. When walking across tightly packed snow, you'll have nothing to break it apart and make it more manageable. Knowing you lack traction, you may also have to move slower, increasing the amount of time you spend in freezing temperatures and increasing your risk of hypothermia.
Ice cleats for shoes can help prevent all these problems. Wear them for the sake of your health and safety.
Comfort
Even if you aren't worried about getting hurt or sick, ice cleats for shoes are worth the money just to make you more comfortable.
While adventuring outside, you expect to give up a certain degree of luxury, but you shouldn't "rough it" to the point that the discomfort detracts from the fun. Since the cleats make walking, running, and climbing easier, you can focus better on the exciting and rejuvenating aspects of exploring a winter wonderland.
Convenience
Since ice cleats are removable, they can be applied for multiple environments and situations, or you could set them aside altogether if they're unneeded. Many sets are easy to fold up and carry in a backpack or luggage, too. Between this versatility and transportability, ice cleats for shoes are simply convenient.
Cost-Efficient
You can find shoes with built-in ice cleats. However, a good pair may cost more than buying the ice cleats separately. If you get ice cleats for shoes instead of shoes with ice cleats, then you only need to worry about keeping one pair of shoes for the entire year. It's a great way to save a little money on your outdoor gear.
Even if you want to get more than one pair of cleats, they're still cost-efficient. Since a good set can last a long time, you can continue using them as you cycle through new pairs of shoes every one or two years.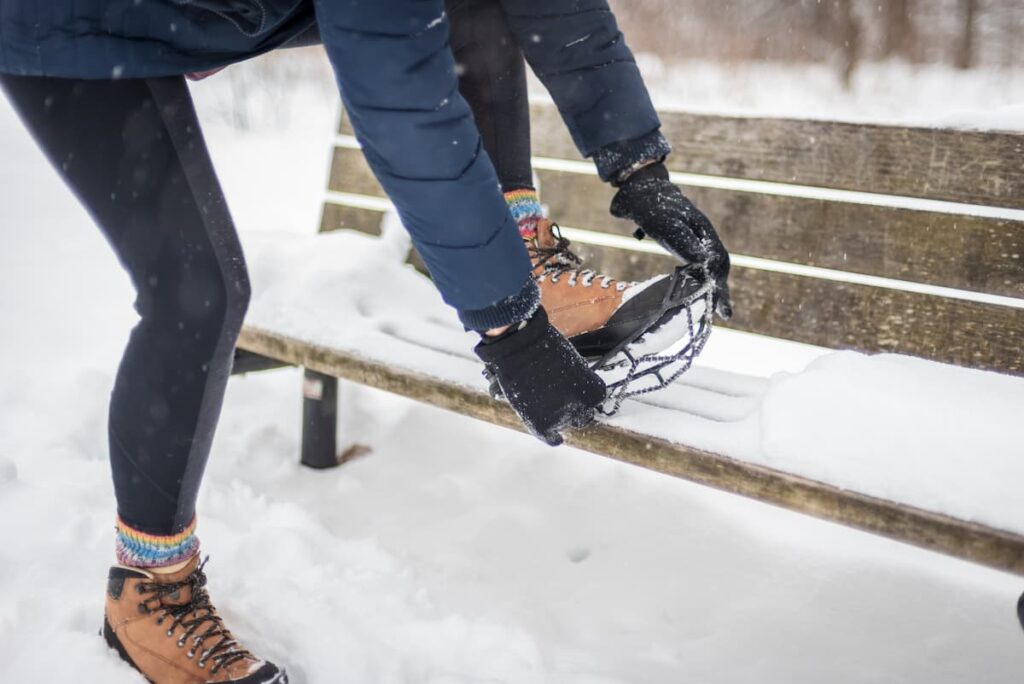 What maintenance do ice cleats require?
With proper maintenance, a decent pair of ice cleats for shoes will last a few years. If your cleats are made from metal, you risk corrosion from melted snow and ice. Rubber cleats could grow mold or even crack if they become frozen.
Knowing this, keep them warm and dry when not in use. After they've been out in the cold weather for prolonged periods of time, wipe away the moisture with a soft, clean towel. If there's no heat source available, wrap them up in a blanket.
When should you use ice cleats?
Another way to prolong the lifespan of ice cleats for shoes is to simply avoid putting them on when not necessary. Overuse leads to wear and tear faster than anything else.
Keep the cleats packed away if there's little to no snow or ice on the ground, no matter how low the temperature. The only exception might be if previous snowfall caused the soil to become muddy, which still presents a falling hazard.
However, even when there is snow or ice, you might not need the cleats unless you're navigating deep soil or rocky terrain; on shallow ground, the spikes won't have anything to grab, so they're less effective.
Lastly, don't worry about wearing the cleats in fresh snowfall if there's no ice. New snow is so soft that you can walk through it easily without the aid of spikes, so as long as there's nothing to make you slip and fall, you can leave the cleats at home.
---
Make Snowy Weather More Fun With Ice Cleats for Shoes!
The right gear can make or break the fall and winter seasons, especially in Minnesota, which is known for its harsh weather. Use your newfound knowledge about ice cleats for shoes to help you create amazing memories outside without compromising your safety or comfort!
With the right information, ice cleats aren't the only way to make this time of year magical. We'd love to tell you how else to enjoy a Minnesotan winter!