Ice fishing bibs, roughly the cold-weather equivalent to fishing waders, are designed to keep ice anglers warm and dry from feet to chest, and the most versatile bibs will come with pockets to keep various bits of ice fishing gear close at hand.
Read on to learn about the best ice fishing bibs available today, and also to learn what questions to ask, such as the bib's flotation assistance capabilities and the type and density of its insulation, when you're looking for the ice fishing bib to best suit your needs.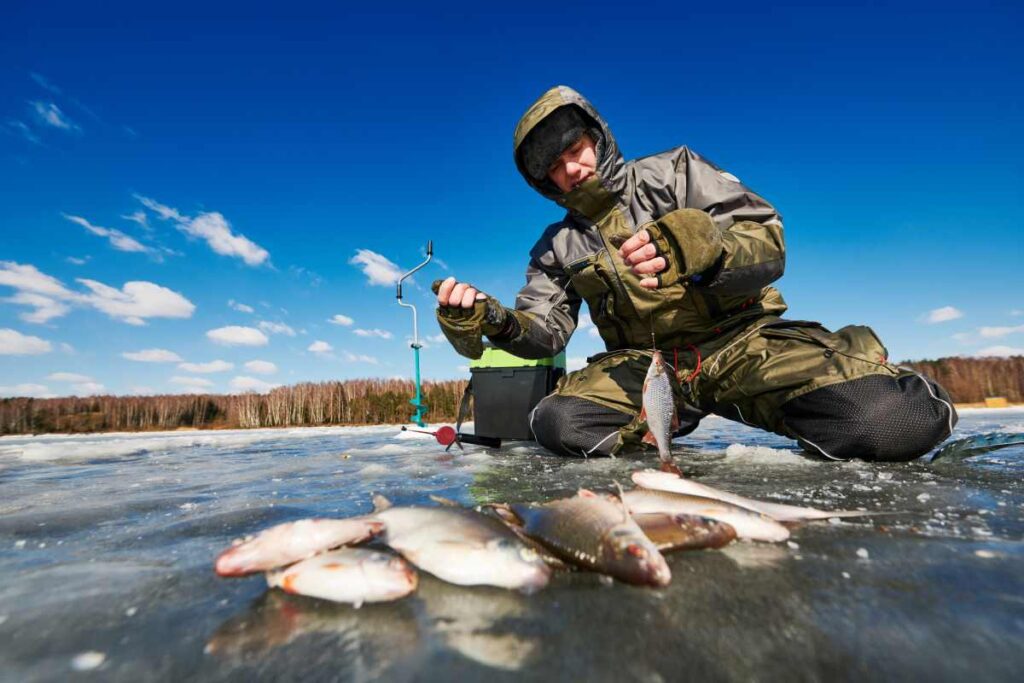 ---
Our Top Picks
Best Overall:
Simms Challenger Insulated Fishing Bib
Best Runner-Up:
Frabill Ice Hunter Bib
Best Value:
IceArmor by Clam EdgeX Cold Weather Bib
---
1. Simms Challenger Insulated Fishing Bib
If you're looking for a great all-around ice fishing bib, the Simms Challenger Insulated Fishing Bib is a prime choice, combining light weight with great warmth for some of the best cold-weather comfort on the ice.
Part of the reason for the Simms Challenger Insulated Bibs' top-drawer performance is the proprietary fabric used in the bib's shell. The fabric, in two layers, is designed to offer improved waterproofing, breathability and durability in comparison with competing bibs.
And, frankly, one of the other major reasons that the Simms Challenger Insulated Fishing Bib made this list of the best ice fishing bibs was the extreme difficulty in finding any negative reviews of the product.
Product Features
Strategically placed abrasion panels
Adjustable suspenders
Available in sizes S-4XL
Pros
Hand warmer pockets
Reinforced seat
High side zippers for easy putting on and taking off
Cons
Double center zipper needed
---
2. Frabill Ice Hunter Bib
Made with a particularly dense polyester fabric backed with quadruple stitching, the Frabill Ice Hunter Bib is among the most durable ice fishing bibs available.
Ensuring the continued durability of your Frabill Ice Hunter Bib are the rivets combined with double stitching in areas of the bib susceptible to high wear.
Specifically designed to handle rough weather conditions, the Frabill Ice Hunter Bib also offers a maximum level of safety and comfort during your time on the ice, including a 3M Thinsulate™ lining that provides great warmth without additional constricting bulk.

Product Features
Reinforced stitching
3M Thinsulate™ lining for heat retention
Pre-curved knees for enhanced mobility
Pros
Good fit for larger anglers
Comfort not compromised for durability
Sizing accuracy great for online ordering
Cons
May have bulky feel for some wearers
---
3. IceArmor by Clam EdgeX Cold Weather Bib
The IceArmor Clam EdgeX is an updated version of Clam's IceArmor Edge, and includes the careful attention to detail that you want in a quality ice fishing bib.
As just one example of that attention to detail, consider the fact that each of the zippers on the IceArmor EdgeX is covered with a magnetic flap. As a result, zippers are protected from the elements, meaning that they won't get wet and freeze shut in extreme cold.
Beyond that bit of attention to detail, the IceArmor by Clam EdgeX ice fishing bib is overall designed for comfort, through the use of both soft-touch fabric in the shell and soft, long-nap fleece in its inner lining.
On a related note, this bib's 150 grams of insulation offers some of the most effective protection available in cold weather.
Product Features
Fleece lining
Reflective strips to keep wearer visible
Well-padded knees
Pros
Rapid draining feature at leg bottoms
Large cargo-style pockets
Cons
Liner should be removable for easy washing
---
4. StrikerICE Predator Bib
One of the reasons that the StrikerICE Predator Bib has made this list of the best ice fishing bibs is its "Sureflote" technology, which can keep an average-size person afloat for as long as two hours in the event of a fall through the ice.
Additionally, the StrikerICE Predator Bib includes "Thermadex" technology that provides warmth without the bulk that insulation brings to other bibs. The 100 grams of insulation in the StrikerICE Predator Bib are well above the 80-gram insulation standard.
The StrikerICE Predator Bib also made this list because it is particularly adaptable to ice anglers who like to move from place to place across frozen water in search of the best spots for fishing. One of those adaptations is the adjustable inseam, allowing a perfect fit
Product Features
Extra-heavy knee and seat padding
Adjustable inseam
Breathable material that can also stand intense precipitation
Pros
Leg length adjustment is a welcome feature
Lots of pockets
Built-in hand towels
Cons
Return policy can be a problem
Zippers may be too short for some users
Sizing runs large
---
5. Eskimo Men's Keeper Insulated Bib
The Eskimo Men's Keeper Insulated Bib is one of the ice fishing bibs to feature a flotation system, an important safety feature for unforeseen circumstances on the ice.
In addition, the Eskimo Men's Keeper Insulated Bib includes thoughtful use of its Thinsulate® insulation, making allowances for freedom of movement while ensuring more than adequate warmth.
Also enhancing freedom of movement in this ice fishing bib are gussets and elastic stretch panels that truly differentiate the Eskimo Men's Keeper Insulated Bib from other bibs on the market.
Product Features
Multiple pockets for gear storage
Contoured knees
Inseam height adjustment
Pros
Cargo pockets large enough to fit heavy gloves
Fit and stretch facilitate mobility
---
6. STORMR Strykr Bib
For an ice fishing bib that can handle some of the most adverse weather conditions you might encounter while ice fishing, take a good look at the STORMR Stryker Bib.
The STORMR Strykr Bib is part of STORMR's Strykr line of products, introduced in 2013 and steadily improved in the years since then with innovations including lighter-weight and more stretchable material for greater mobility and comfort.
And if you'd like even more protection and safety on the ice than the STORMR Strykr Bib provides, you can pair it with its companion jacket. The jacket is sold separately from the bib, to ensure a quality custom fit for both pieces of gear.
Product Features
Moisture-wicking fleece insulation
Welded exterior seams
Pros
Lighter weight than some other bibs
---
7. Carhartt Men's Yukon Extremes Biberall
The Carhartt Men's Yukon Extremes "Bibberall," a cross between an ice fishing bib and cold-weather overalls, is a clear champion in terms of the insulation it offers as protection against the elements.
Offering 150 grams of insulation, Carhartt Men's Yukon Extremes is providing nearly twice the 80 grams of insulation that is recommended as a shield against the cold.
In addition, the Carhartt Men's Yukon Extremes includes technology aimed at providing superior protection against both wind and rain, making it a great no-compromise choice as an ice fishing bib.
Product Features
Double-layer knees with pockets for kneepads
Ankle-to-thigh leg zippers
Hook-and-loop pocket closures
Pros
Great fit for larger sizes
Deep rear and side pockets
Good freedom of movement
Cons
Plastic zippers and shoulder fasteners
No zipper at top of leg to access pants pocket
Front pockets are both narrow and shallow
---
Buyer's Guide for Ice Fishing Bibs
There are two primary considerations for buying a quality pair of ice fishing bibs — waterproofing and windproofing. Waterproofing will, of course, keep both deep fallen snow and active winter precipitation away from your body, and windproofing ensures warmth retention.
Insulation
In terms of protection from the elements, you'll also want to be sure your ice fishing bib is well-insulated, preferably with either natural or synthetic down. As a general guide, you should look for an ice fishing bib that offers at least 80 grams of insulation.
A number of the ice fishing bibs featured in this guide include insulation well above the 80-gram level, and should get a serious look from anyone who will be ice fishing in particularly frigid conditions.
Limited Flotation
Another protective feature available on some pairs of ice fishing bibs is the capability to provide some flotation if you fall into the water. If you choose a bib with this feature, understand it isn't a sufficient replacement for specifically designed personal flotation devices.
Padding
Beyond safety, you'll want to feel comfortable in your ice fishing bib, knowing that comfort extends beyond staying warm and dry. Many ice fishing bibs offer padding at the knees, or even across the legs, that makes it easier to work around your fishing site.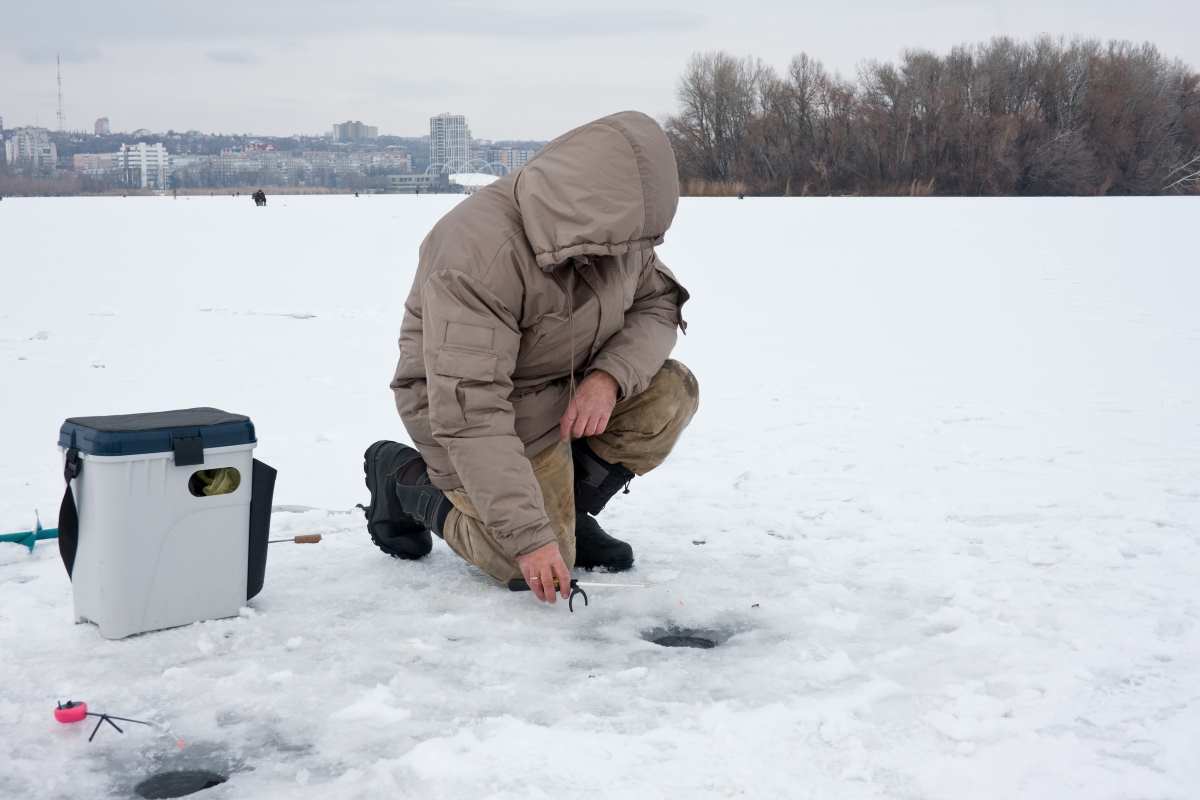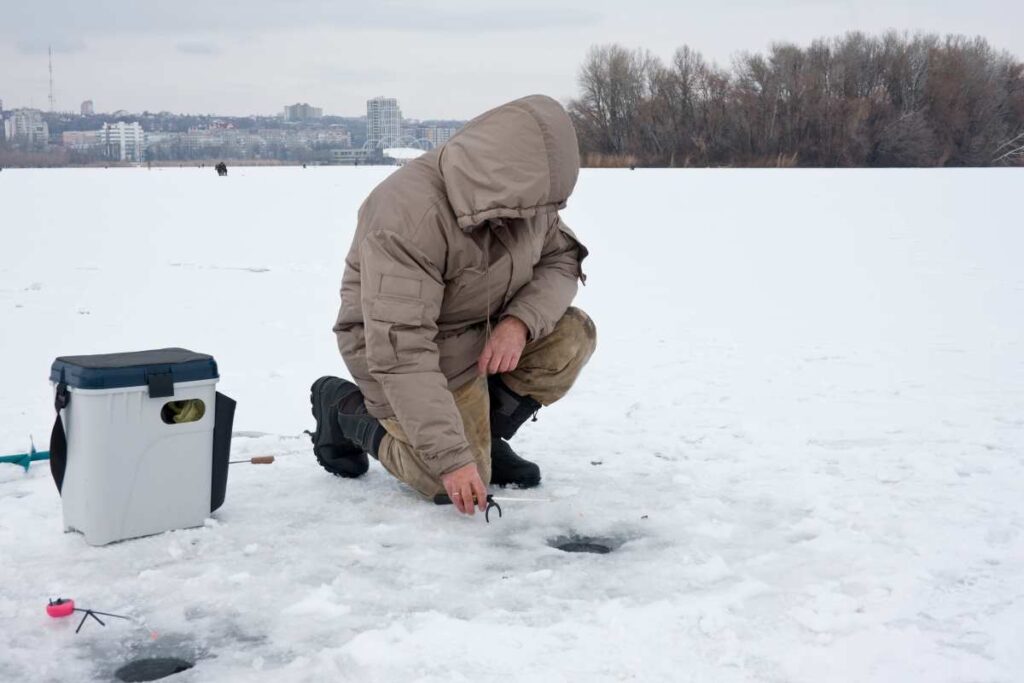 Adjustability
In considering the purchase of an ice fishing bib, pay close attention to the features that allow you to adjust the fit of your bib to fit your physique and your comfort preferences.
For example, look for bibs with adjustable suspenders for optimal placement for warmth and dryness. You may also want to consider buying an ice fishing bib with a cinchable waistband, which can protect you from uncomfortable infiltration of cold air.
Finally, purchasing an ice fishing bib with adjustable hems can enhance both safety and comfort by ensuring that your bibs don't get bunched up around your boots, whether you're walking or sitting.
---
Ice Fishing Bib FAQs
To ensure that you choose the ice fishing bibs that best fit your needs while providing optimum protection against the elements, there are some questions you'll need to consider before making a final decision.
What material is best?
One of those questions is what material you should choose for your ice fishing bibs. Materials used in bibs include polyvinyl chloride, polyester (including Endura™ products) and nylon.
In general, polyvinyl chloride bibs excel at keeping wearers dry, but may not be as breathable as other types of bibs. Other types of polyester bibs are available at good prices, but aren't as good as nylon bibs.
Can you wash ice fishing bibs?
After spending time ice fishing, you'll certainly want to get whatever fishy smells, grime and other stuff you've gotten on your ice fishing bib.
The good news is that ice fishing bibs are washable, although you'll have to take some special steps to ensure that you don't damage them. And, of course, you should check for specific instructions from the manufacturer of your particular ice fishing bib.
Generally, the simplest ice fishing bibs can be washed in cold water on your machine's gentle cycle, then hung up to dry. Insulated bibs can be machine-washed with mild detergent in warm water and partially dried on your dryer's lowest setting for just a few minutes.
What should you wear with an Ice fishing bib?
Obviously, an ice fishing bib won't cover your entire body, and likely won't by itself provide the warmth and protection from the elements that you'll need.
So, as with any cold-weather outdoor activity, you should dress in layers of clothing underneath your ice fishing bibs, and you should pair it with a great pair of ice fishing boots, gloves and even a rain jacket to keep water from getting next to your skin.
How much should you spend on an ice fishing bib?
If you've looked carefully through this guide on ice fishing bibs, one thing you've likely noticed is the wide price range for this vital piece of ice fishing gear.
In terms of deciding how much to spend, focus on which ice fishing bib best meets your needs. Be wary of any special deals or offers that might be tempting from a budgetary standpoint, but may not be the best choice for your personal situation.
---
Wrapping up the Best Ice Fishing Bibs
We hope this post on the best ice fishing bibs, including our top choice, has helped you decide on the best one for your needs. Remember to keep good padding in mind as you choose the best ice fishing bib for you.
Need some more Minnesota gear? Trust our recommendations to guide your next shopping trip!
Want to learn more about fishing, discover more fishing spots, and or read up on the best fishing gear? Then continue your fishing adventure with our comprehensive guides, info posts, and more!
About the Author
Latest Posts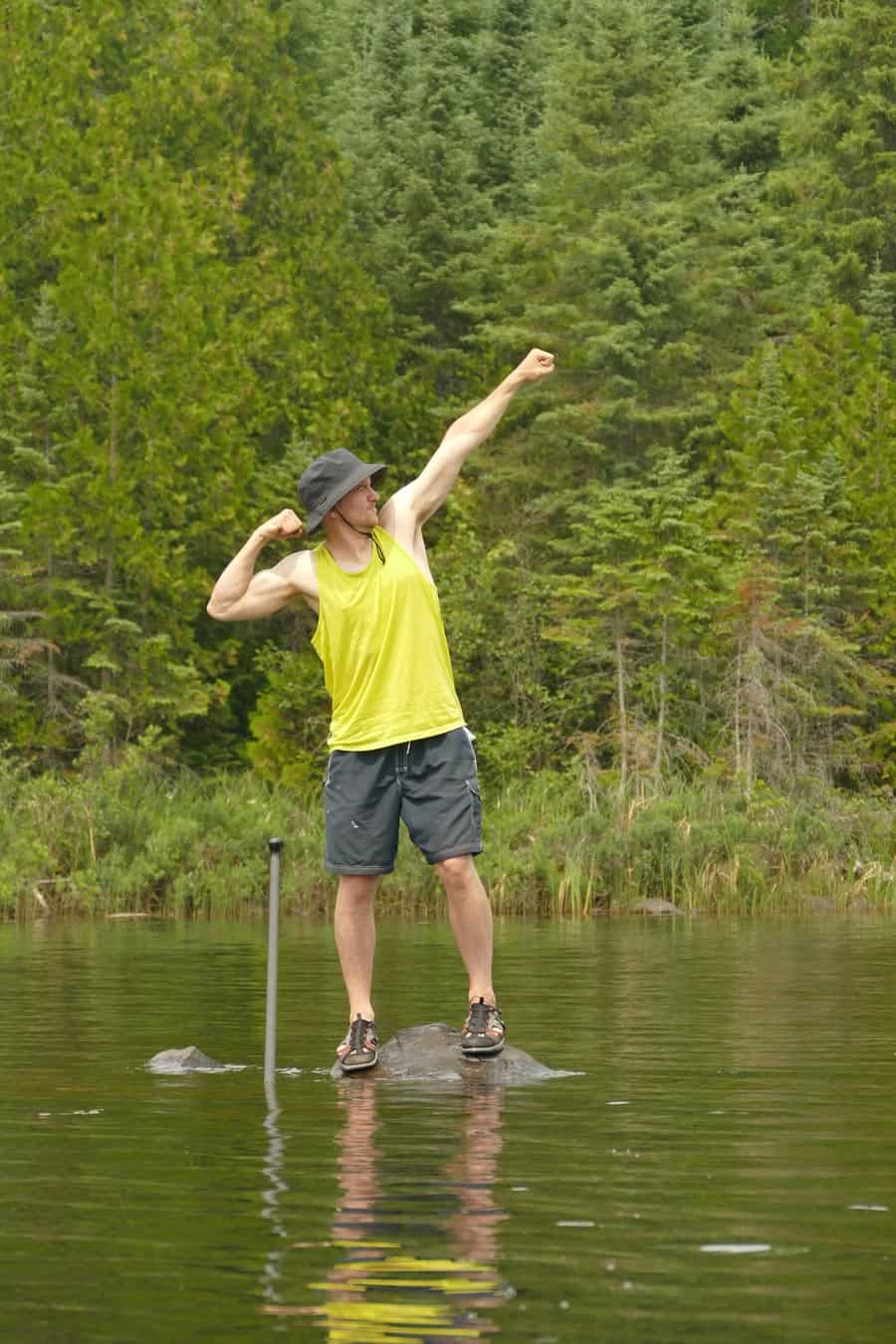 Born in Madelia, MN, to a now 5-generation Minnesota family, Ryan's MN roots go deep.
A painter by day, Ryan founded Life in Minnesota in 2013 with his wife Kelly to chronicle their musings on everything Minnesota. Ryan and Kelly are raising their 7 kiddos in Maple Grove, MN.
When he's not shuttling his kids around to hockey practice, you might find him in the shop working on his leatherwork. Undoubtedly, there will be a family trip to the Boundary Waters Canoe Area every summer, and of course weekends at Grandpa's cabin up north in the summer.