---
---
Ice Fishing Boot Buyer's Guide
Great ice fishing boots aren't some sort of luxury for spending a day on your favorite lake, it's a necessity. First and foremost, of course, is the fact that a great ice fishing boot keeps your feet warm, which in turn helps ensure that the rest of your body retains its warmth.
Among the things that you'll need to consider before choosing a pair of ice fishing boots that will meet your personal needs is how long you'll be fishing. As a rule of thumb, the longer you plan to spend ice fishing at your favorite spot, the more insulation your boot should have.
Temperature and Terrain Factors
If you're shopping for ice fishing boots outside the winter season, one thing you should find out, and keep in mind while you're shopping, is what the average temperature has been when you've been out on the ice. That will be a good guide for determining boot insulation needs.
Additionally, you'll want to keep in mind the depth of snow you'll encounter en route to your fishing spot and on the lake itself. If you'll be in deep snow, you'll want a boot that either rises high toward your knees or that can be tightly sealed no matter its height.
On a related note, you'll want to consider whether you'll encounter snow, ice, slush, or some mixture when crossing the terrain toward your fishing spot. The type of ground you'll be covering should be a consideration regarding the type of sole on your boots.
Riding or Driving a Snowmobile or Four-Wheeler
One thing that you may not consider, but should when deciding on a pair of ice fishing boots is how, exactly, you'll get to your fishing spot. If you'll be doing a lot of walking, you might want to opt for a fairly flexible boot to ensure comfort.
On the other hand, if you'll be riding or driving a four-wheeler, a snowmobile, or some other kind of all-terrain vehicle on your ice-fishing day, you'll want to be sure you have compatible boots.
If you're driving, of course, you'll want ice fishing boots that don't restrict your access to gas pedals, clutches, or other controls, and if you're a passenger, you'll want boots that fit comfortably on footrests and vehicle access points.
Proper Fitting
Lastly, having properly fitted ice fishing boots is a key to both comfort and safe walking on icy, snowy or slushy terrain. Be aware, in particular, that ordering ice fishing boots online, rather than trying on a pair in your local outfitting store, can be problematic in terms of ensuring a proper fit.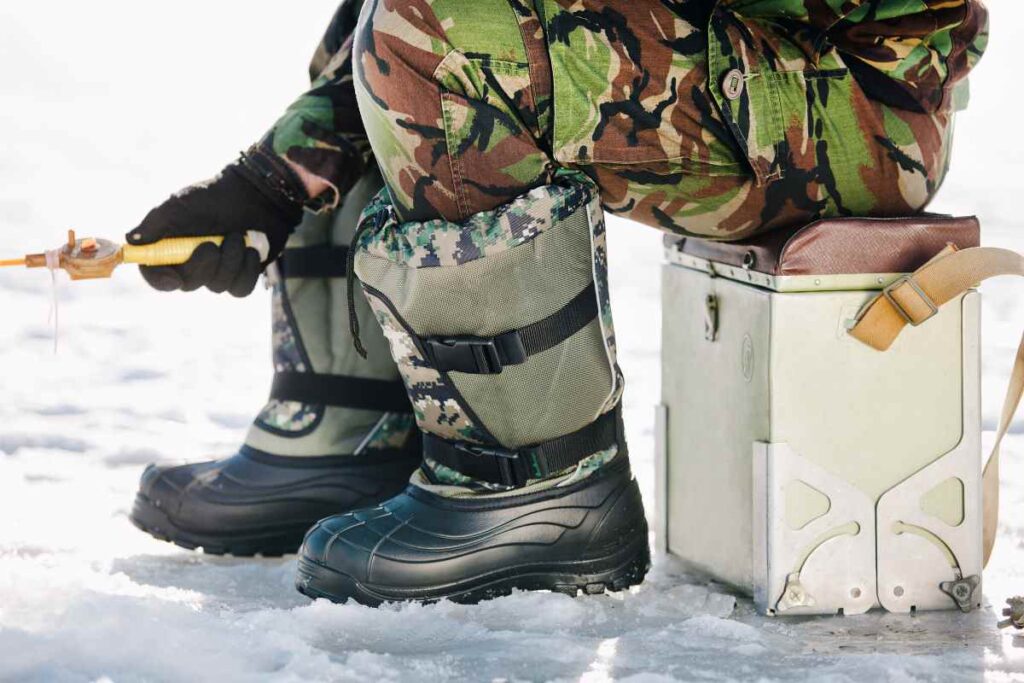 Also, when considering what size of ice fishing boots you'll need, particularly when you're ordering online, remember that you'll likely be wearing extra socks along with your boots.
When trying on ice fishing boots, you should opt for the softest pair that you also feel will provide adequate support to your feet and lower legs for the distances you'll be walking and the time you'll be out on the ice.
As a final note to help you decide on the ice fishing boot that will best meet your needs, check to be sure that the boot liner is breathable. Be wary of heavily insulated boots without breathable liners because they can cause your feet to sweat, making you uncomfortable.
---
FAQs on Ice Fishing Boots
Of course, the one question that everyone looking for a comfortable and functional pair of ice fishing boots will have is which boot is best. As you've seen in this post, there's no one answer to that question, given the individual circumstances involved in every decision.
As a guide, though, answering that question on an individual basis should involve consideration of questions such as the amount and type of insulation the boot should have, whether its weight and other design factors will be comfortable, and how well its soles perform.
What About the Soles?
With regard to the soles of your ice fishing boots, you'll want to have boots that either come already equipped with cleats, if you'll be fishing in an area where traction and grip will be at a premium, or you'll want boots that can have cleats attached to them.
How Can I Keep My Feet Dry?
Of course, the many choices available for ice fishing boots include boots that are designed specifically to keep your feet dry. But if you choose a boot that may not offer all of the protection you need or want, there are steps that you can take.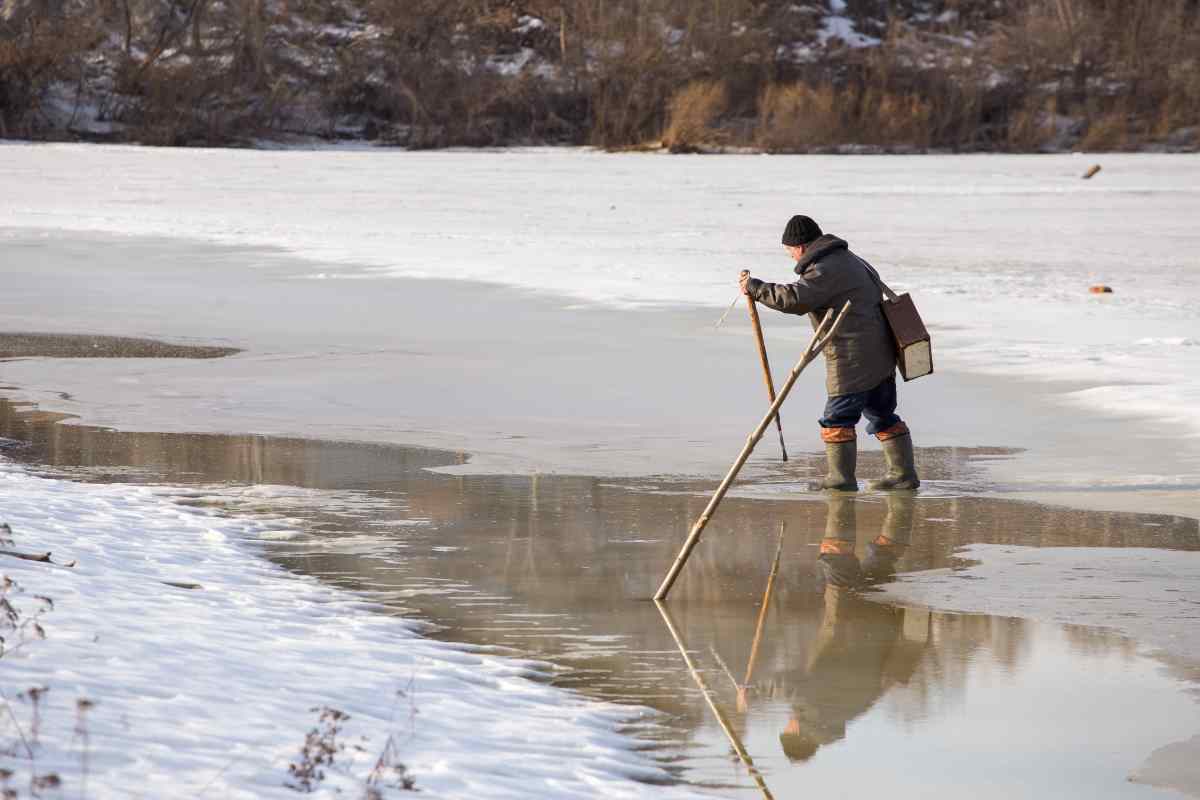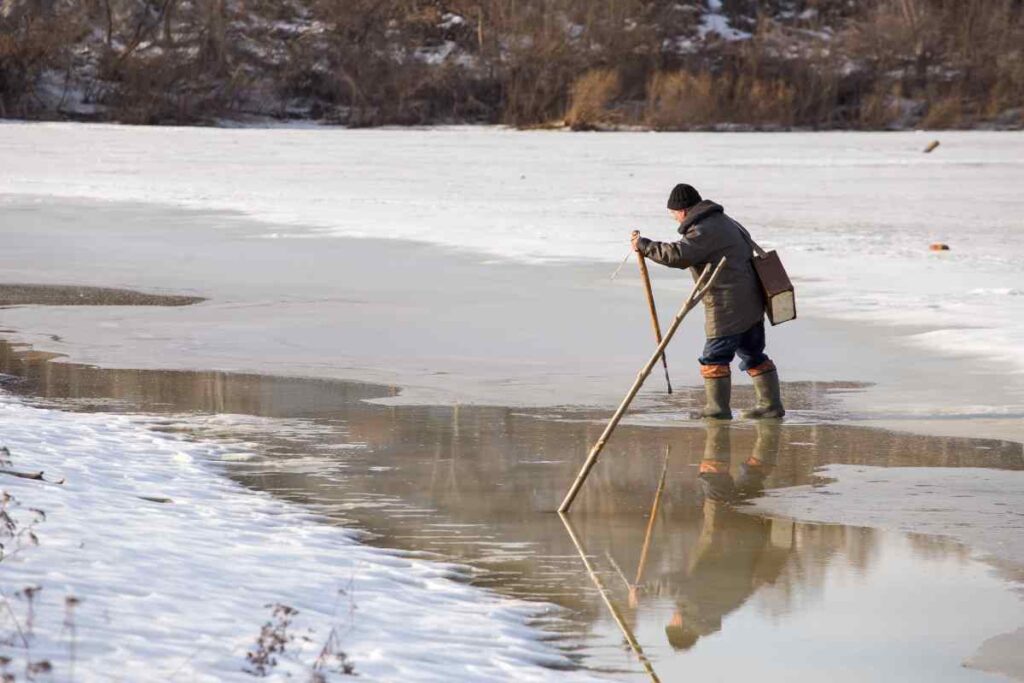 One option is to use a waterproofing wax on the bottom and along the seams of your boots to help ensure that they will keep water from infiltrating into your boots.
What's the Best Balance Between Boots and Socks?
One of the more confusing aspects of getting a properly fitted pair of ice fishing boots is working out how thick the socks you wear with your boots should be.
It can be tricky because the interface between foot, sock, and boot should be snug but not too tight. You don't want a fit so tight that blood circulation might be affected, but you also don't want room for outside air to infiltrate the space between your boots and your feet.
On a somewhat related note, as already mentioned, you might want also to consider getting a pair of cleats to attach to your boots. In addition to providing traction, cleats can get boots off the ground and the icy surfaces through which cold can penetrate your boots to chill your feet.
---
Wrapping up the Best Ice Fishing Boots
We hope this post has taught you about selecting the best ice fishing boots and has prompted you to consider buying our favorite, the Kamik Icebreaker, which, again, you can find on Amazon.
Need some more Minnesota gear? Trust our recommendations to guide your next shopping trip!
Want to learn more about fishing, discover more fishing spots, and or read up on the best fishing gear? Then continue your fishing adventure with our comprehensive guides, info posts, and more!