---
Things to Consider When Choosing the Best Ice Fishing Camera
Battery Life
People who want to spend time fishing usually set aside anywhere from four to twelve hours. You'll need an ice fishing camera with a considerable battery life to avoid interruptions or complications in your trip. An eight-hour battery life is usually sufficient, but the longer it is, the more you can enjoy fishing.
Difficulty of Use
You want to spend your trip focusing on catching as many fish as possible, not trying to figure out how to use your ice fishing camera. The ideal camera is complex enough to offer many options and special features but simple enough to learn quickly and operate easily. Before choosing a camera, read consumer reviews to determine which ones were the most user-friendly.
Picture Quality
There's not much point in bringing an ice fishing camera on your trip if the image quality is so poor that you can't even see the fish. Narrow your choices to cameras with high-definition imaging, meaning at least 720p. Of course, 1080p is even better. The clearest you could possibly hope to find is 4k or 2160p.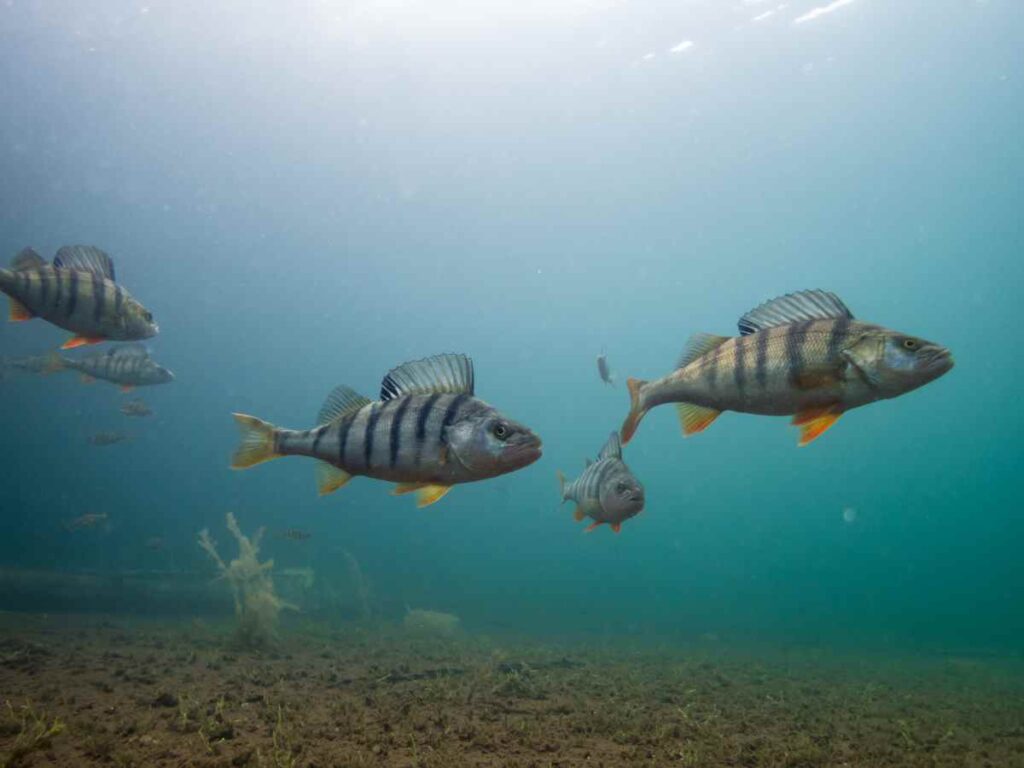 Field of View
An ice fishing camera should let you see more than what's straight ahead underwater. Get one with a lens that show you what's happening a minimum of 15 feet ahead and at least 100 to 150 degrees at either side. Otherwise, you could miss something important and won't be able to fish at your best.
Screen Size
Even the best definition and field-of-view measurements can only do so much good if they produce the images on a tiny screen. The standard screen size for an ice fishing camera is about seven inches; it's big enough to see but small enough to make the camera easy to carry. Feel free to get a larger screen if you'd like, but to maximize your view of the fish, don't settle for anything smaller.
Budget
Like many people, you may not have an unlimited budget to spend on ice fishing cameras. However, you don't want to sacrifice quality just to get the cheapest model available. Find a balance. You may need to spend a minimum of $100 to $200 to get a camera that has the features most important for fishing, like high-definition imaging, anti-corrosion properties, moderate screen size, and decent battery life.
Cable Quality
The biggest and most desirable fish often swim several dozen feet below the water's surface, so the camera needs to extend far enough to find them without taking damage. Don't settle for a cable less than 48 feet long, and prioritize the ones that resist rust and freezing temperatures.
Also, you might be tempted to attach the camera to an extra-long cable, but don't do it. Water pressure rises with depth, placing stress on the camera. Even the strongest cameras may break irreparably if they're lowered farther than the original cable would allow.
---
Frequently Asked Questions About Ice Fishing Cameras
If you have little to no experience with ice fishing, you may understandably have questions about choosing and using ice fishing cameras. Some questions are especially common, so we've compiled them here for you to review before making your selection!
What makes an ice fishing camera different from other cameras?
An ice fishing camera is simply a type of underwater camera. Unlike cameras that are meant to be used on dry land -which require special protections to get wet without sustaining damage – an underwater camera is built with metal locks and rubber seals that keep water from seeping inside. Ice fishing cameras are additionally sealed to resist freezing temperatures.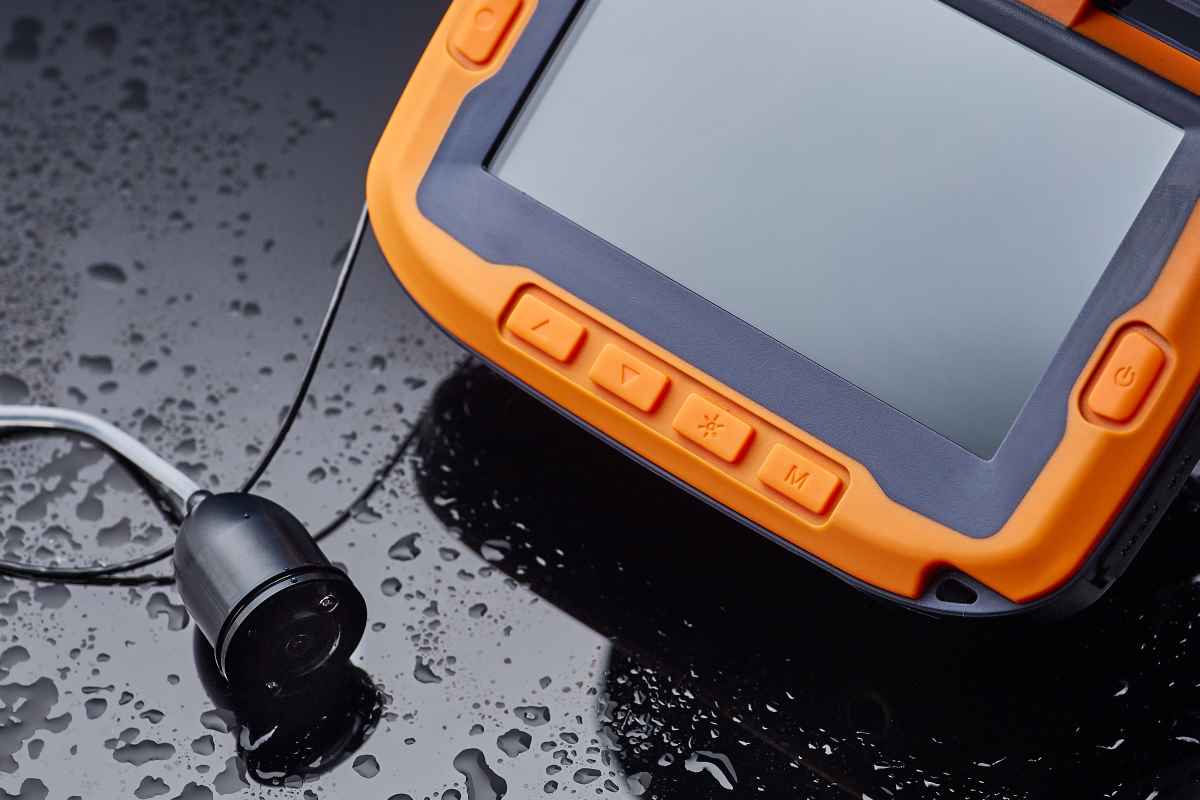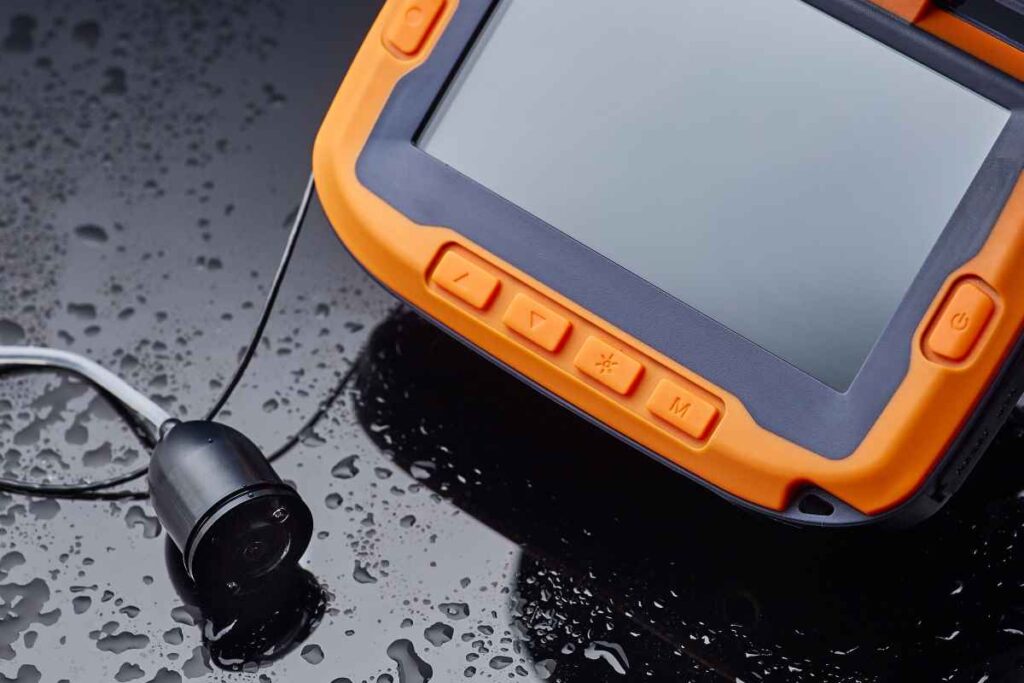 What are the benefits of using an ice fishing camera?
Perhaps the most obvious reason to buy an ice fishing camera is that you can see what fish are swimming in every spot you pick. That could influence how long you stay, what bait you use, how deep you lower the line, or whether you move to another spot altogether.
However, there are other advantages. The camera can help you identify potential dangers or obstacles in the area, like boulders, drop-offs, vegetation, or large debris. If there's nothing you can do about such problems, you can choose a different place to fish.
Even if the fish just won't bite, the camera could make your trip feel more worthwhile as entertainment value. You might get to observe numerous interesting events that only happen underwater. Maybe you'll see a fish fight or a particularly strange-looking creature!
In other words, an ice fishing camera simply allows you to optimize the time you spend on the water.
What mistakes should you avoid?
The most important mistake fishers make is not maintaining their ice fishing cameras. Although they are made to withstand water, cold temperatures, and deep water pressure for long periods of time, don't keep yours underwater longer than you must. When you bring it back up, take out the batteries, SD card, and other detachable items to wipe them off with a towel or let them air dry.
Other than that, never underestimate murky water. Since your visibility is limited, move the camera slowly and watch the screen carefully. That way, you're more likely to avoid dangers or obstacles that may appear suddenly.
What batteries should you get?
As with other cameras, lithium batteries are best to use for ice fishing cameras. They're powerful enough to produce plenty of light for flashes and normal viewing. Their durability, resistance to corrosion, longevity, and rechargeability are assets as well.
How should you store an ice fishing camera?
Some ice fishing cameras come with strong cases. If yours does not, get one made of a tough waterproof material, perhaps with cushioning cut to hold each individual piece of equipment, along with handles. When transporting the case in your card or sled, place it inside a separate compartment or strap it down to keep it from sliding around, which could damage the camera.
---
Get Ready for 2023 With the Best Ice Fishing Cameras!
With its famously cold winters and thousands of lakes, Minnesota is a prime destination for ice fishers. The right ice fishing camera can make all the difference in your experience, so take our advice and choose any of the models we've listed here! Of course, you need more than a camera for your trip. Check out these helpful Ice Fishing Gear resources on our website. With our help, you can prepare to make your next trip the best one!
Need some more Minnesota gear? Trust our recommendations to guide your next shopping trip!
Want to learn more about fishing, discover more fishing spots, and or read up on the best fishing gear? Then continue your fishing adventure with our comprehensive guides, info posts, and more!