Are you an ice fishing fanatic? Fortunately, there are dozens of top ice fishing Minnesota resorts to explore in our great state.
Whether you're new to the sport or an experienced angler, here are 17 of the best ice fishing Minnesota resorts. Make sure you check them out as you're putting your winter getaway itinerary together!
---
Northern Ice Fishing Minnesota Resorts
1. Sportsman's Lodge
Sportsman's Lodge provides access to over 65,000 miles of shoreline on Lake of the Woods. Additionally, the lodge offers multiple services—including fish cleaning, lunch delivery, and transportation to and from their fish house.
When you're not fishing on the lake, be sure to enjoy the lodge's many amenities. They include a game room, gift shop, indoor pool, hot tub, playground, and multiple bars and restaurants.
2. High Banks Resort
High Banks Resort, located on the northeast side of Lake Winnibigoshish, is home to a dozen winter cabin rentals.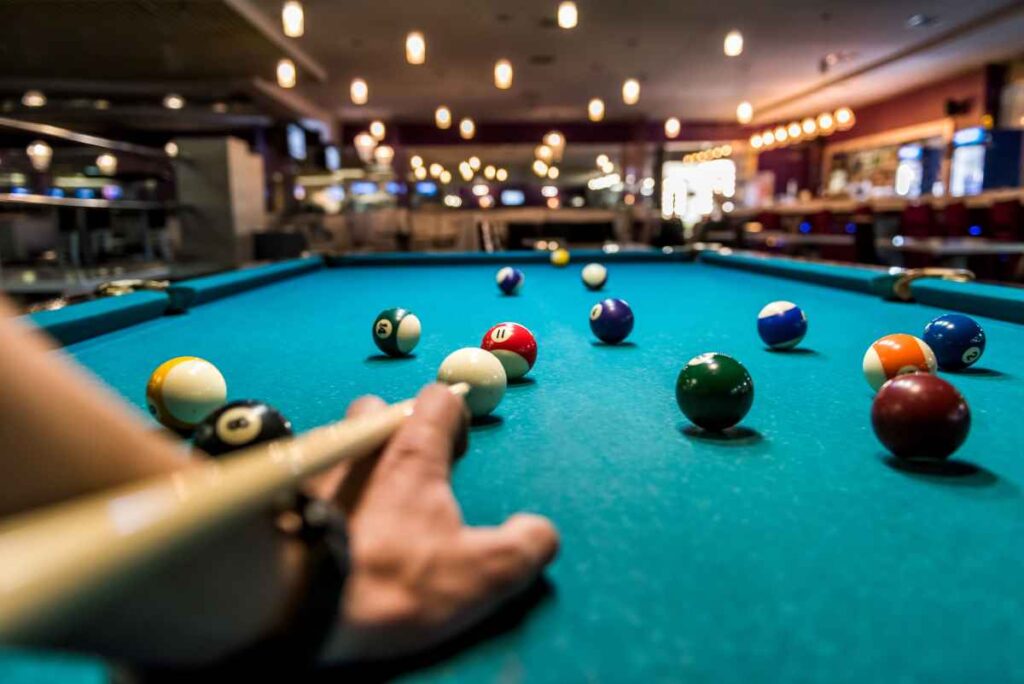 An arcade, pool table, gift shop, and restaurant are just a few of the many available lodge amenities. Meanwhile, the resort's marina offers bait, tackle, gas, boat rentals, and a valet boat launching service.
3. River Bend Resort
River Bend is one of the ice fishing Minnesota resorts that offers a wide range of lodging options for anglers. Rent a studio cabin, a three-bedroom cabin, or an RV site for your Lake of the Woods ice fishing adventure.
Beyond lodging, River Bend's packages include guided fishing as well as meals at the on-site Miles Lab Bar & Grill.
4. Timber Trail Lodge & Resort
With direct access to Boundary Waters Canoe Area Wilderness, Timber Trail Lodge & Resort is the ideal winter getaway spot.
Accommodations range from three-bedroom to six-bedroom cabin rentals. Guided ice fishing packages, snowmobile rentals, and dogsledding are just a few of the many winter amenities!
5. Adventure North Resort
Many ice fishing enthusiasts consider Leech Lake's Adventure North to be one of the top ice fishing Minnesota resorts.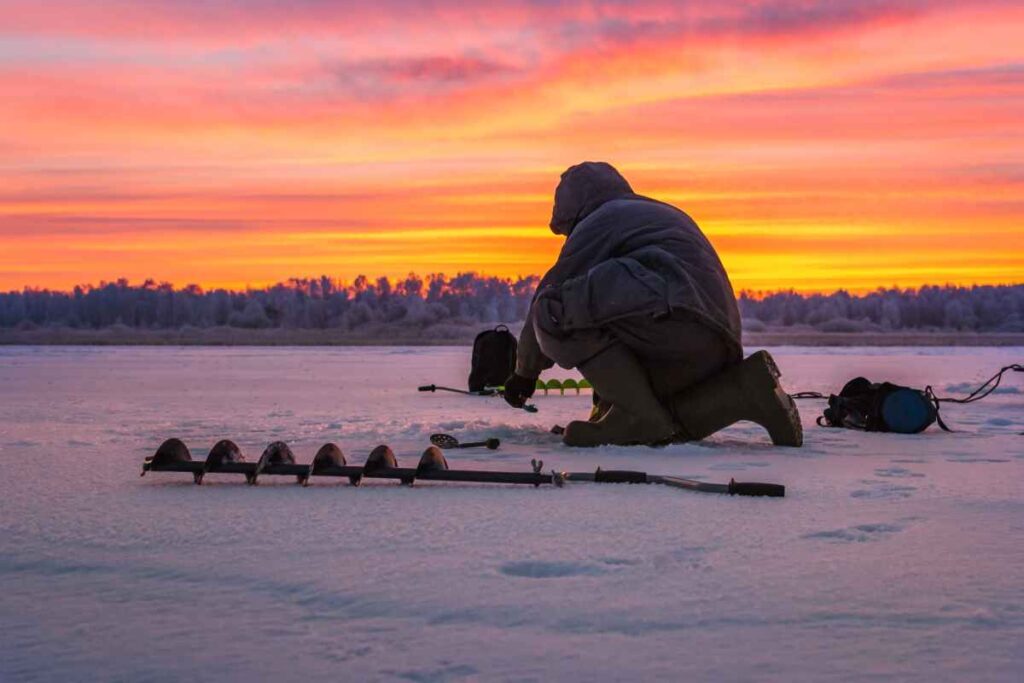 The resort's Evergreen I and II cabins accommodate up to four people, while its Cedar Log Homes can host up to 15 people. Each cabin rental is equipped with six fishing holes and comes with complimentary fish cleaning services.
6. Wishbone Resort
Wishbone Resort is one of multiple ice fishing Minnesota resorts located on Cass Lake. The resort is home to 18 cabins, ranging from one to six bedrooms each.
From its cleaning facility to boat, canoe, and kayak rentals, Wishbone has everything you need for an ice fishing getaway. As the resort books out quickly, be sure to call Wishbone Resort and make your winter ice fishing reservation today!
7. The Red Door Resort
The Red Door Resort lies on the north shore of Lake Mille Lacs and offers multiple fish house rentals. All skid houses and RV-style ice fishing houses are equipped with full electric hookups and multiple fishing holes.
The mud flats is one of the lake's best fishing hotspots, and Red Door Resort gives you convenient access.
8. Wildwood Resort
Wildwood Resort features 10 lodges that start at just $35 per night and can accommodate up to 20 people.
Located on Bass Lake, the resort gives anglers access to bluegill, crappie, perch, and other panfish. Beyond ice fishing, Wildwood boasts multiple snowmobile trails, ski slopes, and other winter activities.
9. The Pines Resort
The Pines Resort is located on the walleye-rich Lake Winnibigoshish, making it one of the top ice fishing Minnesota resorts. Each cabin rental houses between four and eight people, while each fish house is equipped with six large fishing holes.
After fishing, enjoy table games at the resort's main lodge or a few treats from the snack bar!
10. Big Sandy Lodge & Resort
McGregor's Big Sandy Lodge & Resort is one of the best ice fishing Minnesota resorts near the Metro area. This winter getaway spot has multiple cabins, villas, and lodge rooms available for rent—with discounts for longer stays.
Beyond ice fishing, resort guests can participate in snowmobiling, skiing, and other winter recreational activities.
11. Zippel Bay Resort
If you're looking for the best ice fishing Minnesota resorts, look no further than Zippel Bay Resort. This resort offers some of the best trophy walleye ice fishing on Lake of the Woods. Winter getaway packages include a wide range of log cabin and fish house rentals with meal plan options.
In addition to ice fishing, Zippel Bay is a great location for deer and goose hunting. During your stay, be sure to check out the resort's impressive ice igloo!
12. Linder's HideAway Cabins
Linder's HideAway Cabins is located on Bostic Bay and offers winter cabin rentals from November 16th to March 31st. Rates are competitive, and children under the age of four stay for free.
Ice fishing isn't the only activity available at Linder's HideAway Cabins. Other nearby winter activities include hiking, cross-country skiing, and snowmobiling at Lake of the Woods Drifters club.
13. Ballard's Resort
One of the larger ice fishing Minnesota resorts, Ballard's Resort rents out 27 different cabins during the ice fishing season. Accommodations range from studio-style rooms to three-bedroom cabins.
The resort's Winter Walleye Connection packages run from January to March and include lodging, transportation, ice fishing, meals, and more. During your stay, be sure to visit the resort's main lodge for a breathtaking waterfront view over a delicious meal.
14. Angle Outpost Resort
Home to the Red Fox Ice Fishing Company, Angle Outpost Resort is a popular winter getaway spot. Walleye, pike, perch, and sauger are the main ice fishing species at this Lake of the Woods resort.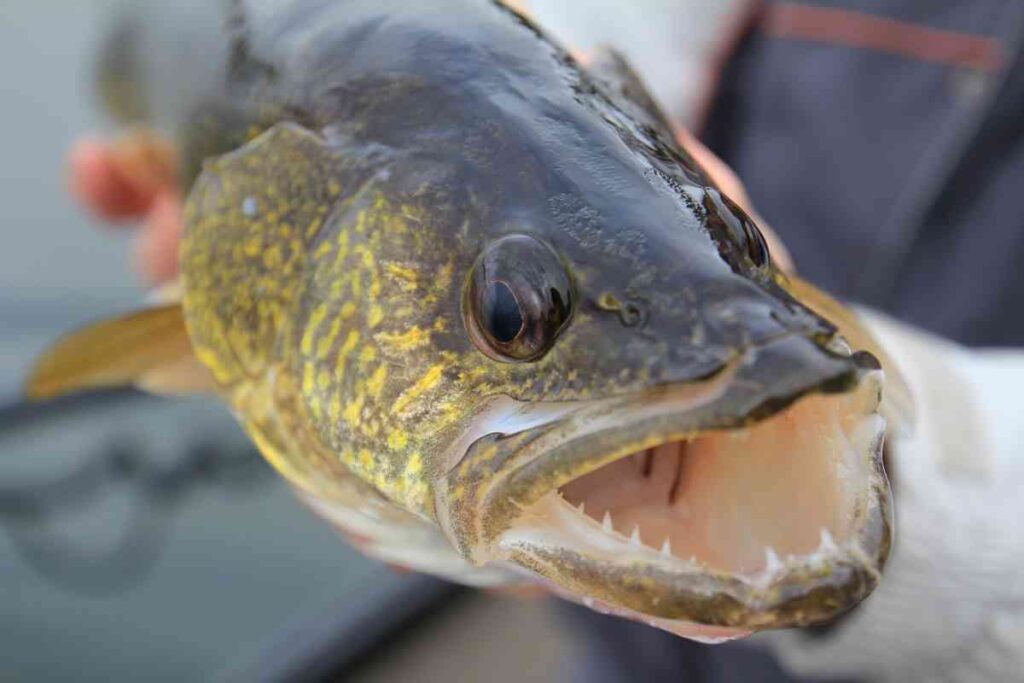 Angle Outpost's main winter accommodations are day houses and sleeper houses—modest-sized cabins equipped with multiple fishing holes. Each cabin can house between four and six people.
---
Central Ice Fishing Minnesota Resorts
15. Appledoorn's Sunset Bay Resort
Known for its wedding venue and Mille Lacs lakeview, Appledoorn's is also one of the top ice fishing Minnesota resorts.
This resort offers over 30 different cabins, houses, and lakeview suites for rent. Book your winter getaway today to take advantage of over 132,000 acres of premium muskie and walleye ice fishing.
16. East Silent Lake Resort
East Silent Lake Resort is a four-season family lakefront destination in central Minnesota. Each ice fishing excursion package includes a fish house, guided fishing, rods and reels, bait, tackle, transportation, and more. Catered meals and snowmobile rentals are also available during your stay.
When you're not out on the ice, check out the resort's café, ski school, social events, and other amenities.
---
Southern Ice Fishing Minnesota Resorts
17. Sakatah Bay Resort
Waterville's own Sakatah Bay Resort is among the southern region's best ice fishing Minnesota resorts. The resort's lodging options range from single rooms to deluxe two-bedroom kitchenettes—all in close proximity to Lake Sakatah.
Aside from ice fishing, Sakatah Bay Resort offers cross-country skiing, ice skating, snowmobiling, and other fun winter activities.
---
Wrapping Up Ice Fishing Minnesota Resorts
Do you plan to visit the "Land of 10,000 Lakes" for an unforgettable ice fishing adventure this winter? Be sure to bookmark one of these top ice fishing Minnesota resorts as you create your itinerary.
Otherwise, check out our fishing page for more helpful information about all types of fun fishing activities in Minnesota.
Still haven't found your perfect getaway? Then keep learning about unique places to stay in Minnesota to book the perfect reservation for your next trip!
Can't get enough of Minnesota lakes? Then keep living the Minnesota lake life with the help of my info posts and guides!
Looking for Minnesota winter inspiration? Check out our Minnesota winter guide for activity ideas, winter apparel suggestion, and endless ways to enjoy the snow!