An ice fishing rod case is your best friend for any ice fishing trip you take. It's what will protect your equipment while you're on the move and while you're resting.
As with any piece of equipment, there are better products than others out there on the market. Don't worry, though. We're here to help you make your decision and get the best product you can get your hands on.
---
Our Top Picks:
Best Overall:
Scheels Outfitters Ultimate 2.0 Ice Combo Case
Runner Up:
StrikerICE Transporter Ice Fishing Rod Case
Budget Option:
Celsius Basic Ice Rod CEL-BASRC Storage Case
---
1. Scheels Outfitters Ultimate 2.0 Ice Combo Case
The Scheels Outfitters Ultimate 2.0 Ice Combo Case is exactly that – the ultimate.
This hard-sided case will withstand all the abuse of a hard-fought ice fishing season while keeping your gear safe inside. This case comes in 36″ and 42″ models that hold 6 rods each.
Additionally, It doesn't just hold your tackle, Scheels includes tackle storage boxes.
Model
Included Storage
42 inch
1 – 3600 Deep Plano Box
5 – 3500 Plano Boxes
36 inch
1 – Ice Jig Box
5 – 3500 Plano Boxes
2 – 3400 Plano Boxes
You've spent a lot of money on your gear. Protect it with the best case out there.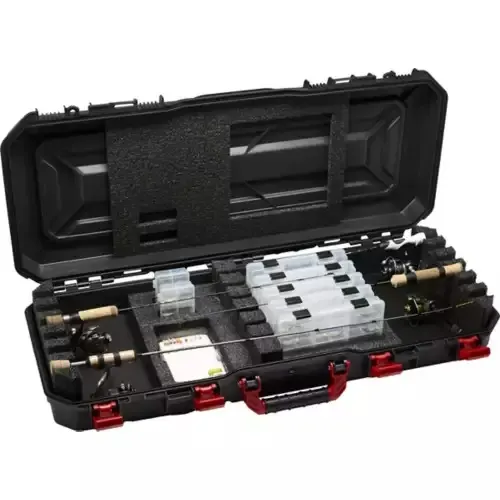 Pros
Hard-sided case can take abuse

Two sizes – 36″ and 42″

Included tackle storage
---
2. StrikerICE Transporter Ice Fishing Rod Case
The StrikerICE Transporter has everything you'll need to safely transport your gear across the ice. The Transporter has ample storage for rods and all of your accessories, including multiple small pockets on the sides for smaller items.
Take this fishing, and you won't have to worry about forgetting something. You'll be able to store up to five 36″ ice rods, multiple tip-ups, your skimmer, and 3-4 3700-class tackle boxes.
Its backpack straps make carrying a breeze when you're trekking along the ice.
Pros
Contains a lot of storage space
Features protective padding
Rigid rod tubes to keep your rods safe
---
3. Celsius Basic Ice Rod CEL-BASRC Storage Case
The Celsius Basic Ice Rod CEL-BASRC Storage Case is a fantastic budget option. Coming in at just 30 dollars, this ice fishing rod case is easy on your wallet while providing great storage space.
A fabric case, this case prioritizes storage above all else. It is also easier to carry than most cases, thanks to its shoulder strap, so it's the perfect option if you're moving between multiple fishing spots.
Features
Velcro straps inside to secure your rods
Accessory compartments
Shoulder strap for easy carrying
Pros
Affordable, also an excellent option for a beginner or your child
Has extra space for accessories and tackle
The most lightweight option on this list
Cons
No protective materials
Cheaper materials means less quality
---
4. Eskimo Ice Fishing Rod Locker
The Eskimo's ingenious feature is how it opens on each end to access your rods, but the center top compartment is where you store all your tackle. This keeps your rods free from anything else bumping or banging up against them.
This case comes in 32″ and 42″ models and will hold four rods in its rigid tubes.
Large, premium YKK zippers make opening and closing this rod lock a breeze when you've got gloves on.
Pros
Brilliant rod storage design

Large 42″ model available

Easy-to-use Zippers
Cons
Not many small storage compartments
---
5. Vexan Ice Fishing Rod & Tackle Bag
The Vexan Ice Fishing Rod & Tackle Bag is the last ice fishing rod case on our list, but that doesn't mean it's a slouch. This bag has an incredible amount of storage capacity.
Also, this case has straps that make it easy to move. It's also a lightweight option thanks to its fabric material.
Features
Capable of fitting 8 rods safely and securely with its velcro strapping system
Water-resistant fabric that'll keep your equipment safe from getting wet
Features padding to keep your gear protected
Pros
Contains a lot of storage space
Features protective padding
Water-resistant
Cons
Durability is a concern when it comes to the fabric
---
6. Eagle Claw Ice Fishing Rod/Accessory Case
The Eagle Claw Ice Rod/Accessory Case is an outstanding protective case that is also really versatile. This case can fit rods and has compartments to fit the other accessories you may want to take with you on your trip.
If you're looking for a case that can hold and protect both your rods and your other equipment, then look no further than this ice fishing rod case.
Features
Has a capacity of 6 ice combos
Adjustable foam inserts that are perfect for your accessories
4 latches for a secure locking mechanism
Pros
The best combination of lightweight and protective
The compact size means it can fit anywhere
Made of long-lasting and durable materials
Affordable at a price of around 60 dollars
Cons
The compact size makes for a tougher fit, especially if you have larger rods
No foam cushions inside to protect the equipment
---
7. UNISTRENGH 3 Layers Portable Folding Fishing Rod Carrier Reel Case
The first fabric ice fishing rod case on the list, the UNISTRENGTH 3 Layers Portable Folding Fishing Rod Carrier Reel Case, is a fantastic option for those who prioritize storage with more compartments than you can count.
The Unistrength is made from high-quality fabric that's water resistant. This is a one-of-a-kind quality not often seen in fabric cases, making this case special.
Simply put, if you want a case that can fit everything, this is the case for you.
Features
Made from Oxford Cloth which is water-resistant and weather resistant
Three layers can hold accessories, tackle, and rods
Has pouches on the outside for even more storage space
Rope zipper design which is durable
Pros
Made of top-of-the-line materials
Best storage space in this list
Has shoulder straps which makes it easier to carry
Cons
Has nothing to protect your rods from getting damaged
Not the prettiest case with the size sowed to the side
---
8. Flambeau Outdoors 4455BB Rod Bunk Box
Probably the most protective Ice Fish ice fishing rod case on this list, the Flambeau Outdoors 4455BB Rod Bunk Box is the perfect case for keeping your equipment safe. Everything from hard casing to foam inserts, this case checks all the boxes in the protection department.
Capable of holding 2 6-foot rods, it is also a lightweight option that is suitable for those who are fishing solo or with their child.
Features
The interior design keeps the rods suspended so they don't crash into the case while on the move
Foam inserts provide a protective barrier for equipment
The metal locks are anti-corrosion tabs, making them incredibly durable
Has an oversized handle for easy grip while transporting
Pros
The best protection of any case in this list
Lightweight and made for mobility
One of the most durable cases on the market, you'll own this case for a long time
Cons
The case's small size means its storage capacity is limited
Haas has no compartments for accessories
---
9. Allen Company Cottonwood Fly Fishing Rod & Gear Bag Case
The Allen Company Cottonwood Fly Fishing Rod & Gear Bag Case was originally intended for fly fishing. It also happens to make an amazing ice fishing rod case. This speaks to its versatility and storage capabilities.
It can fit accessories, and the interior is organized with dividers so your fishing rods can stay in place and your lines can remain untangled.
Features
Heavy-duty durable zippers
8 exterior adjustable dividers
Padded handle and shoulder strap for comfortable mobility
Pros
Dividers keep your rods safe from colliding with each other
Extensive storage space for accessories and tackle
Durable zippers won't break on you
Cons
No foam padding for protection
---
10. Lixada Fishing Rod Case Three Layers Oxford Fishing Bag
Coming in 2 different sizes, the Lixada Fishing Rod Case Three Layers Oxford Fishing Bag is a versatile option. It comes with both carry handles and shoulder straps for easy carrying.
The bag is also water-repellant and very durable, thanks to its high-quality fabric. This ice fishing rod case is also a good option if you're not looking to spend a lot of money.
The bag also has a color choice between green and black, so you can pick whichever suits your fancy.
Features
Water-repellant Oxford cloth
Three layers for maximum protection
Multiple compartments for easy organization
Pros
Good-quality fabric resists the elements
Two size options and two color options, making it the most customizable option on this list
Lots of storage space for tackle and accessories
Three protective layers to keep your equipment safe
Cons
Zippers are not of the best quality
---
What Makes a Great Ice Fishing Rod Case?
There are a few things to look for in a good case, and we'll guide you through the basics of what you need to know when you shop for your case.
Without further ado, let's get into it.
---
Locking Mechanisms
Any good case worth its price tag will have a good locking mechanism. If the locking system is no good, you risk your equipment falling out and breaking, or worse.
There are four different kinds of locking mechanisms to look for in any case.
Metal
A metal clamping system is one of the more secure systems. However, it is important that the metal is of good quality and won't break on you.
Plastic
A plastic clamping system is a very common option for most case brands. Plastic is durable and cheap to use.
Velcro
Velcro is also a common option, especially among budget choices. This is our least favorite option, but it can work just fine as long as it's good quality velcro and the straps make for a secure fit.
Zipper
A zipper is probably the most common locking mechanism. Reliable and time-tested, a zipper will rarely fail you. The only exception would be if the zipper is poorly made, but as long as that's not the case, this is a great locking mechanism.
---
Size of the Case
Of course, an important thing to keep in mind while shopping for your ice fishing case.
Depending on the amount of equipment you take and the size of your rods, the size of your case will need to be adequate enough to accommodate your needs.
---
Case Material
The material of your ice fishing rod case is important to remember, as stronger materials will be better for protecting your equipment, while more flexible materials would be ideal for storage space.
There is also the weight of the material to consider, as this can significantly impact your mobility during your fishing trip.
Let's briefly review the possible materials for your ice fishing rod case.
Plastic, Metal, and Other Hard Materials
If your ice fishing rod case is made of plastic or metal, then that automatically makes it more suited for protection than a fabric case.
However, these cases tend to be heavier since they are solid. Their more rigid structure also makes it more difficult to store extra equipment as you don't have the liberty of a flexible structure.
Fabric
Nylon and other fabrics are ideal for ice fishing rod cases prioritizing storage capacity over protection.
A fabric case will be able to fit more equipment thanks to its flexibility and extra pouches, so at the end of the day, it depends on what you want out of your case, protection, or storage.
---
Protect Your Fishing Equipment With the Best Ice Fishing Rod Case
An ice fishing rod case is an essential product for both ease of equipment transport and protection of your equipment. This list features what we believe are the best cases you can get your hands on.
Need some more Minnesota gear? Trust our recommendations to guide your next shopping trip!
Want to learn more about fishing, discover more fishing spots, and or read up on the best fishing gear? Then continue your fishing adventure with our comprehensive guides, info posts, and more!