---
What to Look for in a Good Ice Fishing Shanty
A quality ice fishing shanty will have a few basic features that make it stand out from the rest. If you look for these qualities while shopping for shanties, you'll be sure to find the perfect one for you.
Let's get into what these qualities are and why they're important.
Insulation
Naturally, it would be an understatement to say the weather is freezing while you're ice fishing. Therefore one of your top priorities to look for while shopping for an ice fishing shanty is insulation.
Note that insulation is not the same thing as wind resistance. A lot of companies will talk about wind resistance, saying it protects from the cold, but this is not the same level of protection as full insulation.
If your ice fishing shanty can't keep you warm while you fish, that would be a major detriment to its value. Unless you enjoy being as cold as ice, insulation is an important feature for any shanty.
Quality of Materials
An ice fishing shanty not only protects you from the cold but it protects you from winds, snowfall, and much more. A good shanty made of good and strong materials will be able to meet the task and protect you.
Many different fabrics are used, from oxford fabric to custom weaves. But the most important to keep in mind is the denier number.
A denier number is a number that represents the thread count of the fabric. A 300 denier number means the fabric is wind-resistant. A 600 denier number means the fabric is insulated.
As time progresses, the materials in the Ice Fishing Shanty market get better and better as brands seek to gain an edge over one another. This is good as that means the number of good quality ice fishing shanties is only increasing.
Capacity
For you to purchase the right ice fishing shanty, you need to know how many people you want to have in your shanty.
There are many different styles of ice fishing shanties out there, like hubs and flip-overs. No matter which of these options you go with, each type will have the capacity you're looking for.
Generally, An Ice Fishing Shanty can range from a solo shanty that's enough for one to a 6-person hub that has more than enough room for a large group.
---
Hubs or Flip-Overs?
There are two different types of ice fishing shanty out there, and the style you pick is also a big decision. A hub looks like your traditional camping tent, while Flip-Overs have metal bars and look like cubes.
Let's get into both styles of Ice Fishing Shanty.
Hub Shanties
The main sell of a hub is the fact they're inexpensive and are far more spacious than a flip-over. Back in the day, hubs were widely seen as poor options, but thanks to new technology, they're now the more popular option on the market.
A hub is a high-quality insulated tent that is anchored down to the ice. Since it's like a tent, you have more room to open a chair and move around if you have a fish on the line.
Hubs do have negatives, though. For starters, they aren't as sturdy as a flip-over or as mobile as a Flip-Over. Not to mention they don't have the same level of insulation as a Flip-Over.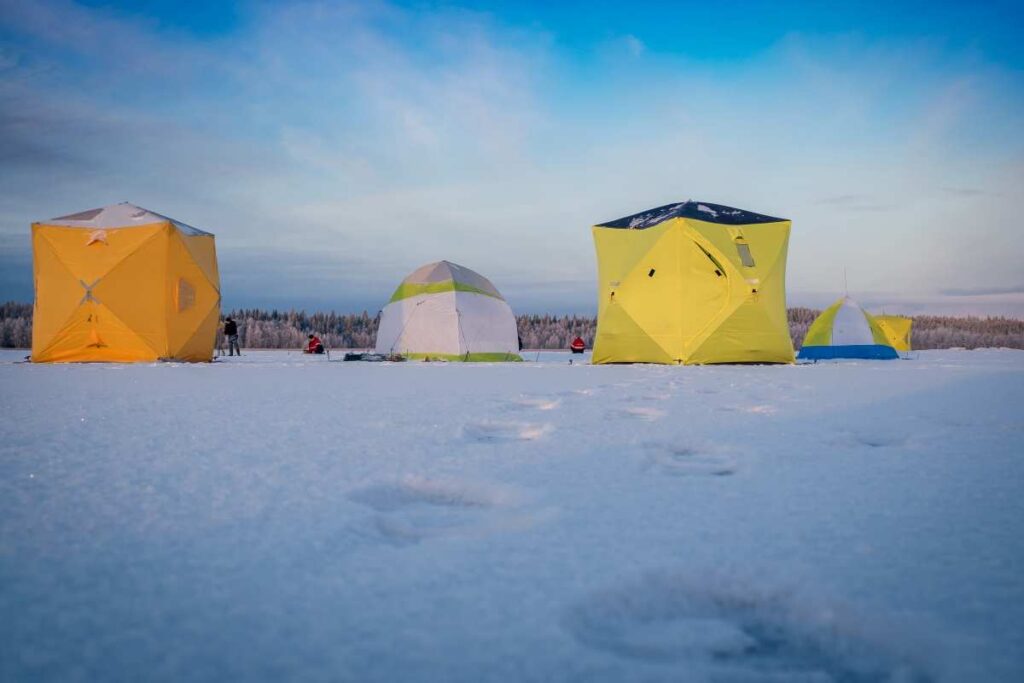 Flip-Over Shanties
Flip-overs are the more mobile and insulated style of ice fishing shanty. The reason for their mobility is that all you have to do is open the metal bars and flip it over, hence their name.
They're remarkably simple to use, and since it's easier to attach thicker fabrics onto them, they are traditionally known as the insulating option.
However, the thicker fabric comes at a cost. Flip-Overs, for all their mobility, are known to be very heavy. They're also less spacious thanks to their simple nature, which makes them the less comfortable option.
---
Beat the Elements Worry-Free on Your Ice Fishing Trip!
The ice fishing shanty is crucial to making the most out of your ice fishing trip. As you can tell from our list, there's no shortage of variety when it comes to which Ice Fishing Shanty you can choose.
Whether you go for a hub or a flip-over, you should always keep in mind what you prioritize when you go ice fishing and how many people you want to fit in your shanty.
We hope that our list has made your choice easier. Need some more Minnesota gear? Trust our recommendations to guide your next shopping trip!
Want to learn more about fishing, discover more fishing spots, and or read up on the best fishing gear? Then continue your fishing adventure with our comprehensive guides, info posts, and more!
Looking for Minnesota winter inspiration? Check out our Minnesota winter guide for activity ideas, winter apparel suggestion, and endless ways to enjoy the snow!