You need a sled you can rely on when trekking across the ice to find the perfect fishing spot. You want the best ice fishing sled that glides easily across icy terrain, whether hauling it by hand or towing it behind your snowmobile.
This article will teach you about the features and functions that make up the perfect utility sled. Keep reading to learn more about the top-rated sleds for the 2023 ice fishing season.
Check out the following highly-rated ice fishing sleds. These sleds are all made of durable materials, have a large capacity for gear, and come with a range of features that make them well-suited for ice fishing.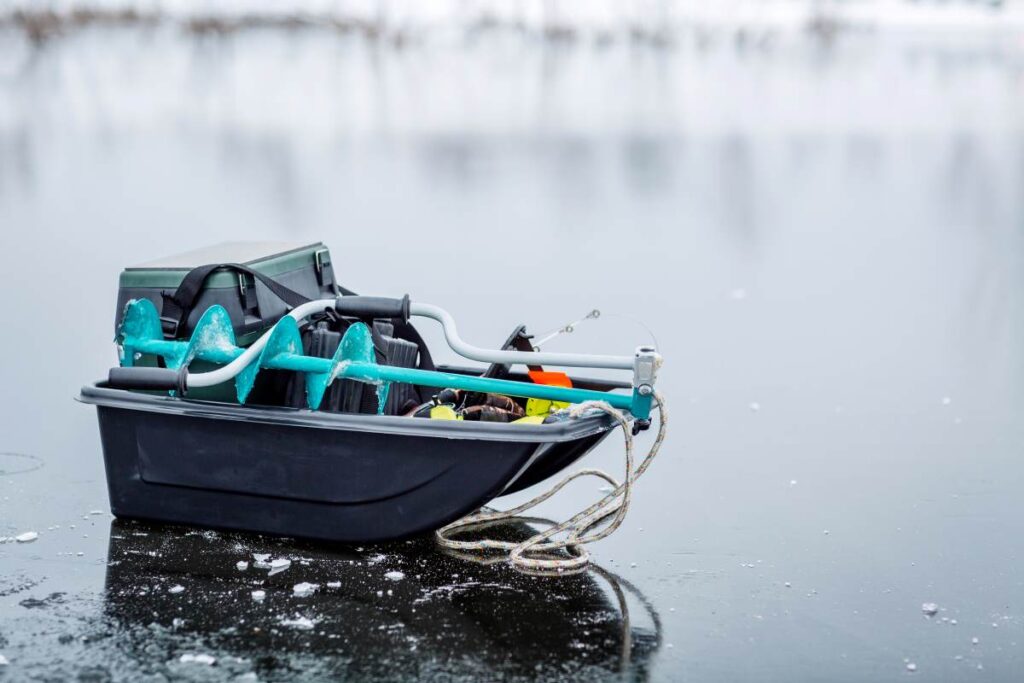 ---
Our Top Pick
Best Overall:
ATC Shappell Jet Sled
---
1. Best Overall – ATC Shappell Jet Sled
The ATC Shappell Jet Sled is the ultimate utility sled. Shappell is a favorite among winter sports enthusiasts for the durability and versatility of the gear they manufacture.
This rugged ice sled has a specially contoured hull allowing you to easily hand-tow up to 250 pounds of gear through thick snow. You can rely on this sled to haul a deer, fishing supplies, firewood, or even an ice shelter.
This option is great for ice fisherman, hunters, and wildlife photographers that need to haul a lot of gear into the field and is well-suited to handle tough terrain.
Dimensions:
Pros:
100% polyethylene, contoured designed
The molded runners glide smoothly across many surfaces
All-terrain camouflage blends in with winter landscapes
Cons:
It's designed for hand towing and might not perform well behind a motorized vehicle
---
2. Otter Outdoors Sports Series Ice Sled
Otter Outdoors manufactures high-quality ice fishing gear that professional anglers trust. The Otter Sport Series Ice Sled combines superior performance, durability, and affordability in one package.
This sled is roto-molded from rugged, lightweight polyethylene with an angled front end engineered to handle the deepest, slushiest snow. The wide sled tracks guarantee smooth trekking over ice, snow, and sand.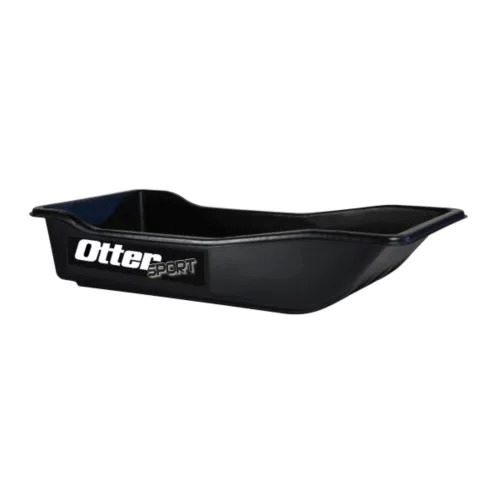 The Otter Sport sled comes standard with an attached tow rope designed for hand pulling. Otter Sport Series sleds come in three sizes, so you will find the right fit for your fishing season.
This option best suits hobbyist anglers who want a lightweight sled to tow by hand. Plus, you can take advantage of the numerous Otter Outdoors ice fishing accessories that work seamlessly with this sled.
Dimensions:
Small – 43″ L x 21″ W x 9″ H
Medium – 53″ L x 25″ W x 10″ H
Large – 64″ L x 29″ W x 11″ H
Pros:
Includes reinforced outer lips for sidewall stability
Rugged, 100% polyethylene, roto-molded construction
Wide sled tracks provide excellent maneuverability
Cons:
It is somewhat slow if you don't add runners
---
3. Clam FT Seven Sled
Do you want a no-fuss ice fishing sled that can get the job done? Look no further than the Clam FT Seven Sled, an understated sled that is built tough to handle even the harshest conditions.
Clam is a trusted name in the ice fishing world that delivers precisely what every angler needs. The Clam FT Seven Sled is compact, durable, and engineered with efficiency in mind.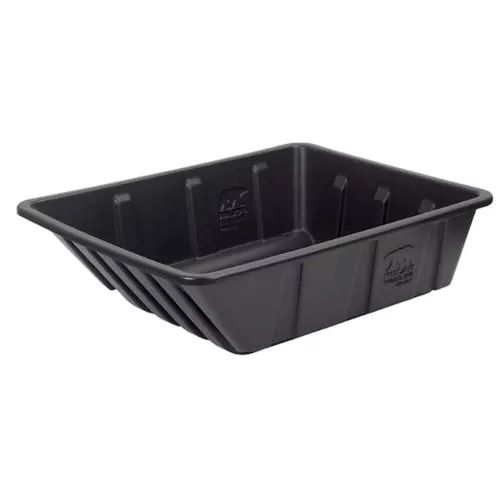 This sled is the ideal size for expert ice-fishing enthusiasts who only carry what they need. Despite its tiny footprint, the sled's high-wall construction provides the space and security to haul your most important gear across the ice.
This is a great sled for minimalist ice anglers carrying only a little gear into the field. It is the perfect ice fishing sled if you like keeping it simple.
Dimensions:
Pros:
The high-wall design keeps gear secure
100% polyethylene, roto-molded construction
Pre-drilled holes enable you to quickly attach the included tow rope
Cons:
There is only one size available
---
4. Bass Pro Shops Utility Ice Sled
Are you shopping for a solid ice fishing sled on a budget? The Bass Pro Shops Utility Ice Sled might have everything you need at a price tag you can agree with.
This ice fishing sled is perfect when you need something simple that can carry your gear to your favorite fishing hole and back. The ultra-lightweight design glides over ice and snow. Be careful not to overload this sled, as too much weight could damage it.
This sled only comes in one size, and it is relatively small. Still, this is an excellent choice if you want an inexpensive sled for hauling lightweight fishing gear.
This is an ideal choice if you are new to ice fishing and don't want to break the bank on your first sled. It is suitable for most applications as long as you don't need to tow too much weight.
Dimensions:
Pros:
Inexpensive
Durable molded polyethylene construction
Extremely lightweight
Cons:
There is only one size available
Not suitable for exceptionally heavy loads
---
5. Snowdog Sled with Hitch
The Snowdog Sled with Hitch is the ultimate ice fishing sled for towing behind motorized vehicles. It comes standard with a heavy-duty hitch that can handle just about anything.
This heavy-duty sled is specially designed for towing behind the Snowdog all-terrain vehicle. Still, you will get a smooth ride when you hitch it up to any snowmobile or ATV.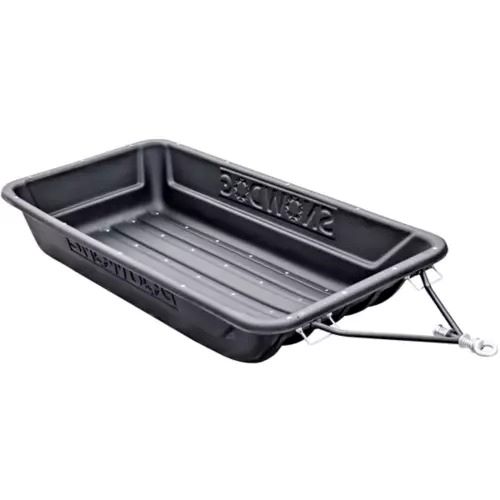 A combination of strategic contouring and built-in rail runners guarantees stable tracking through snow and ice. Plus, the sled is equipped with a damper device for unparalleled handling when turning, braking, and accelerating.
This sled is the premiere option for towing behind any motorized vehicle. You will be satisfied with this excellent ice fishing sled if you can afford the cost.
Dimensions:
Pros:
Extremely rugged polyethylene construction
The sled comes standard with a built-in hitch
Built-in runner rails enable smooth handling at faster speeds
Cons:
Expensive
There is only one size available
---
6. Otter Outdoors Pro Series Sled Magnum
Do you need a massive sled that can take even the biggest load without a problem? Check out the Otter Outdoors Pro Sled Magnum to get the best extra-long ice sled that is lightweight enough to go just about anywhere.
The Otter Outdoors Pro Series Sleds are the number one ice fishing sleds used by professionals. The patented polyethylene blend is more durable than other leading sleds while staying light on the ice.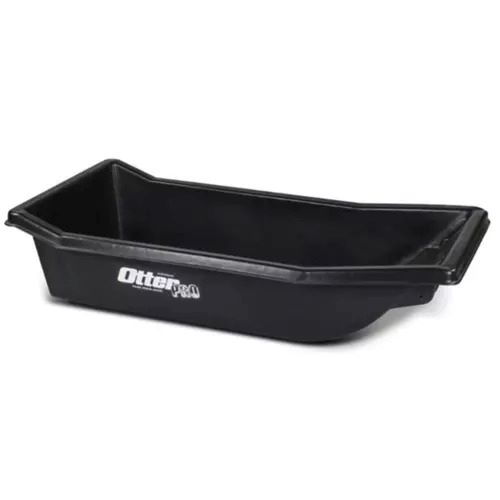 You can tow the Otter Pro Series Sled by hand or hook it up to your favorite utility vehicle. Just equip runners and the Otter Tow Hitch Package to start flying over the ice.
These Pro Series sleds are perfect for people who hit the ice hard all winter long. If you plan to haul your ice shelter with you for long treks, then this is undoubtedly the sled for you.
Dimensions:
Magnum – 75″ L x 38″ W x 15″ H
Small – 55″ L x 27″ W x 13″ H
Medium – 65″ L x 32″ W x 15″ H
Pros:
Lightweight and durable polyethylene-blend roto-molded construction
The dual hitch pockets provide excellent stability when towing on uneven terrain
Light enough to pull by hand but sturdy enough to tow by vehicle
Cons:
Additional accessories are needed for the best results
---
7. Otter Pro Medium Sled Combo
Even though it's last on this list, the Otter Pro Medium Sled Combo is certainly not the least! In fact, this is the number one choice if you want a premium ice fishing sled package with everything you need to get started.
What makes this ice fishing sled combo so spectacular? It comes with the highly-rated Otter Pro Series Sled, plus a hitch, hyfax, and travel cover.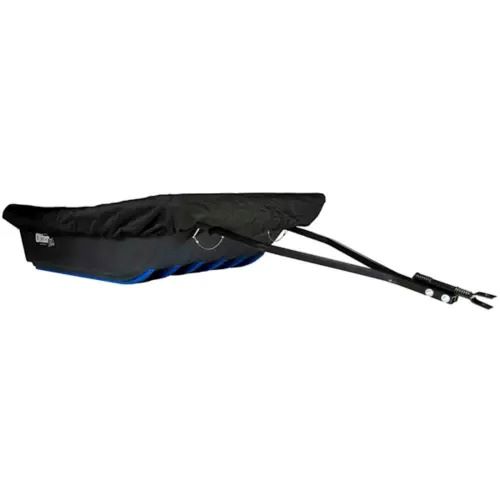 This sled is ready to tow behind your snowmobile or ATV without needing to buy extra equipment. As a bonus, the lightweight polyethylene blend makes this sled light enough to pull by hand.
This is the ideal option for beginners who want the complete package ready to hit the ice right away. Even though it only comes in one size, it is spacious yet lightweight enough to suit any purpose.
Dimensions:
Pros:
All the benefits of the Otter Outdoors Pro Series Sled
This package includes the sled, hitch, hyfax, and travel cover
---
The Buyers' Guide for the Best Ice Fishing Sleds in 2023
When choosing the best ice fishing sled, there are numerous aspects you should weigh. Check out the following brief buyers' guide to help you decide which sled is the right one for your next ice fishing trip.
Size
Some of the most important features to consider are the sled's overall size and weight. You need something that has ample space to hold all of your gear while being lightweight enough to easily pull by hand when required.
Are you planning to haul a full-sized ice fishing shelter? If so, you should purchase a sled longer than five feet so you will have plenty of space to fit all of your essential gear.
Material
The material is another critical factor to consider when purchasing the best ice fishing sled. You should evaluate the durability and quality of the construction to decide on the right pick.
The top-of-the-line ice fishing sleds are generally made of roto-molded plastic. Other lightweight, rugged materials include aluminum and treated wood.
Runners/Skis
The number and size of the runners or skis on your ice fishing sled are crucial elements regarding maneuverability, stability, and speed. The best ice fishing sleds come equipped with the right runners for the job.
Are you crafting a DIY ice fishing sled or upgrading an old sled for better handling? Try adding this Pelican Sled Hyfax Runner Kit that fits most standard sleds to get you running smoothly in no time. You can also explore other sizes of runners designed to fit the make and model of your ice fishing sled.
Additional Features
This is by no means an exhaustive list of all the features to look for in the best ice fishing sled. A few more common upgrades you might enjoy include:
Wheels that enable you to tackle all-season terrain
A hitch and straps so you can tow the sled behind your snowmobile or ATV
An ice-auger hole in the base that's perfect for pop-up ice-fishing shelters
Spacious coolers to store your catch or favorite fishing beverage
Storage compartments to keep your fishing gear secure and organized
Camouflage coloring for winter hunting
A built-in ice shelter that converts your ice fishing sled into a portable cabin
Of course, there are many different ice fishing sleds on the market. The best one for you will ultimately come down to your needs, preferences, and how you plan to use your sled.
---
How to Use an Ice Fishing Sled
To use an ice fishing sled, you will first need to load it up with all of your gear and equipment. This may include ice fishing rods, reels, line, bait, and fish finders. You might also be hauling more hefty stuff like a collapsible ice shelter, heater, gas-powered ice auger, or large cooler.
You can either place these items directly in the sled or use small containers or bags to keep them organized. The Otter Outdoors Sidekick Bucket Console is the ultimate way to organize gear on your sled and in your shelter, so it stays secure and accessible.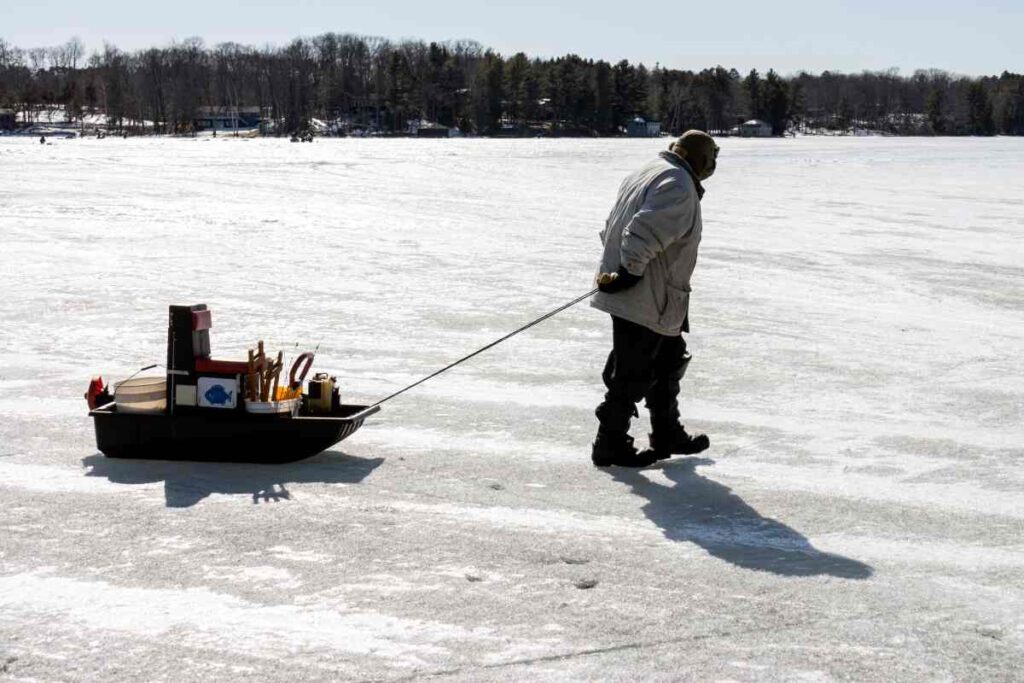 Once your sled is loaded, you should cover it up to protect your belongings. You can use a simple canvas tarp or check out the heavy-duty Otter Pro Sled Travel Cover for increased durability and ease of use.
After you are all set and secure, you can pull the sled behind you as you walk or equip a hitch to tow it behind a snowmobile, ATV, or another utility vehicle. Pay careful attention to the manufacturer's instructions for your sled to ensure it is suitable for towing behind a motorized vehicle.
---
FAQ
Who makes the biggest ice fishing sled?
The Pelican Trek Sport 94 (94″L x 36.5″W x 17″H) is the largest ice fishing sled on the market, but it isn't a very popular choice. Its massive size increases shipping costs, making the product difficult to find online.
The top-rated extra-large ice fishing sled is the Otter Outdoors Pro Series Magnum (75″L x 38″W x 15″H.) This ice sled is big enough to hold most anything you need to haul without being too cumbersome.
What materials are the best ice fishing sleds made from?
The best ice fishing sleds are constructed from lightweight, rugged, roto-molded plastic. This material balances weight and durability better than most traditional sled materials like metal and wood.
Can I use a children's snow sled for ice fishing?
The size and durability of the sled you need depend on the amount of gear you plan on hauling. For some anglers, a kid's snow sled is sufficiently strong and spacious for a day on the ice.
Do ice fishing sleds float?
Usually, an ice fishing sled can float just fine on the water. Still, there are some exceptions you should keep in mind.
If your ice fishing sled is overburdened, the mass can overcome buoyancy and cause your sled to sink. Cracks in the hull or an unplugged auger hole in the floor could also let water in, which might capsize the sled.
---
Wrapping up the Best Ice Fishing Sleds of 2023
Now that the 2023 ice fishing season is underway, you want to avoid finding yourself out on the ice with a flimsy sled. After reading this guide, you should feel confident selecting the best ice fishing sled for your outdoor adventures.
There are more essential supplies you need for a successful winter fishing season. Need some more Minnesota gear? Trust our recommendations to guide your next shopping trip!
Want to learn more about fishing, discover more fishing spots, and or read up on the best fishing gear? Then continue your fishing adventure with our comprehensive guides, info posts, and more!